MICHIGAN WOLVERINE FOOTBALL

Current Stories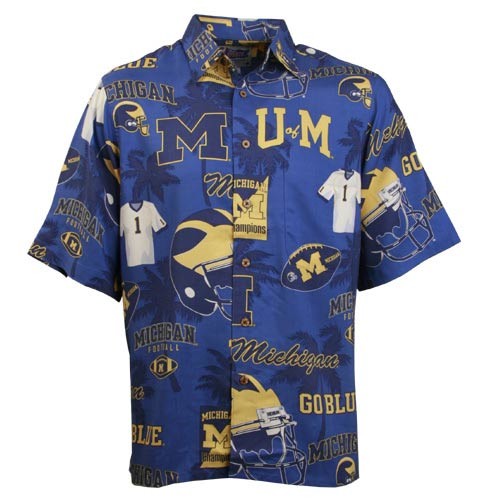 Michigan vs. Ohio State Marketing Rivalry: Air Jordan vs. LeBron James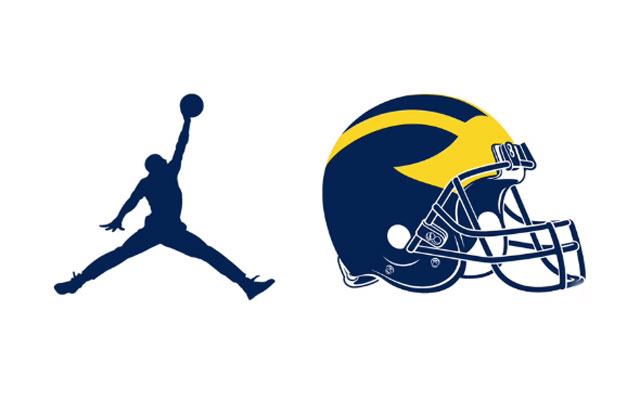 Howard King, Voice of Michigan Football, 1972-2005, passes away
Michigan to wear All-White Uniforms for Utah
Michigan Lowers Seating Capacity
Michigan Launches Virtual Reality
Jim Minick, 3rd Director of Football Operations in 3 seasons, suspended after DUI (Minick Video)
Rob Lytle elected to College Football Hall of Fame
Michigan Hires Public Relations firm, Edelman, because their Sports Information Department Needs Help
Marketing Director Hunter Lochmann states that Athlete Relationships are "Fleeting"
Derek Satterfield Hired on May 29, Fired on December 15 as Football Media Relations Director
Albert Wistert passes away at 95
Bill Keating Passes Away at 70 Bill Keating Tom Keating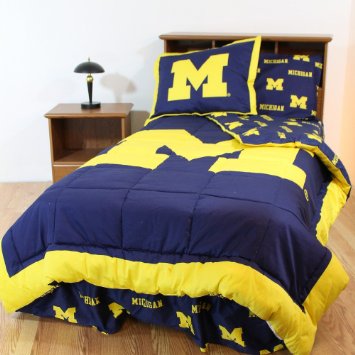 Former Michigan Center, Jim Hackett, appointed as Interim Athletic Director
Pressuring David Brandon over Football Hurts the U of M
John Arbeznik Interview on 105.1 about Petition to the Board of Regents with a list of 50 concerns from former Wolverine Football Players regarding David Brandon as AD
The Lessons of Mike Lantry Part 1 Part 2
Robertson Endows Michigan Football Offensive Coordinator position
Satterfield named Public and Media Relations Director
Rodney Feaster Passes Away at 50
Dierdorf to join Brandstatter on radio for 2014 games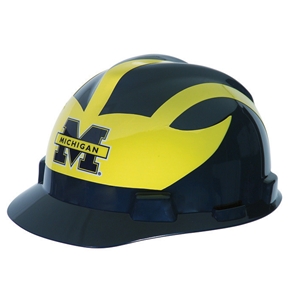 Less than a year later, Nolan Jones is dismissed as Director of Michigan Football Operations, May 3, 2013-March 3, 2014
Regent Illich opposed to the Football Coach endowment
Michigan Head Football Coach is now an Endowed Position, J. Ira and Nicki Harris (NY Times article on NCAA Coaching Endowments)
Brad Berlin replaces Jon Falk as Equipment Manager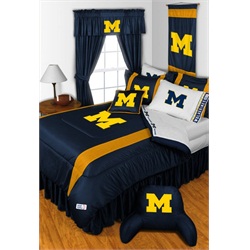 Irv Wisniewski Passes Away at 89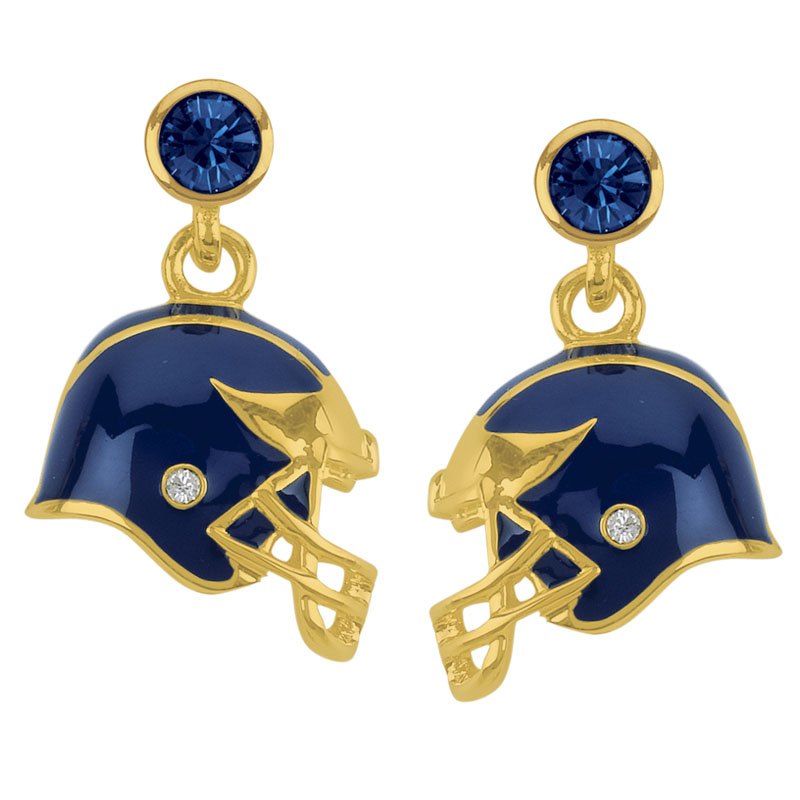 Nolan Jones Hired as new Director of Football Operations
Pete Elliott Passes Away at 86
Bullet Bob Patek Passes Away at 55
Tony Branoff Passes Away at 79
Marv Pregulman Passes Away at 90
Bob Chappuis Passes Away at 89
Charles Drake Passes Away at 30
Griese selected for Rose Bowl Hall of Fame
Michigan's 900 Wins and the Traditions Born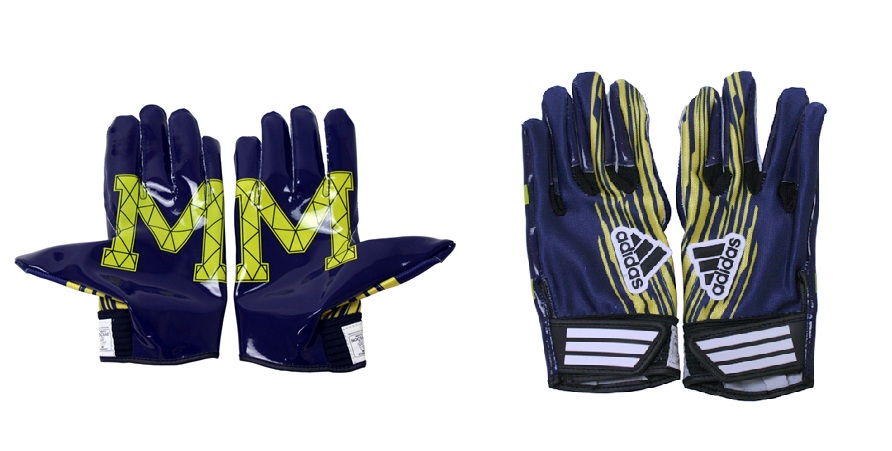 The Future of Michigan Athletics: $250 million improvements in 17 areas for Football, Track, Golf, Rowing, Hockey, Field Hockey, Soccer, Softball, Lacrosse, Administration and Academic Center with a parking lot replacing Ferry Field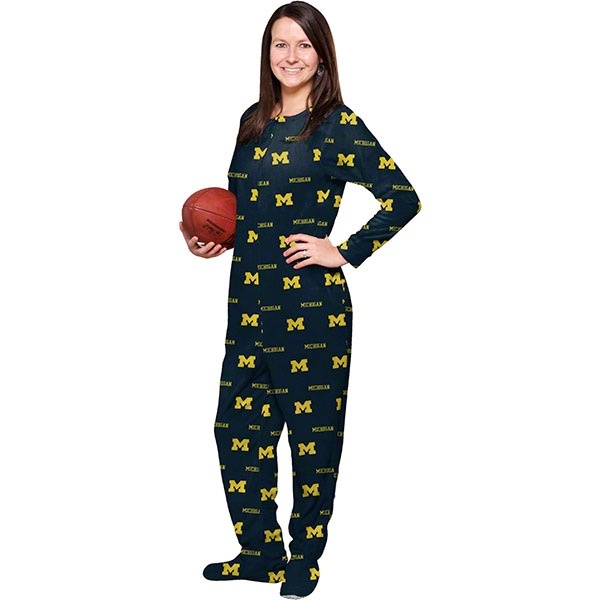 Greg Stejskal and Tom Love, Ex-FBI Agents, talks with Football Team about Gambling
Michigan to recognize Wistert Brothers
Schembechler Hall Renovations, Marquee Approved by Regents
Marquee for 2013 Next to Stadium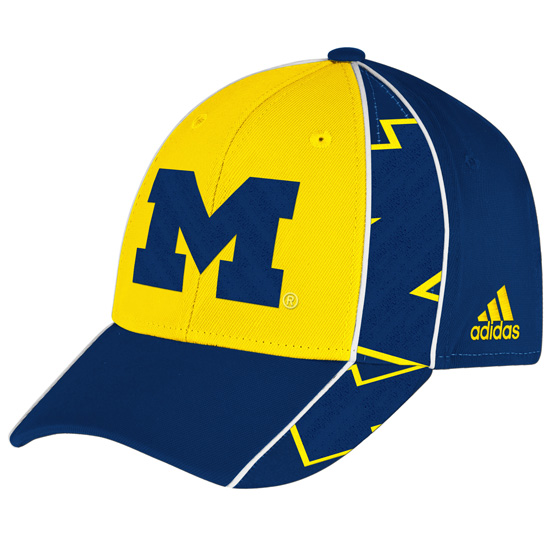 Ford, Kramer and Ooserbaan Legends Ceremonies, Numbers Unretired
Michigan Football Position Greats
Super Bowl 2012 Unites 6 former Wolverine Alumni
Michigan Regents Approve Schembechler Hall Renovations
Bo vs. Bo, 1984: More than the Sugar Bowl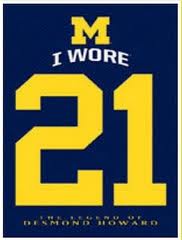 Desmond Howard's New Book: I Wore 21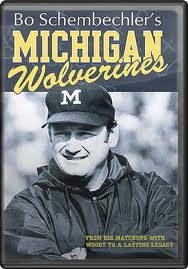 Michigan's First Scoreboard 1899
This I Remember: Elroy Crazy Legs Hirsch
Dave Knight: The Ultimate Team Player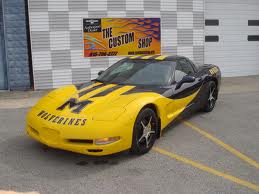 Where are they now: Billy Taylor
Where are they now: Jarrod Bunch
Where are they now: George Hoey
Where are they now: Don Morehead
Where are they now: Clay Miller
Where are they now: Tai Streets
Where are they now: John Navarre
Where are they now: Leo Kosecki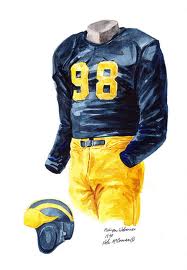 Where are they now: Tony Henderson
Where are they now: Frank Gusich
Where are they now: Chris Hutchinson
Lloyd Carr to be inducted into the College Football Hall of Fame; also, Mott Hospital to name wing in his honor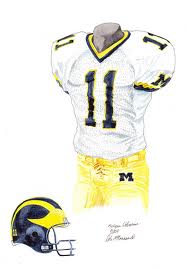 Ohio State granted Coaching Waiver: Unfair Advantage or Good Rule?
Shocking News in Columbus: 8 Year Investigation Reveals Patterns of NCAA Violations at Ohio State under Jim Tressel's Leadership
Hoke Names Vollmar and Lopez to run Football Program Operations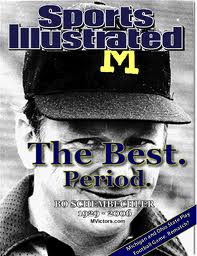 Jon Runyun elected to Congress
Harbaugh Brothers: Beat, Play, Love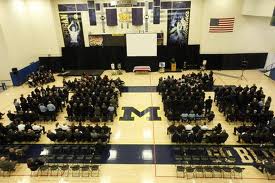 Vada Murray dies of Brain Cancer: Big Loss for Michigan Family
Phil Brabbs article on fighting Multiple Myeloma
Rob Lytle dies of a heart attack at 56
Michigan Football Fans vote for Top 10 Plays at the Big House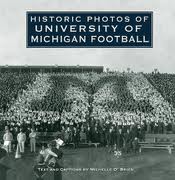 Jamie Morris loses job in Michigan Athletic Department
Gittelson concerned about neck injuries
Desmond Howard elected to College Football Hall of Fame
April 10 Relay for Life: Michigan Football, Swimming & Diving Rally for Phil Brabbs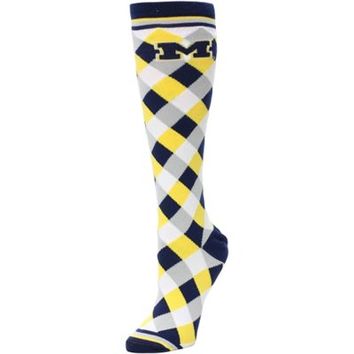 Charles Woodson pledges $2 Million to C.S. Mott Children's Hospital
Michigan 2010-2011 Athletic Yearbooks and Record Books-22 Teams (No Football)
Michigan Football: A Big House Divided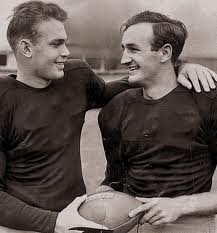 Schedule and Future Schedules
Michigan Football Coaching Staff
Michigan Football Strength & Conditioning Program
Prestige Ranking #8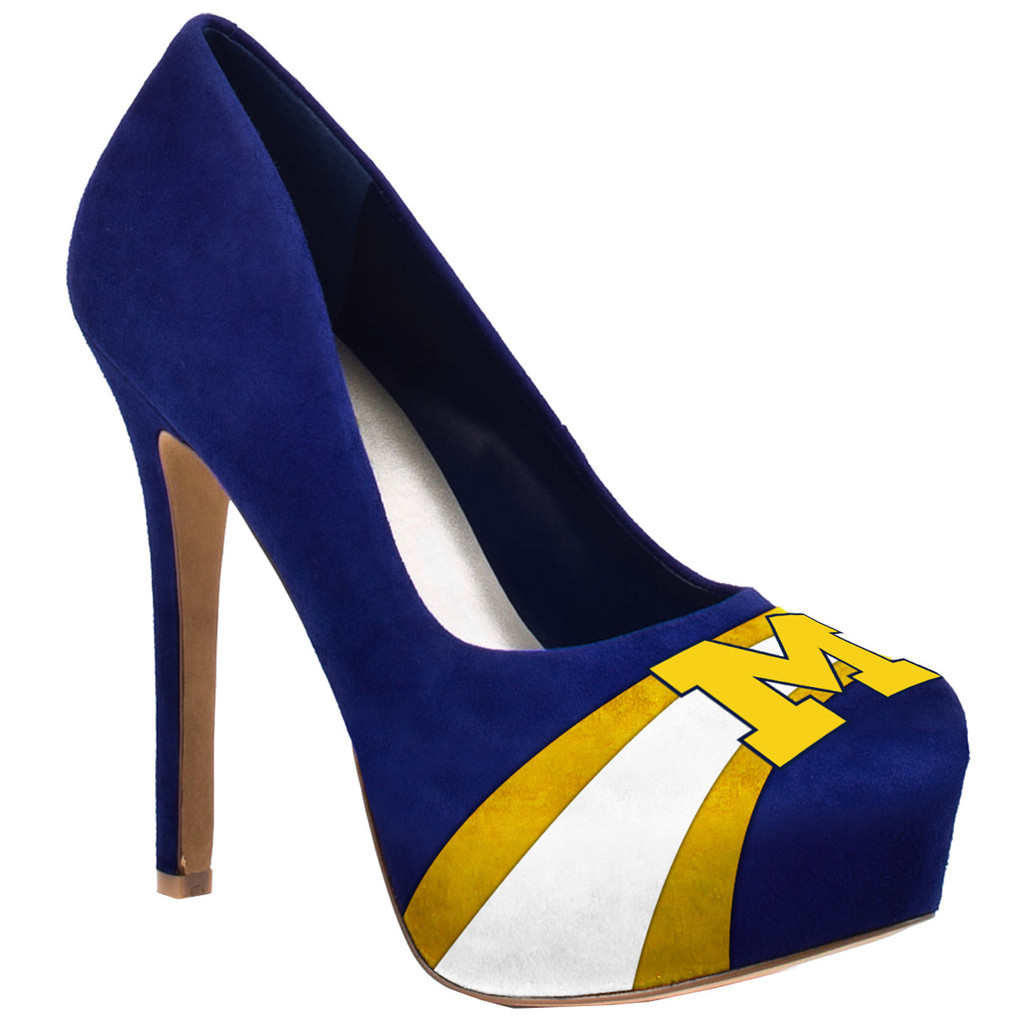 National Championships: 11
1901, 1902, 1903, 1904, 1918, 1923, 1932, 1933, 1947, 1948, 1997
Team
NCAA Football Championships
Princeton
28
Alabama
16

Michigan

Notre Dame

11

11

USC

Yale

11

11

Pittsburgh
9
Oklahoma
7
Ohio State
7
Pennsylvania
7
Harvard
7
Minnesota
6
Michigan State
6
NCAA Football Championship Summary By Team and Conference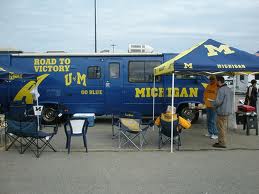 Conference Championships: 42
1898, 1901, 1902, 1903, 1904, 1906, 1918, 1922, 1923, 1925, 1926, 1930, 1931, 1932, 1933, 1943, 1947, 1948, 1949, 1950, 1964, 1969, 1971, 1972, 1973, 1974, 1976, 1977, 1978, 1980, 1982, 1986, 1988, 1989, 1990, 1991, 1992, 1997, 1998, 2000, 2003, 2004
Big Ten All-Conference Football Teams, 1914-2015 (Big Ten Individual Awards) Chicago Tribue Silver Football, 1924-2015
Big Ten Conference Football Standings, 1896-1958 and 1959-2015
Michigan Football All-Star Game Participants (thru 2008)
Conference
Team
Conference Championships
Bowl Appearances
Big Ten
Michigan
42
43
SEC/Southern
Alabama
28
61
Big 8/12/SWC

Oklahoma

Texas

39

32

48

53

PAC 10/Pacific Coast
USC
38
50
ACC/Independent
Florida State
18
40
Observations on Michigan Football Games for 2001-2016 Seasons
Big Ten Football's Greatest Coaches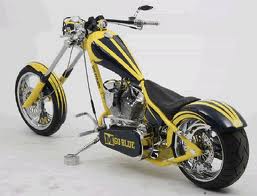 Roster
Michigan Football Letterwinners
Michigan Lettermen (A-K); Michigan Lettermen (K-Z)
List of Michigan Wolverine Football Seasons, 1879-2015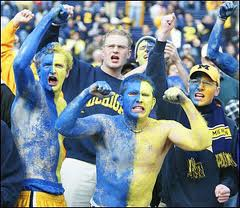 Depth Charts: Who's playing/going to play?
Developing Michigan Football Depth Chart for 2016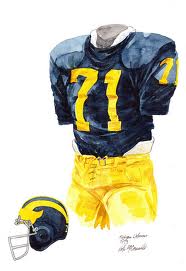 Historical Depth Charts
Depth Chart 2008
Depth Chart 2007
Depth Chart 2006
Depth Chart 2005
Depth Chart 2004
Depth Chart 2003
Depth Chart 2002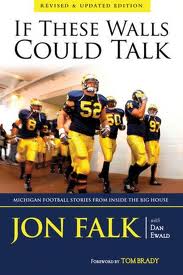 Who are we recruiting (and who have we recruited)?
Observations on Michigan Football Recruiting in 2015
Observations on Michigan Football Recruiting in 2014
Observations on Michigan Football Recruiting in 2013
Observations on Michigan Football Recruiting in 2012
Observations on Michigan Football Recruiting in 2011
Observations on Michigan Football Recruiting in 2010
Observations on Michigan Football Recruiting in 2009
Historical Perspective on Michigan Football Recruiting (1999-2005)
Historical Perspective on Michigan Football Recruiting (2005-2009)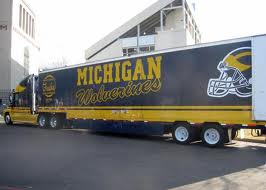 How did we look in the Spring?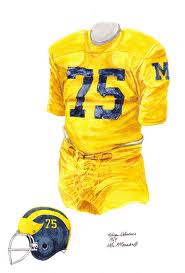 Michigan Football Tidbits/Trivia:
Michigan Rivalries
Michigan Quarterbacks
Michigan Ends Michigan Offensive Line Michigan Running Backs Michigan Linebackers Michigan Defensive Backs Michigan Placekickers/Punters/Specialists
Michigan Defensive Line 1960-2015
Michigan Football Features
Top Ten Players by position-1969-2000
Who's #1
The Art of Football
Michigan Football Program Database
Michigan Wolverine Football and Basketball Issues/Scandals
Michigan Football Players who Lettered in other Wolverine Sports
Michigan Football Players who became Wolverine Football Coaches
Michigan Assistant Football Coaches through 2004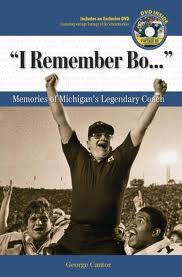 Individual Records (Media Guide Record Book)
Individual Best, Streaks and Peaks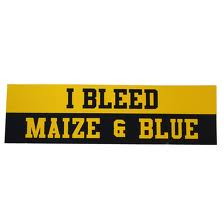 Michigan Football Awards and Honors: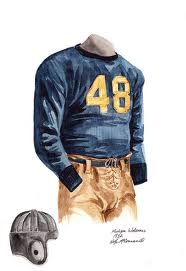 All-Americans by Jersey Number
Retired Numbers: 1=Carter, Alexander, Terrell and Edwards, 11=Wistert's (Alvin, Albert and Francis), 21=Howard, 47=Oosterbaan, 48=Ford, 87=Kramer and 98=Harmon
Academic All-Americans
Consensus All-Americans
Michigan Football Captains
Bo Schembechler Award (MVP)
Bo Schembechler
John Maultbetsch Award (Frosh)
Fred Matthaei Award (Junior)
Meyer Morton Award (Spring)
Dick Katcher Award (DL/LB)
Roger Zatkoff Award (LB)
Hugh Rader Award (Lineman)
Bob Ufer (enthusiasm/love)
Bob Ufer: Former Voice of Michigan Football
Conquering Heroes
Ortmann makes Rose Bowl Hall of Fame
Rose Bowl Hall of Fame
Michigan Football Players in College Football Hall of Fame
College Football Hall of Fame
Braylon Edward's Foundation: 1 to 1
Michigan's Black Lettermen
Motown Revivals' 100 greatest Michigan Football Players
Michigan Stadium: History of the "Big House"
Michigan Stadium Story
Memorable Michigan Stadium Moments
My Memorable Michigan Stadium Moment
Michigan Stadium Story in 2011 Fall Football Media Guide
Cleaning the Big House
Michigan Wolverines in the NFL
Michigan Football Records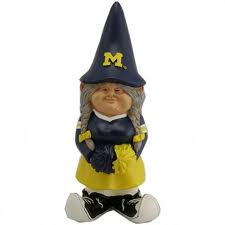 Where to go to follow Michigan Football:
Official Michigan Football Website
Bentley Historical Website for Michigan Football
Michigan Football Chat/Discussion/Message Boards/Stories
Michigan Football Fan and Blog Sites
Michigan Replay
Michigan Football Team Pages
Michigan Football Media Coverage
Michigan & NCAA Statistics/Data/Records/Rules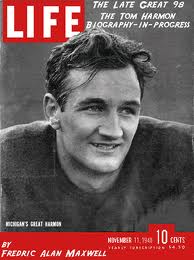 Rankings and Ratings:
Current NCAA Division I Football Rankings, Statistics and and Bowl Information
Historical Rankings of Division I Football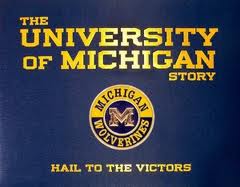 Losing Seasons:
1881 0-3
1883 2-3
1889 1-2
1891 4-5 Murphy & Crawford
1919 3-4 Yost
1928 3-4-1 Wieman
1934 1-7 Kipke
1936 1-7 Kipke
1951 4-5 Oosterbaan
1958 2-6-1 Oosterbaan
1959 4-5 Elliott
1962 2-7 Elliott
1963 3-4-2 Elliott
1965 4-6 Elliott
1967 4-6 Elliott
2008 3-9 Rodriquez (first time in Michigan football history that a team has lost more than 7 games)
2014 5-7 Hoke

Losing Streaks:
2009-5 game losing streak: Penn State, Illinois, Purdue, Wisconsin, Ohio State
2008-5 game losing streak: Illinois, Toledo, Penn State, Michigan State, Purdue
2006-2007-4 game losing streak: Ohio State-2006, USC-2007 Rose Bowl, Appalachian State, Oregon
1979-3 game losing streak: Purdue, Ohio State, North Carolina
1967-5 game losing streak: California, Navy, Michigan State, Indiana, Minnesota
1966-4 game losing streak: Georgia, Michigan State, Purdue, Minnesota
1962-4 game losing streak: Michigan State, Purdue, Minnesota, Wisconsin
1958-59-6 game losing streak: Iowa, Illinois, Indiana, Ohio State, Missouri, Michigan State
1936-37-7 game losing streak: Illinois, Penn, Northwestern, Ohio State, Michigan State, Northwestern, Minnesota
1935-36-6 game losing streak: Illinois, Minnesota, Wisconsin, Ohio State, Northwestern, Michigan State
1927-28-5 game losing streak: Minnesota, Ohio Wesleyan, Indiana, OSU, Wisconsin
1891-4 game losing streak: Chicago, Cornell, Cleveland, Cornell
1883-4 game losing streak: Wesleyan, Yale, Harvard, Stevens

Miscellaneous Stuff:
General Football Information
Women's Football Academy
Helmet Hut
2010 Michigan Football Schedule Wallpaper
Michigan Football Wallpaper
Nothing is Illuminated
Strength & Conditioning