Observations on the Spring Scrimmage 2015
On April 4, Michigan held practice #15 of the Spring. All the Harbaugh Hype contributed to the biggest crown in the history of the event with 60,000 attending. The showcase was divided into four ten minute quarters with no special teams play on a sunny, but windy 40-45 degree day from 12 Noon to 2:00 p.m. I will try to summarize my observations as well as a consensus of what others observed in the final practice scrimmage.
On offense, both Alex Malzone and Shane Morris led the Maize and Blue teams; Malzone was 15 of 27 for 95 yards with two interceptions while Morris was 11 of 24 for 135 yards with a TD strike to Jaron Dukes and an interception. Wilton Speight had some type of leg injury during the week so he didn't play, and none of the other quarterbacks on the roster participated. While neither Malzone or Morris looked ready to lead the Wolverine squad into the 2015 season, both showed they are capable of moving the offense at times. The addition of Jake Rudock and Zach Gentry for Summer 7 on 7 drills in July should heighten the level of competition for August. It will be interesting to see who captures the starting nod for the September 3 tilt at Utah.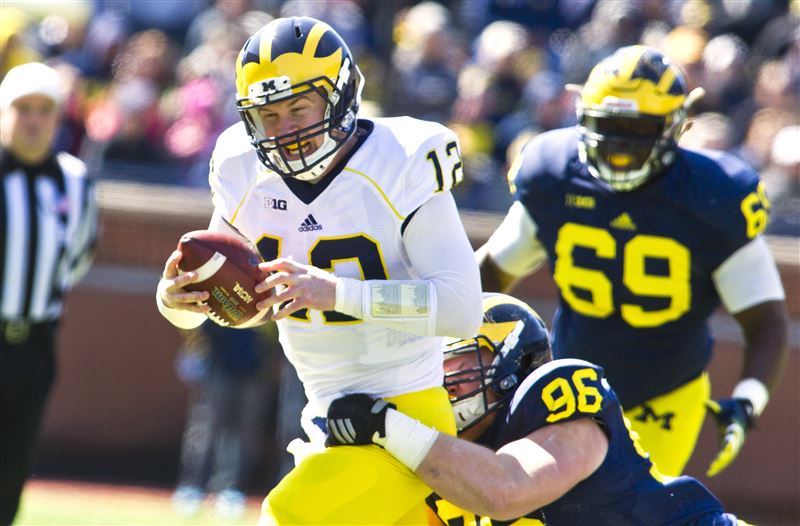 At running back, DeVeon Smith led all carriers with 7 carries for 50 yards after scampering on the first play from scrimmage for 34 yards. Ty Isaac wasn't able to play much due to injuries, but he should be carrying the ball quite a bit in the Fall. Derrick Green looked good at times, but had a tough day against our stellar defensive line. Drake Johnson may surprise and be ahead of schedule to return for Fall drills. Ross Taylor-Douglas looked quick at running back, and also played on both sides of the ball like Norfleet.
One of the big changes in our offense will be Harbaugh's use of the fullback. Joe Kerridge will definitely get more carries; both Kerridge, Wyatt Shallman and Ex-Linebacker Chase Winovich will be heavily counted on to catch short passes to take the pressure off the running game and the quarterbacks. Brady Pallante will also be counted on in short yardage situations at fullback. Sione Houma is expected to be back in the Fall as well.
At wide receiver, both Amara Darboh and Jehu Chesson looked to be ahead of Brian Cole, Maurice Ways, Freddy Canteen, Dennis Norfleet, and Jaron Dukes. Freddy Canteen had 6 catches today for 36 years, and Darboh caught 4 for 75 yards. We haven't found a "go to" guy yet, but Darboh is the closest we have to that. Norfleet split time between wideout and defensive back. Jake Butt is our best threat as a receiver at Tight End, but overall we are still not a dangerous group to cover. Jedd Fisch will have a difficult task in developing this group into a solid group for Fall. These receivers have to find a way to eliminate the drops, and to outgrab opposing defensive backs for the ball. Hopefully, the return of a healthy Khalid Hill will help the tight end corps which may be bolstered with the addition of T.J. Wheatley in the Fall. The hamstring issues of Drake Harris, the injuries at tight end, and the lack of contributions of Demario Jones, Ian Bunting, and Jack Wangler also hurt our wide receiving group.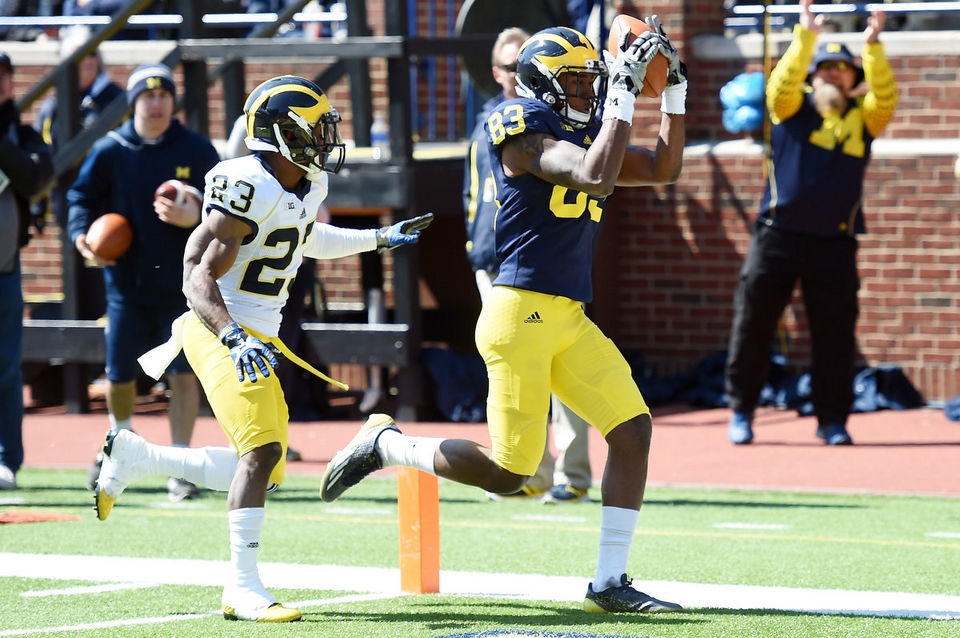 Tim Drevno has really worked hard on developing the offensive line, and has moved around every player to develop their skills at new positions. He had Erik Magnuson at Right Tackle, Ben Braden at Left Guard, Blake Bars at Left Guard, David Dawson at Right Guard, and Mason Cole at Center as well as Left Tackle. After looking at the many changes, I'd expect Cole to continue at Left Tackle with Logan Tulley-Tillman as his backup. Tulley Tillman was flagged 3 times today for penalties. Ben Braden and Kyle Kalis will be the two guards with Garrett Glasgow at Center. Blake Bars, David Dawson, and Patrick Kugler will back those three up. Erik Magnuson will indeed start at Right Tackle with Juwan Bushell-Beatty backing him up. Chris Fox didn't play today, but he could be a factor if healthy in the Fall as a backup. I see all three freshman recruits, Nolan Ulizio, Jon Runyan, and Grant Newsome as redshirting. I don't see Dan Samuelson as being a factor as a backup.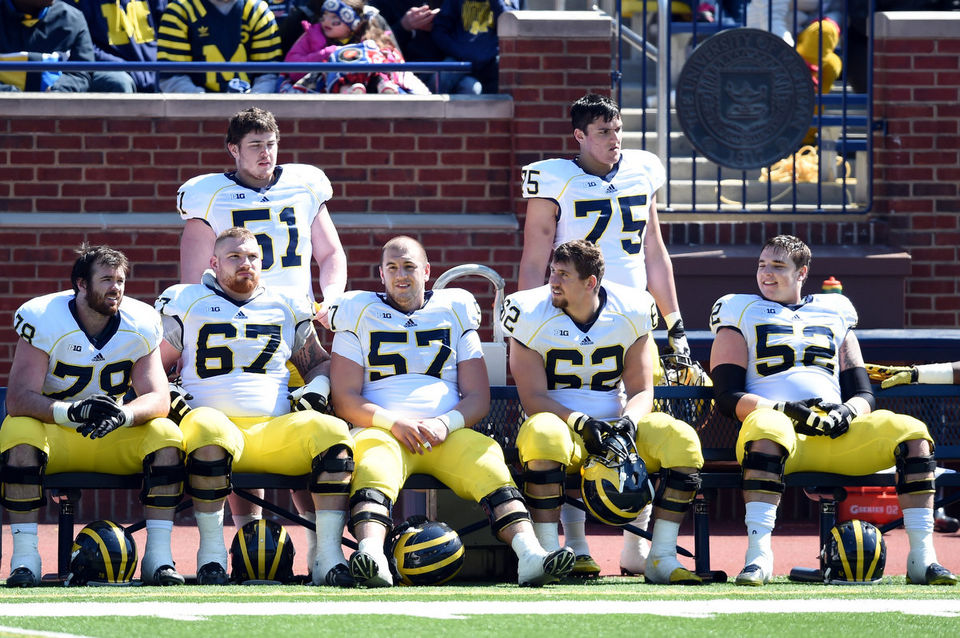 In Summary, I wouldn't expect the 2015 Wolverine Team to be a high scoring machine; in fact, this offense will really need to grind it out with time of possession and ball control if they are to learn to become consistent enough to persevere through a 12 game season.
On defense, both squads had 15 tackles for loss and 5 sacks; they reluctantly gave up 323 yards and 7 points. Joe Bolden led all defenders with 13 tackles with three for loss including a sack. The most impressive part of the defense is the defensive line built by Greg Mattison. At Nose Tackle, Ryan Glasgow, Bryan Mone and Maurice Hurst all stood out. We are definitely outstanding at the point of attack with three guys who will share playing time. Ditto at the 3 Technique Defensive Tackle where Chris Wormley, Willie Henry and Matt Godin are employed. Neither Godin nor Ondre Pipkins were available today due to injuries, but both are expected to contribute in the Fall. At Defensive End, Lawrence Marshall got a sack, and looks like he's now strong enough to contribute. Both Defensive End Starters, Mario Ojemudia and Taco Charlton, didn't suit up today due to injuries, but both will be ready for Fall. Coach Durkin has used Chris Wormley at Strong Side Defensive End as well as Defensive Tackle, and he appears to be mobile enough to adapt to the position; Wormley recorded a sack today. Henry Poggi and Tom Strobel could also see action at the Strong Side Defensive End. The addition of Shelton Johnson and Rueben Jones at End for the Fall should make this group fun to watch. We've finally developed a defensive line that should create havoc for opposing offenses.
At linebacker, Joe Bolden is the leader of the defense at WILL, and 5th Year Senior Desmond Morgan at MIKE gives us a pair of solid inside linebackers especially with Ben Gedeon backing both of them up. Morgan gained an interception today. Michael McClure had surgery this Spring so his status for Fall is unclear. At the SAM Outside Linebacker, we still don't have any clear leader in my opinion. The coaches have said good things about James Ross who was injured and didn't play today. Royce Jenkins-Stone has played both inside and outside linebacker, and the coaches have also utilized him as a Defensive End. Allen Gant played SAM today, but didn't stand out. Walk-on Nick Benda had his name called on a few occasions today.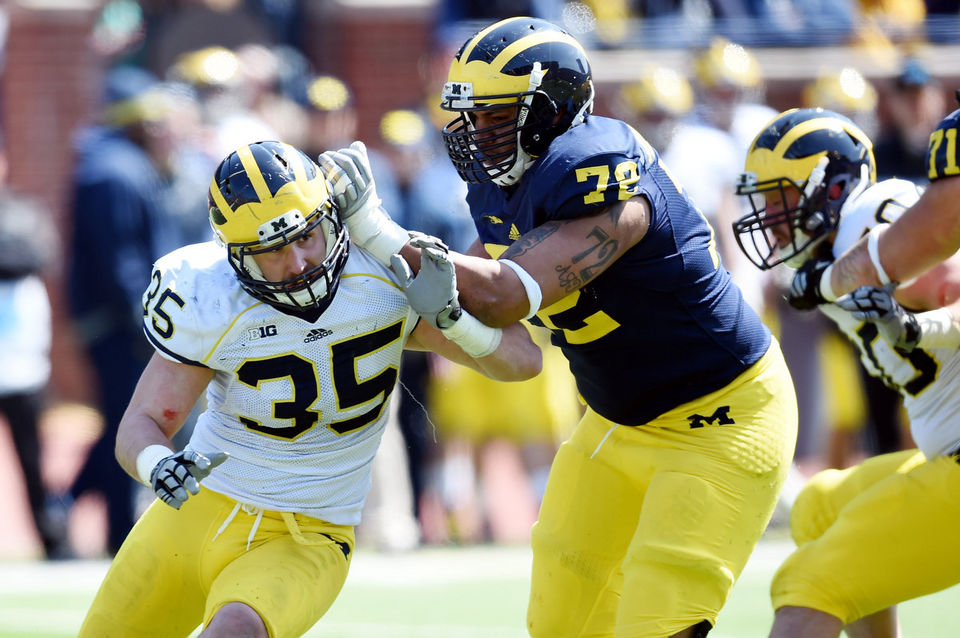 In the backfield, the coaches are confident that Jabrill Peppers can move to whatever position is needed the most, and he'll play all five positions in the Fall. Jourdan Lewis is our best corner, and 5th year transfer Wayne Lyons is expected to man the other corner. Jarrod Wilson and Delano Hill are battling for the Strong Safety position with Peppers holding the edge over Jeremy Clark and Brandon Watson at Free Safety. Watson and Hill gained interceptions today. New recruits Tyree Kinnel and Keith Washington have a chance to impress this Summer to seek playing time as well.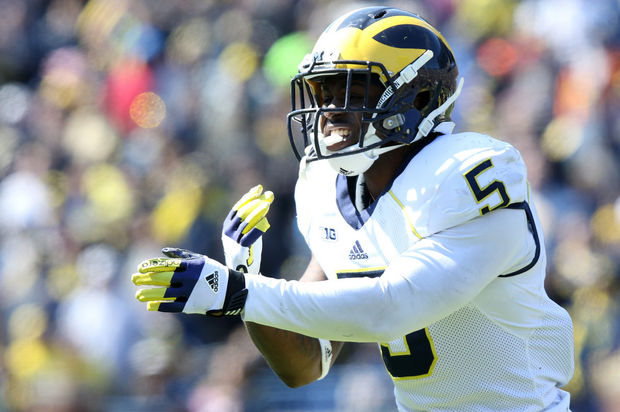 In Summary, our defense will be STRONG in 2015, VERY STRONG!!! We have a strong line, tough linebacking, and some playmakers in the secondary. We will be one of the top two or three defenses in the Big Ten for sure, but so will our rivals, Ohio State and Michigan State. We have some players that will be playing in the NFL someday with Joe Bolden, Jabrill Peppers, and Willie Henry.
The special teams are a mystery since the new systems being implemented by Coach Baxter won't be fully revealed until the Utah game. I would expect Peppers to return punts with Canteen and Norfleet backing him up. On kickoff returns, new recruit Karan Higdon may contribute as well as Norfleet and Canteen. Perhaps Baxter will take advantage of Keith Washington's 4.3 40 yard dash speed. The punting job may be decided if Blake O'Neill transfers from Weber State for a 5th Year; otherwise, last year's holder, Kenny Allen, may earn the job. The placekicker position will be a Summer competition between freshman recruits, Andrew David, Kyle Seychel, and Ryan Tice plus anyone else who may walk-on.
2015 Spring Game on The Big Ten Network
Jim Harbaugh Post Spring Game Press Conference
11 Highlights of Harbaugh's First Spring
Spring Practice Press Conference on March 13 Febuary 24 First Day of Practice Inside Michigan Football Special Edition Drevno & Durkin Practice #4 Practice #5 Practice #7 Practice #10 Practice #14
A Cloudy History of the Michigan Spring Game
Harbaugh Interviewed by Gerry DiNardo
Harbaugh Interview with M Cheerleader Charlie LeDuff
Inside Michigan Football Spring 2015
Harbaugh's First Spring Marked by Competition
Michigan Fans Swept Up by HarbaughMania
Garrett Glasgow Suspended Again
2014 Spring Scrimmage and Highlights
Spring Scrimmage 2006
Spring Scrimmage 2005
Spring Scrimmage 2004
Spring Scrimmage 2003-cancelled due to turf/weather
Spring Scrimmage 2002
Spring Scrimmage 2001
Spring Scrimmage 2000