Michigan Football Recruiting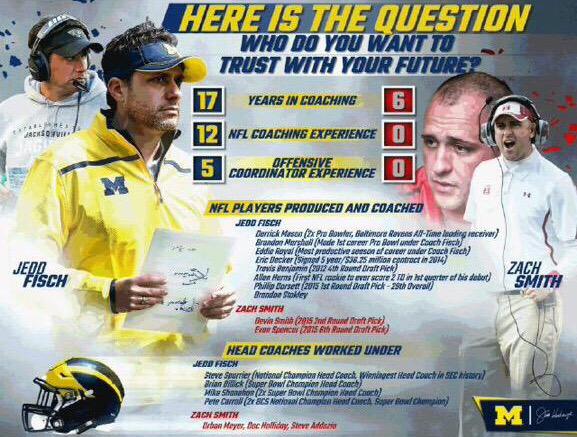 | | | | |
| --- | --- | --- | --- |
| Year | Offers | Visits | Commits |
| 2009 | 120 | n/a | 22 |
| 2010 | 192 | n/a | 27 |
| 2011 | 195 | n/a | 20 |
| 2012 | 193 | n/a | 25 |
| 2013 | 153 | n/a | 27 |
| 2014 | 128 | n/a | 16 |
| 2015 | 150 | n/a | 14 |
| 2016 | 245 | n/a | 21 |
| 2017 | 120 | n/a | 3 |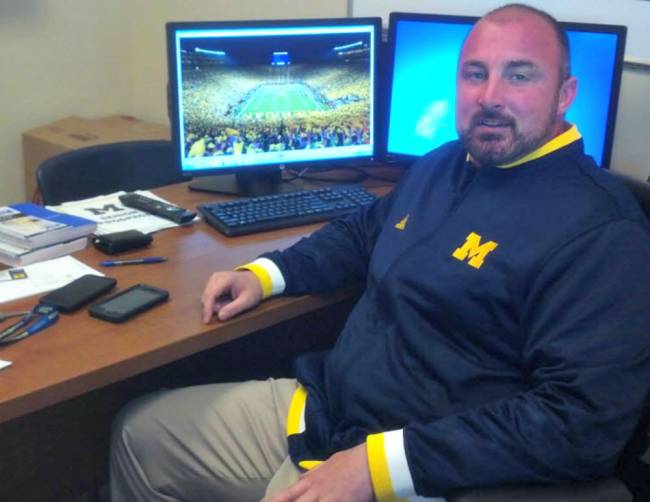 Michigan Football Position Greats
Year
AP Final Ranking
Top Player Recruit
Players
(MaxPreps Lemming)
Hodge/Scout
Emfinger
ESPN

2016

2015

2014

2013

2012

2011

2010

2009

2008

2007

2006

2005

2004

n/a

n/a

UR

UR

24

12

UR

UR

UR

18

20

UR

13

Bredeson

Cole

Peppers

Green

Kalis

Beyer

Gardner

Turner

McGuffie

Mallett

Graham

Grady

Henne

n/a

n/a

20

n/a

13

11

n/a

8

n/a

4

10

n/a

n/a

10

5

7

9

10

13

4

5

n/a

n/a

n/a

n/a

15

24

n/a

n/a

n/a

n/a

n/a

n/a

5

n/a

8

n/a

n/a

n/a

n/a

n/a

8

n/a

4

n/a

10

8

10

11

1

5

2003

6

Woodley

17

n/a

7

17

n/a

n/a

n/a

2002

9

Watson

22

9

3

16

n/a

n/a

n/a

2001

20

Baraka

22

2

2

n/a

n/a

n/a

n/a

2000

11

Ecker

21

20

13

n/a

n/a

n/a

n/a

1999

5

LeSueur

24

8

8

n/a

n/a

n/a

n/a

1998

12

Henson

19

1

n/a

n/a

n/a

n/a

n/a

1997

1

Thomas

20

5

n/a

n/a

n/a

n/a

n/a

1996

20

Hutchinson

19

9

n/a

n/a

n/a

n/a

n/a

1995

17

Woodson

20

10

n/a

n/a

n/a

n/a

n/a

1994

12

Dreisbach

22

3

n/a

n/a

n/a

n/a

n/a

1993

21

Loeffler

24

2

n/a

n/a

n/a

n/a

n/a

1992

5

Toomer

25

n/a

n/a

n/a

n/a

n/a

n/a

1991

6

Wheatley

20

n/a

n/a

n/a

n/a

n/a

n/a

1990

7

Powers

21

n/a

n/a

n/a

n/a

n/a

n/a

1989

7

McGee

19

n/a

n/a

n/a

n/a

n/a

n/a

1988

4

Brown, D.J.

28

n/a

n/a

n/a

n/a

n/a

n/a

1987

19

Welbourne

21

n/a

n/a

n/a

n/a

n/a

n/a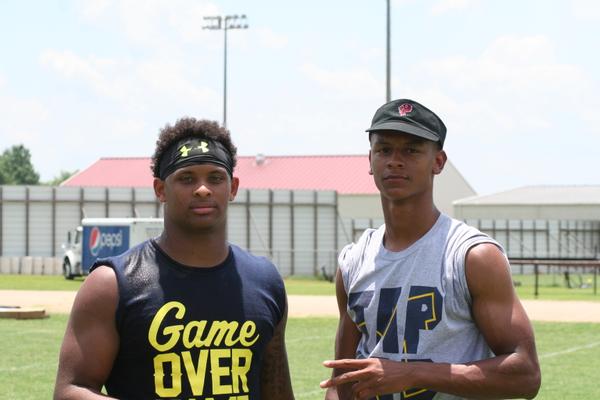 2017 Michigan Football Recruiting
Michigan Football Recruits for 2017
2016 Michigan Football Recruiting
Michigan Football Recruits for 2016
Michigan Football Visitors and Evaluations
Developing Michigan Football Depth Chart for 2016
Michigan Football Scholarship Summary for 2015
Scholarships Michigan Football 2015
2015 Michigan Football Recruiting
Michigan Football Recruits for 2015
Michigan Football Depth Chart for 2015
Observations on Michigan Football Recruiting in 2014
Michigan Football Scholarship Summary for 2014
Scholarships Michigan Football 2014
Touch The Banner Michigan Offers for 2015
Scout Top Recruits in Michigan
2014 Michigan Football Recruiting
Michigan Football Recruits for 2014
Michigan Football Depth Chart for 2014
Observations on Michigan Football Recruiting in 2013
Michigan Football Scholarship Summary for 2013
Scholarships Michigan Football 2013
Touch The Banner Michigan Offers for 2014
Detroit Free Press Mick McCabe's Top 50
USA Today High School All-American Football Team
Lansing State Journal Catch 22
All State Teams by Division for 2013
MaxPreps All-State Teams by State
2013 Michigan Football Recruiting
Michigan Football Recruits for 2013
Michigan Football Depth Chart for 2013
Observations on Michigan Football Recruiting in 2012
Touch The Banner Michigan Offers for 2013
MGoBlog Recruiting Board for 2013
247 Sports Michigan Offers for 2013
2012 Michigan Football Recruiting
National Football Recruiting for 2012
Big Ten Football Recruiting for 2012
Battle for Michigan Football Recruits 2012
Michigan Football Scholarship Summary for 2012
Scholarships Michigan Football 2012
Michigan Football Visitors and Evaluations
Michigan Football Depth Chart for 2012
Touch The Banner Michigan Offers for 2012
MGoBlog's Michigan Offers for 2012
MGoBlog's Recruiting Board for 2012
Orlando Sentinel's Bill Buchalter Football Recruiting
MaxPrep's (Tom Lemming)Top 100 (Top 25 Combo QB Pro QB TB Big Back WB WR TE OT OG/C DT DE ILB OLB DB S Ath)
Michigan 2012 Offer List: 189+=23 commitments (28 scholarships for 2012)
MGoBlog's Recruiting Board for 2012
Touch The Banner 2012 Michigan Offer List
Rivals 250 for 2012 (Top Dual QB Pro QB RB FB APB WR TE OT OG C DT SDE WDE ILB OLB DB S Ath PK)
Scout 300 for 2012 (Top QB RB FB WR TE OT OG C DT DE ILB OLB DB S PK P LS)
Top 247 (ProQB DualQB RB APB WR TE OT OG C DT WDE SDE ILB OLB DB S Ath PK P LS)
Parade High School All-American Football Team for 2012
Detroit News Michigan Blue Chips 1-15
Detroit News Michigan Blue Chips 16-60
WTKA'S Podcasts: Recruiting Updates with Sam Webb
ThaRinger State Watch Lists for 2012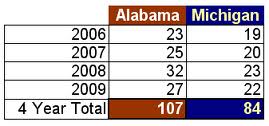 Oversigning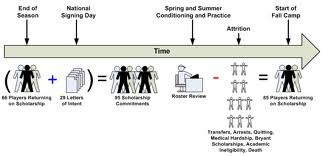 Oversigning Data for Last 5 Years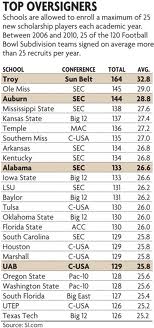 Big Ten on Oversigning Part I Part II
Preferred Walk-ons, Greyshirts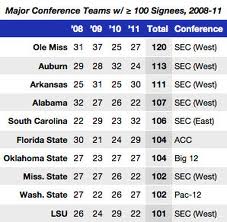 Placekicking/Punting/Long Snappers: Special Teams
2011 Michigan Football Recruiting
Michigan Football Recruits for 2011
Michigan Football Visitors and Evaluations: 2008-2010 (Rodriquez Era)
Michigan Football Scholarship Situation for 2011
National Football Recruiting for 2011
Big Ten Football Recruiting for 2011
Junior College/Post Graduate Recruiting in 2011
Detroit News Michigan Blue Chips 1-15
Detroit News Michigan Blue Chips 16-60
Detroit Free Press Mick McCabes Top 50 for 2011
Lansing State Journal's Catch 22 for 2011
Battle for Michigan Football Recruits 2011
MGoBlog Recruiting Board 2011 (TomVH Twitter Updates)
Touch The Banner Michigan Offers for 2011
WTKA'S Podcasts: Recruiting Updates with Sam Webb
2010 Michigan Football Recruiting
National Football Recruiting 2010
Observations on Michigan Football Recruiting 2010
USA Today Signing Day Coverage
Andy Staples Top 15 College Football Recruiting Classes of All-Time
2009 All-USA Today All-American Team
MaxPreps 2009 High School All-American Football Team
2010 Parade High School All-American Football Team
Early Enrollments give New Wolverines a Head Start
New Names Emerging for Michigan in Final Recruiting Month
Best of the Midwest: #1s Where are They Now?
Mick McCabe's Top 50 Football Recruits in Michigan
Lansing State Journal's Catch 22 for 2010
Detroit News Michigan Blue Chips 1-15
Detroit News Michigan Blue Chips 16-60
Battle for Michigan Football Recruits 2010
Michigan Football Recruits for 2010
Michigan Football Scholarship Situation 2010
Scholarship Summary Update
NCAA Football Recruiting Gurus/Experts/Rankings
The New Michigan: Football Recruiting has Changed Under Coach Rodriquez
NCAA Football Recruiting Process
2009 Michigan Football Recruiting
Observations on Michigan Football Recruiting 2009
Press Conference Signing Day
Top Football Recruits for 2009: Where Does Michigan Stand?
Michigan Football Recruits for 2009
Scholarship Situation for 2009
Best of the Midwest for 2009
National College Football Recruiting for 2009
Decommitments in 2009
Tracking Rich Rodriquez's first recruiting class
Historical Perspective on Michigan Football Recruiting
Historical Perspective on Michigan Football Recruiting (1999-2005)
Historical Perspective on Michigan Football Recruiting (2005-2009)
There are nearly 4,000 football recruits listed in the Scout (Hodge) database so the top 300 recruits represent the top 10% of the available prospects. While Michigan (or any football program) would probably accept commitment offers of any top 4 or 5 star recruit as graded by Rivals, Scout (Hodge), TAKKLE, Lemming (MaxPreps), 247Sports or other scouting analyst, we have concentrated our efforts on prospects who have shown interest in representing Michigan football. While you can't sign them all, we were finalists for many top national recruits like we are every year. We offer scholarships to 200 or so prospects annually to reach 20-25 commitments of the total 85 allowed. If one considers that there are 120 NCAA Division I Football Programs with a potential of 25 scholarships per year per institution with a maximum of 85 total scholarships, there are as many as 3000 Division I scholarships potentially available. This doesn't include Division II teams, Division III or Junior College opportunities to play football as a walk-on, partial or full scholarship player.
Pre-1977: NO scholarship limits in D-1A football.  It was up to each university to determine how many scholarships it could afford.
1977-1991: D1 Football limit of 95 scholarships due to Title IX
1992: D1 Football limit of 92 scholarships
1993: D1 Football limit of 88 scholarships
1994-Present: D1 Football limit of 85 scholarships
Michigan Football Recruits for 2007
Michigan Football Recruits for 2006
Michigan Football Recruits for 2005