Yost vs. Schembecher: No Comparison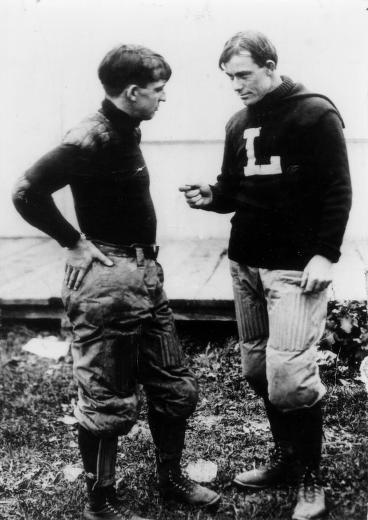 Harrison "Boss" Weeks with Yost in 1902
Scott DeCamp of MLive's omission of Fielding Harris Yost on the "Mount Rushmore" of Michigan Football Greats shows an obvious lack of knowledge and research on his part. Yost made the football program what it is today! He built the program into THE most respected NCAA football program in America when he became head football coach at the age of 30. He not only won 4 national championships, 1901-1905 with a record of 55-1-1, but founded the leading intramural athletic program in the nation as Athletic Director for the inclusion of women in athletics. His vision included the entire student body of the University being active in athletics.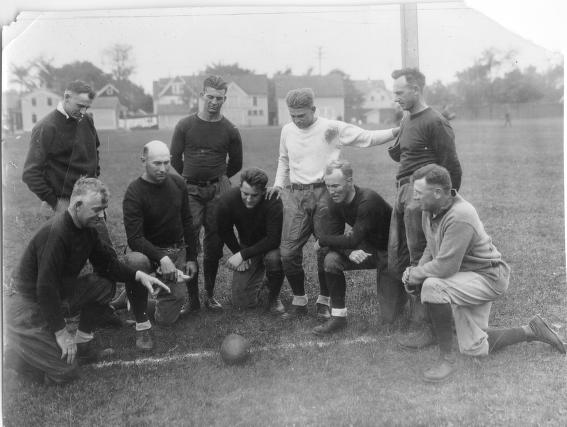 Yost's Football Staff in 1926 included Charles Hoyt, Elton Wieman, Cliff Keen, Jack Blott, Harry Kipke, George Veenker, Ray Fisher, and Edwin Mather
Yost hired so many legendary coaches including Cliff Keen for wrestling, Matt Mann for swimming, Harry Kipke for football, Charles Hoyt for Track & Field, and Ray Courtright for golf, but he built the entire athletic program into THE most respected in the nation while he was Athletic Director, 1921-1940. Yost spent 40 years of his life working for the Wolverine Athletic Program, and laid the foundation for future generations.
Margaret Bell and Yost over Palmer Field in 1938
His vision as Athletic Director included building "first class" facilities for athletics; Yost initiated the first indoor field house in the nation in 1923, the nation's first Intramural Building in 1928, and the most incredible football stadium in America in 1927. Yost's vision included the building of the University of Michigan Golf Course in 1930 by Alister McKenzie, one of the world's top golf course designers who built more than 50 golf courses on four continents including August National where the most prestigious golf tournament in the world is held every April, The Masters.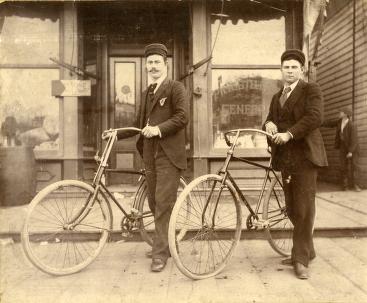 Yost (on the left) with his younger brother, Ellis, in 1893; he was the oldest of four children in his family
As a result of Yost's dedication and vision, Michigan won NCAA Championships in the 1930s in golf, swimming and football and Cliff Keen placed 2 wrestlers on the 1928 Olympic Wrestling team with 8 weight classes. Hoyt's track teams won 14 of 20 Indoor and Outdoor Big Ten Championships, 1930-1939; Hoyt left for Yale after Crisler was about to be promoted to Athletic Director in 1940. Crisler also fired Courtright in 1944 in spite of winning 8 Big Ten Championships and 2 National Championships.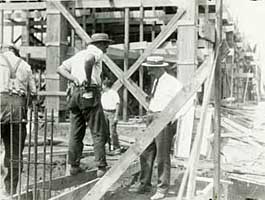 Yost supervised the entire building project, 1926-1927, daily until the Stadium's completion, and refused to have the Stadium named in his honor following a drive after World War II to rename it Yost Stadium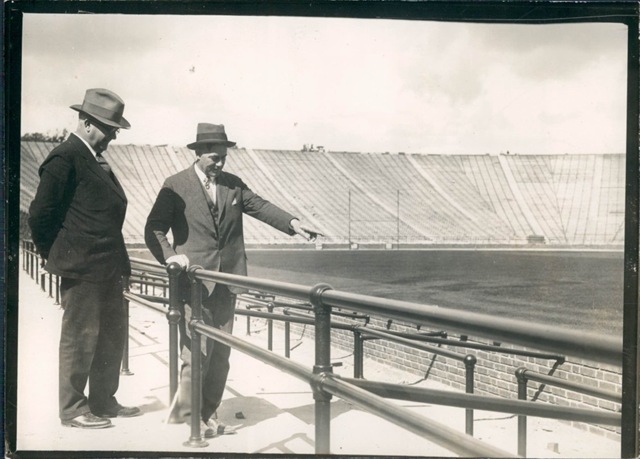 Yost's efforts and facility improvements are still evident in the Wolverine's Athletic Program in 2018, and will continue to be there for decades to come. Michigan has won more Big Ten Conference Championships than any other Big Ten Conference School, and that standard was set in the Yost Era, and maintained up to 2018.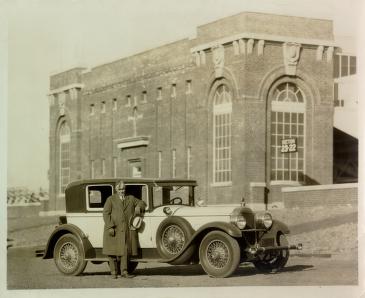 The University of Michigan Alumni Association rewarded Yost's efforts in building the stadium by giving him a 1927 Packard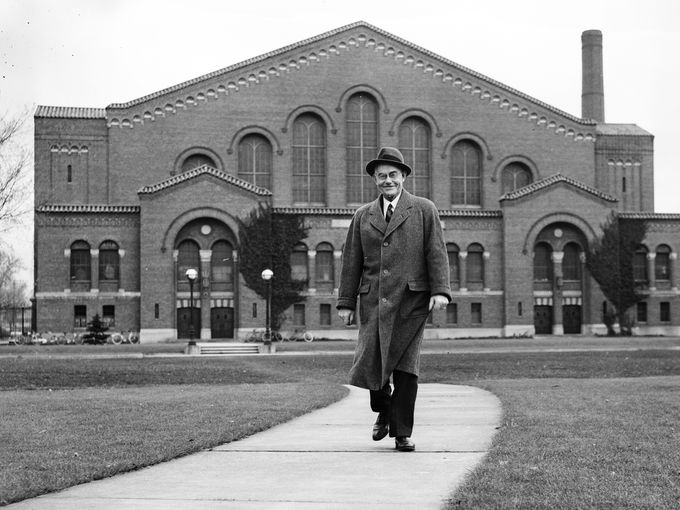 Yost was an incredible coach and athletic director with a law degree. 75 of Yost's former players became football coaches, and two of them won National Championships at Michigan: Kipke and Oosterbaan. Five of his former coaches were elected into the College Football Hall of Fame: George Little, Dan McGuigan, Bennie Owen, Elton Wieman in addition to Kipke and Oosterbaan. Several of his former players and coaches went on to become Athletic Directors including: Dick Babcock, Alan Bovard, Benny Friedman, Bill Orwig, Andrew Reid, George Veenker, and Elton Wieman.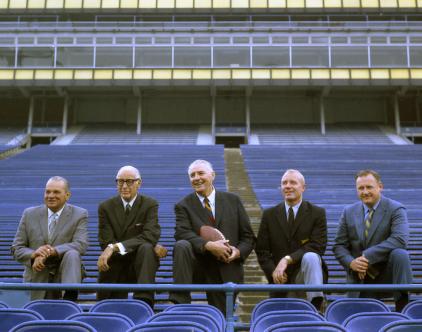 The end of the Yost Era, 1900-1969 with former Football Coaches, Kipke, Crisler, Oosterbaan and Elliott as the Schembechler Era, 1969-1990
Bo Schembechler was not in Yost's "league" in terms of coaching ability, accomplishments or achievements, and his short tenure as athletic director, 1988-1990, resulted in the worst "black eye" in Michigan Athletic History with the Ed Martin Scandal.  Bo alienated women at Michigan as he did not support Title IX initiatives, and stubbornly blocked the progress of women's sports at Michigan. You won't find any pictures of Schembecher and Phylis Ocker together; both Athletic Director Don Canham and Schembechler made bitter enemies of virtually all women coaches including Ocker since varsity women's athletics were implemented in 1973 following Title IX mandates. Ocker started at the University of Michigan in 1961 at a salary of $6,700; she was appointed Field Hockey Coach in 1973, and was appointed the first "Women's Athletic Director" in 1976 replacing Marie "Pete" Hartwig who retired after teaching at the University of Michigan since 1930. Hartwig replaced Margaret Bell in 1957 as Director of Women's Physical Education after Bell persuaded her student secretary to stay at Michigan as a physical education instructor after coming to pursue a degree in fine arts. Michigan had a long history of blocking women's athletic initiatives; Fritz Crisler nixed a varsity women's swimming in the 1950s when Matt Mann's daughter, Rosemary Mann Dawson, a 1943 University of Michigan graduate and swimming instructor in 1958, tried to help implement the program, but was met with hostility. She went on to coach 40 Olympians and 350 All-American swimmers.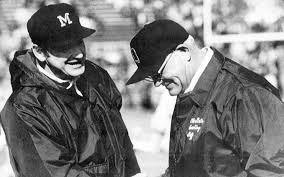 Bo almost left Michigan in 1982 for an offer for $3 million over 10 years at Texas A&M; he would have left were it not for financial overtures and incentives made by Domino's CEO Tom Monahan to keep him at Michigan when Athletic Director Don Canham couldn't match the offer. After Bo left Michigan to become Detroit Tiger President in 1990 after accepting the Athletic Director position in 1988, he fired beloved longtime announcer, Ernie Harwell, in 1991. It left Detroit Tiger fans shocked, angry, and devastated. Monaghan finally got fed up with Bo, and fired him in 1992. Ocker also retired in 1992 as did Canham in 1988; this left Peg Bradley-Doppes, a former Michigan Volleyball Coach, the task of finally being able to increase opportunities for Wolverine Athletes after a 20 year wait due to the unreasonable behavior of both Schembechler and Canham. Bradley-Doppes was successful despite having to deal with significant turnover of athletic directors throughout the 1990s with Jack Weidenbach, Joe Roberson, and Tom Goss didn't take such a belligerent attitude towards women's athletics.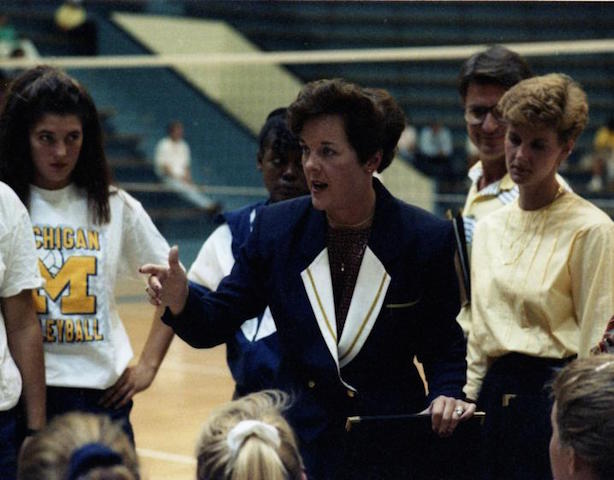 While Bo was a good football coach, and deserves to be in the College Football Hall of Fame with 13 conference championships; he never won a national championship and lost 12 of 17 bowl games. He did toughen up the football program, 1969-1989, but all the best teams he faced knew if they could stop the Wolverine ground game, a Schembechler led squad was one dimensional and beatable; he never won a national title while Yost earned 6 national championships.

Elliott, Schembechler, Moeller, and Carr: The Michigan Football Head Coaching Legacy, 1958-2007
One of the examples that hurt his coaching credibility was when he brought in Don Nehlen in 1977 from Bowling Green to teach he and his staff how to establish a passing attack. Nehlen was his quarterback coach while Rick Leach was there until 1979 when he left to take the Head Coach position at West Virginia; Bo finally won his first Rose Bowl in 1980. After Nehlen left, Schembechler tried Defensive Coordinator Gary Moeller as quarterbacks coach in 1980, and then put in Offensive Line Coach Jerry Hanlon to be quarterbacks coach in the Steve Smith era. Smith threw little, and the Wolverines lost three more bowl games, 1982-1984, and finished the 1985 campaign with a 6-7 record.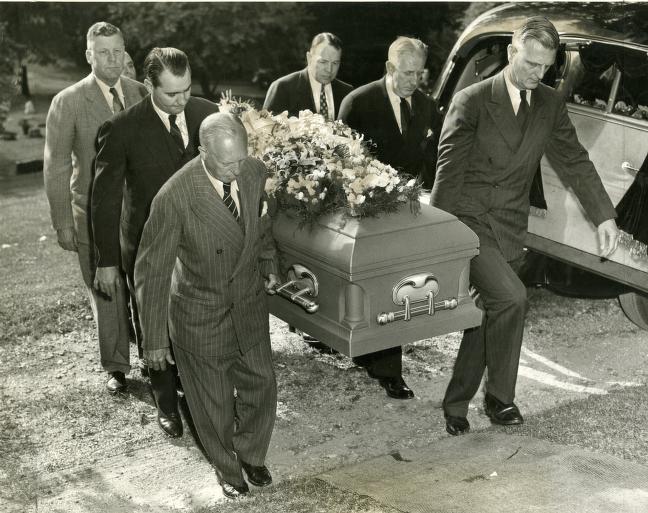 Yost's Pallbearers included Matt Mann, Bennie Ooosterbaan, Fred Lawton, Robert Brown, Andy Baker and Paul Goebel
The foundation of the Michigan Athletic Program that Fielding Yost laid, 1901-1940, including a mindset with high expectations and winning attitude that has catapulted the Wolverines to a Top 5 finish in the NACDA Learfield Director's Cup, 1993-2018. As a result of Yost's efforts, Michigan will always maintain one of the most respected athletic programs in the nation at the Division I level with the highest expectations in Division I athletics, and "athletics for all" including women. While the championship attitudes and expectations for the foundation of Wolverine Athletics were laid by Yost, there is no statue in tribute to his legacy on the University of Michigan Campus following his death in 1946; instead, Schembechler has a statue erected in 2014 following $9 million of rennovations. The building was erected in 1990 when he was Athletic Director; there are current plans for another $15 million Performance Center improvements following $21 million improvements at the Oosterbaan Center as well. Apparently, money and what money can buy is changing the legacy of Michigan football.