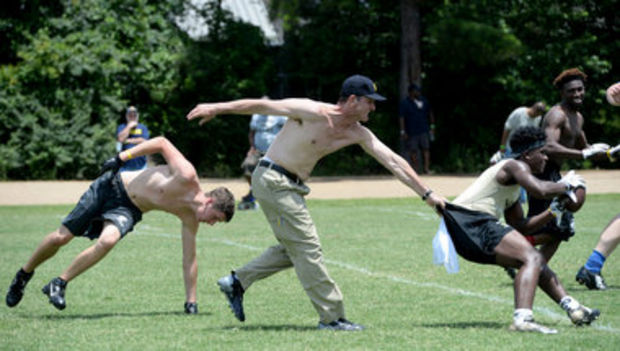 Jim Harbaugh conducted the "absolute craziest" recruiting season in Michigan Football History over the past year. He was formally introduced as Wolverine Head Football Coach on December 30, 2014, and helped secure a small class of 14 recruits by February 4th. He began after winter conditioning with the allotted 15 Spring practices; then, he nailed his quarterback of the future, Brandon Peters, who pledged on April 4. Jake Rudock tranferred on April 9. Harbaugh also made big headlines with prospective recruits when he mentored 2013 Heisman Trophy Winner, Jameis Winston, in Ann Arbor prior to the NFL Combine in February. After the Jim Minick DUI scandal and reporting 4 NCAA Secondary Violations in May, his recruiting ball of activity really started rolling with the 9 Satellite Camps from June 4-12, the Summer Swarm Tour, in California, Florida, Texas, Indiana and Pennsylvania with commitments from Ben Bredeson, Chris Evans, Devin Gil, Devery Hamilton, Dytarious Johnson, Ron Johnson, Sean McKeon, Josh Metellus, and Michael Onwenu with a initial target emphasis on offensive linemen. The Michigan Football Camp was June 14-20. Suddenly, we were near the Top 10 in Team Recruiting. More importantly, he created a frenzy of interest from all the nation's top recruits with a social media blitz which included sending recruits birthday tweets with a picture of a cake. As a result of Harbaugh's success, both the SEC and ACC have petitioned the NCAA to prohibit these satellite camps; if the petition is approved, it may be called the "Harbaugh Recruiting Rule." As a response to the dissension, Harbaugh announced that he plans to hold some Spring practices in Florida in April, 2016. I wonder if SEC or ACC teams will consider coming North for some of their Spring drills? He added receivers Brad Hawkins in July, and Ahmir Mitchell in August by the time Summer football practices were initiated. He also established an important connection with Devin Bush Sr., head football coach at Flanagan High School in Pembroke Pines, FL. Harbaugh may name Bush as Michigan's new recruiting coordinator with Chris Partridge's promotion to Linebackers/Special Teams coach.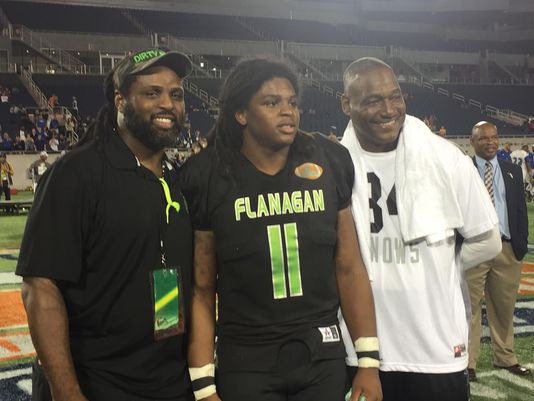 Devin Bush Sr. and Devin Bush Jr.
MCommitment
Previous Pledge
Dwumfour, Michael
Penn State
Gil, Devin
Miami-FL

Hill, Lavert

Johnson, Nate

Penn State

Purdue

Long, David
Stanford
McDoom, Eddie
Oregon
Metellus, Josh
Georgia Southern
Nordin, Quinn
Penn State
Spanellis, Stephen
Virginia
Uche, Joshua
Miami-FL
Walker, Kareem
Ohio State
So much excitement about playing for Harbaugh then led to a myriad of Fall football visits during home games. We edged Notre Dame for Carlo Kemp in November; then, Harbaugh pulled a real upset when he got Kareem Walker to decommit from Ohio State. Walker's best friend is Jabrill Peppers, Wolverine Freshman All-American; Walker, Peppers, and Rashan Gary are all FIVE STAR Recruits from New Jersey. Both Kemp and Walker enrolled at Michigan for winter term along with five others: Devin Bush, Kingston Davis, Sean McKeon, Ahmir Mitchell, and Brandon Peters. Harbaugh had a bit of disruption at a critical time with Defensive Coordinator and Linebackers Coach, D.J. Durkin, leaving to be head coach at Maryland on December 2; however, he replaced him quickly with Dan Brown on December 20. Michigan pounded Florida, 41-7, for their 10th win of the season on January 1st in the Citrus Bowl, and continued to create interest for top recruits. Along the way, Harbaugh lost 12 previous commitments which broke the "old" Michigan record set by Rich Rodriquez in 2009 with 9. Apparently, these guys either didn't fulfill obligations or have great senior seasons, were injured, slow-played by the coaching staff, or just sought opportunities from other schools; instead, Harbaugh pursued higher ranked players, and took some heat in the process especially on Erik Swenson by Teddy Greenstein of the Chicago Tribune who had many thoughts on Harbaugh. Swenson had immediate offers from Wisconsin, Northwestern and Oklahoma as his value skyrocketed. Rashad Weaver had 6 new offers within 12 hours following his decommitment on Twitter, and 9 coaches visiting him at his school; he then defended Harbaugh's actions on Twitter, and went to visit Penn State and Pittsburgh after a frenzy of interest. Harbaugh nixed the early enrollment of Linebacker David Reese so he pledged to Florida. Other former Michigan pledges, Antwaine Richardson and Dele Harding switched pledges to Rutgers and Illinois, and Kiante Enis at Indiana so we'll see these guys play later against us in Big Ten action. In addition, Harbaugh stole 9 recruits who had been committed to other schools prior to their pledge to Michigan. Without a doubt, Jim Harbaugh's integrity and recruiting style throughout the recruiting process has been in question; however, most Michigan fans support anything he does because he's brought them a winner after a long Big Ten Title drought. Both President Mark Schlissel and Athletic Director Jim Hackett have chosen to take a "hands off" approach to supervising Harbaugh; in fact, Schlissel defended Harbaugh's approach. Harbaugh believes his responsibilities include bending and manipulating NCAA rules as it is ethical. ESPN writer Dan Murray thinks Michigan now has a perception problem. Detroit News Sportswriter Bob Wojnowski articulated that this is what Michigan signed up for. Nick Baumgartner of MLIVE on Harbaugh and Michigan Recruiting. It is not expected that new Athletic Director,Warde Manuel, will supervise Harbaugh either since he was a former teammate in 1986; Manuel was announced as new AD on January 29, 2016 after Jim Hackett served as InterimAD from October 31, 2014 following David Brandon's resignation, and his official start date is March 15. This is a reversal of the approach used by Lee Bollinger during the Tom Goss era, 1997-2000; Goss also played defensive line, 1964-1968, like Manuel, 1986-1990.
| | |
| --- | --- |
| MDecommitment | New School |
| DeWeaver, Messiah | Michigan State |
| Elliott, Jordan | Texas |
| Enis, Kiante | Indiana |
| Falcon, Matt | Western Michigan |
| Hamilton, Devery | Stanford |
| Harding, Dele | Illinois |
| Reese, David | Florida |
| Richardson, Antwaine | Maryland |
| Scott, Sir Patrick | Marshall |
| Swenson, Erik | Oklahoma |
| Viramontes, Victor | California |
| Weaver, Rashad | Pittsburgh |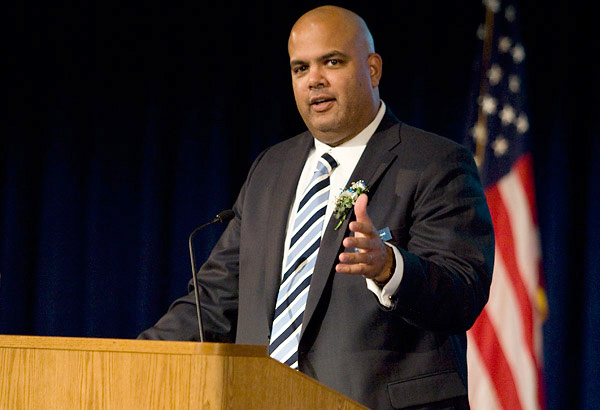 Warde Manuel, was Michigan Associate Athletic Director, 2000-2005 and lettered in football and track, 1986-1990; he holds three degrees from the University of Michigan
| | | |
| --- | --- | --- |
| Michigan Big Ten Title Drought | Years | Period |
| Oosterbaan to Elliott | 14 | 1950-1964 |
| Carr-Rodriquez-Hoke-Harbaugh | 12 | 2004-2016 |
| Michigan exits conference, 1907-16 | 12 | 1906-1918 |
| Kipke to Crisler | 10 | 1933-1943 |
Harbaugh saved his best for at the end of this year's recruiting process with the biggest month yet resulting in pledges with Dylan Crawford, Michael Dwumfour, Nick Eubanks, Khaleke Hudson, Nate Johnson, David Long, Elysee Mbem-Bosse, Eddie McDoom, Stephen Spanellis, and Joshua Uche to close this year's class. The "Big Fish," Rashan Gary, was a "silent" commitment all along until his special Signing Day announcement for 1:00 p.m. on ESPNU. Harbaugh also had sleepovers with Quinn Nordin and Connor Murphy; he pledged Nordin, but not Murphy. Harbaugh closed on Signing day with the pledges of LaVert Hill, Rashan Gary, and Devin Asiasi. Harbaugh reinvented the recruiting process patenting the head coach as "buddy" with wild antics including tree climbing at David Long's house. The grand Signing with the Stars extravaganza with notables Tom Brady, Ric Flair, Josh Gracin, Lou Holtz, Mayer Hawthorne, Derek Holland, Lou Holtz, Desmond Howard, Jon Jansen, Derek Jeter, Michael Jordan, Jim Leyland, Todd McShay, Migos, Denard Robinson, Mike Shanahan, Jessica Szohr, etc. at Hill Auditorium from 11:30 a.m. to 1:30 p.m. He also tempted Alaric Jackson with an offer on January 31, the last day before the "no contact" period on February 1-2; however, Jackson signed with Iowa. This gave us our largest recruiting class in Michigan Football history with 28 recruits since the NCAA began imposing restrictions in 1977 lowering Division I football scholarships to 95, and then 85 by 1994. Along with the "preferred" walk-ons, we have over 40 new Wolverines on the 120 man 2016 Michigan Football Roster. The event also raised over $110,000 for the ChadTough Foundation.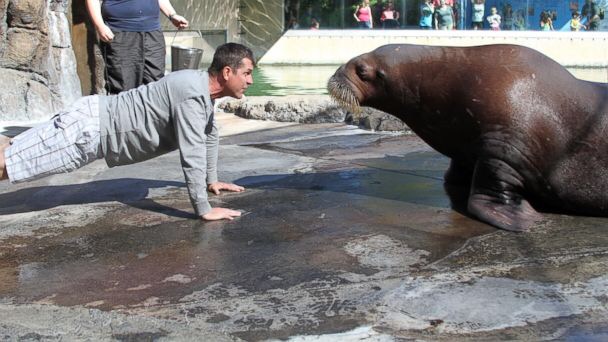 On Offense, we recruited the #6 Rivals Pro-Style Quarterback in Brandon Peters; we also had two decommitments with #8 Pro-Style Quarterback Messiah DeWeaver who originally committed to Brady Hoke, then signed with Michigan State. We also pledged #15 Dual Threat Quarterback in Victor Viramontes at one of the Satellite Camps; later, in the Fall, he decommited and signed with California with a better chance for playing time. Harbaugh courted Jacob Eason (Georgia), K.J. Costello (Stanford), Jarrett Guarantano (Tennessee), Dwayne Haskins (Ohio State, and Malik Henry (Florida State). He was somewhat interested in Sonny Abramson (Virginia Tech), Logan Byrd (North Carolina), and Shea Patterson (Mississippi). Overall, the addition of Peters gives Michigan a chance for a quality pocket passer. Since he enrolled in January, he'll have a shot to be a backup or redshirt in 2016; he will compete with transfer John O'Korn, Redshirt Alex Malzone, last season's backup, Wilton Speight, and Shane Morris for playing time.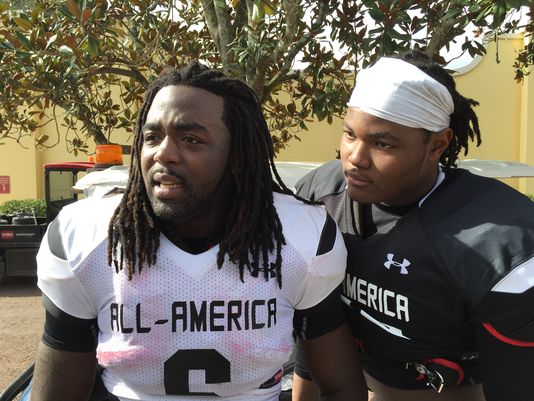 Michigan's Two Five Star Recruits: Kareem Walker and Rashan Gary
At Running Back, we gained #6 Running Back Kareem Walker, #2 Fullback Kingston Davis, and #32 Athlete in Chris Evans, an All-Purpose Back/Wide Receiver/Kick Returner. We offered 15 or so running backs including Elijah Holyfield (Georgia), Miles Sanders (Penn State), Rakeem Boyd (Texas A&M), Toks Akinribade (Iowa), Vavae Malepaei (Oregon), Abdul Adams (Oklahoma), Carlin Fils-Aime (Tennessee), Demario McCall (Ohio State), etc. We were interested in several athletes to be used in the Slot including Mecole Hardman (Georgia), Jack Jones and Velus Jones (USC), Martell Petaway (West Virginia), Steven Smothers (West Virginia), Demetric Felton (UCLA), Daevon Vigilant (New Mexico), Devaughn Cooper (Arizona), Tre Nixon (Mississippi) and Armani Posey (Bowling Green). This stable of backs gives us immediate help at a position of critical need, and as a result of these pledges, Derrick Green and Ross Taylor-Douglas (Rutgers) both transferred. Most observers expect all three to contribute as true freshmen to the 2016 squad.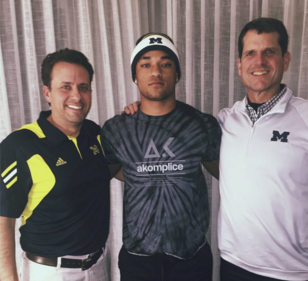 Jed Fisch, Dylan Crawford and the Recruiting Maestro, Jim Harbaugh
At Wide Receiver, Michigan offered over 40 prospects; we gained 5 wideouts: #26 Dylan Crawford, #30 Ahmir Mitchell, #53 Brad Hawkins, #75 Eddie McDoom, and #79 Nate Johnson. We also accepted Kerrick Hahn and Nate Schoenle as a Preferred Walk-ons. Some of the prospects we missed on included Austin Mack and Binjamin Victor (Ohio State), Cameron Chambers, Donnie Corley, and Justin Layne (Michigan State), Josh Imatortbhebhe and Trevon Sidney (USC), Chase Claypool and Kevin Stepherson (Notre Dame), Eli Stove and Kyle Davis (Auburn), Devin Duvernay and Tren'Davion Dixon (Baylor), Freddie Swain and Joshua Hammond (Florida), etc. At Tight End, we offered over 20 prospects, and gained #34 Sean McKeon plus #9 Nick Eubanks and #2 Devin Asiasi. We also accepted Dan Drobocky, Conner Edmonds, and Dan Jokisch as a Preferred Walk-Ons. We were hotly pursuing Isaac Nauta (Georgia), Naseir Upshur (Florida State), and Miller Forristall (Alabama) the most; however, we offered Kaden Smith (Stanford), Cary Angeline (USC), Landon Rice (Auburn), Cam McCormick (Oregon), Charlie Woerner (Georgia), Luke Farrell and Jake Hausmann (Ohio State), Malcolm Roach (Texas), etc. While you "can't get them all," we got four quality wide receivers and five quality tight ends to develop in Jedd Fisch's offensive schemes as passing coordinator. Harbaugh signed Fisch to a 2 year extension. It is expected that all five wideouts will have a chance to rotate into the passing schemes behind starters Jehu Chesson and Amara Darboh; however, both tight ends will face still competition with All-American Jake Butt, and veterans Ian Bunting, Khalid Hill, and Henry Poggi plus redshirt Tyrone Wheatley Jr. returning. We now have tilted the 2016 team "top heavy" with receivers with 21 scholarship players, the most of any position group.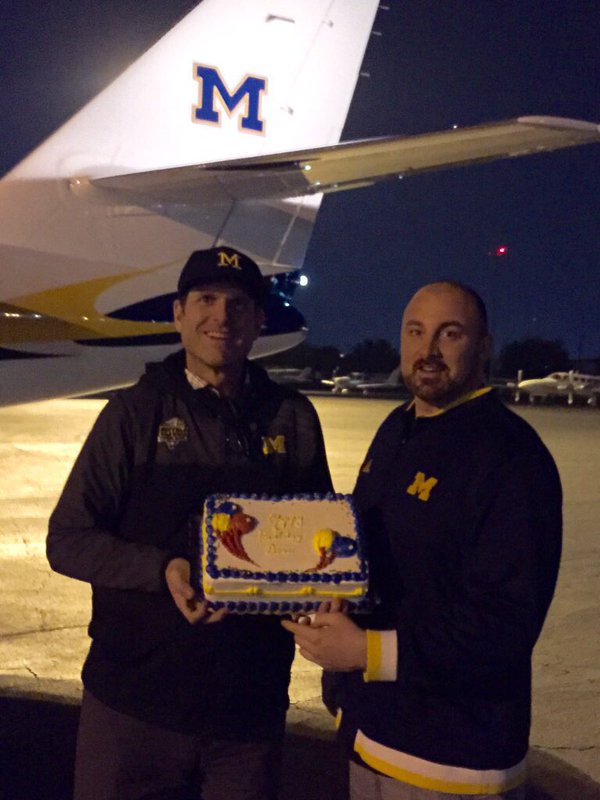 A birthday cake for Boss Tagaloa from Harbaugh and Partridge
At the skill positions, we probably got as good of a haul as any team in the country if one considers all the skill positions: quarterback, running back, wide receiver and tight end. One thing for sure, Harbaugh will have a great offense at Michigan, an offense that is capable of scoring quickly and often. Harbaugh's 2010 Stanford squad averaged over 40 points per game after averaging 35 points per game in 2009 and 26 points per game in 2008 prior to his NFL career with the San Francisco 49ers, 2011-2014 where he earned 2011 NFL Coach of the Year, and a 2012 Super Bowl appearance.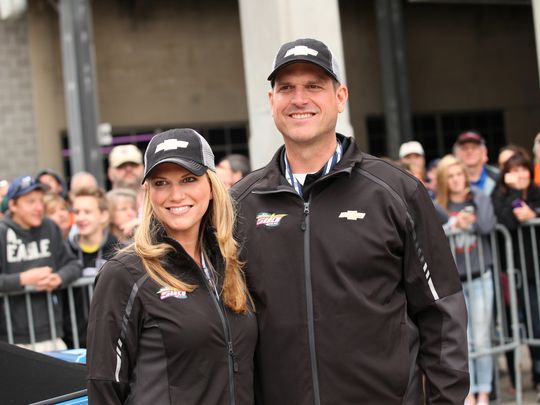 Jim and Sarah Harbaugh attend a NASCAR event
On the Offensive Line, we pledged #7 Offensive Guard Michael Onwenu, #36 Offensive Tackle Stephen Spanellis, and ESPN #4 Offensive Tackle Ben Bredeson (unranked by Rivals although a 1st Team USA Today All-American and #39 overall prospect ranked by 247Sports). We also added Anthony Kay and Andrew Vastardis as Preferred Walk-ons. We offered over 40 guys, but were most hoping to land Liam Eichenberg and Tommy Kraemer (Notre Dame), Michael Jordan (Ohio State), Jean Delance and Tope Imade (Texas), Greg Little and Bryce Mathews (Mississippi), Frank Martin (USC), Jonah Williams and Chris Owens (Alabama), Willie Allen (LSU), Terrence Davis (Maryland), etc. We tried to get in on Alaric Jackson (Iowa) and Will Fries (Penn State) late in the process with the decommitment of Devery Hamilton, but neither were interested. All of our starters return on the offensive line except at Center where we could convert Tackle Mason Cole or utilize last season's backup, Patrick Kugler, or Redshirt Jon Runyan. Grant Newsome will press for playing time as will newcomers, Bredeson and Onwenu, and Redshirt Nolan Ulizio.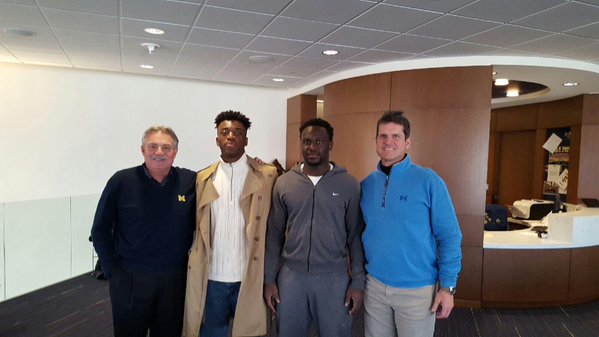 New Defensive Coordinator Don Brown, Joshua Uche, Elysee Mbem-Bosse and Harbaugh
On Defense, we really needed help especially at linebacker where we graduated three of the four players who played in all 13 games, and made 182 tackles. We also promoted Chris Partridge help Brown coach the linebackers as well as manage special teams units. Our Linebacking Corps are in desperate need of more speedy, sure tackling athletes who can drop to cover wide receivers as well as stop the inside and outside running game. We usually remove a linebacker when we go to "Nickel" coverage in obvious passing situations, but we'd like to be able to keep a linebacker in if he can handle coverage responsibilities. We also plan to blitz more with our linebackers, cornerbacks and safeties to increase our sacks, hurries, and quarterback hits. Harbaugh offered a lot of guys, and came away with Devin Bush, Dytarious Johnson, Devin Gil, Elysee Mbem-Bosse, and Joshua Uche; Johnson will apparently sign later due to transcript issues when he transferred schools. Other linebackers we were quite interested in out of the 40+ we offered were Rahshaun Smith (Clemson), Darrian Franklin and LaMar Winston (Oregon), Dontavious Jackson (Florida State), Caleb Kelly (Oklahoma), Jonathan Jones (Notre Dame), Mique Juarez (UCLA), Lyndell Wilson and Ben Davis (Alabama), Jeffrey McCullough (Texas), Camilo Eifler (Washington), Kash Daniel (Kentucky), etc. Although we return Ben Gedeon, the competition for all three linebackers will be wide open, and we could see two or even three freshmen on the field in 2016. It is expected that Devin Bush and Elysee Mbem-Bosse will gain the most playing time of the freshmen.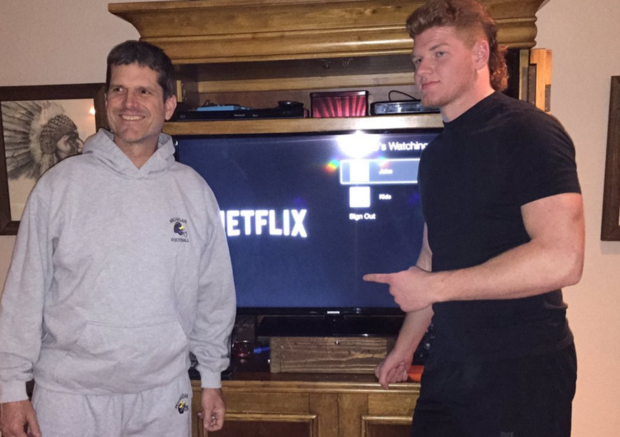 Harbaugh and Connor Murphy watched Netflix during the sleepover
On the Defensive Line, we gained the Nation's #1 Overall Recruit (wire to wire) with Rashan Gary plus his teammate Michael Dwumfour, Ron Johnson and Carlo Kemp. We also added Carl Myers as a Preferred Walk-on. We offered over 40 prospects, but just missed on Khalid Kareem, Daelin Hayes, and Julian Okwara (Notre Dame), Levi Onwuzurike (Washington), Chris Daniels and Jordan Elliott (Texas), Boss Tagaloa (UCLA), Keyshon Camp (Pittsburgh), Xavier Kelly, Tre Lamar, and Dexter Lawrence (Clemson), Marlon Davidson and Antwan Jackson (Auburn), Kendall Jones and Raekwon Davis (Alabama), Daniel Joseph (Penn State), Naquan Jones, Josh King and Auston Robertson (Michigan State), etc. We return three of four starters on the defensive line with the Buck Linebacker/Defensive End position as the lone open position. At the Strongside Defensive End, Chris Wormley and Taco Charlton will continue to anchor the line. At Nose Tackle, we expect Ryan Glasgow, Maurice Hurst, and Bryan Mone to rotate and create havoc as they did in 2015. Rashan Gary will replace Willie Henry at Defensive Tackle, and will be backed up by Matt Godin and Hurst. Carlo Kemp has enrolled in January, and could emerge as the new starter at Buck Linebacker replacing Mario Ojemudia and Royce Jenkins-Stone; however, he will be pressed by Redshirt Shelton Johnson, Sophomore Lawrence Marshall, and Ron Johnson. Reuben Jones has moved to MIKE Linebacker.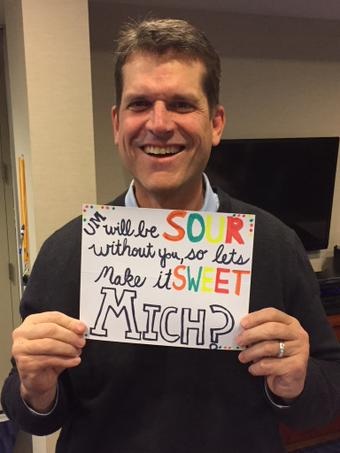 Harbaugh helped Boss Tagaloa with his girlfriend
In the Defensive Backfield, we landed LaVert Hill, David Long, Josh Metellus, and Khaleke Hudson. We also added Tru Wilson as a Preferred Walk-On. We had a great deal of interest in over 40+ other prospects including Levonta Taylor (Florida State), Shyheim Carter and Jared Mayden (Alabama), LaMar Jackson (Nebraska), Cameron Lewis (LSU), Demetric Vance (Michigan State), Jordan Fuller (Ohio State), etc. We could have had Tony Butler (Nebraska), Sir Patrick Scott (Marshall), and Antwaine Richardson (Maryland), but slow-played them until they lost interest and pursued other options. We return three of four starters in the defensive backfield with All-American Jourdan Lewis and Jeremy Clark at the corners; they will continue to be backed up by Channing Stribling and Brandon Watson, but David Long and/or LaVert Hill may also earn playing time. At the safeties, we return Jabrill Peppers, Delano Hill and Dymonte Thomas; it is expected that Khaleke Hudson will press for playing time along with Sophomore Tyree Kinnel, but Josh Metellus could also earn playing time. Harbaugh may ask Ahmir Mitchell to start at safety rather than wide receiver.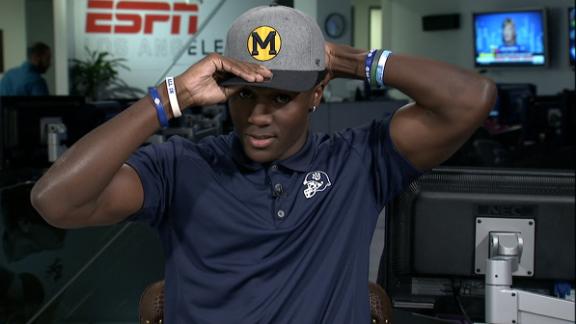 David Long goes "Blue"
On Special Teams, another disruption included our special teams coach, John Baxter, leaving to go to his former employer, USC, on January 7; then, he tried to steal the only placekicker we were recruiting, Quinn Nordin, a week later. Harbaugh met with Nordin at his home at 12:01 a.m. after the dead period ended on January 15. Harbaugh gained Nordin's commitment on Signing Day! We also offered long snappers, Hunter Arbit, Cameron Cheeseman, Bradley Deeg, and punters, Nash Griffin and Will Hart; so far, Cheeseman and Hart have pledged. Baxter pursued Punter Sam Loy who committed to Vanderbilt, and once he got to USC, tried to procure the services of Nordin with a late January visit. Although Kenny Allen returns, and may handle kickoffs, placekicks, and punts, it would be nice to add Nordin so Allen may better focus just on punting if he proves to be more accurate in practices. Since the snapper position proved to be a hot commodity after the Michigan State game, Harbaugh has offered two more snappers the opportunity to join the squad to increase competition. There is also a chance that Chris Evans, Nate Johnson, and/or Eddie McDoom may contribute immediately as a kickoff returner.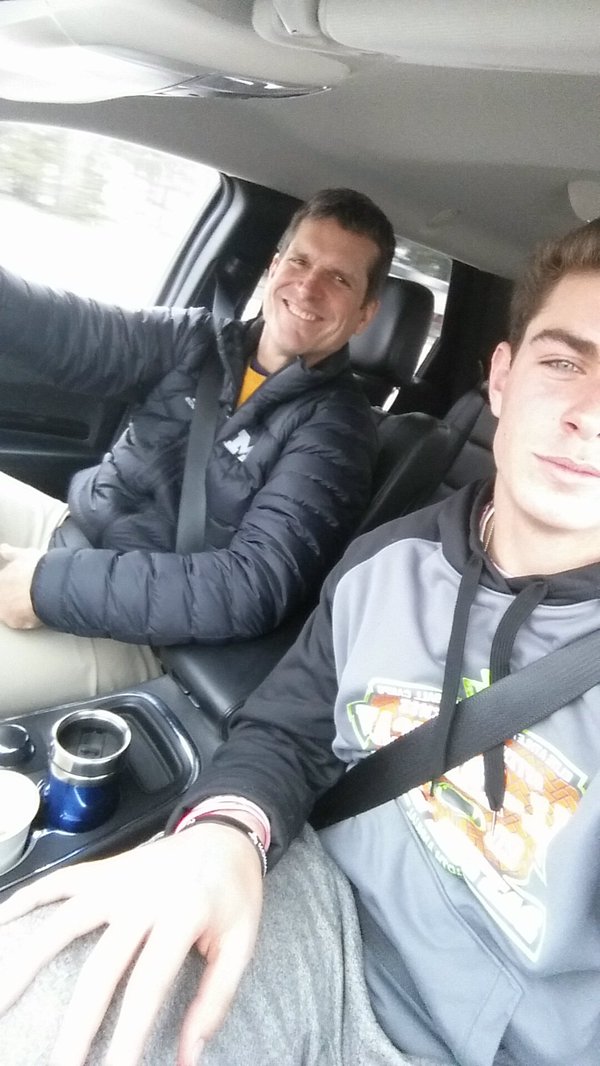 Harbaugh chauffeurs Quinn Nordin to Ann Arbor
In all, Harbaugh offered at least 250+ prospects, a new Michigan record, scholarship opportunities plus another 30+ preferred walk-on offers. There were 356 "4 Star" recruits on Rivals, Michigan landed 15; on ESPN Rankings, they listed 343 "4 Star" Recruits, Michigan secured 15 of those, and on 247Sports, there were 338 "4 Star" Recruits with the Wolverines securing 15. Recruiting talent in any endeavor is a matter of perception and hope; the hard work, competition, and improvement is unmeasurable so time will tell over the next 3-5 years as how these young men will develop under the tutelage of Harbaugh's staff. This is the first year Michigan has ever been involved in oversigning. It is our best recruiting class since 2005 since ESPN ranked us #1 with Kevin Grady as our headliner. The 2015 recruiting season isn't officially over until the end of April, and it wouldn't be surprising to see him accept at least one or two transfers following Spring practice if he feels they could contribute immediately.
National and Major Conference Football Recruiting Leaders for 2015

| | | | | | |
| --- | --- | --- | --- | --- | --- |
| National | Big Ten | SEC | ACC | PAC-12 | Big 12 |
| Alabama | Ohio State | Alabama | Florida State | USC | Texas |
| Florida State | Michigan | LSU | Clemson | UCLA | Baylor |
| LSU | Penn State | Mississippi | Miami-FL | Stanford | Oklahoma |
| Ohio State | Michigan State | Georgia | Pittsburgh | Oregon | TCU |
| Michigan | Nebraska | Auburn | Duke | Arizona St. | Oklahoma State |
| Mississippi | Wisconsin | Florida | North Carolina | Washington | Texas Tech |
| Georgia | Maryland | Texas A&M | Louisville | Oregon State | West Virginia |
| USC | Iowa | Tennessee | Virginia Tech | Utah | Iowa State |
| Auburn | Minnesota | Arkansas | North Carolina St. | California | Kansas State |
| Clemson | Northwestern | South Carolina | Virginia | Washington State | Kansas |
| Texas | Indiana | Mississippi State | Georgia Tech | Arizona | American Association |
| Notre Dame | Illinois | Kentucky | Wake Forest | Colorado | Houston |
| Baylor | Rutgers | Missouri | Syracuse | MAC | South Florida |
| UCLA | Purdue | Vanderbilt | Boston College | Western Michigan | Temple |
| Florida | Conference USA | Independents | Mountain West | Miami-OH | SMU |
| Stanford | UAB | Notre Dame | UNLV | Toledo | Cincinnati |
| Texas A&M | Marshall | BYU | San Diego State | Central Michigan | Central Florida |
| Tennessee | Louisiana Tech | Army | San Jose State | | Navy |
| Penn State | Southern Miss. | Sunbelt | Air Force | | Connecticut |
| Oklahoma | Western Kentucky | Arkansas State | Boise St./Colorado St. | | Memphis State |
We were able to secure one of the best players in the State of Michigan with Michael Onwenu, but we lost two Five Star recruits, Khalid Kareem and Daelin Hayes to Notre Dame. Kareem was the Irish's most "impactful" commitment after decommitting from Alabama on October 14, the school he originally chose when the issue was between the Crimson Tide and Michigan on June 24. Michigan State signed 4 of the Top 10 players in the State including Donnie Corley. We also landed LaVert Hill, brother of Wolverine Safety, Delano Hill, and Corley's teammate. Daelin Hayes attended Ann Arbor Skyline High School; he committed to the Irish on December 10 after being "solid" to USC since June, 2014, but decommiting on October 14. ESPN and 247Sports only have 10 guys each rated as Five Star Recruits, Rivals and Scout annointed 31 prospects at that level. Ten of the Top 20 players in Michigan left the state; this is not good for us. Harbaugh and staff need to do a better job in establishing solid relationships with coaching staffs throughout the state. This is very important for our future, and winning the in-state rivalry with MSU. Mick McCabe's Top 50 Recruits in Michigan

| | | |
| --- | --- | --- |
| MRunner-Up | Commitment | Position |
| Nauta, Isaac | Georgia | TE |
| Onwuzurike, Levi | Washington | DE |
| Jackson, Dontavious | Florida State | ILB |
| Stewart, Donald | Stanford | WR |
| Upshur, Naseir | Florida State | TE |
| Kareem, Khalid | Notre Dame | DE |
| Allen, Chase | Iowa State | TE |
| Camp, Keyshon | Pittsburgh | DT |
| Carter, Shyheim | Alabama | DB |
| Corley, Donnie | Michigan State | WR |
| Daniels, Chris | Texas | DT |
| Davis, Terrence | Maryland | OL |
| Forristall, Miller | Alabama | TE |
| Jones, Jonathan | Notre Dame | OLB |
| Kelly, Caleb | Oklahoma | ILB |
| McCullough, Jeffrey | Texas | ILB |
| Mathis, Jacob | Mississippi | TE |
| Mayden, Jared | Alabama | DB |
| Price, E.J. | USC | OL |
| Tagaloa, Boss | UCLA | DT |
| Delance, Jean | Texas | OL |
| Davidson, Marlon | Auburn | DE |
| Hayes, Daelin | Notre Dame | DE |
| Jordan, Michael | Ohio State | OL |
| Juarez, Mique | UCLA | ILB |
| Hardman, Mecole | Georgia | Athlete |
| Fuller, Jordan | Ohio State | DB |
Observations on Michigan Football Recruiting in 2014
Observations on Michigan Football Recruiting in 2013
Observations on Michigan Football Recruiting in 2012
Observations on Michigan Football Recruiting in 2011
Observations on Michigan Football Recruiting in 2010
Observations on Michigan Football Recruiting in 2009
Historical Perspective on Michigan Football Recruiting (1999-2005)
Historical Perspective on Michigan Football Recruiting (2005-2009)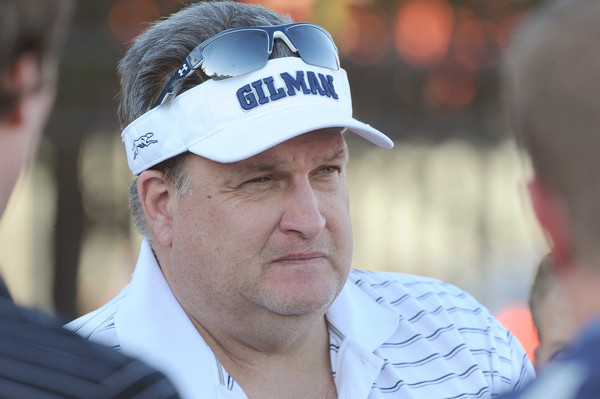 Biff Poggi's son Henry is a Tight End/H-Back
Obviously, the Chris Partridge connection has brought us some outstanding recruits in New Jersey: Gary, Dwumfour, Hawkins, Johnson, Mitchell, and Walker; we also got McKeon from Massachusetts plus Spanellis from The Gilman School in Maryland where Harbaugh offered Biff Poggi, their head coach for 19 seasons, a job as Offensive Analyst to replace T.J. Weist who left to coach wide receivers in South Florida. In the State of Ohio, we got zero recruits, now when was the last time that happened? The answer is 2007, but I can't remember us ever not getting at least someone from Ohio since I've been following the team since 1959. We were also shut out in Illinois although we passed on Swenson, and gained only one recruit, Hudson, from the State of Pennsylvania. We were also shut out in the other Big Ten states of Iowa and Minnesota. We got two recruits from California with Dylan Crawford and David Long. In the South, we gained 8 recruits, 3 from the same school, Hollywood Flanagan: Bush, Gil and Metellus plus Eubanks, McDoom and Uche for six in Florida, one from Georgia with Mbem-Bosse, and another 2 from Prattville, Alabama with Davis and Johnson. We have to do a better job recruiting throughout the Midwest especially in Ohio, the state with the most football talent in the region. We are starting to do a better job in the three big states where there is the most competition: California, Texas and Florida. Distribution of Recruits, 2008-2013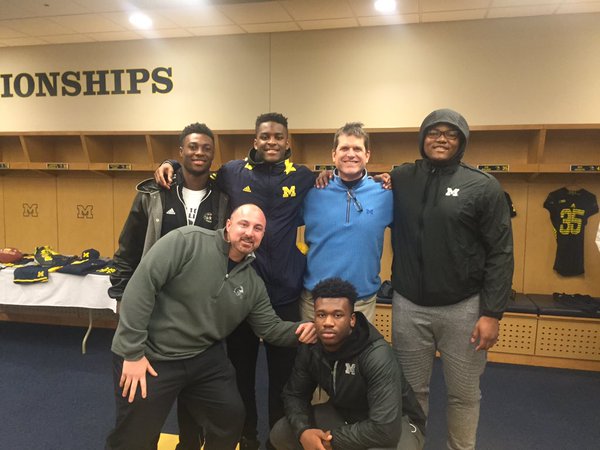 Michigan's Jersey Connection engineered by Chris Partridge
Harbaugh has already been hard at work laying the groundwork for his 2017 Signing Day with over 165+ offers with 5 commitments, 34+ offers for his Class of 2018, and 6+ offers for his Class of 2019 (currently in 9th grade). He will be hard for other NCAA Coaches to outhustle and outmanuever with the top recruits especially with having his jet available to visit someone at a moment's notice. NCAA Division I Football Recruiting is an ongoing "moving target" 24/7/365. I just wonder how much longer this 52 year old can keep us this ambitious pace. A few days before Signing Day, Harbaugh termed Michigan Football Recruiting as a "meritocracy," the best players will be here.
MRecruit 2016
Position
Height
Weight
40 Yd.
Bredeson, Ben
LG
6'4.5"
295
5.31
Bush, Devin
OLB-SAM
6'0"
215
4.7
Crawford, Dylan
Wide Receiver
6'0.5"
182
4.62
Davis, Kingston
RB/FB
6'1"
230
4.79
Dwumfour, Michael
NT
6'2"
285
n/a
Eubanks, Nick
TE
6'6"
230
4.69
Evans, Chris
APB
5'10"
195
4.4
Gary, Rashan
DT
6'4"
286
4.86
Gil, Devin
OLB-SAM
6'1"
200
4.72
Hawkins, Brad
Wide Receiver
6'2"
195
n/a
Hudson, Khaleke
SS
6'0.5"
205
4.61
Johnson, Dytarious
ILB-WILL
6'1"
215
4.76
Johnson, Ron
DE/Buck LB
6'3"
235
4.6
Kemp, Carlo
DE/Buck LB
6'3"
258
4.8
Long, David
Cornerback
6'0"
175
4.4
Mbem-Bosse, Elysee
ILB-MIKE
6'3"
232
4.61
McDoom, Eddie
Wide Receiver
6'0"
170
4.65
McKeon, Sean
TE 
6'5"
226
4.52
Metellus, Josh
Safety
6'0"
185
n/a
Mitchell, Ahmir
WR/DB
6'3"
195
n/a
Onwenu, Michael
OL
6'3"
367
5.52

Peters, Brandon

Schoenle, Nate

QB

Wide Reciever

6'4"

6'2"

209

190

4.85

4.47

Spanellis, Stephen
OL
6'6"
290
n/a
Uche, Joshua
OLB-SAM
6'3"
215
4.6
Walker, Kareem
RB
6'1"
210
4.5
Preferred Walk-Ons
Cochran, Tyler
Safety
6'1"
190
4.52
Drbocky, Dane
TE
6'4"
210
n/a

Edmonds, Conner

Hahn, Kerrick

TE

Wide Receiver

6'5"

5'10"

235

167

4.82

n/a

Jokisch, Dan
TE
6'6"
240
n/a
Kay, Anthony
OL
6'4"
275
n/a
Krupp, Taylor
Athlete
6'1"
185
n/a
Myers, Carl
DL
6'3"
260
n/a
Shuster, Michael
QB
6'3"
200
n/a
Smith, Simone
Wide Receiver
6'6"
210
n/a
Vastardis, Andrew
OL
6'4"
315
n/a
Wilson, Tru
DB
5'10"
187
4.5
Observations on Michigan Football Recruiting in 2014