Fall Sports (7)
Big Ten
NCAA
Cup
Winter Sports (11)
Big Ten
NCAA
Cup
Spring Sports (11)
Big Ten
NCAA
Cup
Football
4th
6th
67.50
Basketball-Men
1st
#23
64
Baseball
2nd
#16
25
Field Hockey
2nd
9th
25
Basketball-Women
4th
UR
0
Softball
2nd
#20
50
Cross Country-Men
5th
32nd
26
Wrestling
7th
10th
67.50
Outdoor Track-Men
8th
41st
29.5
Cross Country-Women
1st
2nd
90
Ice Hockey
5th
UR
0
Outdoor Track-Women
5th
21st
50
Volleyball
6th
9th
64
Swimming-Men
2nd
17th
57
Rowing
2nd
3rd
85
Soccer-Men
8th
UR
0
Swimming-Women
1st
11th
66
Golf-Men
9th
#54
16
Soccer-Women
5th
33rd
25
Gymnastics-Men
7th
#9
32.50
Golf-Women
5th
16th
57.75
Fall Total
2nd
7th

297.50

Gymnastics-Women
1st
#7

68.25

Lacrosse-M

Lacrosse-W

n/a

n/a

#28

#66

0

0

Women's Total
n/a
n/a
204
Indoor Track-Men
7th
22nd
50
Tennis-Men's
2nd
#17
50
Men's Total
n/a
n/a
93.50
Indoor Track-Women
7th
14th
59.25
Tennis-Women's
2nd
#10
64
0
Water Polo
1st
#7
60
Spring Total
n/a
n/a
462.50
0
Winter Total
n/a
n/a
524.50
Men's Total
n/a
n/a
95.50
0
Men's Total
271.00
Women's Total
n/a
n/a
306.75
0
Women's Total
253.50
Total Director's Cup
2nd
6th
1133.25
December 1 December 15 December 22 March 23 April 6 April 13 April 20 April 27 May 25 June 8 June 14 June 30
| | | | | | |
| --- | --- | --- | --- | --- | --- |
| Coach | Sport-10 | Men | Women | Sport-10 | Coach |
| Harbaugh | Football | 67.5 | 90 | Cross Country | McGuire |
| McFarland | Wrestling | 67.5 | 85 | Rowing | Rothstein |
| Beilein | Basketball | 64 | 68.25 | Gymnastics | Plocki |
| Bottom | Swimming | 57 | 66 | Swimming | Bottom |
| Steinberg | Tennis | 50 | 64 | Volleyball | Rosen |
| Clayton | Indoor Track | 50 | 64 | Tennis | Bernstein |
| Golder | Gymnastics | 32.5 | 60 | Water Polo | Leonardi |
| Clayton | Outdoor Track | 29.5 | 59.25 | Indoor Track | Henry |
| Sullivan | Cross Country | 26 | 57.75 | Golf | Dowling |
| Bakich | Baseball | 25 | 50 | Softball | Hutchins |
| Whitten | Golf | 16 | 50 | Outdoor Track | Henry |
| Berenson | Hockey | 0 | 25 | Field Hockey | Pankratz |
| Daley | Soccer | 0 | 25 | Soccer | Ryan |
| Paul | Lacrosse | 0 | 0 | Basketball | Barnes-Arico |
| n/a | n/a | 0 | 0 | Lacrosse | Ulehla |
| Totals | Totals | 485 | 764.25 | 1133.25 | Totals |
In the Fall,  the Football squad finished the season, 10-3, with an overtime loss to Ohio State, 30-27, at Columbus, a 14-13 loss at Iowa City to the Hawkeyes, and a 33-32 defeat in the Orange Bowl to Florida State; however, they defeated Big Ten and Rose Bowl Champion, Penn State, 49-10, and were ranked in the AP Top Ten most of the season.  The Wolverines had a record 17 NFL signees after 14 players were invited to the NFL Combine with season a record 11 draft picks following the team's unprecedented trip to Rome. The Women's Cross Country Team won a Big Ten Championship and were NCAA Runner-Up behind the leadership of Erin Finn, the first Three-Time Big Ten Cross Country Champion; she was chosen as a Honda Award Finalist. The Field Hockey team made the NCAA Tournament; Katie Trombetta earned All-American status. The Women's Soccer Team earned a birth at the NCAA Tournament.
In the Winter, Bev Plocki won her 22nd Big Ten Title in Women's Gymnastics to lead all Wolverine Head Coaches and move into 2nd in Big Ten History behind Doc Counsilman; Nicole Arntz, Briana Brown and Olivia Karas earned All-American. The Wolverine Men's Basketball squad won the Big Ten Tournament Championship, and earned a Sweet Sixteen birth; Derrick Walton was the team's MVP, and D.J. Wilson went to the NBA. The Women's Basketball Team won the first Championship in their history as they captured the NIT Title; Katelynn Flaherty earned honorable mention All-American recognition. The Wrestling Team finished 10th at the NCAA Championships with 3 Freshman All-Americans for the first time in their history: Logan Massa, Myles Amine, and Stevan Micic.  The Women's Swimming Team also repeated as Big Ten Conference Champions; Siohban Haughey, Gabby DeLoof, Yirong Bi, and G Ryan earned All-American recognition with Clara Smiddy and Vanessa Krause as major contributors. Felix Aubock was Big Ten Swimmer of the Year, and earned All-American honors as NCAA Runner-Up in the 1,650 Freestyle; P.J. Ransford also earned All-American status for the Men's Swimming Team.
In the Spring, Jaimie Phelan became the first Women's NCAA Champion in the 1500 Meter Run. Elodie Van Dievoit became the first Women's Wolverine All-American in golf. The Rowing Team was 3rd at the NCAA Championships, and Big Ten Runner-Up; Kaitlin Wright and Kendall Brewer earned 1st Team All-American, and Louisa Freeman and Kalia Krichko earned 2nd Team All-American. The Baseball, Softball, Men's and Women's Tennis Teams finished 2nd in the Big Ten Conference; Oliver Jaskie tied the Michigan strikeout record with 119, and Megan Betsa, Kelly Christner, and Faith Canfield earned All-American honors.  The Baseball team had a record 11 players drafted in the Major League Baseball Draft since it began in 1965; Baseball Coach, Erik Bakich, decided to remain at Michigan and signed a 5 year contract after flirting with South Carolina and Stanford. The Women's Tennis squad made it to the Sweet Sixteen, and #2 Singles Star, Brienne Minor, won the NCAA Championship while #1 Kate Fahey also earned All-American by earning a NCAA Semi-Final birth. Steven Bastien and Joe Ellis were 1st Team All-Americans for the Wolverine Track Squad; both set new Michigan records in the Decathlon and Hammer Throw.  The Women's Water Polo Team won their Conference Championship; Allison Skaggs and Maddy Steer earned All-American status.
The only teams who didn't score NACDA points were Men's Soccer, Men's and Women's Lacrosse, and Hockey. Red Berenson retired after 33 seasons with former Assistant Mel Pearson and Bill Muckalt as new coaches for next season, and coaching changes were made in both lacrosse programs with Kevin Conry and Hannah Nielsen replacing John Paul and Jennifer Ulehla. Michigan finished 6th nationally and second in the Big Ten in NACDA scoring for the 2016-2017 season.
Michigan NACDA Summary by Sport
Stanford's Strength & Conditioning Program
Michigan Athlete of the Year, 1982-2016
| | | | |
| --- | --- | --- | --- |
| MSport | Men's | Women's | Recipients |
| Football | 10 | 0 | Woolfolk/Carter/Humphries/Hammerstein/Harbaugh/Howard/Woodson/Thomas/Perry/Edwards/Peppers |
| Swimming | 9 | 7 | Lang/Barrowman/Borges/Dolan-2/Ketchum/Vanderkaay/Jaeger-2; Fischbach/Colloton-2/Anderson/Gehrs/Hooiveld/Kampfe |
| Gymnastics | 4 | 6 | Toman/Vetere/Cameron/Mikulak; Wymer/Cain/Ray/Botterman/Sampson-2 |
| Wrestling | 3 | 0 | Luke/Russell-2 |
| Baseball | 2 | 0 | Larkin/Abbott |
| Track&Field/CC | 3 | 9 | Brannen/Ellerton/Ferlic; Frederick/Schroeder/Schmidt/McClimon/McGregor/Jazwinski/Willard/T.Ofili-2 |
| Ice Hockey | 3 | 0 | Morrison/Porter/Hyman |
| Basketball | 2 | 0 | Rice/Weber (vacated) |
| Golf | 1 | 0 | Harris |
| Softball | 0 | 8 | Seegert/Griffin-2/Holmes/Ritter-2/Romero-2 |
| Volleyball | 0 | 0 | |
| Field Hockey | 0 | 2 | Gannon/Fronzoni |
| Rowing | 0 | 1 | Mueller |
| Tennis | 0 | 3 | Mactaggart/Minor |
There has not been a football winner since 2005, a basketball winner since 1989 nor a baseball winner since 1988. There has never been an award winner in Men's Tennis; the last great tennis star to make it on the professional circuit for the Wolverines was MaliVai Washington, 1988-89. There has never been a female award winner in Women's Golf, Basketball or Volleyball. Hyman and Romero named Michigan Athletes of the Year for 2015. Jabrill Peppers and Brienne Minor won the 2017 Michigan Athletes of the Year.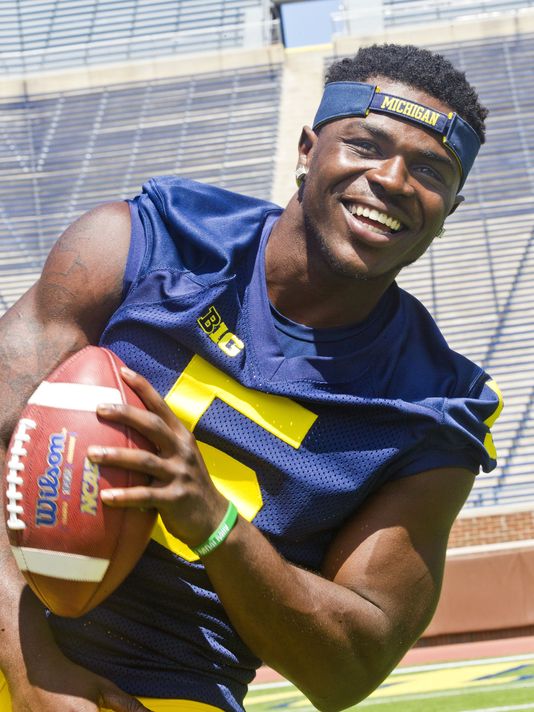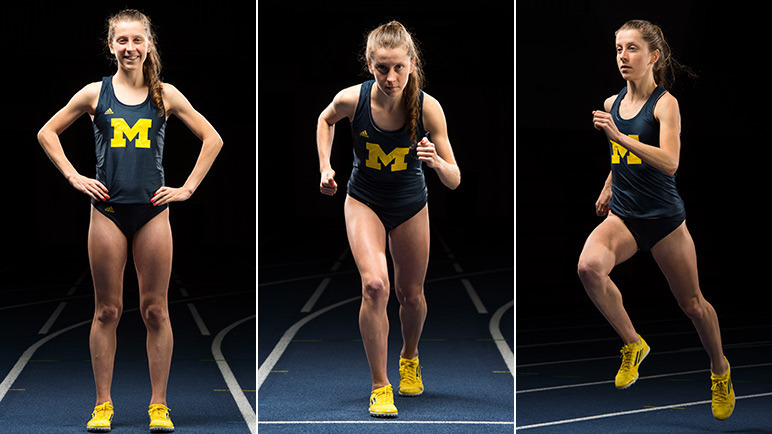 NACDA scores the highest point totals in 10 men's and 10 women's sports.