Fall Sport(7)
Big Ten
NCAA
Cup
Winter Sport(10)
Big Ten
NCAA
Cup
Spring Sport(10)
Big Ten
NCAA
Cup
Football
3rd
#20
25
Basketball-Men
5th
2nd
90
Baseball
6th
UR
0
Field Hockey
2nd
#9
25
Basketball-Women
5th
17th
50
Softball
1st
5th
78
Cross Country-Men
2nd
23rd
51
Wrestling
6th
33rd
40.5
Outdoor Track-Men
10th
44th
28
Cross Country-Women
1st
5th
75
Ice Hockey
n/a
UR
0
Outdoor Track-Women
4th
47th
0
Volleyball
6th
3rd
83
Swimming-Men
1st
1st
100
Rowing
2nd
12th
54
Soccer-Men
2nd
17th
50
Swimming-Women
6th
36th
34
Golf-Men
10th
UR
0
Soccer-Women
3rd
9th
64
Gymnastics-Men
1st
1st
100
Golf-Women
10th
UR
0
Fall Total
1st
2nd
373
Gymnastics-Women
2nd
7th
68.25

Lacrosse-M

Water Polo

n/a

n/a

UR

#13

0

0

Women's Total
n/a
n/a
247
Indoor Track-Men
9th
UR
0
Tennis-Men's
#2
#24
25
Men's Total
n/a
n/a
126
Indoor Track-Women
3rd
#15
58.5
Tennis-Women's
#1
#10
64
Winter Total
n/a
n/a
541.25
Spring Total
n/a
n/a
249
Fall Total
1st
2nd
348
Men's Total
n/a
n/a
509.5
Women's Total
n/a
n/a
628.75
Total Director's Cup
1st
4th
1138.25
| | | | |
| --- | --- | --- | --- |
| Men's Sport | Cup | Women's Sport | Cup |
| Swimming&Diving | 100 | Volleyball | 83 |
| Gymnastics | 100 | Softball | 78 |
| Basketball | 90 | Cross Country | 75 |
| Cross Country | 51 | Gymnastics | 68.25 |
| Soccer | 50 | Soccer | 64 |
| Wrestling | 40.5 | Tennis | 64 |
| Football | 25 | Indoor Track | 58.5 |
| Tennis | 25 | Rowing | 54 |
| Outdoor Track | 28 | Basketball | 50 |
| Ice Hockey | 0 | Swimming&Diving | 34 |
| Sub-Totals | 509.5 | Sub-Totals | 628.75 |
| Baseball | 0 | Field Hockey | 25 |
| Indoor Track | 0 | Water Polo | 0 |
| Golf | 0 | Golf | 0 |
| Lacrosse | 0 | Outdoor Track | 0 |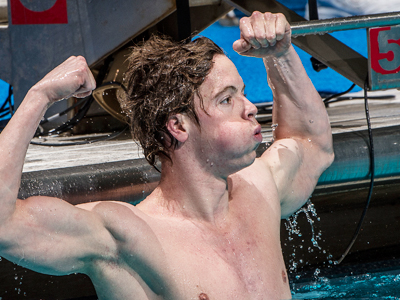 Connor Jaeger
Michigan captured a Big Ten Championship in Women's Cross Country, and had their best Fall Season in history since the NACDA Director's Cup was implemented in 1993.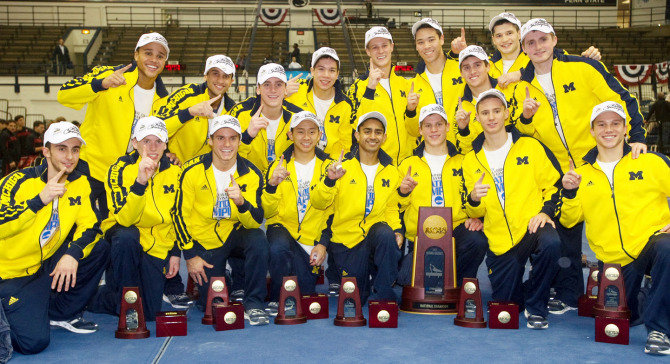 Michigan Swimming & Diving Big Ten and NCAA Champions in 2013
In the Winter, the Men's Swimming and Diving and Men's Gymnastics captured Big Ten and NCAA Championships; it was the first time two Wolverine teams won NCAA Championships since 1957 when Men's Swimming & Diving and Men's Tennis accomplished the feat. Sam Mikulak won NCAA individual titles on the Parallel Bars and High Bar, and Joanna Sampson won the Floor Exercise title at the Women's Championships; Sampson is the first Michigan Women's Gymnast to win on the Floor Exercise. Both Wolverine Captains Sampson and Katie Zurales won 1st Team All-American Honors in the All-Around; Zurales was NCAA Runner-Up on the Balance Beam.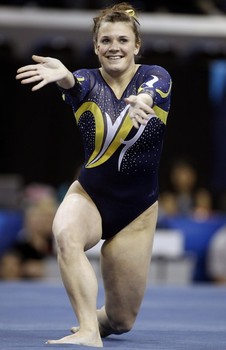 Joanna Sampson, NCAA Champion on Floor Exercise
Connor Jaeger won the 500 and 1650 yard freestyle championships; Miguel and Bruno Ortiz, Sean Fletcher and Zach Turk won the 200 yard Medlay Relay Championship, and the Wolverines came away with 14 individuals won 40 All-American Honors at the event.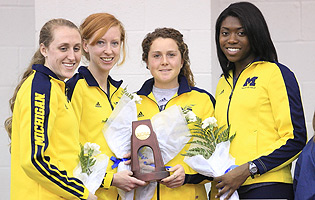 DMR: Smith, Eccleston, Addison, and Long
At the NCAA Indoor Track Championships, the Women's Distance Medlay Relay Team, Rebecca Addison, Maya Long, Jillian Smith, and Amanda Eccleston won the NCAA Championship; the Wolverine Women's Distance Medlay Relay Team has now won 10 Big Ten Championships in a row. Eccleston won the 1500 indoor and outdoor Big Ten Championships.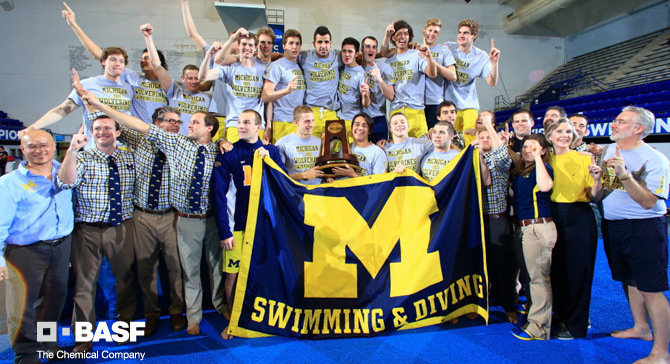 Michigan Swimming & Diving Big Ten and NCAA Champions in 2013
Michigan Softball Big Ten Champions placed 5th at College World Series
Evan King made the Quarter-Finals of the NCAA Championships
Ali Arustu, Amanda Eccleston and Kiley Tobel earned All-American at the NCAA Outdoor Track & Field Championships
Women's Rowing placed 12th and Field Hockey also made the NCAA Tournament
So far in the 2012-2013 season, the Wolverines have won Big Ten Championships in Women's Cross Country, Men's Swimming & Diving, Men's Gymnastics, Softball, and Women's Tennis.
Jaeger and Sampson voted Michigan Athletes of the Year
Updates: November 29, December 13, December 20, January 10 (Final Fall), March 21, April 4, April 11, April 25 (Final Winter), May 30, June 14, June 27-28 (Final Spring)