Fall Sports (7)
Big Ten
NCAA
Cup
Winter Sports (11)
Big Ten
NCAA
Cup
Spring Sports (11)
Big Ten
NCAA
Cup
Football
8th
#45
25
Basketball-Men
1st
#6
73
Baseball
4th
UR
0
Field Hockey
3rd
#21
0
Basketball-Women
6th
UR
0
Softball
1st
9th
64
Cross Country-Men
2nd
21st
53
Wrestling
8th
17th
57
Outdoor Track-Men
9th
44th
25
Cross Country-Women
2nd
4th
80
Ice Hockey
3rd
UR
0
Outdoor Track-Women
4th
37th
35
Volleyball
8th
33rd
25
Swimming-Men
1st
4th
80
Rowing
2nd
8th
66
Soccer-Men
4th
#43
0
Swimming-Women
5th
#21
43.5
Golf-Men
12th
#92
0
Soccer-Women
2nd
5th
73
Gymnastics-Men
1st
1st
100
Golf-Women
11th
#100
0
Fall Total
4th
13th
256
Gymnastics-Women
1st
#9
68.25

Lacrosse-M

Lacrosse-W

n/a

n/a

0

0

Women's Total
n/a
n/a
178
Indoor Track-Men
11th
UR
0
Tennis-Men's
6th
#43
25
Men's Total
n/a
n/a
78
Indoor Track-Women
2nd
33rd
40.5
Tennis-Women's
1st
#17
50
Water Polo
n/a
#20
0
Spring Total
n/a
n/a
205
Winter Total
2nd
4th
718.25
Men's Total
n/a
n/a
438
Men
388
Women's Total
n/a
n/a
545.25
Women
330.25
Total Director's Cup
2nd
13th
983.25
January 9 Final Fall March 27 April 17 April 24 May 29 June 10 June 19 June 26
Michigan NACDA Summary by Sport
Stanford's Strength & Conditioning Program
In the Fall, Michigan's Men's and Women's Cross Country Teams both finished 2nd in the Big Ten, but rallied to win their Regionals. Erin Finn won the Big Ten Individual Championship. The Men's and Women's Soccer Team both placed 2nd in the Big Ten Team Standings. The Field Hockey Team placed 2nd in the Big Ten Standings, but was eliminated in the first round of the Big Ten Tournament; they weren't invited to the NCAA Championship Tournament. Michigan's Football Team finished 7-6.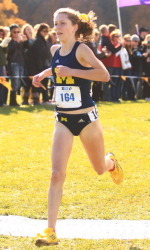 Erin Finn, Big Ten Track Athlete of the Year after winning the Cross Country Individual Title, and both the Indoor 5,000 and Outdoor 10,000 setting U-M School Records as a Freshman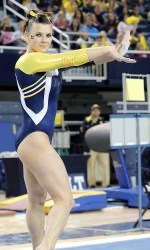 Joanna Sampson, Three Time Wolverine MVP, NCAA & Big Ten Champion and All-American
In the Winter, Michigan's Men's Swimming & Diving and the Women's Gymnastics Teams earned Big Ten Championships. Joanna Sampson won two Big Ten Individual Titles on the Floor and Uneven Bars, and Nicole Artz was named Big Ten Freshman of the Year. The Men's Gymnastics Team finished the season a perfect 35-0, and won both the Big Ten and NCAA Team Championships. The Men's Swimming & Diving Team finished 4th with Connor Jaeger and Dylan Bosch winning NCAA Titles, and 11 Men's Swimmers helped capture 11 different Big Ten Swimming titles.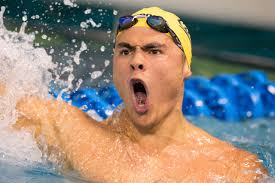 Dylan Bosch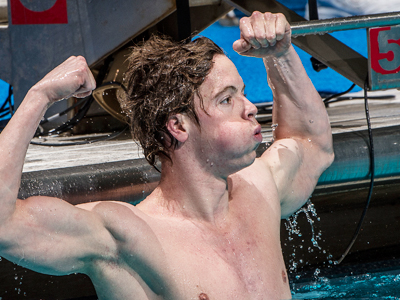 Connor Jaeger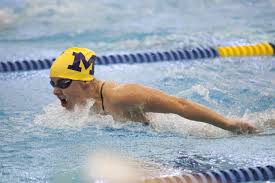 Courtney Beidler, Big Ten Champion in the 400 IM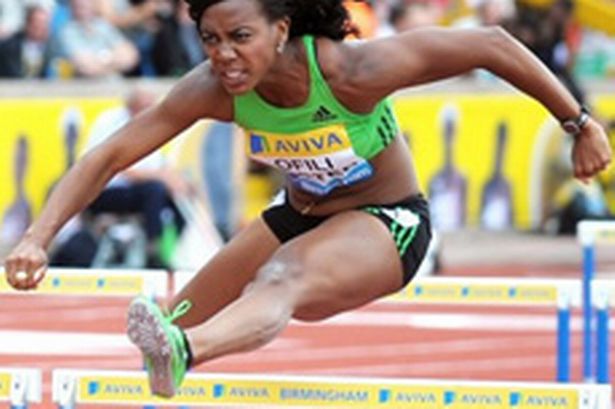 Cindy Ofili Porter
In the Spring, Brad James won the Big Ten High Jump Championship, and Cindy Ofili captured both the Indoor 60 Yard and Outdoor 100 Yard Hurdle Championships. The Women's Softball and Tennis Teams won Big Ten Championships, but neither could win the Big Ten Championship Tournament finishing second. The Softball, Men's and Women's Tennis, and Rowing teams all qualified for the NCAA Championships. Mason Ferlic, Erin Finn and Brook Handler all earned 1st Team All-American, and Aaron Howell earned 2nd Team at the NCAA Track & Field Championships.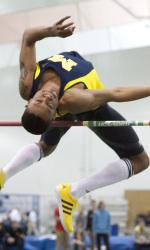 Bradley James, Big Ten Champion
NACDA scores the highest point totals in 10 men's and 10 women's sports.