Michigan Football Official and Unofficial Visits

Michigan Football Coaching Search 2014
December 30-Jim Harbaugh named New Head Football Coach
December 2-Chris Clark Decommitment
December 2-Brady Hoke and Staff Fired
November 22-Mikey Weber Decommitment
November 22-Maryland: Dan Bolden, Troy Brown, Carter Dunaway, Jack Dunaway, John Fitzgerald, Devery Hamilton, Kasim Hill, Roman Johnson, Ellison Jordan, John Kelly, Jeremy Larkin, Dorian Maddox, Corey Malone-Hatcher, Alex Malzone, Brian Manuel, Grant Newsome, Grant Perry, Shamar Shanks, Camaron Spence, Korey Stevens, Auden Tate, Taron Vincent, and Abdullah Yaseen
November 6-Darrin Kirkland Decommitment
November 1-Indiana (Homecoming): Jimmy Bell, Johnathan Berghorst, Troy Brown, Donnie Corley, Michael Jordan, John Kelly, Andrew Marty, Tyrone Miller, David Reese, Will Rogers, Prince Sammons, Russ Yeast
October 31-Dele Harding commitment/Firing of David Brandon
October 27-Garrett Taylor Decommitment
October 11-Penn State: Brian Cole, Messiah DeWeaver, Lavert Hill, John Houston, Tyree Kinnel, Darrin Kirkland, Marcus Lewis, Keisean Lucier-South, Austin Mack, Corey Malone-Hatcher, Alex Malzone, Inman Marshall, Osa Masina, Donovan Peoples-Jones, Mook Reynolds, Erik Swenson, Auden Tate, Ahmad Wagner, Mikey Weber, Tyrone Wheatley Jr., Dexter Williams, and Clark Yarbrough
September 29-Darian Roseboro Decommitment
September 27-Minnesota-Patrick Allen, Stefan Claiborne, Jack Dunaway, Jaelin Hayes, Josh Jackson, Thiyo Lukasa, Alex Malzone, Grant Perry, Joshua Ross, Mikey Weber
September 20-Utah: Jimmy Bell, Johnathan Berghorst, Deshawn Baker-Williams, Brian Cole, Donnie Corley, Jack Dunaway, Matt Falcon, Brendan Ferns, Andre Jackson, Michael Jordan, Corey Malone-Hatcher, Alex Malzone, Bruce Mann, Jalen Martin, Kalebb Perry, Willie Rodgers, Jon Runyan Jr., Nik Urban, Mikey Weber
September 13-Jack Dunaway commitment preferred walk-on
September 13-Miami-OH: Johnathan Berghorst, Craig Dunaway, Jack Dunaway, Lavert Hill, Joshua Jackson, Michael Jordan, Tyree Kinnel, Alex Malzone, Michael Onwenu, Donovan Peoples-Jones, Grant Perry, David Reese, Joshua Ross, Mikey Weber
August 30-Appalachian State: Brian Cole, Messiah DeWeaver, Matt Falcon, Wesley French, Kahlee Hamler, Lavert Hill, Joshua Jackson, Tyree Jackson, Michael Jordan, Khalid Kareem, Joeviair Kennedy, Tyree Kinnel, Michael Onwenu, Donovan Peoples-Jones, David Reese, Eric Rogers, Joshua Ross, Mikey Weber
August 29-Darian Roseboro commitment
August 18-Csonte York Dismissed from the team for his behavior at the Ann Arbor Street Art Fair outside Scorekeepers on July 18
August 16-First Open Scrimmage for public 8:00 p.m.
August 11-MHSAA First Practice
August 10-Michigan Fan Day renamed Youth Day
August 8-10 Visits: Johnathan Berghorst, Donnie Corley, Matt Falcon, Lawrence Gordon, Lavert Hill, Andre Jackson, Sam Johnson, Bruce Mann, Leon Page, Kalebb Perry, Will Rogers, Kareem Walker, Mikale Washington, Mikey Weber
August 6-Mikey Weber commitment
August 3-First Michigan Football Practice
July 28-29 Big Ten Football Kickoff Luncheon with Devin Gardner, Frank Clark and Jake Ryan
July 27-BBQ at the Big House: Jalen Bates, Tuf Borland, Ben Bredeson, Devante Brooks, Cameron Chambers, Brian Cole, Andrew David, Messiah DeWeaver, Jack Dunaway, Joshua Ellison, Luke Farrell, Amari Henderson, Lavert Hill, Elijah Holyfield, Michael Jordan, Khalid Kareem, Josh King, Tyree Kinnel, Darrin Kirkland, Marcus Lewis, Thiyo Lukusa, Austin Mack, Corey Malone-Hatcher, Alex Malzone, Tyrone Miller, Josh Myers, Michael Onwenu, Donovan Peoples-Jones, Grant Perry, David Reese, Auston Robertson, Darian Roseboro, Joshua Ross, Erik Swenson, Garrett Taylor, Tyriq Thompson, Clark Yarbrough, Abdullaah Yasseen
July 26-Brian Cole commitment
Ray Guy Kicking Camp July 25-26
Former Iowa AD, Bob Bowlsby, and curren Big 12 Commissioner says "Cheating Pays"
What's Next for College Football Recruiting?
June 24-29 Visits: Josh Imatorbhebhe, Kieffer Longson
June 20-22: Asmar Bilal, Chris Clark, Matt Heuerman, Elijah Holyfield, Shane Lemieux, Corey Malone-Hatcher, Janarius Robinson, Miles Sanders, Clark Yarbrough
June 19: Chris Clark commitment
June 18: Messiah DeWeaver commitment
Michigan Kicking Camp June 13-14, High School Camp June 16-19
Camp Attendees: Malik Bramley, Leeward Brown, Kyree Campbell, Cole Chewins, Cory Contini, Jonathan Cooper, K.J. Costello, Cario Davison, Messiah DeWeaver, Austin Dorris, Carter Dunaway, Jack Dunaway, Liam Eichenberg, Luke Farrell, Desmond Fitzpatrick, Darrian Franklin, Wesley French, Blake Gallagher, Lawrence Gordon, Tyler Green, Jarrett Guarantano, Robert Hainsey, Jake Heinrich, James Hill, Mac Hippenhammer, Khaleke Hudson, Jesse Johnson, Michael Jordan, Khalid Kareem, Demario McCall, Austin Mack, Alex Malzone, Kameron Martin, Richard Merritt, Marcus Minor, Marcus Mosley, Grant Perry, Kalebb Perry, Kaezon Pugh, Sean Rattay, David Reese, John Reid, Max Richardson, Auston Robertson, Emmanuel Rugamba, Jon Runyan, Jimmy Seewald, Todd Sibley, Tyrece Speight, Eric Swenson, Devin Taylor, Justin Tranquill, Demetric Vance, Andrew Vastardis, Mikale Washington, Justin Weller, Noah Wezensky, and Jamyest Williams
Michigan Football Recruits for 2015
Spring Coach Visits:
Doug Nussmeier - Central Michigan, and Indiana, Darrin Kirkland, Brandon Knight, Alex Malzone
RB coach Fred Jackson - SE Mich, parts of N-Mich and C-Mich, Mississippi, Bama, Louisiana, S-Texas and E-Texas, Willie Allen, Jalen Bates, Brian Cole, Hunter Dale, Kahlil Haughton, Sotonye Jamabo, Malik Jefferson, Tyron Johnson, Kendall Jones, DeMarkus Lodge, Jared Mayden, Adrian "AD" Miller, Shea Patterson, Kendall Sheffield, Kaden Smith, Garrett Thomas, Cameron Townsend, Mikey Weber, Anthony Wheeler, Michael Williams, and Brennen Wooten
OL coach Darrell Funk - N-Tex, Colorado, OK, Heartland (Kansas, etc)-Aaron Garza, Shane Lemieux, Henry Roberts, Keaton Sutherland, Calvin Throckmorton, Conor Williams
WR coach Jeff Hecklinski - MN, IA, IL, MO, Arkansas, Terry Beckner, Miles Boykin, Roddrick Bryant, Jashon Cornell, David Edwards, Hale Hentges, Alec Murphy
TE/ST coach Dan Ferrigno - the West; Treyjohn Butler, K.J. Costello, Jacob Eason, Rasheem Green, Porter Gustin, Trent Irwin, Collin Johnson, Christian Kirk, Keisean Lucier-South, Iman Marshall, Osa Masina, Cassius Peat, Equanimeous St. Brown, Cameron Smith, Keenan Walker, Brady White
DB coach Curt Mallory - VA, MD, PA and the East, Sonny Abramson, Elijah Alford, Scott Bracey, Matt Burrell, Kyree Campbell, Cameron Chambers, Jalen Christian, Chris Clark, Clellin Ferrell, Rashan Gary, Jarrett Guarantano, Dwayne Haskins, Brad Hawkinns, Sterling Jenkins, Michael Menet, Richard Merritt, Ahmir Mitchell, Jake Pickard, John Reid, Jon Runyan Jr., Miles Sanders, Tim Settle, Josh Sweat, Darrell Taylor, Darvin Taylor, Garrett Taylor, Kareem Walker, Tyrone Wheatley Jr., Jordan Whitehead
DB coach Roy Manning: FL, GA, SC, NC, Calvin Ashley, Abdul Bello, John Burt, Deon Cain, George Campbell, Devonaire Clarington, Ben Cleveland, Jalen Dalton, LaSamuel Davis, Deondre Francois, Johnny Frasier, Amari Henderson, Joeseph Jackson, Tyler Jordan, Dexter Lawrence, Ray Ray McCloud, Juval Mollette, Jacques Patrick, Devante Peete, Christian Pellage, Janarias Robinson, Darian Roseboro, Jordan Scarlett, T.J. Simmons, Taleni Suhren, William Sweet, Auden Tate, Adonis Thomas, Vic Thomas, Shy Tuttle, Binjimen Victor, Robert Washington, Jalen Wilkerson, Dexter Williams, Garrett Williams, Preston Williams, Ty'Son Williams, Jordan Woods, and Malek Young

DL coach Mark Smith - Mid-and-S-Ohio, WVA, KY, Tenn, Jerome Baker, Shaun Crawford, Elijah Cunningham, Liam Eichenberg, Justin Hilliard, Dre'Mont Jones, Tyree Kinnel, Joshua McMillon, Kyle Marcincik, Cameron Ordway, Drew Richmond, Justin Rigg, Tyrece Speight

DC Greg Mattison: W-Mich, NE-Ohio, Wisconsin, Ben Bredeson, Jon Dietzen, Michael Ojemudia
June 13-15: Kjetil Cline, Jashon Cornell, K.J. Costello, Dylan Crawford, Javaris Davis, Jeffery Holland, Jacques Patrick, Auden Tate, Naseir Upshur, Craig Yeast
June 12-13 Sound Mind Sound Body Football Camp Harper Woods: Joshua Alabi, Brian Alsobrooks, Kei Beckham, Avonte Bell, Levante Bellamy, Shahid Bellamy, Hassan Belton, Jamal Brown, Ray Buford, Jayru Campbell, Jordan Colbert, Brian Cole, Jashon Cornell, Daniel Crawford, Anton Curtis, Messiah DeWeaver, Paul Engram, Matt Falcon, Desmond Fitzpatrick, Wesley French, Neville Gallimore, JoJo Garcia, Davontae Ginwright, Eric Glover-Williams, Alex Grace, Seth Green, Mecole Hardman, DaQuan Hawkins, Daelin Hayes, Lavert Hill, Joshua Holloman, Obbie Jackson, Abdallah Jaffal, Dior Johnson, Donovan Johnson, Jesse Johnson, Juanye Johnson, Shaq Jones, John Kelly, Darrin Kirkland, Thiyo Lukusa, Alex Malzone, Jalen Martin, Ostell Martin, Carter Masek, Emani Mason, Armani McNulty, Tyrone Miller, D.J. Moore, David Moorman, James Morgan, Alec Murphy, Alex Mussat, Riley Neal, Stanley Norman, Michael Oliver, Michael Onwenu, Jacques Patrick, Donovan People-Jones, Grant Perry, Kalebb Perry, Martell Pettaway, Kyle Pugh, T.J. Rahming, David Reese, Patrick Rene, Reggie Rogers, Joshua Ross, Romello Ross, Matt Skibinski, Tyson Smith, Equanimeous St. Brown, Kyonta Stallworth, Immanuel Stinson, Damon Terry, Tyriq Thompson, Brandon Tiassum, Naseir Upshur, Demetric Vance, D'Andre Walker, Mikey Weber, Delvin Weems, Tyrone Wheatley Jr., Darryl Williams, Jamyest Williams, Preston Williams
June 11: Grant Newsome commitment
June 6-8: Justin Layne, Grant Newsome
June 7: Women's Football Academy
June 4: Ty Isaac Visit, and commitment on June 5 (Transfer from USC)
May 30-June 1: Terry Beckner, Brendan Ferns, Miles Boykin, Natereace Strong, Jeff Thomas
May 24: Shaun Crawford decommitment
Michigan pursuing Oregon Transfer Jake Rodriques
May 18: Darrin Kirkland visit and commitment
May 12: Alex Malzone commitment
May 2-4: Alex Malzone
April 25-27: Darian Roseboro
April 18-20: Ben Bredeson, Chris Clark, Clellin Ferrell, Grant Newsome
April 5: Spring Scrimmage 2:00 p.m. Visitors April 4-6: Joshua Bean, Johnathan Berghorst, Miles Boykin, Ben Bredeson, Christian Bobak, Jacob Cerny, Deaven Covington, Messiah DeWeaver, Caleb DeWeese, Aleks Dragin, Jack Dunaway, Jeremy Fejedelem, Brendan Ferns, DeAndre Ford, Marvin Franklin, Aaron Garland, Daelin Hayes, Hale Hentges, Lavert Hill, Jesse Johnson, Khalid Kareem, Brian Lewerke, Connor Lillig, Chad Lindsay, Jordan McInerney, Martez Malone, David Moorman, Martez Morton, Josh Myers, Flynn Nagel, Chuck Norgle, Brendan O'Hara, Mark Patritto, Atakan Pekpolat, Josiah Purchase, Sean Rattay, Joshua Ross, Emmanuel Rugamba, Jon Runyan Jr., Michael Sessa, Quayvon Skanes, Ricky Smalling, Kyonta Stallworth, Ambry Thomas, Drew Tyler-Harvey, Mikale Washington, Terius Wheatley, Tyrone Wheatley Jr., Kyle Wood, Abdulaah Yaseen, and Eddie Zinn-Turner
March 27-29: Michigan Football Coaches Clinic Stefan Claiborne, Rex Culpepper, Jake Fruhmorgen, Steven Frank, Dre'Mont Jones
March 24: Garrett Taylor commitment
March 21-23: Rashod Berry, Jonathan Cooper, Donnie Corley, Chris Green, Daelin Hayes, Lavert Hill, Josh King, Darrin Kirkland, Jalen Martin, Ostell Martin, Donovan People-Jones, Martell Petaway, David Reese, Josh Ross, Tyson Smith, Tyriq Thompson, Demetric Vance, Devin Waldon, Mikey Weber
March 15-17: C.J. Conrad, Justin Hilliard, Alex Malzone, David Moorman, Josh Rosen, David Sills, Garrett Taylor, Reagan Williams
March 8-10: Indiana Basketball-Carter Dunaway, Corey Malone-Hatcher, Aaron Mathews, Donovan People-Jones, Martell Petaway, Tyrece Speaight, Mikey Weber
March 1-3: Minnesota Basketball-Austin Dorris, Jack Dunaway, Austin Mack, Alex Malzone, Grant Perry, Todd Sibley, Reagan Williams
February 25: Spring Practice Begins
February 21-23: Michigan State Basketball-Asmar Bilal, Ray Buford, Brian Cole, Donnie Corley, Shaun Crawford, David Edwards, Austin Ervin, Desmond Fitzpatrick, Kevin Givens, Damien Harris, Daelin Hayes, Troy Henderson, Darrin Kirkland, Thiyo Lukusa, Harrison Moon, Kentrail Moran, Jeff Thomas, Mikey Weber
February 15: Wisconsin Basketball-Josh Barajas, Tuf Borland, Donnie Corley, Messiah DeWeaver, Liam Eichenberg, Juanye Johnson, Corey Malone-Hatcher, Jalen Martin, Emani Mason, Josh Myers, Michael Onwenu, Kalebb Perry, Donovan People-Jones, David Reese, Mike Robb, Will Rogers, Josh Ross, Emmanuel Rugamba, Prince Sammons, Todd Sibley, Erik Swenson, and Ethan Tucky
Coaches visits since January 15: Jeff Jones, Marlon Mack, Malik McDowell (Class of 2014)
QB: Blake Barnett, Jake Browning, Zach Gentry, Nick Johns, Kyle Kearns, Brian Lewerke, Alex Malzone, Josh Rosen, Jarrett Stidham, Ricky Town, Ryan Willis, Brandon Wimbush, RB-Damien Harris, Andrew Dowell, Soso Jamabo, Ronald Jones II, Kentrail Moran, Mike Weber, WR-George Campbell, Irvin Charles, Brian Cole, David Dowell, Tyron Johnson, Christian Kirk, Kai Locksley, Damarkus Lodge, Juval Mollette, Stanley Norman, Kemah Severand, TE-Bowman Archibald, Chris Clark, Austin Ervin, Jackson Harrison, Tyler Petite, Anthony Rush, Jalen Wilkerson, OL-Matthew Burrell, Jr., Chuma Edoga, Trevor Elbert, Jake Fruhmorgen, Mitch Hyatt, Sterling Jenkins, Gabe Megginson, Harrison Moon, Richie Petitbon, Jon Runyan, Jr., DL-Jashon Cornell, Jalen Dalton, Darrion Daniels, Landis Durham, Clelin Ferrell, Rasheem Greene, Duvonta Lampkin, Keisean Lucier-South, Daylon Mack, Charles Omenihu, Cassius Peat, Darian Roseboro, Tim Settle, Elijah Taylor, Christian Wilkins, LB-Jerome Baker, Josh Barajas, Asmar Bilal, Wyatt Cook, Jordan Fox, Justin Hilliard, Malik Jefferson, John Houston, Darrin Kirkland, Jr., Arthur McGinnis, Anthony McKee, Joshua McMillan, Cameron Smith, Adonis Thomas, Anthony Wheeler, Reagan Williams, DB-Shaun Crawford, Kei Beckham, Kris Boyd, Minkah Fitzpatrick, Tyree Kinnel, Iman Marshall, Darrell Miller, John Reid, Marcus Lewis, Tyler Woodley (Class of 2015)
QB-Messiah DeWeaver, RB-Kentrail Moran, Miles Sanders, Kareem Walker, WR-Scott Bracey, Brandon Burton, Cameron Chambers, D.J. Morgan, TE-David Edwards, Marquise Guinn, Jake Hausmann, Kaden Smith, Naseir Upshur, OL-Sean Foster, Thiyo Lukusa, Erik Swenson, E.J. Price, Tommy Roush, DL-Dexter Lawrence, Jarrod McLin, LB-Lawrence Gordon, Daelin Hayes, Deion Joyner, Ed Oliver, Prince Sammons, DB-Aaron Matthews, Robbie Robinson (Class of 2016)
QB-Bailey Hockman, WR- Kahlee Hamler, LB-Joshua Ross (Class of 2017)
January 21: Damien Harris Decommitment

January 18: Kyle Seychel commitment
January 16-17: 42nd Annual Michigan High School Football Coaches Association Clinic
Dead Period ends on January 15 (December 16-January 15)
January 12-15: American Football Coaches Association Convention at Indianapolis
Borges Fired on January 8; Nussmeier Hired on January 9
7 Freshman Enroll Early for 2014
January 8--Classes begin 2nd semester at University of Michigan; Early Enrollees: Freddy Canteen, Mason Cole, Michael Ferns, Drake Harris, Wilton Speight, and Brandon Watson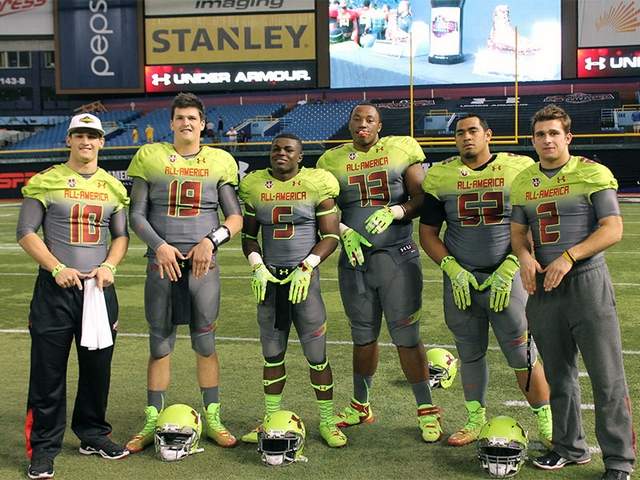 January 4--U.S. Army All-American Bowl Offense-Defense Championship
January 2--Under Armour All-American High School Game 4:00 p.m.
December 28--Buffalo Wild Wings Bowl vs. Kansas State, 14-31
December 13-15: Vic Enwere, Jabrill Peppers visit
December 8: Michigan accepts Buffalo Wild Wings Bowl bid vs. Kansas State
November 30--Ohio State: Joshua Alabi, Jason Alessi, Trevon Avery, Jerome Baker, Kei Beckham, Ian Bunting, George Campbell, Freddy Canteen, Stefan Claiborne, Brian Cole, Mason Cole, C.J. Conrad, Jashon Cornell, Andrew David, Messiah Weaver, David Edwards, Brendan Ferns, Michael Ferns, Jimmy Fitzgerald, Desmond Fitzpatrick, Zach Gentry, Lawrence Gordon, Dele Harding, Damien Harris, Drake Harris, Daelin Hayes, Lavert Hill, Justin Hilliard, Joshua Jackson, Sterling Jenkins, Nick Johns, Tyree Kinnel, Darrin Kirkland, Thiyo Lukusa, Kendric Mallory, Corey Malone-Hatcher, Alex Malzone, Lawrence Marshall, Jalen Martin, Ostell Martin, Malik McDowell, Michael Onwenu, Martell Pettaway, Giovanni Rescigno, Tommy Roush, Prince Sammons, Wilton Speight, Erik Swenson, Demetric Vance, Jared Wangler, Brandon Watson, Maurice Ways, Tyrone Wheatley Jr., Mykelti Williams, Reagan Williams, Khari Willis, and Chase Winovich
November 25: Erik Swenson commitment
November 9--Nebraska: Trevon Avery, Stefan Claiborne, C.J. Conrad, Noah Furbush, Drake Harris, Darrin Kirkland, Daelin Hayes, Joshua Jackson, Evan Mallory, Corey Malone-Hatcher, Alex Malzone, Lawrence Marshall, Malik McDowell, David Moorman, Brent Morris, Giovanni Rescigno, Joshua Ross, Grant Sherman, Jared Wangler, Maurice Ways, Khari Willis
October 19--Indiana: Trevon Avery, Kei Beckham, Hjalte Froholdt, LaVert Hill, Joshua Jackson, Tyree Jackson, Joshua Ross, Mikey Weber
October 5--Minnesota: Keyon Addison, Trevon Avery, Cole Chewins, Jackson Hale, Drake Harris, LaVert Hill, Joshua Jackson, Tyree Kinnel, Alex Malzone, Jalen Martin, Jimmy Martin, Riley Neal, Giovanni Rescigno, Joshua Ross, Nathan Skene, Jared Wangler, and Maurice Ways
September 14--Akron: LaVert Hill, Conner O'Donnell, Michael Onwenu, Josh Ross, Teryn Savage, Demetric Vance, Aapri Washington, Robert Washington
September 7--Notre Dame: Joseph Alabi, Trevon Avery, Ray Buford, Ian Bunting, Matthew Burrell, Zac Butt, George Campbell, Brian Cole, Mason Cole, Jashon Cornell, Andrew David, Messiah DeWeaver, Rob Dowdy, Matt Draper, Desmond Fitzpatrick, Noah Furbush, Milan Golden, Lawrence Gordon, Malik Guidry, DeShawn Hand, Damien Harris, LaVert Hill, Justin Hilliard, Jake Johnson, Cole Jones, Tyree Kinnel, Marshon Lattimore, Thiyo Lukusa, Malik McDowell, Lawrence Marshall, Ostell Martin, Emani Mason, Bryan Mone, David Moorman, Brent Morris, Riley Neal, Michael Onwenu, Brady Pallante, Shea Patterson, Grant Perry, Martell Petaway, Josh Ross, Tommy Roush, Tim Settle, Aaron Sipple, Nathan Skene, Erick Smith, Wilton Speight, Trevon Story, Eric Swenson, Tyriq Thompson, Jared Wangler, Mikey Weber, Teris Wheatley, Tyrone Wheatley Jr., and Chase Winovich
August 30-31--Central Michigan: Trevon Avery, Corey Contini, Keyshawn Gilmore, Marshall Hamilton, Drake Harris, LaVert Hill, Joshua Jackson, Jalen Martin, Donovan Peoples-Jones, Justin Petersmark, Max Recknagel, David Reese, Josh Ross, Nick Sawyer, Javier Taylor, Tyriq Thompson, and Mikey Weber
August 23: Shaun Crawford commitment, Tyree Kinnel visit
August 11: Alex Malzone, LaVert Hill, Keith Jones, Ostell Martin, Michael Onwenu
August 9: Jared Wangler commitment
August 8: Jalen Johnson
August 5: Kamonte Carter
August 3: Jalen Christian
July 29: Kaden Smith
July 28: George Campbell commitment
BBQ-July 28: Joshua Alabi, Kallen Ballage, George Campbell, Freddy Canteen, Brian Cole, Mason Cole, Shaun Crawford, Messiah DeWeaver, David Edwards, Desmond Fitzpatrick, Lawrence Gordon, DaShawn Hand, De'le Harding, Drake Harris, Justin Hilliard, Jonathan Hilliman, Adoree Jackson, Van Jefferson, Sterling Jenkins, Tyree Kinnel, Marshon Lattimore, Thiyo Lukasa, Malik McDowell, Osa Masina, Kentrail Moran, Montae Nicholson, Martell Pettaway, Tommy Roush, Tim Settle, Nathan Skene, Wilton Speight, Trevon Story, Erik Swenson, Tyriq Thompson, Maurice Ways, Mikey Weber, Parrker Westphal, and Antonio Williams
July 23: Chris Warren
July 13: Cassius Peat
July 1: Noah Furbush commitment
June 29: Freddy Canteen and Brandon Watson commitments
June 25: Jon Runyan Jr. commitment
Freshman players arrive on campus for Summer drills
June 24: Andrew David commitment
June 21-23 Michigan Youth Camp (6th-8th grades)
June 16-20: High School Summer Camp Technique Camp Campers: Austin Aaron, Mike Andrew, Trevon Avery, Jerome Baker, Alex Barnes, Jack Bates, Nick Bawden, Kei Beckham, Jacob Betschel, Ryan Boyle, Asantay Brown, Ray Buford, Freddy Canteen, Cole Chewins, Wyatt Cook, Shawn Crawford, Chris Daniels, James Daniels, Jamal Davis, Elijah Deveaux, Messiah DeWeaver, Rob Dowdy, Andrew Dowell, David Dowell, Matthew Draper, Clifton Duck, Chuma Edoga, David Edwards, Jalen Embry, Qu'iante Ewing, Matt Falcon, Desmond Fitzpatrick, Pat Ford, Daurice Fountain, Reggie Gallaspy, Eric Glover-Williams, Cameron Green, Chris Green, Mitch Guadagni, Damien Harris, Tajhe Hartley, Anthony Herbert, Jamie Herr, Justin Hilliard, William Hunt, Ashton Jackson, Tyree Jackson, Harrison Johnson, John Kelly, Tyree Kinnel, Kyle Kuhar, Darnell Lanier, Brandon Lee, Kendrell McFadden, Anthony McKee, Austin Mack, Avonte Maddox, Evan Mallory, Kendric Mallory, Alex Malzone, Jimmy Martin, Osa Masina, Gabe Megginson, Andrew Mike, Aaron Miller, Jaye Miner, David Moorman, Kentrail Moran, Matt Morrissey, Connor O'Donnell, Grant Perry, Kyle Rachwal, LaMont Ragland, Romello Ross, Jon Runyan Jr., Trai Sharp, Tyson Smith, Chance Sorrell, Erik Swenson, Elijah Taylor, Garrett Taylor, Jared Thomas, Lucas Thompson, Tyriq Thompson, Drue Tranquill, Justin Tranquill, Shy Tuttle, Kalani Vakameilano, Chekiah Washington, Robert Washington, Jon Wassink, Brandon Watson, Verdontae Wilkinson, Arthur Williams, Blake Williams, Mike Williams, Tyler Woodley, Bearooz Yacoobi and Danil Young
June 14-15 Brandon Kornblue Kicking Camp
June 12-14: Kalen Ballage, Dre Brown, Jalen Brown, Jashon Cornell, Jamarco Jones, Jeff Jones, Jacques Patrick, Sterling Jenkins, Frank Ragnow, Reno Rosene, Norman Stanley
June 5-7: Noah Furbush
June 1: Van Smith
June 1: Chase Winovich commitment
May 26: Jabril Peppers commitment
May 21: Andrew Brown
May 10: Lawrence Marshall commitment
May 10-12: Lawrence Marshall, Chase Winovich
Kornblue Kicking Camp-Ann Arbor May 4
April 29-Juwan Bushell-Beatty commitment
Week of April 25-27: Daejuan Funderburk, Dimitri Lee, Jimmy Martin, Chigozie Onyekwere
April 25--Maurice Ways commitment
April 24--Jalen Tabor
April 23-Ian Bunting commitment
Week of April 18-20: Mark Andrews, Ian Bunting, Ricky DeBerry, Garrett Taylor, Parrker Westphal
April 14: Drake Harris commitment
April 11-13: Spring Game: George Campbell, Brian Cole, Mason Cole, Matt Falcon, Michael Ferns, Drake Harris, Jake Johnson, John Kelly, Ostell Martin Jr., Garrett Moores, Stephen Mosley, Trevor Ruhland, Artavious Scott, Wilton Speight, Ted Stiebler, Erik Swenson, Jared Wangler, Tyrone Washington, Kyron Watson, Maurice Ways, Tyrone Wheatley Jr., and Chase Winovich
April 5-7: Trey Barksdale, Ray Buford, Juwan Bushell-Beatty, Barron Collier, Jashon Cornell, Lawrence Gordon, Jemarco Jones, Evan Mallory, Malik McDowell, Sam Mustipher, Brady Pallante, Jabril Peppers, Blaise Stearns and K.J. Williams
March 29-31: Joseph Alabi, Alex Bars, Shahid Bellamy, Jayru Campbell, Jalen Embry, Carl Fuller, John Kelly, Tyree Kinnel, Avante Maddox, Chance Sorrell, Tyriq Thompson, Maurice Ways, and Mikey Weber
March 22-24: Danny Burns, Timothy Cason, Jonathan Hillman, Roderick Johnson, Braden Smith, Darius West
March 15-17: Kyle Berger, Tommy Doles, Michael Ferns, DaShawn Hand, Drake Harris, Nic Weishar
March 8-10: Joshua Alabi, Jayru Campbell, Tommy Doles, Jalen Embry, Carl Fuller, Drake Harris, Malik McDowell, Nic Weishar
March 1-3: Joshua Alabi, Jayru Campbell, Rob Dowdy, Drake Harris, Mikey Weber, Chase Winovich
February 23-24: Kyle Berger, George Campbell, Brian Cole, Mason Cole, Shaun Crawford, Michael Ferns, Drake Harris, Elijah Hood, Lawrence Marshall, Malik McDowell and Wilton Speight
February 16-18: Joshua Alabi, Daniel Helm, Mikey Weber, Parrker Westphal
February 12--Bryan Mone commitment
February 6-Wilton Speight commitment
February 6-27 Signed Commitments plus 2 Preferred Walk-Ons (McGrath/Wangler)
February 2--Jack Wangler commitment
January 26--Derrick Green commitment
January 18-J.J. McGrath commitment
January 14-Reon Dawson commitment
January 12-Dan Samuelson commitment
January 11-13 Reon Dawson, Cameron Hunt, J.J. McGrath, Patrick Kugler, Delano Hill
January, 2013 Enrollees: Kyle Bosch, Jake Butt, Taco Charlton, Ross Douglas, Dymonte Thomas and Logan Tulley-Tillman
Under Armour Game 2013 Roster January 4 Semper Fidelis Bowl January 4 U.S. Army All-American Football Game Roster January 6 Offense-Defense Game Roster December 31
Dead Period: December 17-January 3
Outback Practice Visits: December 24-26: George Campbell, Mason Cole, Corey Holmes, Vincent Jackson, Artavious Scott
December 16--J.T. Floyd, Brandin Hawthorne and Will Hagerup suspended
December 15--David Dawson recommitment-Delano Hill commitment
December 14-16--David Dawson-Delano Hill-Malik McDowell-Lawrence Marshall-Na'Ty Rogers-Dan Samuelson-Dan Skipper & 17 commitments
December 3--Stephon Hopkins leaves team
November 27--Gareon Conley decommitment
November 17--Iowa: Brian Allen, Alex Bookser, Reon Dawson, Avery Edwards, Matt Hammerstein, Joe Henderson, John Kelly, Darryl Long, Evan Mallory, Kyle Rachwal, Gelen Robinson, Vic Roe, Shelby Spence, Jake Walker and Darius West
November 10--Northwestern: Ian Bunting, Daniel Cage, Jamitreus Crockham, Cario Davison, Garrett Dickerson, Logan Dziak, Andrew Ford, Nathan Hall, Derek Kief, Leon McQuay, Bryan Mone, Kyle Rachwal, Dareian Watkins, Parrker Westphal
October 31-Da'Mario Jones commitment
October 20--Michigan State: Joshua Alabi, Travon Avery, Tinashe Bere, Dominique Booth, Brennan Bosch, Robert Bowers, Jayru Campbell, Mason Cole, Nathan Devers, Jalen Dingle, Shane Evans, Kenny Finley, Clifton Garrett, Derrick Green, DeShawn Hand, Damien Harris, Dorian Hendrix, Gary Hosey, Godwin Igwebuike, Ashton Jackson, Joshua Jackson, Logan Johnson, Demario Jones, Keith Jones, Marcelys Jones, Tyree Kinnel, Ronnie Larue, Marshon Lattimore, Darryl Long, Kendric Mallory, Montae Nicholson, Kyle Rachwal, Logan Rea, Artavious Scott, L.J. Scott, Erick Smith, Travis Smith, Chance Sorrell, Alec Stevens, Ryan Stout, Donald Styles, Brenon Thrift, LaQuan Treadwell, Jack Wangler, Mikey Weber, Tyler Wiegers, Ethan Wolf
Commits: Taco Charlton, Ross Douglas, Jaron Dukes, Michael Ferns, Chris Fox, Ben Gedeon, Khalid Hill, Patrick Kugler, Jourdan Lewis, Mike McCray, Shane Morris, Wyatt Shallman, Scott Sypniewski, Dymonte Thomas, Logan Tulley-Tillman, Denzel Ward, Csonte York
October 20--Denzel Ward commitment
October 14--David Dawson de-commitment
October 13--Illinois: Tommy Doles, Connor Hayes, DeMario Jones, Jamarco Jones, Marcelys Jones, Marshon Lattimore, Lawrence Marshall
September 15--Massachusetts: Travon Avery, Gary Hosey, DeMario Jones, Malik McDowell, Jimmy Martin, Sony Michel, Kyle Rachwall, Romello Ross, Alec Stevens, Greg Walker, Damon Webb and William White
September 8--Air Force: Joshua Alabi, Travon Avery, Alex Bars, Jayru Campbell, Tommy Doles, Kenny Finley, John Hall, Keith Jones, J.J. McGrath, Damon Webb, Dylan Weigel and Blake Williams
August 12--Fan Day
August 9--Michael Ferns commitment
August 4--Nick Weishar/Jaden Gault
July 29: BBQ at the Big House: Devon Allen, Orlando Brown, Mason Cole, Nathan Devers, Tommy Doles, Deon Drake, Michael Ferns, Nick Glass, Clifton Garrett, Derrick Green, Javon Harrison, Jay Hayes, Caleb Henderson, Joe Henderson, Kiy Hester, K.C. McDermott, Johnny Miggins, Dontae Nicholson, Drew Parker, De'Andre Payne, C.J. Reavis, Austin Roberts, Artavious Scott, Conor Sheehy, Bentley Spain, Troy Vincent, Damon Webb, Parrker Westphal, Will White and Tyler Wiegers
July 27-28: Gridiron Kings Orlando, FL--Shane Morris, LaQuan Treadwell
July 18: Elite 11 Quarterbacks
June 27: Alvin Bailey
June 26: Jordan Wilkins
June 22: Channing Stribling Summer Camp Offer and Commitment
Football Summer Camp: June 19-23
Campers: Brian Allen, Travon Avery, Michael Barwick, J.T. Blyden, Dominique Booth, Orlando Brown, Daniel Cage, Cody Callaway, Jayru Campbell, Nick Chappell, Lorenzo Collins, Brandon Colon, Khoury Crenshaw, Johnny Daniels, Caleb Day, Nathan Devers, Tommy Doles, Deon Drake, Logan Dziak, Berkley Edwards, Kenneth Finley, Ben Flick, Clifton Garrett, Nick Glass, Jaylan Grandison, Brant Gressel, Damien Harris, Drake Harris, Conor Hayes, Caleb Henderson, Joe Henderson, James Hendren, Dorian Hendrix, Michael Hill, Jonathan Hillman, Brandon Hines, Jeremy Holley, Corey Holmes, Gary Hosey, Jaleel Hytchye, Ashton Jackson, Joshua Jackson, Nolan Jackson-Daniel, Taivon Jacobs, Jamel James, Nate Jeppeson, Demario Jones, Coleman Key, Josh Kirschenbaum, De'Shone Kizer, Jerome Lane, Chase Lash, De'Niro Laster, Brent Lyles, Malik McDowell, Dimonic McKinzy, Isaiah Moore, Nyles Morgan, Alquadin Muhammad, Trevor Mustard, Montae Nicholson, Grant Niemiec, Michael O'Connor, Marcus Oliver, Nate Oquendo, Vinnie Palazetti, Brady Pallante, DeAndre Payne, Jazz Peavy, Tyrone Pierre, Dezwon Polk, Damien Prince, Lamar Robbins, Gelen Robinson, Devon Rogers, Romello Ross, Tommy Roush, Tanner Sanders, Connor Sheehy, Enoch Smith, Jason Smith, Chance Sorrell, Bentley Spain, Chance Stewart, Channing Stribling, Jalen Tabor, Poet Thomas, Aregeros Turner, Jordan Van Dort, Troy Vincent, Jimmy Walker, Jack Wangler, Damon Webb, Darius West, Tyler Wiegers, Demarcus Wilson, Richard Wilson and Christopher Worley
June 15: Michael Ferns, Jemarco Jones
June 6: Scott Sypniewski commitment
June 4: Henry Poggi commitment
June 3: Jimmy Byrne visit
June 2: Maurice Hurst commitment
May 26: Jaylon Grandison
May 18/19: Dante Booker/Nathan Devers/Leon McQuay/Chance Stewart
May 9: Csont'e York commitment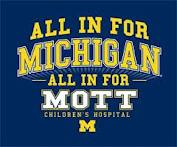 Spring Game: April 14, 2012--Major Recruit Visitors: Christian Lacoutre/Kendall Fuller/E.J. Levenberry/Joey Basa/Malik McDowell/LaQuan Treadwell
Other Spring Game Recruit/Commitment Visitors: Kenny Allen, Alex Bars, Blake Bars, Kyle Bosch, Ben Braden, Jake Butt, Taco Charlton, Amarah Darboh, Bo Dever, Jaron Dukes, Chris Fox, Devin Funchess, Allen Gant, Dan Gibbs, Ryan Glasgow, Matt Godin, Willie Henry, Khalid Hill, Khalil Hill, Gary Hosey, Drake Johnson, Josh Kirshenbaum, Ian Koziatek, Mark Lawson, Quinton Mandel, Michael McCray, Matt Miller, Shane Morris, Dennis Norfleet, A.J. Pearson, Tom Strobel, Logan Tulley-Tillman, Damon Webb, A.J. Williams and Chris Wormley
April 12: Brandon Hines, Josh Jones
April 10: Ben Gedeon commitment, Jordan Van Dort, Solomon Warfield, Anthony Young visits
April 6: Joe Mathis
Michigan Spring Practice Dates: March 17, (Borgess and Mattison Press Conferences)19, 20, 22, 24, 27 and 29-31 (II); April 3, 5-6, 10 and 12

March 30: Darian Hicks
March 29: Dominique Booth
March 27: Dan Davis, Grant Niemic
March 24: Devin Butler, Poet Thomas, Michael Barwick
March 18: Derrick Green visit
Spring Practice Begins: March 17, 2012, Henry Poggi, Scott Orndoff visits, Deveon Smith visit and commitment
March 10: Shane Jones/Colin McGovern/Tim Harris/Darius Latham/Christian Lacouture/Gareon Conley/Ty Isaac/Zac Bradshaw/Shane Morris/Kyle Bosch/David Dawson
March 10: Gareon Conley commitment
March 8: Wyatt Shallman
March 6: Michael McCray commitment/visit
March 3: Ben Gedeon
February 25: Patrick Kugler commitment
February 24: Patrick Kugler, Chandler Kincaide
February 22: Jaron Dukes commitment
February 20: Ross Douglas/De'Niro Lester/Jacob Matuska/Donovan Munger (Tyler Tokowsky commitment)
February 19: Jake Butt/Logan Tulley-Tillman commitments
February 18: Kyle Bosch, Taco Charlton, David Dawson, Chris Fox, Jordan Lewis and Wyatt Shallman commitments
February 17-19: Kyle Bosch, Jake Butt, Taco Charlton, Rod Crayton, David Dawson, Kenton Gibbs, Jourdan Lewis, James Onwualu, Ethan Pocic and Logan Tulley-Tillman
February 15: Malik McDowell
February 10: Andy Bauer, Jason Dukes, Chris Fox, LaQuan Treadwell, Logan Tulley-Tillman and Wyatt Shallman
February 6: Dan Gibbs and Khalid Hill commitments
Signing Day: February 1, 2012 Dennis Norfleet commitment surprise
January 30: Willie Henry commitment
January 27-29
Willie Henry
January 20-22
None
January 20: Caleb Stacey decommitment
January 13-15
Jeremy Clark
Jordan Diamond
Sam Grant (Unofficial)
Ty Isaac (Unofficial)
Drake Johnson
E.J. Levenberry (Unofficial)
Shane Morris
Armani Reeves
Dymonte Thomas
January 15: Mark Lawson commits as a preferred walk-on linebacker
January 6-8
Logan Tulley-Tillman
January 7: U.S.A.A. Army All-America Football Game (Royce Jenkins-Stone, Kyle Kalis, Erik Magnuson, Ondre Pipkins, James Ross)
January 5: Under Armour High School All-America Football Game (Joe Bolden, Terrence Richardson)
January 4: 2nd Semester begins including new enrollees: Joe Bolden, Allen Gant and Jarrod Wilson (AnnArbor.com confirms)
January 3: Observations on the Sugar Bowl win over Virginia Tech, 23-20
January 3: Semper Fidelis High School All-American Bowl (Mario Ojemudia, Jordan Diamond)
December 30: Offense-Defense Bowl (Jarrod Wilson) and Chesapeake Bowl
December 26, 2011 Offense-Defense High School All-American Football Game
December 21: Jehu Chesson commitment
December 9-11
Blake Bars
Joe Bolden
Devin Funchess
Allen Gant
Sam Grant
Royce Jenkins-Stone
Kyle Kalis
Alex Kozan
Mario Ojemudia
Terry Richardson
Tom Strobel
A.J. Williams
Chris Wormley
December 9: 1st Practice for Sugar Bowl
December 4: Amara Darboh commitment
December 2-4
November 29-December 2: In-Home Visits by Michigan Coaching Staff: Zach Banner, Evan Baylis, Evan Boehm, Pharoah Brown, Jehu Chesson, Amara Darboh, Brionte Dunn, Josh Garrett, J.P. Holtz, Alex Kozan, Taylor McNamara, Monty Madaris, Jordan Payton and Yuri Wright
Ohio State November 26
Blake Bars
Jehu Chesson
Amara Darboh
Josh Garrett
Sione Houma
Erik Magnuson
Ondre Pipkins
Unofficial: Brandon Bean, Hunter Bivin, Calvin Blank, Jake Butt, Nick Chappell, Blake Cook, Brendan Cope, Josh Crim, Terry Davis, Jordan Diamond, Tommy Doles, Brionte Dunn, Alex Gall, Ben Gedeon, Dan Gibbs, A.J. Grady, Jordan Hargrove, Connor Hayes, Darian Hicks, Drake Johnson, Kurt Laseak, De'Niro Lester, Juwan Lewis, Erik Magnuson, Steve Mathie, Marcus McWilson, Shane Morris, Moana Ofahengaue, Mario Ojemudia, Taybor Pepper, Lovell Peterson, Jaylyn Powell, Billy Price, Jon Reschke, Marquan Richardson, Nathan Ricketts, Deveon Smith, Jaylon Smith, Caleb Stacey, Anthony Standifer, Scott Sypniewski, Dymonte Thomas, Jayme Thompson, LaQuan Treadwell, Logan Tulley-Tillman, Sean Welsh, Shaq Wiggins, A.J. Williams, Tre Williams-Brown, Corey Willis, Nick Wunderli
Pharaoh Brown Decommitment--Visit to Oregon November 19
Nebraska November 19
Unofficial: Kenny Allen, Travon Avery, Turner Baty, Brandon Bean, Ben Bedard, Joe Bolden, Kyle Bosch, Nick Chappell, Freeman Coleman, Blake Cook, Bo Dever, Jason Dickey, Brionte Dunn, Berkley Edwards, Devin Funchess, Allen Gant, Houston Glass, Dan Gibbs, Juwan Lewis, Luke Maclean, Quinton Mandel, Steve Mathie, Matt Miller, Shane Morris, Riley Norman, Mario Ojemudia, Matt Robinson, Caleb Stacey, Scott Sypniewski, Dymonte Thomas, Poet Thomas, Keith Trowbridge, Logan Tulley-Tillman, Brandon Watkins, A.J. Williams and Jarrod Wilson
November 15: Jayme Thompson
November 8: Drake Johnson commitment
Purdue October 29
Unofficial: Josh Brebant, Blake Cook, Devin Funchess, Allen Gant, Dan Gibbs, Gerald Holmes, Ty Isaac, Royce Jenkins-Stone, Juwan Lewis, Luke Maclean, Mario Ojemudia, Henry Poggi, Scott Sypniewski, Dymonte Thomas, Jayme Thompson and Sean Welsh
Minnesota October 1
Unofficial: Austin Brown, Nick Chappell, Cameron Dillard, Dan Gibbs, Matt Godin, Juwan Lewis, Royce Jenkins-Stone, DeMario Jones, Shane Morris, Jon Reschke, Terry Richardson, James Ross, Wyatt Shalllman, Tom Strobel, Scott Sypniewski, Raheem Washington, Corey Willis
San Diego State September 24
Unofficial: Hunter Bivin, Joe Bolden, Joshua Brebrant, Nick Chappell, Jack Conklin, Blake Cook, Sam Cook, Brendan Cope, Dan Gibbs, Kenton Gibbs, Darian Hicks, Royce Jenkins-Stone, DeMario Jones, Jourdan Lewis, Luke MacLean, Terry Richardson, Kimani Thomas
Eastern Michigan September 17
Unofficial: Kenny Allen, Calvin Blank, Nick Chappell, Blake Cook, Allen Gant, Royce Jenkins-Stone, Steve Mathie, Taybor Pepper, Kaleb Ringer, Terry Richardson, James Ross
Notre Dame September 10
Zach Banner
Jordan Payton
Unofficial: Kenny Allen, Franshon Bickley, Kyle Bosch, Pharaoh Brown, Jake Butt, Cameron Burrows, Taco Charlton, Jeremy Clark, Mason Darrow, Bo Dever, Cameron Dillard, Matt Doneth, Ross Douglass, Steve Elmer, Allen Gant, Greg Garmon, Ben Gedeon, Matt Godin, Jake Gronholz, Jordan Hargrove, Royce Jenkins-Stone, Drake Johnson, Juwan Lewis, Erik Magnuson, Jacob Matuska, Mike McCray, Matt Miller, Shane Morris, Donovan Munger, Zach Murdock, Dan O'Brien, Mario Ojemudia, Ethan Pocic, Jaylen Powell, John Reschke, Caleb Stacey, Anthony Standifer, Dymonte Thomas, Poet Thomas, LaQuan Treadwell, William White, Jacob Widmer, A.J. Williams and Chris Wormley
Western Michigan September 3
Unofficial: Kenny Allen, Ben Braden, Cameron Dillard, Berkley Edwards, Devin Funchess, Allen Gant, Matt Godin, Royce Jenkins-Stone, Luke MacLean, Matt Miller, Shane Morris, Danny O'Brien, Terry Richardson, James Ross, Wyatt Shallman
August 8: Ondre Pipkins commitment
August 7: Kyle Bosch visit
July 31: Chris Wormley commitment
Barbeque at the Big House July 31
Ben Braden
Jehu Chesson
Brionte Dunn
Steve Elmer
Devin Funchess
Allen Gant
Ben Gedeon
Matt Godin
Ty Isaac
Royce Jenkins-Stone
Kyle Kalis
Shane Morris
Dan O'Brien
Mario Ojemudia
Pee Wee Pipkins
Jon Reschke
Terry Richardson
James Ross
Wyatt Shallman
Anthony Standifer
Tom Strobel
Dymonte Thomas
LaQuan Treadwell
A.J. Williams
Chris Wormley
July 28-29 Ray Guy Prokicker.com Michigan Kicking Camp
July 29 Big Ten Kickoff Luncheon
June 25-26: Amara Darboh visit
July 11: Steve Elmer visit
July 10: Kyle Kalis commitment
July 8: Jordan Wilson commitment
June 26: Blake Bars commitment
June 24: Jeremy Clark commitment
June 24-26
Kyle Kalis
Chris Wormley
June 21
Ron Thompson
June 19-23: Michigan Football Camp
2012 Campers
Austin Appleby
Brian Blackburn
Daron Brown
Jeremy Clark
Robert Gregory
Alden Hill
Kyle Knapp
Danny O'Brien
Leviticus Payne
Efe Scott-Emuakpor
Vontrell Williams
Jordan Woods
2013 Campers
Cameron Burrows
David Dawson
Berkley Edwards
Steve Elmer
Chris Fox
Ben Gedeon
Kenton Gibbs
DeMario Jones
Luke MacLean
Matt Miller
Jon Reschke
Wyatt Shallman
LaQuan Treadwell
Under Armour High School Combine Schedule
Nike High School Combine Schedule (Massillon Ohio Results)
June 17-19
Blake Bars
Jordan Diamond
Steve Elmer
Trey Keenan
Chris Muller
Andrus Peat
Jaylon Smith
Big 33 Game on June 17: Frank Clark, Keith Heintzman, Antonio Poole
June 11-12: Brandon Kornblue Michigan Kicking Camp
June 10: Erik Magnuson, Tom Strobel commitments
June 10-12
Adam Bisnowaty
Greg Garmon
Sione Houma
Erik Magnuson
Maty Mauk
Eric Olson
June 3-5
Jarrod Wilson
June 1/2: Wayne Morgan cancelled announcement
June 1: Anthony Standifer commitment
May 31: Allen Gant commitment
May 30: Jim Tressel Resigns as Ohio State Football Coach amidst Scandal, NCAA Violations
May 27-29
May 20-22
Tom Strobel
May 19: Terrence Richardson commitment
May 13-15
May 12: Matt Godin commitment
May 11: Ron Thompson cancelled announcement
May 10: Shane Morris commitment
May 7: Pharaoh Brown, Mario Ojemudia commitments
May 6-8
Aaron Burbridge
Brionte Dunn
Chad Kelly
Paul Thurston
Wyatt Shallman
May 2: James Ross commitment
Chad Kelly visit
April 30 Next Level Football Camp in Ann Arbor
April 29: Joe Bolden commitment
April 27: Gunner Kiel visit
April 22: Devin Funchess, A.J. Williams commitments
April 17 Brandon Kornblue Fab 50 Football Camp in Ann Arbor
April 16: Royce Jenkins-Stone commitment
April 16 Spring Game
Ben Braden
David Dawson
Sheldon Day
Jordan Diamond
J.J. Denman
Dennis Finley
Devin Funchess
Kenton Gibbs
Ben Goble
Royce Jenkins-Stone
Shaquille Joyner
Kelby Latta
Juwan Lewis
Shane Morris
Antonio Morrison
Mario Ojemudia
Terrence Richardson
James Ross
Caleb Stacey
Ben Stewart
Laron Taylor
Dymonte Thomas
Vontrell Williams
April 15: Kaleb Ringer commitment
Week Ending April 9
Pierre Aka
Joe Bolden
Pharaoh Brown
Antonio Morrison
April 2-3 All American 7 on 7
Week Ending April 2
Austin Appleby
Devin Funchess
Maty Mauk
Shane Morris
Week of March 28-31
Evan Baylis
Zeke Pike
Kaleb Ringer
March 26: Caleb Stacey commitment
March 26-Junior Day (+March 24-25)
Devan Bogard
Joe Bolden
Coy Brown
Daron Brown
Terry Davis
David Dawson (2013)
Chase Deback
Kimlon Dillon
Donte Fox
Devon Funchess
Allen Gant
Aloyis Gary
Matt Godin
Sam Grant
Mark Harrell
DeAndre Herron
Alden Hill
Royce Jenkins-Stone
Kyle Knapp
Greg Kuhar
Mason Monheim
Wayne Morgan
Mario Ojemudia
Tyler Orloski
Alex Pace
David Perkins
Jonah Pirsig
Sevon Pittman
Robert Riche
Caleb Ringer
James Ross
Efe Scott-Emuakpor
Laron Taylor
Ron Thompson
A.J. Williams
Chris Wormley
March 24: Ben Braden commitment
March 22
Shane Callahan
March 19-First Spring Football Practice-Visit List
Ben Braden
Pharaoh Brown
Kyle Dodson
Royce Jenkins-Stone
Kelby Latta
Armani Reeves
Terry Richardson
James Ross
Caleb Stacey
Camren Williams
Vontrell Williams
March 12
Vince Beigel
Brian Cleary
Sheldon Day
Devin Funchess
Allen Gant
March 5
Matt Godin
February 21
Bryan Cox
Best of the Midwest Football Camp (Michigan Showcase)-February 20
Brandon Berry
Brian Blackburn
Daron Brown
Kevin Buford
Devin Church
Charles "Fast" Davis
Jordan Diamond
Ross Douglas
Dennis Finley
Devon Funchess
Kenton Gibbs
Matt Godin
Jeremy Graves
Robert Gregory
Deondre Herron
Royce Jenkins-Stone
Jamal Lyles
Shane Morris
Dennis Norfleet
Danny O'Brien
Leviticus Payne
Dakota Perry
Terry Richardson
James Ross
Corey Smith
Laron Taylor
Ron Thompson
Argeros Turner
Brandon Watkins
Jarrod Wilson
February 18
James Ross
February 16
Kaleb Ringer
February 10
Terry Richardson

Recruiting Calendar always Full