Michigan had one of the nation's finest recruiting classes in Division I Football with 29 pledges, and were ranked from 3rd to 6th by the four major ranking services (ESPN, 247, Rivals and Scout) nationally behind, Alabama, Georgia, and Ohio State with USC surprising many with a terrific signing day. The Wolverines completely dominated in-state recruits with commitments from 8 of the Top 11, and didn't let any recruit go out of state they wanted. Chris Partridge and Tyrone Wheatley led the recruiting efforts for Harbaugh's staff; unfortunately, Wheatley left the program to become the Jacksonville Jaguars running backs coach right in the heat of closing out prospects on January 16. Harbaugh also lost his recruiting coordinator, Tony Tuitoni, after only one season; he took the Fresno State defensive line coaching position on December 22 prior to the Orange Bowl which left the team in a quandry to close out the recruiting effort in January. Harbaugh also lost Rick Finotti as he became Head Football Coach at John Carroll, and lost Jimmy Dougherty as the new wide receivers coach at Oregon. Harbaugh was able to get Athletic Director Warde Manuel to agree to raise assistant coach salaries; Harbaugh is the first NCAA Football Coach to have three assistant coaches making over $1 million each with Brown, Drevno, and Hamilton. The changes definitely had a negative effect on Michigan's ability to close the recruiting season out and hurt previous momentum built through December. Harbaugh announced that his team would hold 3 spring practices in Rome, Italy after the NCAA Football Coaches met to nix future off campus spring practices; I guess the coaches feel it is acceptable for basketball, baseball, softball, etc., but not football. The other coaches, particularly the Southern contingent of coaches from the SEC and ACC, continue to target Harbaugh with new rules in an attempt to quash his recruiting competitiveness after he completed a Summer Satellite Tour at 35 camps from Australia to Florida. Those camps not only helped Harbaugh identify who the top prospects were in the nation, but he established relationships with many of those top recruits; he also solidified a relationship with the national football factory, IMG Academy, which is an important connection for future recruiting classes. Michigan signed two recruits from IMG Academy: Jordan Anthony and Cesar Ruiz.
| | | |
| --- | --- | --- |
| Michigan Big Ten Football Title Drought | Years | Period |
| Oosterbaan to Elliott | 14 yrs. | 1950-1964 |
| Carr-Rodriquez-Hoke-Harbaugh | 13 yrs. | 2004-2017 |
| Michigan exits conference, 1907-16 Yost | 12 yrs. | 1906-1918 |
| Kipke to Crisler/Great Depression to WWII | 10 yrs. | 1933-1943 |
Michigan's title drought is now the second longest in Wolverine history, and Harbaugh's first two seasons haven't changed the dilemma although we are much closer to the top than before he arrived. The Wolverines have risen to the 3rd best football team in the conference in the first two seasons behind Coach Harbaugh behind Ohio State with other teams including Wisconsin, Penn State, Michigan State, Iowa and Nebraska also regularly competing for title consideration. Western Michigan Coach P.J. Fleck has brought the "row your boat" theme to Minnesota, and former Michigan Assistant, D.J. Durkin has increased Maryland's hopes with their best recruiting class in decades. Ohio State's Urban Meyer has now added two former Head Coaches to his staff with Rutgers' Greg Schiano and Indiana's Kevin Wilson, and is 5-0 against Michigan since his arrival in 2012. The Big Ten competition continues in its intensity, and the path to the top continues to be a great challenge.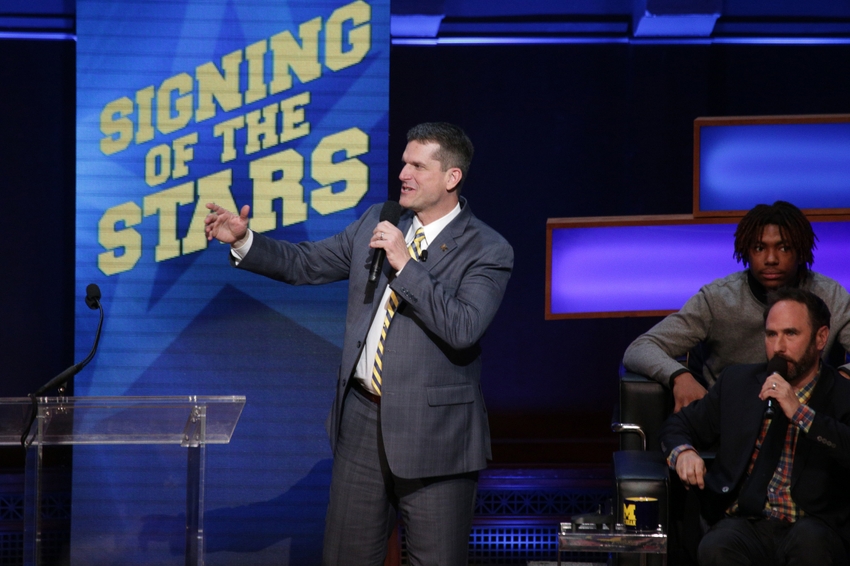 Harbaugh is full-time Michigan Head Football Coach, and part-time Entertainer
Harbaugh moved the Signing with the Stars extravaganza to Crisler Arena on February 1st. The proceeds benefited the ChadTough Foundation. The event sold out in the first day it was made available to the public. This year's venue of "stars" confirmed were Jon Jansen, Jake Rudock, Brandon Graham, LaMarr Woodley and Marlin Jackson; last year's festivities were like no other Signing Day event in NCAA Football. Iowa and Penn State have now copied the format for their signing day press conferences in 2017. Harbaugh has not only put Michigan Football "on the map," but we are now the talk of NCAA football on a daily basis. One cannot consider a discussion about college football without including Harbaugh and Michigan Football; this was not the case under Hoke, Rodriquez or Carr. This class set a new Wolverine record with 11 January enrollees; they will get the benefit of 15 Spring practices prior to Summer Camp.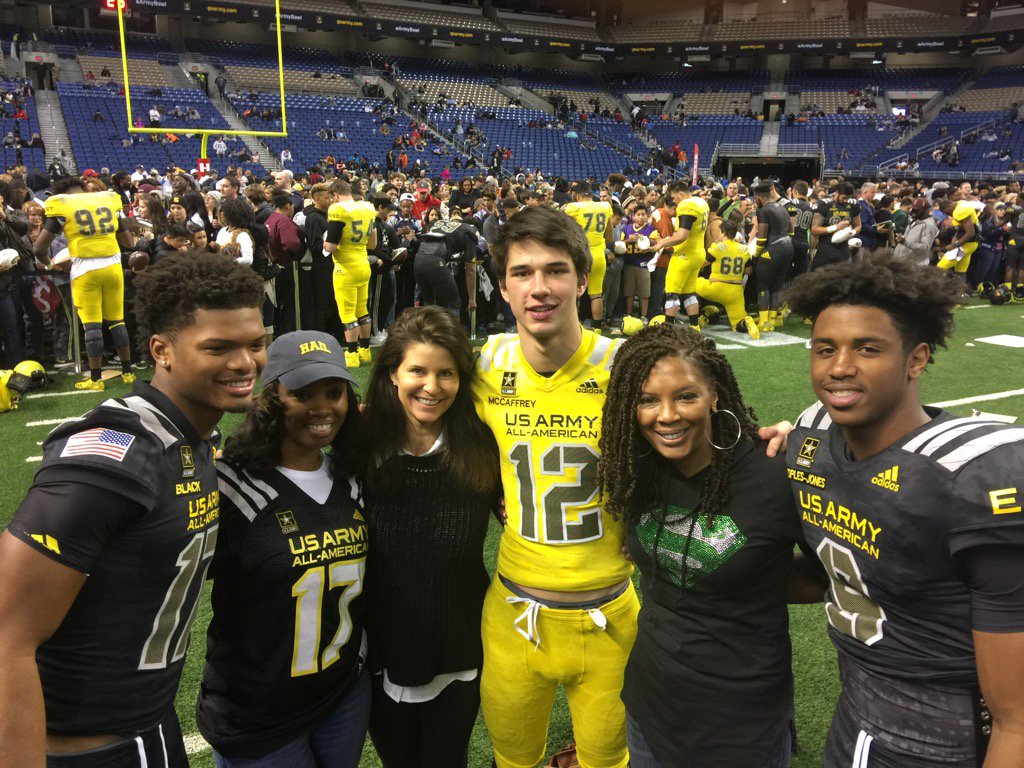 McCaffrey (center) flanked by new wideouts Tarik Black and Donovan Peoples-Jones and respective mothers at the U.S. Army All-American Bowl
On Offense, the Wolverines landed a terrific Pro Style Quarterback in Dylan McCaffrey on February 16; he enrolled on January 4, 2017, and will compete for the starting job with incumbent Wilton Speight, backup John O'Korn, and Redshirt Brandon Peters. He will participate in the Spring Game, and could be the backup to Speight by Fall. All major Division I football programs count on the leadership of a quarterback in many ways, and that includes the recruiting season; McCaffrey was instrumental in recruiting our top recruit, Donovan Peoples-Jones, Oliver Martin, and others through the year. His brother, Christian McCaffrey was an All-American running back for Stanford; Harbaugh has offered Luke McCaffrey, a 2019 quarterback prospect. Harbaugh offered 10 quarterbacks, and is well pleased with McCaffrey's future in Ann Arbor. The two highest ranked pocket passers, Hunter Johnson and Davis Mills signed with National Champion Clemson and Stanford while other top ranked throwers, Sean Clifford (Penn State), Myles Brennan (LSU), Jake Fromm (Georgia) and Jack Sears (USC). We offered Jackson Gibbs as a preferred walk-on, but he followed Jedd Fisch to UCLA. It would be nice to have a running quarterback on the roster to keep defenses from rushing as aggressively; perhaps Harbaugh will consider this in future years.
| | | |
| --- | --- | --- |
| Decommitment | New School | Date |
| Herbert, Kai-Leon | Miami-Florida | 22-Jan-17 |
| Dillon, A.J. | Boston College | 14-Dec-16 |
| Lasater, Chase | Florida Atlantic | 11-Oct-16 |
| Dunaway, Carter | Princeton | 9-Sep-16 |
| Solomon, Aubrey | Michigan | 22-Aug-16 |
| Hollomon, Jeremiah | Georgia | 12-Feb-16 |
At Running Back, Harbaugh put forth his most effort to convince the nation's #1 recruit, Najee Harris, to give up his pledge on April 20, 2015 to Alabama, and enroll in Ann Arbor; however, Harbaugh lost this round to Nick Saban. Harbaugh made Harris' recruitment one of the most suspenseful in NCAA Football History; many were scratching their head as to what flight he would take on January 8 following the U.S. Army All-American game. He previously lost A.J. Dillon to Boston College on December 14 after he visited on November 5th after he saw the emphasis placed on signing Harris plus a better chance for early playing time; Dillon pledge on March 28 after his initial visit on March 22. We also took the early pledges from Kurt Taylor from Georgia on October 16, 2015 and O'Maury Samuels from New Mexico on April 4. In all, we offered 27 running backs, and some of the other top guys coveted that almost visited included: Stephen Carr (USC), Chase Hayden (Arkansas), and Cam Akers (Florida State). We also really wanted Torey Carter (LSU) as a fullback after Chase Lasater decommitted on October 11 following his pledge on March 31, and signed with Florida Atlantic. The staff considered the availability of Morgan Ellison (Indiana) and Cordarrian Richardson (Central Florida) late in the process. The team feels confident that with the return of a healthy Drake Johnson plus Redshirts Kareem Walker and Kingston Davis with the steady play of Freshmen Chris Evans and Karan Higdon along with Ty Isaac, the running game will be in fine shape for the 2017 campaign. It would be nice to have an all-purpose back who excels as a kick returner because we didn't have that threat last season other than Peppers. Harbaugh also got some help from Gymnastics Coach, Bev Plocki; she has won more Big Ten Championships than any head coach in Wolverine history with 21 titles. Plocki's son, Tyler, will walk on as a fullback and linebacker. Bev's husband, Jim, is a strength and conditioning coach for the Wolverines.
| | | |
| --- | --- | --- |
| MRunner-Up | Commitment | Position |
| Harris, Najee | Alabama | RB |
| Banks, Aaron | Notre Dame | OL |
| Faison-Walden, Brelin | Penn State | DB |
| Heimuli-Lund, Sione | Stanford | RB |
| Sebastian, Brandon | Boston College | DB |
| Wilson, Isaiah | Georgia | OL |
| Becton, Mekhi | Louisville | OL |
| | | |
At Wide Receiver, the Wolverines really filled a huge need with the graduation of starters Amara Darboh and Jehu Chesson who are certain to play in the NFL as we gained one of the nation's best in Donovan Peoples-Jones plus Tarik Black, Oliver Martin, and Nico Collins. Michigan also gained last year's academic casualty, Brad Hawkins, after a stint at Suffield Prep School. It was probably the best wide receiver group ever brought to Ann Arbor as Freshmen. Harbaugh offered over 40 wideouts. Harbaugh lost early commit Jeremiah Hollomon to Georgia on February 12 after he pledged on December 13, 2015. The team feels confident in the playmaking abilities of Freshmen Kekoa Crawford, Eddie McDoom, and Nate Johnson plus veterans, Drake Harris, Maurice Ways, and Grant Perry if he overcomes his legal difficulties. Harbaugh also got more depth with Evan Latham, Jake McCurry and Jack Young as walk-on receivers. At Tight End, Harbaugh struck out after pursuing Jimmy Jaggers, Josh Falo, and Major Tennison the hardest of 18 offers. He also lost out on early pledge Carter Dunaway on September 9, and tried to convince Dalton Keene (Virginia Tech) and Tre McKitty (Florida State) to visit late unsuccessfully. Although the team lost NCAA Tight End of the Year, Jake Butt, there are several good athletes who can fill the void including Freshman Devin Asiasi, Redshirt Frosh Sean McKeon and Nick Eubanks plus holdovers Tyrone Wheatley Jr. and Ian Bunting. The team also will enroll Chris Hanlon, Carter Selzer, and Ryan Veingrad as walk-on tight ends. It is interesting that we aren't attracting more tight ends since Harbaugh's offense utilizes the Tight End so much; many of our competitors may be convincing prospects that Harbaugh's son, Jay, is without NFL experience so their programs may offer superior coaching. As a result, Harbaugh has hired Greg Frey to coach the offensive line and tight ends as run game coordinator, and that gives NFL veteran, Tim Drevno, the ability to coordinate the offense as he pleases while Jay Harbaugh becomes the new running backs coach.
Coach Harbaugh and Coach Brown with Andrew Stueber
On the Offensive Line, JaRaymond Hall was the first commitment on December 5, 2015; he is the only early enrollee. Harbaugh lassoed Andrew Stueber on June 24, Joel Honigford on June 28, and Kai-Leon Herbert on July 5 following the Michigan Football Camp and Big Man Camp in Mid-June. Michigan offered about 55 guys, and gained commitments from Cesar Ruiz on December 19, and Chuck Filiaga on January 7; many expect both Filiaga and Ruiz could be starters on the 2017 offensive line. Ruiz is considered to be one of the best center prospects in a decade. The Wolverines lost out on Isaiah Wilson of New York on December 16 as he shocked most Wolverine fans with his pledge to Georgia after Coach Kirby Smart offered to employ his high school coach; we were leading much of the year so that turn of events was a big disappointment to the coaches as well as recruiting buffs. Michigan also lost out on Kai-Leon Herbert who pledged on July 5 and reconfirmed his pledge after his official visit in October for the Illinois game; however, he decommitted on January 22, and pledged to Miami-Florida on January 25. The staff also had high hopes for signing massive Mekhi Becton, but he opted for Louisville after a prior pledge to Virginia. Others Michigan flirted with included: Walker Little and Foster Sarell (Stanford), Alex Leatherwood and Jedrick Wills (Alabama), C.J. Thorpe (Penn State), Aaron Banks (Notre Dame), Toryque Bateman (Louisville); we came in on Austin Deculus (LSU), Austin Jackson and Jalen McKenzie (USC) late, but couldn't gain an official visit. The Wolverines gained a great group in an area of tremendous need, but also lost out on some others who could have immediately contributed. The Wolverine running game was anemic in all the big tests against strong defenses, and only returns two starters: Senior Mason Cole and Freshman Ben Bredeson. The team is confident that Redshirt Michael Onwenu will start in 2017, but other contributors could come from Redshirt Freshman Stephen Spanellis and experienced backups, Nolan Ulizio, Juwan Bushell-Beatty, and Jon Runyan. It is possible that Philip Paea or James Hudson could be moved offensive line if needed; the coaches are also considering a transfer in Joel Fruhmorgen from Clemson who would have 3 years of eligibility. Michigan gained former Air Force pledge, Sean Fitzgerald, and Wilton Speight's brother, Jess, as walk-ons for the offensive line. One thing for sure, Michigan will not win a Big Ten Championship without solid offensive line play. Offensive Line Coach Tim Drevno is also the Offensive Coordinator, and he just signed a 5 year, $5 million contract so hopefully we'll see results in 2017.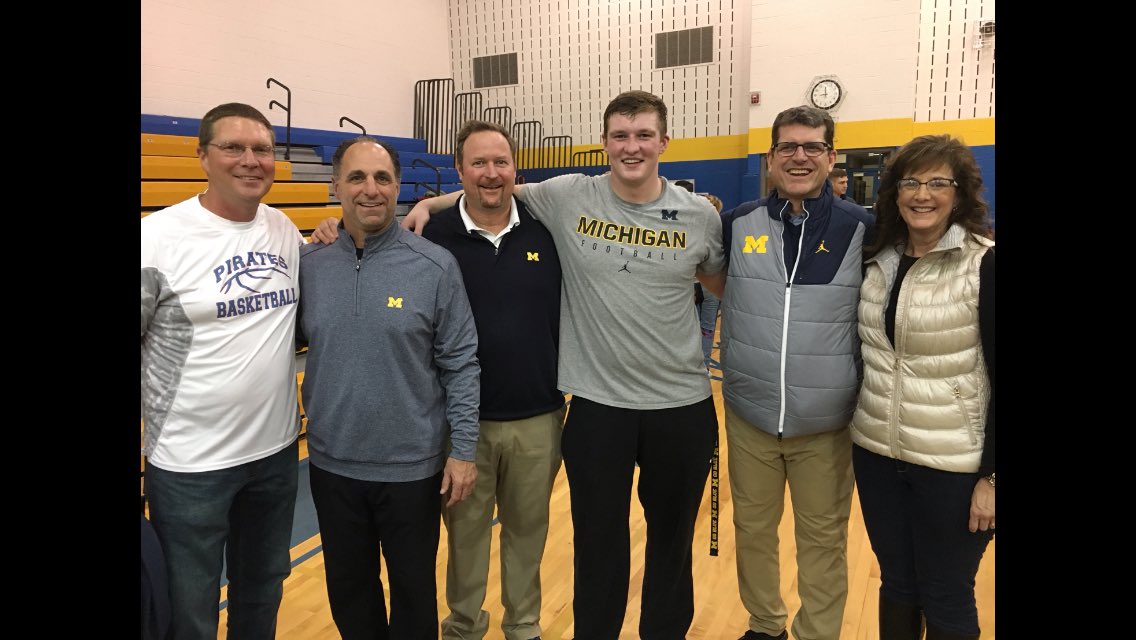 Coaches Harbaugh, Drevno and Zordich with Joel Honigford and his mom; one thing all Harbaugh's staff knows is how influential mothers are in the recruitment process
On Defense, Coach Brown will rebuild from one of the nation's best defenses in 2016; he lost all four starters on the defensive line, but feels confident with the return of capable backups. The Wolverines lost two of our three starting linebackers, and all four starters in the defensive backfield so Coach Brown and Staff have some major work to do after losing 10 of 11 starters from their Orange Bowl squad.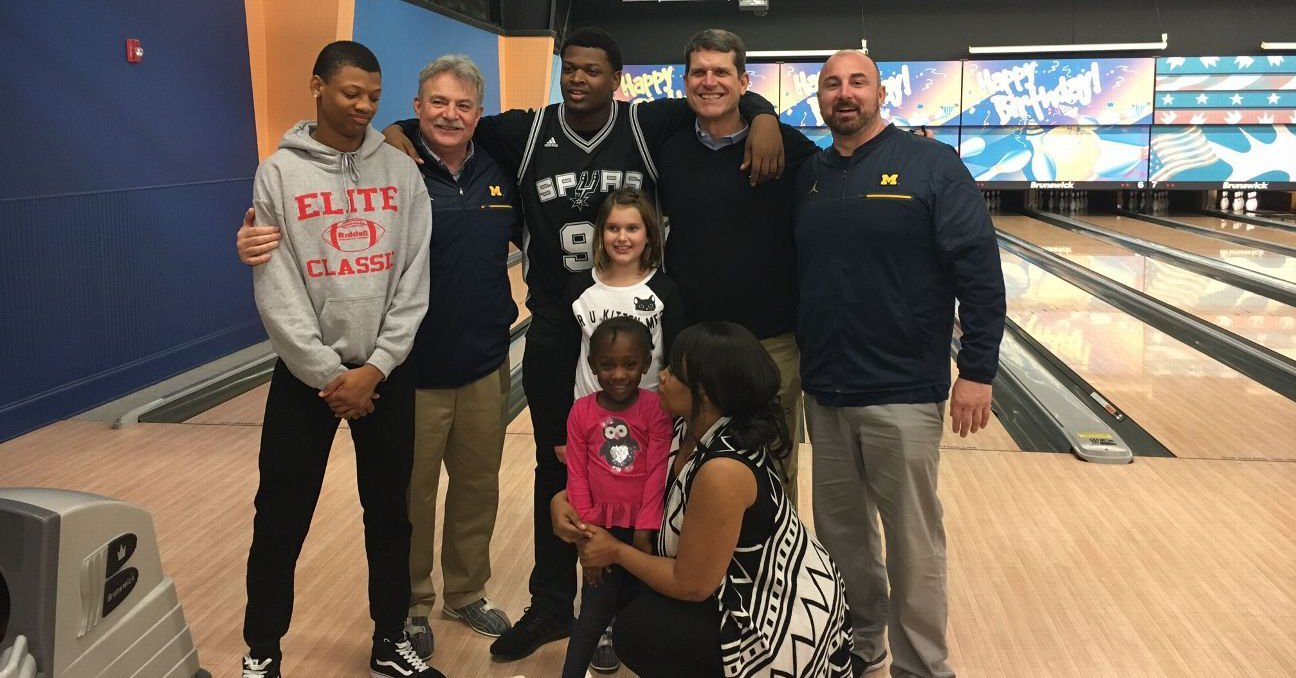 Harbaugh took his 8 year old daughter to Georgia to help with the Aubrey Solomon recruitment; they bowled and went go-karting; Coach Brown and Partridge also went to recruit his younger brother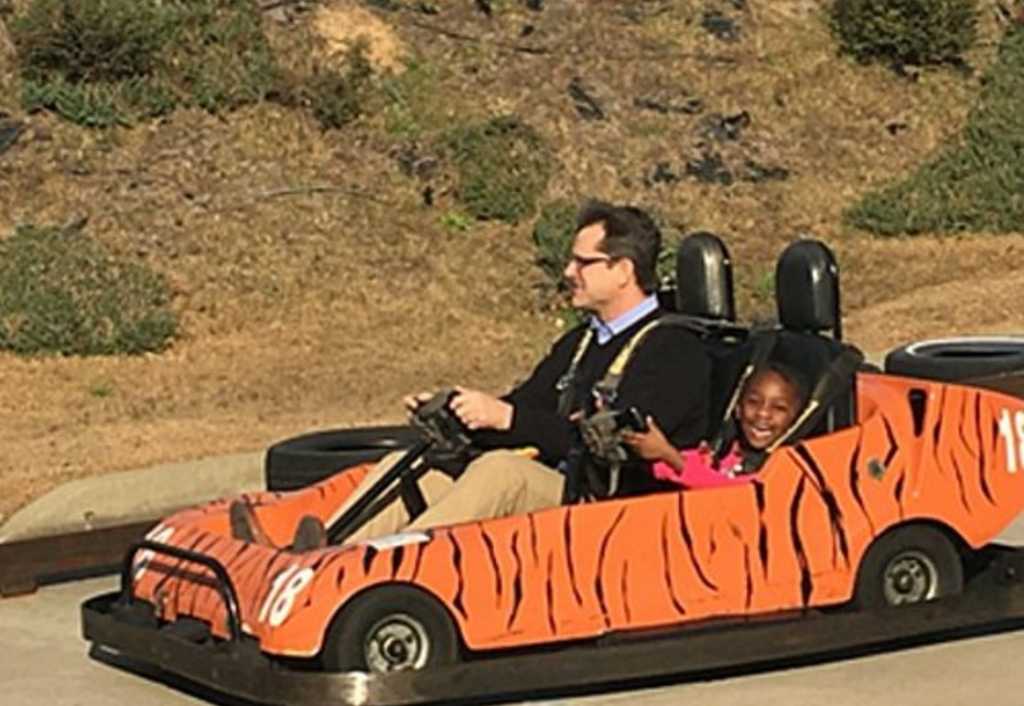 On the Defensive Line, Harbaugh offered at least 56 prospects. He gained the commitments of several outstanding defensive linemen including Phillip Paea on April 2, teammate Corey Malone-Hatcher on June 1, Luiji Villain on June 11, Aubrey Solomon on June 18, flipped James Hudson (Kentucky) on August 7, flipped Donovan Jeter (Notre Dame) and Kwity Paye (Boston College) in October, and added Deron Irving-Bey on December 18 after most felt he would commit to MSU. Aubrey Solomon decommitted on August 22 after an error was made on misspelling his name on his formal offer; Harbaugh and the Michigan coaching staff gained his recommittment on February 1st. Some of the top Defensive Tackle recruits lost out on include Popo Aumavae and Rutger Reitmaier (Oregon), Jay Tufele (USC), and Greg Rogers (UCLA). Michigan probably got the best Defensive End group since I've been following the team, but some others we were in on included: Joshua Kaindoh (Florida State), TaQuon Graham (Texas), Robert Porscher IV (Virginia Tech), and Neil Farrell (LSU).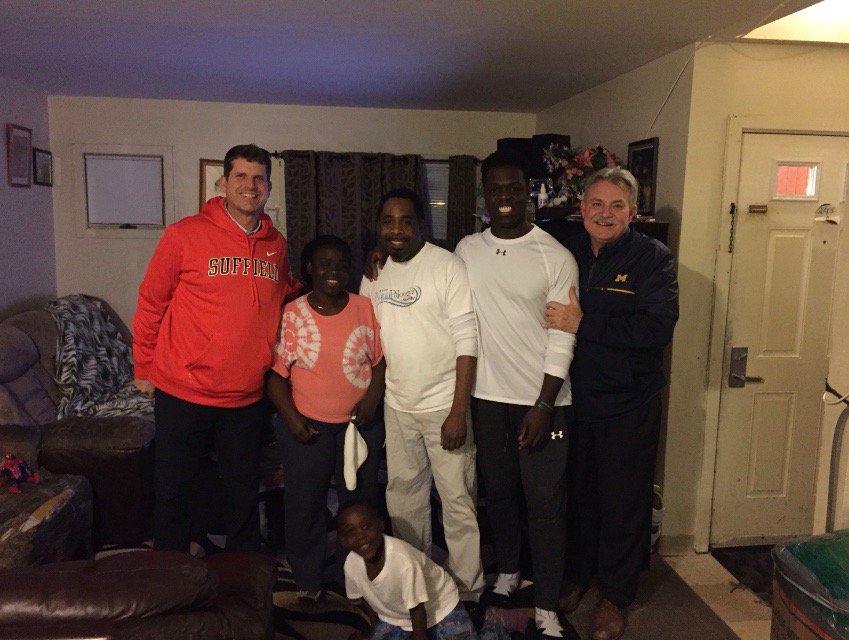 Kwity Paye's In-Home in Delaware with Coach Harbaugh and Coach Brown, and perhaps future Wolverines
At Linebacker, Coach Brown offered at least 36 recruits, and signed Jordan Anthony, Drew Singleton, Ben Mason, and Josh Ross. Many consider Anthony as the top Inside Linebacker recruit in the nation. All four should be contenders for early playing time in 2017. Coach Brown tried to convince Mississippi's Wille Gay to pledge, but he decided to stay in the Bayou and sign with LSU. Josh Ross, brother of former Michigan Starting Linebacker, James Ross, pledged on March 21. Mason pledge on May 2, and Anthony on December 21. Michigan had visits from Baron Browning (Ohio State), Shannon Reid (Tennessee) and Brelin Faison-Walden (Penn State), and hoped for visits from Juliano Falaniko (Oregon), Kenney Britt (Auburn) and Breon Dixon (Mississippi). Harbaugh and Brown tried to convince Dylan Moses that Ann Arbor would be a great destination without success, and were in on Ellis Brooks (Penn State) late. The team returns starter, Michael McCray, in the middle, but needs to replace the two team leaders in tackles, Ben Gedeon and Jabrill Peppers. Freshman Devin Bush showed he is capable of rugged play, and Freshman Josh Metellus spelled Peppers in the Orange Bowl. Redshirts Devin Gill and Joshua Uche may also vie for playing time in 2017. Harbaugh also gained Adam Fakih and Adam Shibley as walk-ons.
| | | |
| --- | --- | --- |
| MRunner-Up | Commitment | Position |
| Harris, Najee | Alabama | RB |
| Banks, Aaron | Notre Dame | OL |
| Faison-Walden, Brelin | Penn State | DB |
| Heimuli-Lund, Sione | Stanford | RB |
| Sebastian, Brandon | Boston College | DB |
| Wilson, Isaiah | Georgia | OL |
| Becton, Mekhi | Virginia Tech | OL |
In the Defensive Backfield, Michigan offered at least 60 prospects, and gained commitments from Ambry Thomas, Jaylen Kelly-Powell, J'Marick Woods, and Benjamin St. Juste. Canadian St. Juste from Montreal was the first pledge of this year's class on June 23, 2015, but we had to hold off Virginia Tech in late November. J'Marick Woods pledged on March 28; both St. Juste and Woods are early enrollees. The Wolverines had to wait until November 14 for Kelly-Powell, and December 6 for Thomas. Michigan approached Syracuse commit, Ifeatu Melifonwu late in the process, and he visited on the final weekend, January 27-29, but apparently was only a backup plan if Collins went elsewhere. Two visitors pledges elsewhere: Elijah Hicks (California) and Stanford Samuels (Florida State) who played with Bush, Gil and Metellus at Flanagan High School. We tried to gain visits from Paris Ford (Pittsburgh), Isaiah Palo-Mao (USC), Matt Hankins (Iowa), Brandon Sebastian (Boston College), Christopher Henderson (Florida), Devon Hunter (Virginia Tech), Darnay Holmes (UCLA), Shaun Wade (Ohio State), and Grant Delpit (LSU). Many Michigan fans believe Freshmen LaVert Hill and David Long will be the starters at corner, but Thomas, St. Juste and Senior Brandon Watson will also fight for playing time. Freshman Khaleke Hudson showed promise as a backup safety in 2016 along with Metellus and Junior Tyree Kinnel, but Woods and Kelly-Powell are enrolled, and will participate in the Spring Game. Harbaugh also gained Hunter Reynolds and Jared Davis as walk-ons. The competition for all four backfield positions along with Nickel will continue through the Spring, Summer and Fall.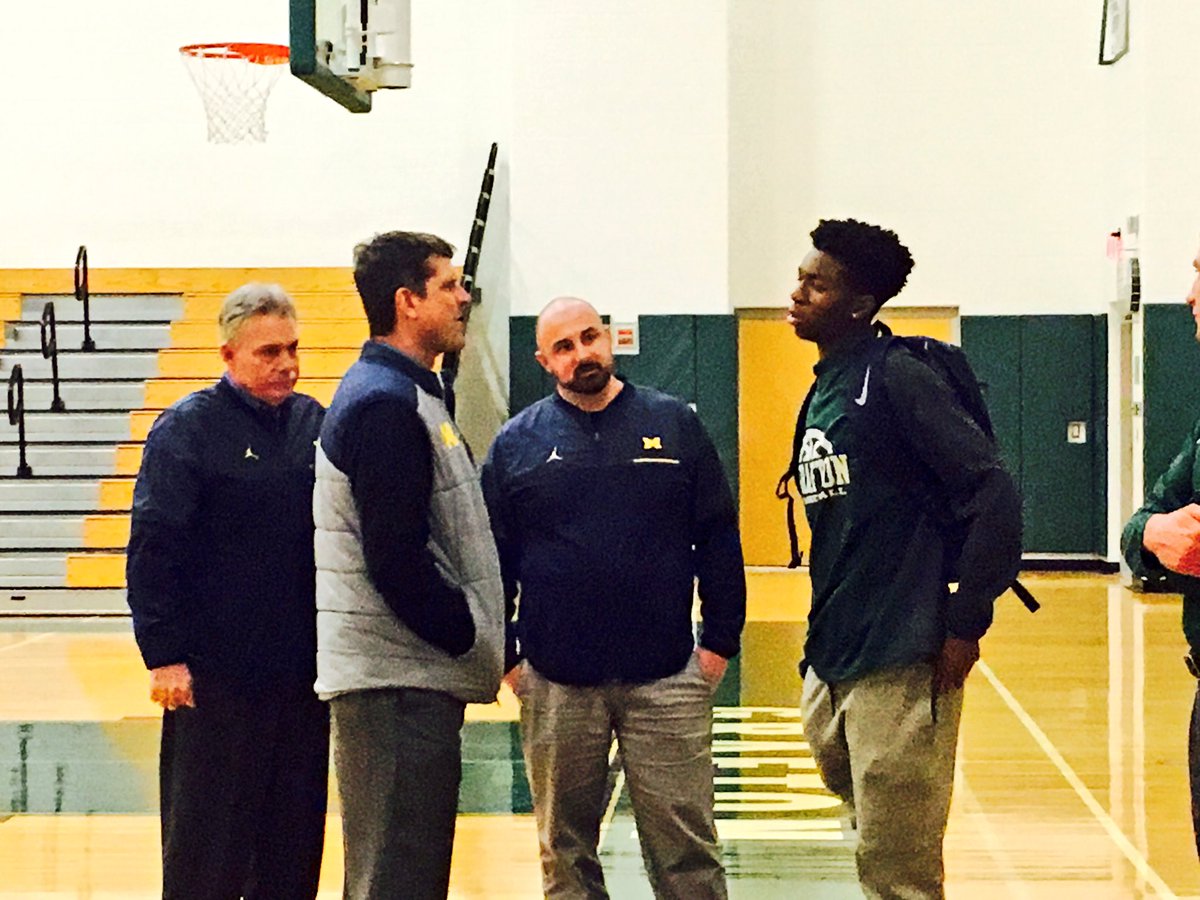 Harbaugh took Coach Partridge and Coach Brown to surprise Syracuse pledge Ifeatu Melifonwu with a late offer
Projected February 1, 2017 29 Football Signees-Bold already 11 enrolled
Anthony, Jordan
6'1"
226

Black, Tarik

Collins, Nico

6'4"

6'3"

208

200

Filiaga, Chuck
6'6"
335
Hall, JaRaymond
6'5"
282
Hawkins, Bradley
6'1"
202
Honigford, Joel
6'6"
278
Hudson, James
6'5"
280
Irving-Bey, Deron
6'5"
282
Jeter, Donovan
6'5"
250
Kelly-Powell, Jaylen
6'0"
180
Malone-Hatcher, Corey
6'3"
246
Martin, Oliver
6'1"
195
Mason, Ben
6'2.5"
247
McCaffrey, Dylan
6'5"
196

Paea, Phillip

6'4"

285

Paye, Kwity
6'4"
235
Peoples-Jones, Donovan
6'2"
193
Ross, Joshua
6'1.5"
221
Ruiz, Cesar
6'3"
315
Samuels, O'Maury
5'10"
188

Singleton, Drew

Solomon, Aubrey

6'2"

6'3"

215

295

St. Juste, Benjamin
6'3"
188
Stueber, Andrew
6'6"
285
Taylor, Kurt
5'9"
200
Thomas, Ambry
5'11.5"
174
Vilain, Luiji
6'4"
240
Woods, J'Marick
6'3"
205
On Special Teams, the Wolverines lost versatile Kenny Allen; they are confident that Redshirt Quinn Nordin will replace him. Replacing punt and kickoff returner, Jabrill Peppers, is another matter. Chris Evans will audition along with all the running backs, wide receivers and defensive backs; perhaps O'Maury Samuels can add some "pizzaz" to the return game. Harbaugh also persuaded Brad Robbins, a previous Nevada, commit to pledge on signing day.
| | | |
| --- | --- | --- |
| Rating Service | 4 Star Prospects | 5 Star |
| 247Sports | 332 | 32 |
| Rivals | 375 | 34 |
| Scout | 390 | 36 |
| ESPN (80+ 4 star/90+ 5) | 396 | 15 |
On February 1, Alabama had the most 5 star commitments with 7, Ohio State had 6, Georgia, USC, and Florida State had 4, Michigan (Anthony, Peoples-Jones and Solomon), LSU, Stanford and Clemson 3, UCLA 2, Iowa, Penn State, Tennessee, Auburn,Texas A&M, Texas, Oklahoma, and Virginia Tech with 1 each
In all, Harbaugh offered at least 330 scholarships including at least 26 preferred walk-on offers, another new Michigan record. There were 375 "4 Star" recruits on Rivals, on ESPN Rankings, they listed 396 "4 Star" Recruits rated 80 or higher, and on 247Sports, there were 332 "4 Star" Recruits. There are nearly 1.1 million high school football players each season in American, but only 6.7% have a shot at playing college football with only 2.6% having a shot at Division I; each ranking service has approximately 5,000 prospects in their database with ratings from one to five stars. Recruiting talent in any endeavor is a matter of perception and hope; the hard work, competition, and improvement is unmeasurable so time will tell over the next 3-5 years as how these young men will develop under the tutelage of Harbaugh's staff. This class may have been the best in Michigan Recruiting History, but of course time will tell. The 2016 recruiting season isn't officially over until the end of April, and it wouldn't be surprising to see him accept at least one or two transfers following Spring practice if he felt the prospect could contribute immediately like Jake Rudock showed in 2015.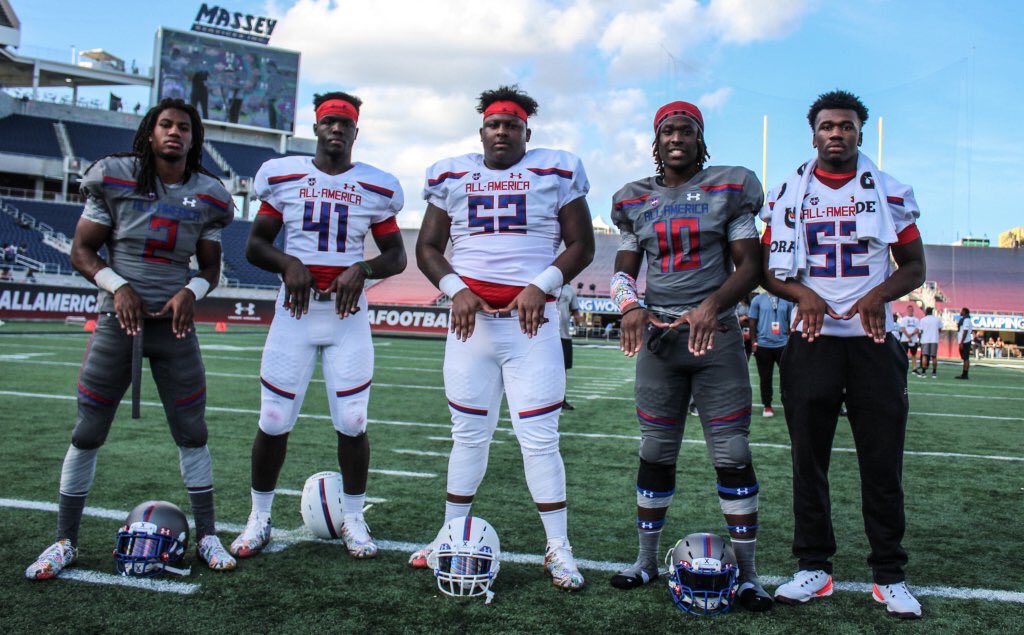 National and Major Conference Football Recruiting Leaders for 2016
| | | | | | |
| --- | --- | --- | --- | --- | --- |
| National | Big Ten | SEC | ACC | PAC-12 | Big 12 |
| Alabama | Ohio State | Alabama | Florida State | USC | Oklahoma |
| Ohio State | Michigan | Georgia | Clemson | Washington | Texas |
| Georgia | Penn State | LSU | Miami-FL | Stanford | Oklahoma State |
| Michigan | Maryland | Auburn | North Carolina | UCLA | Texas Tech |
| Florida State | Michigan State | Texas A&M | Louisville | Colorado | TCU |
| USC | Nebraska | Tennessee | Virginia Tech | Oregon | Iowa State |
| LSU | Northwestern | South Carolina | Pittsburgh | Arizona State | West Virginia |
| Oklahoma | Illinois | Florida | Duke | Arizona | Baylor |
| Auburn | Rutgers | Kentucky | Virginia | Washington State | Kansas |
| Texas A&M | Minnesota | Mississippi State | North Carolina State | Oregon State | Kansas State |
| Tennessee | Wisconsin | Arkansas | Georgia Tech | Utah | American Association |
| Notre Dame | Iowa | Missouri | Syracuse | California | Memphis State |
| Clemson | Indiana | Mississippi | Wake Forest | MAC | Central Florida |
| Penn State | Purdue | Vanderbilt | Boston College | Toledo | Houston |
| South Carolina | Conference USA | Independents | Mountain West | Bowling Green | East Carolina |
| Miami-FL | Texas-San Antonio | Notre Dame | Colorado State | Central Michigan | South Florida |
| Washington | Middle Tennessee | BYU | Boise State | Western Michigan | SMU |
| Maryland | Florida International | Army | San Diego State | Ball State | Navy |
| Stanford | Western Kentucky | Sunbelt | Nevada | Northern Illinois | Cincinnati |
| Florida | Southern Mississippi | Texas State | Air Force | Miami-Ohio | Memphis State |
Michigan was able to secure the best player in the State of Michigan with Donovan Peoples-Jones; he may be he best wide receiver that the Wolverines have ever recruited. Harbaugh and staff really managed a huge turnaround from the previous season in swaying in-state recruits. Top Recruits in Michigan
Observations on Michigan Football Recruiting in 2015
Observations on Michigan Football Recruiting in 2014
Observations on Michigan Football Recruiting in 2013
Observations on Michigan Football Recruiting in 2012
Observations on Michigan Football Recruiting in 2011
Observations on Michigan Football Recruiting in 2010
Observations on Michigan Football Recruiting in 2009
Historical Perspective on Michigan Football Recruiting (1999-2005)
Historical Perspective on Michigan Football Recruiting (2005-2009)
The Chris Partridge connection has established a strong East connection with New Jersey, New York, Massachusetts, Connecticut, Maryland, etc. Michigan continues to be weak in the important State of Ohio, and have been weak in the Midwest in general. Partridge and Brown helped gain nine recruits from the East: Black, Hawkins, Jeter, Mason, Paye, Singleton, and Stueber plus Anthony and Ruiz. Ohio has the most Division I signees in the Midwest with an average of 136 recruits yearly. This year, Michigan only gained Joel Honigford and James Hudson from the Buckeye state, and the only other Midwest recruit was Oliver Martin from Ohio. The only recruits we gained out West were Dylan McCaffrey (Colorado) and O'Maury Samuels (New Mexico) which were an important ones, but disappointing after landing two last season when we signed two from California (Crawford and Long) plus Kemp from Colorado. In the South, Harbaugh and staff established strong connections in Georgia, Alabama, but not yet in Mississippi or Louisiana; we pulled Aubrey Solomon and Kurt Taylor from Georgia, and J'Marick Woods and Nico Collins from Alabama. Both Anthony Jordan and Cesar Ruiz from IMG Academy were originally East connections that Chris Partridge gained for the Wolverines from Maryland and New Jersey. Staffers including Coach Bam from Alabama, Devin Bush Sr. from Florida and Biff Poggi from Maryland give us great connections to the South and Atlantic regions. The new Pep Hamilton connection should help in North Carolina, Virginia and the District of Columbia; this year, Michigan pulled Luiji Villain from Virgina, but were otherwise shut out in the Carolina region. Chuck Filiaga played his senior year in Texas, but was originally from San Diego. Michigan has to do a better job in the three big states where there is the most competition: California, Texas and Florida. According to Gerry Hamilton of ESPN, four states (Texas, California, Florida and Georgia) accounted for 1095 of 2357 (46.5%) of the 2017 FBS Recruits) signed by the Power 5 schools. The first game with Florida in Dallas is expected to help with Texas recruits. Distribution of Recruits, 2008-2013
Harbaugh and staff have already been hard at work laying the groundwork for his 2018 Signing Day with over 156+ offers with 2 commitments, 44+ offers for his Class of 2019, and 6+ offers for his Class of 2020 (currently in 9th grade).
Preferred Walk-On Commitments
Preferred Walk-On
Height
Weight
Position

Davis, Jared

Fitzgerald, Sean

6'0"

6'3"

185

295

DB/RB

OL/DL

Hanlon, Chris
6'3"
220
TE/QB
Latham, Evan
6'3"
191
WR/DB
Plocki, Tyler
6'1"
215
LB/FB
Speight, Jess
6'4"
275
OL
Young, Jack
6'2"
185
WR
Uncommitted Preferred Walk-On Offers (Bold if committed)
Preferred Walk-On Offer
Height
Weight
Position
Darwiche, Zach
6'5"
298
OL
Fakih, Adam
6'2"
210
LB
Heaney, Will
6'2"
205
LS
Porter, Dylan
6'5"
290
OL
Reynolds, Hunter
6'0"
185
DB/WR
Robbins, Brad
6'2"
180 Punter
Selzer, Carter
6'8"
225
TE
Shibley, Adam
6'1"
225
LB
Veingrad, Ryan
6'4"
248
TE/DL