Observations on the Spring Scrimmage 2017
On April 15, there were an estimated 57,418 people who attended the Spring Game; however, there were people going in an out of the stadium all day so I'd estimate that at least 70,000 made an appearance at the event, but there was less than 20,000 by the 4th quarter. There was the best weather for the Spring Game with temperatures peaking at 81 degrees, but winds peaked at as a high as 23 miles per hour as well so it made it difficult for some passing plays. Many people tried to dodge the sun and moved throughout the event for more shaded areas. The lacrosse game that preceded the event was a total "flop" as the #9 ranked Buckeyes outscored Michigan, 7-1, in the first quarter, and 11-3 by halftime as they took a 18-6 lead going into the 4th quarter; then, it delayed football warm-ups so the start of the Spring Game ended up being closer to 1:30 p.m. which didn't thrill most fans including myself.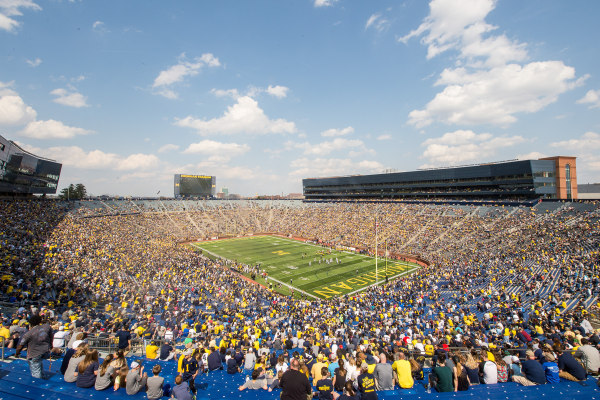 The Blue Team was all offensive players, and the Maize Team (White) was all defensive players so when the event began the first string offense went against the first string defense; then, when the Maize Team offense came out, it was the second string offense against the second string defense. There was a lot of substituting going on all afternoon, but the event was very entertaining with Maize team prevailing, 31-29. The Maize Team got off to a 14-0 lead as Brandon Peters hit Zach Gentry for a 55 yard touchdown pass as Safety Louis Grodman fell down in cover, and Ty Isaac scampered into the end zone from 28 yards out in the first quarter. Karan Higdon brought the Blue Team back with a 10 yard TD run, and Quinn Nordin hit a 48 yard field goal for a 14-10 halftime. In the 3rd quarter, the Blue Team gook the lead with a 32 yard interception return by Brandon Watson, but the Maize Team responded with a 12 yard run by Brandon Peters for one score, and a 100 yard interception return by Jordan Glasgow to take a 28-17 lead early in the 4th quarter. The Blue Team countered with an eleven yard pass play from John O'Korn to Tarik Black, and a 2 yard run from Karan Higdon to take a brief, 29-28, lead with 1:38 left; however, Peters led the Maize Team down the field, and Kyle Seychel hit a 31 yard field goal as time ran out. The Blue Team outrushed the Maize Team, 130-92, as Karan Higdon led all rushers with 81 yards on 12 carries for two TDs for the Blue Team. Ty Isaac led the Maize Team with 47 yards on 5 carries for a TD. Wilton Speight did not have a good day; he was 9 of 26 for only 78 yards, and was sacked 3 times early in the game. Brandon Peters shined in his Wolverine debut; he hit 9 of 17 for 160 yards. John O'Korn hit 3 of 6 for 60 yards, and a TD plus ran for 42 yards on 3 carries. Nate Schoenle caught 2 passes for 58 yards including a 40 yarder on the final drive for the Maize Team. There were 7 offensive plays of 20+ yards, and the defense had 3 scores from 5 turnovers. The Blue Team had 21 first downs, and was 6 of 13 in 3rd and 4th down conversions while the Maize Team had only 12 first downs, and was only 2 of 7 in 3rd down conversions. The Blue Team was 4 of 5 in red zone trips for 23 points; the Maize Team had 10 points in two red zone trips including the final as time ran out with the winning field goal. Tyree Kinnel led the Maize Team with 7 tackles; Keith Washington had 5 tackles and a pass break up while Khaleke Hudson got 2 sacks. Noah Furbush had 4 tackles including a sack, a fumble recovery and a pass break up. Now, the competition at some positions is a little clearer, and an overall picture of this year's team can be viewed with better focus.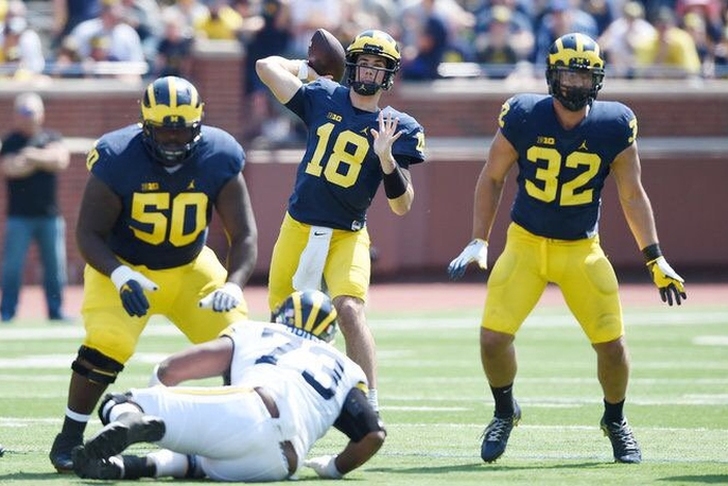 At Quarterback, Wilton Speight will be the starter for sure, but both John O'Korn and Brandon Peters are certainly capable backups in case of injury. O'Korn has great running ability, and Peters showed he definitely has a stronger arm than either of the other two competitors. One would also have to believe that Speight will be the Offensive Captain. Apparently, Alex Malzone was injured and Dylan McCaffrey will redshirt. Unfortunately, one can surmise from watching last season and today's event, our quarterbacks will continue to make mistakes, and those may cost us in close games. Speight is a great quarterback, but pressure can unglue many great quarterbacks; today was a good example.
Speight-Poggi-Evans
Peters-Hill-Walker
O'Korn-Hirsch-Higdon/Isaac
McCaffrey/Malzone-O'Samuels-Taylor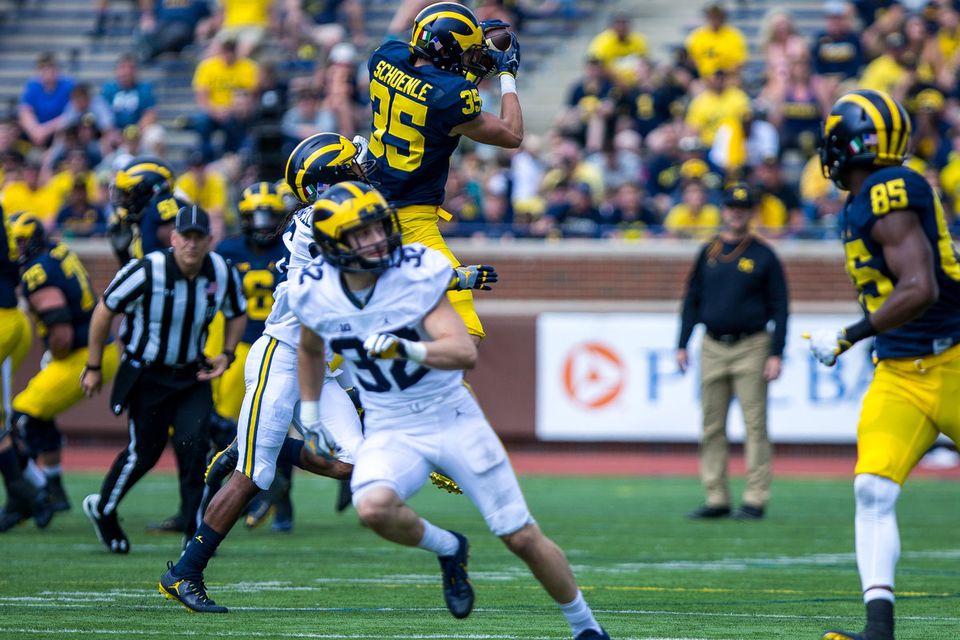 At Running Back, Chris Evans will most likely emerge from the pack as the starter. Kareem Walker shows flashes of being a capable backup, but Karan Higdon and Stu Isaac continue to impress. We have 4 good running backs although none of them have shown to be capable pass blockers. We still haven't heard about the status for a 6th year for Drake Johnson; he will definitely be in the mix if it is granted. Maury O'Samuels and Kurt Taylor will be added to the group in June. Henry Poggi and Khalid Hill will continue to be solid at H-Back with Hill continuing to pose scoring threats on short yardage and red zone situations as a Big Back and Tight End.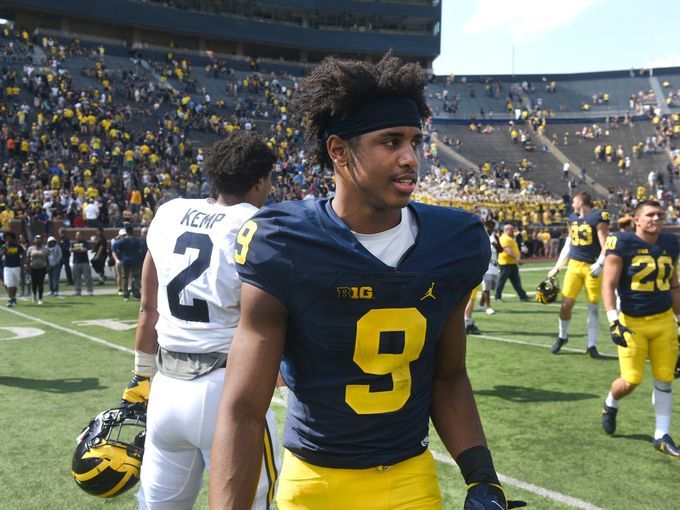 At the receiver position, we have a problem. There is no "go to" guy for critical 3rd down and red zone situations. We all hoped that Donovan Peoples-Jones would emerge as that guy at this event, but it didn't happen. Tarik Black did show signs that he is a capable receiver, and may have the edge over Peoples-Jones to start at the X. Kekoa Crawford is a good blocker, but hasn't shown much as a receiving threat. Eddie McDoom is fast and can run the Jet Sweeps, but isn't a sure-handed receiver; he left the game with a left ankle injury late in the game after making a nice catch to set up a red zone for the Blue Team. Nate Johnson caught a pass, and Defensive Backs coach, Brian Smith, said he has been impressive, and apparently is our leader for punt returns; however, he doesn't look to be our "go to" guy, and gave away two fumble turnovers after catching a pass and a muffed punt return. Maurice Ways is a good blocker, but not a threat at receiver. Walk-on Nate Schoenle showed he can be in the rotation. Drake Harris has had three years of injury issues, and can't be counted on. We won't get Brad Hawkins, Nico Collins and Oliver Martin until late June. We can't count on Grant Perry as his trial will be in August so he'll miss Summer conditioning and practices. Our tight ends caught six passes on the day: McKeon and Eubanks with 2 receptions each, one by Gentry and Wheatley. Ian Bunting has been injured and didn't participate. Overall, we have good potential in the receiving group, but this group has yet too prove it can be counted on in "crunch" time in the red zones and 3rd down situations against good defensive teams.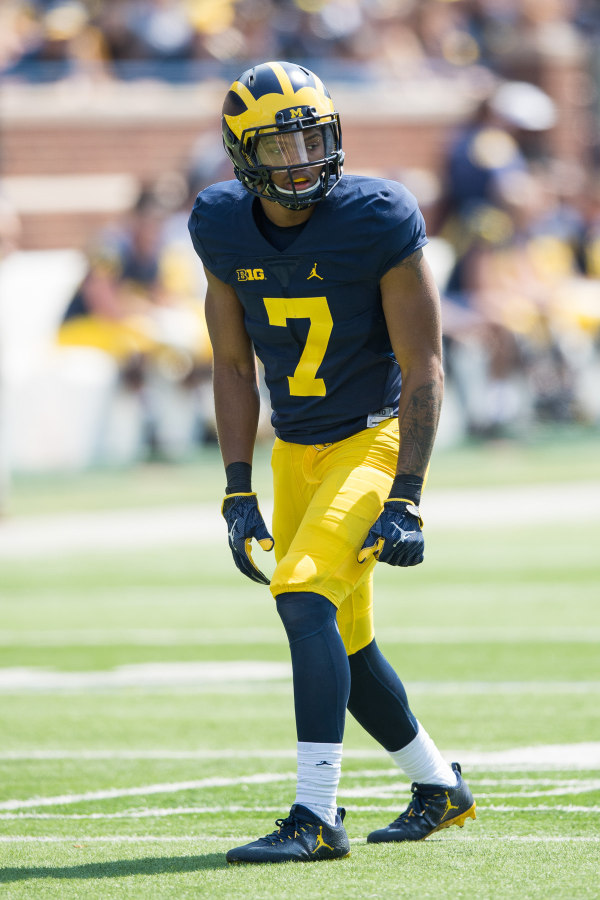 Black-Crawford-Bunting
Peoples-Jones-McDoom-Wheatley
Schoenle-Johnson-Gentry/McKeon
Hawkins/Ways-Martin/Harris-Eubanks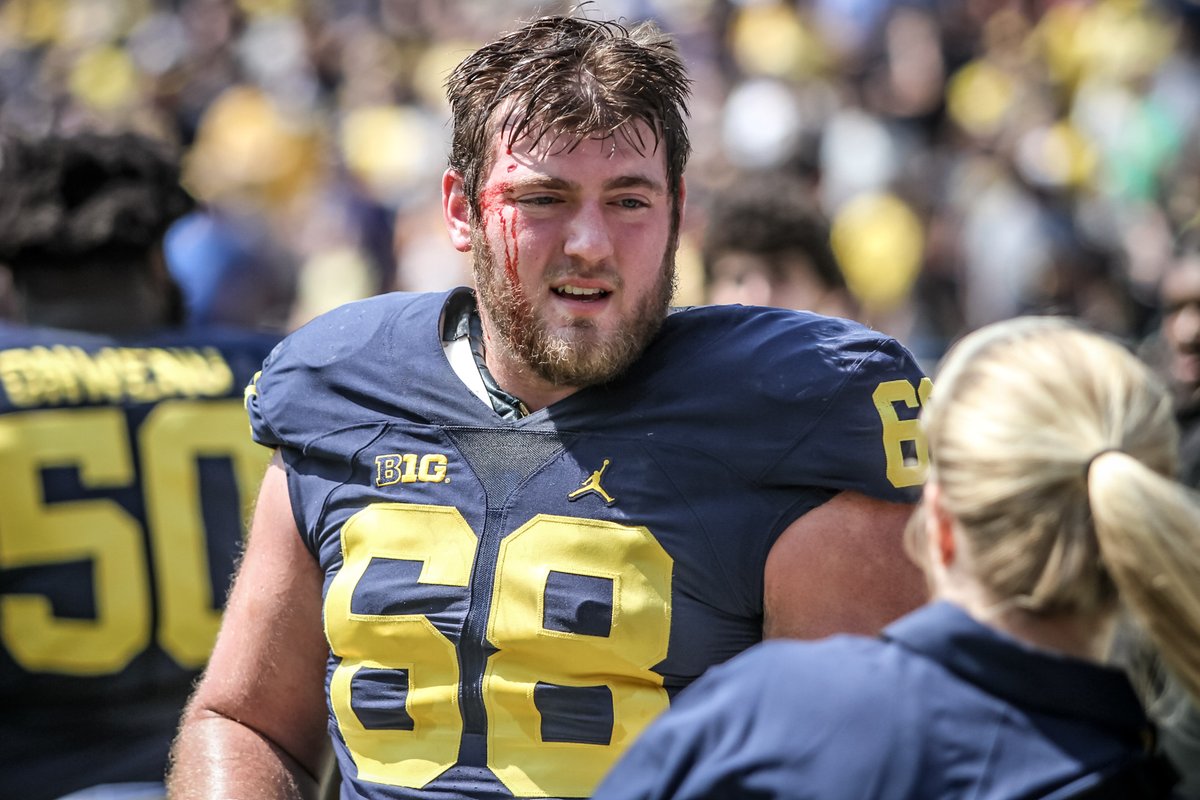 Our offensive line continues to be a problem. Mason Cole and Ben Bredeson are the only two returning starters from a mediocre group last season. Michael Onwenu will be a good right guard, but he has short arms which can be an asset in blocking. Jon Runyan did a decent job on Rashan Gary most of the day as Juwan Bushell-Beatty didn't play. Unfortunately, Runyan left after he was "rolled" late in the game. Patrick Kugler apparently has the edge over Cesar Ruiz at Center, and Ruiz is also backing up Cole at Left Tackle. Andrew Vastardis showed moxie as backup at Right Guard, and is also backing up center. 3rd Year Nolan Ulizio looks to continue another year as a backup; he didn't play in the Spring game. Chuck Filiaga, Andrew Stueber, and Jon Honigford will be available in late June for conditioning prior to August Summer drills. Even though JaRaymond Hall enrolled early, he didn't play in the Spring Game due to injury. Stephen Spanellis didn't show much and looks to be 3rd string at Left Guard behind Ulizio and Bredeson. I'd be surprised if any of our lineman are capable of 1st Team All-Big Ten; the two best shots may be Cole and Onwenu. How will our running backs thrive without a good offensive line to support them?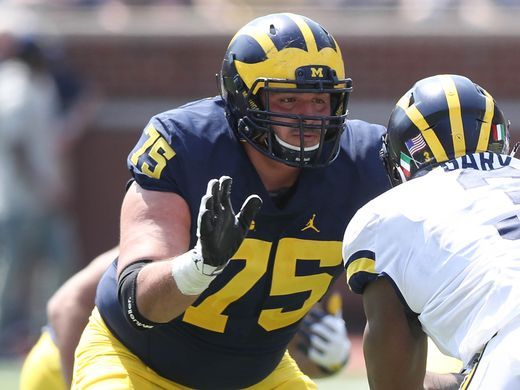 Cole-Bredeson-Kugler-Onwenu-Runyan
Ruiz-Ulizio-Ruiz-Vastardis-Bushell-Beatty
Hall-Spanellis-Honigford-Stueber-Filiaga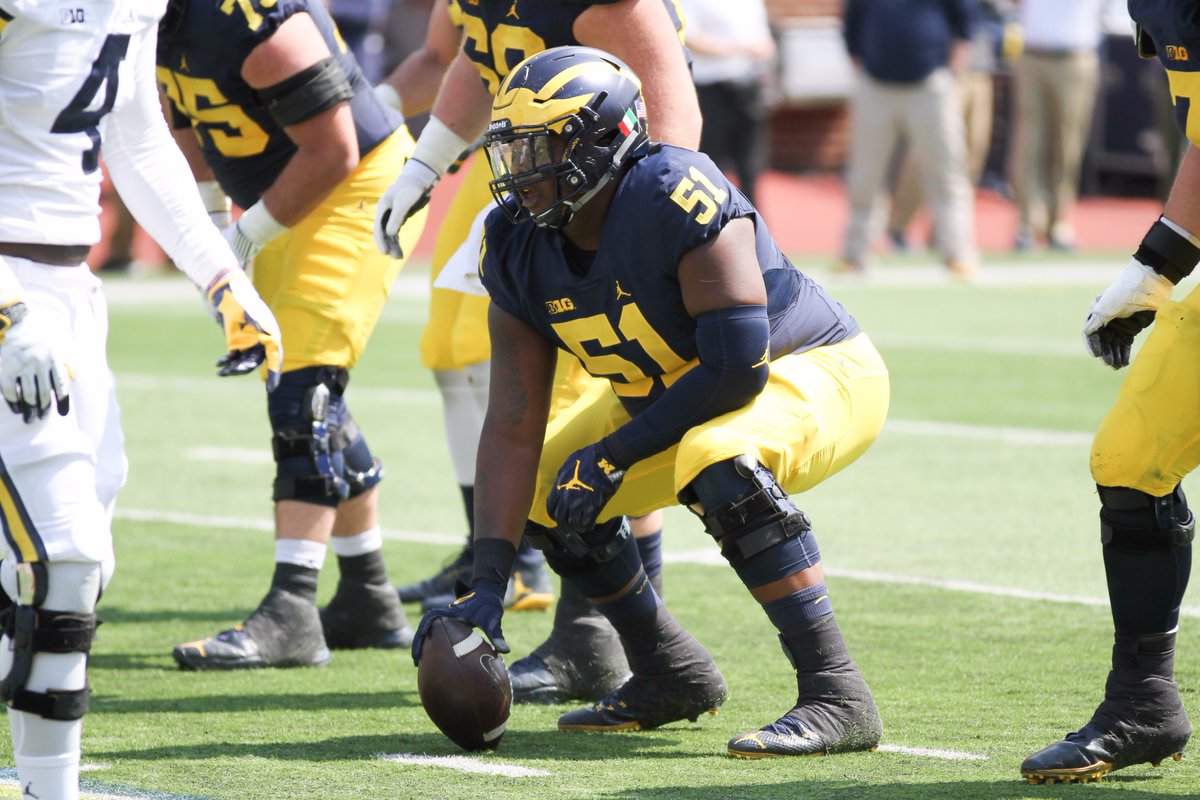 On the defensive line, Sophomore Rashan Gary is expected to be one the team leaders on defense, and the starting Strong Side Defensive End replacing Chris Wormley. Mo Hurst will continue at 3 Technique Defensive Tackle, and Bryan Mone will start at Nose Tackle. Chase Winovich will start at the Buck Linebacker or Weak Side Defensive End. Redshirt Carlo Kemp will back up Gary on the Strong Side, and Reuben Jones will back up Winovich; however, Luiji Vilain may be in the mix with Jones when he comes in late June. It also looks like Aubrey Solomon will be backing up Mone at Nose Tackle. After Spring Drills, Lawrence Marshall is backing up Hurst, but there is a good chance that both James Hudson and Deron Irving-Bey may compete for playing time when they arrive in late June. Donovan Jeter also has been very impressive at Strong Side Defensive End, and could also vie for playing time at 3 Technique as he learns more about the defensive line. Ron Johnson is behind Marshall at defensive tackle. Phil Paea could also compete for playing time as well. Redshirt Michael Dwumfour didn't participate in the Spring Game due to injury. Walk-on Carl Myers is a capable backup as well. Look for Kwity Paye and Corey Malone-Hatcher to redshirt unless they impress in Summer Drills; Malone-Hatcher has been injured throughout the Spring even though he enrolled early. Don't be surprised to see Paea and/or Hudson moved over to Offensive Line if needed this Summer.
Gary-Mone-Hurst-Winovich
Kemp-Solomon-Marshall-Jones
Jeter-Dwumfour-R.Johnson/Myers-Vilain
Malone-Hatcher-Paea-Hudson/Irving-Bey-Paye
At Linebacker, Michael McCray may be the Captain of the Defense as he is one of the few returning starters at WILL. Devin Bush looks to be our MIKE. Michael Wroblewski will back up Bush, but Jordan Anthony may also be in the mix when he arrives in late June. Noah Furbush has the edge to start at SAM; he is fast, and capable on coverage as well as stopping the run. Since the defensive line won't be quite as dominant as last season, the linebackers will need to be really solid to fill the gaps. Josh Uche will back up Furbush, and Devin Gil is 3rd string, but Drew Singleton may be in the mix when he arrives this Summer. Jared Wangler played on kickoff team, and could letter on special teams. Josh Ross could redshirt or gain playing time on special teams and as a backup at WILL. Elysee Mbem-Bosse is 3rd string at MIKE, and while Ben Mason will probably redshirt, Don Brown has had some positive things to say about his future at the MIKE position.
McCray-Bush-Furbush
Anthony-Wroblewsi-Uche
Wangler/Ross-Mbem-Bosse-Gil
Dunaway-Mason-Singleton
In the backfield, it looks like Ben St. Juste and Keith Washington are the leading candidates to start at the two cornerback positions; however, David Long, Brandon Watson, and LaVert Hill are also in the mix for playing time. Both Watson and St. Juste had interceptions, but St. Juste didn't look good on the final drive as he had a pass interference call and gave up along pass to McDoom. Another Early Enrollee, Ambry Thomas, also showed great athleticism, and could see special teams duty, but he needs to gain some weight. At Safety, Tyree Kinnel and Jordan Glasgow are the starters at Free and Strong Safety with Khaleke Hudson at the Viper position which is on the field 60% of the time with Nickel packages for cover. Josh Metellus will back up both Glasgow at Strong Safety and Hudson at Viper. Although J'Marick Woods didn't play due to injury, several players and Coach Brian Smith raved about his hitting ability. Jaylen Kelly-Powell had 3 tackles, and should also see playing time. There are 12 guys that could rotate for 5 positions, and all of them could be important for special teams.
St. Juste-Glasgow-Hudson-Kinnel-Washington
Watson/Long-Metellus-Woods-Kelly-Powell-Hill
Thomas
Speaking of Special Teams, Quinn Nordin showed a great leg in kicking a 48 yard field goal that many think could have been good from 60 yards away; hopefully, he'll be consistent in replacing Kenny Allen. Nordin, Kyle Sechel, James Foug, and Ryan Tice had 7 touchbacks in 11 kickoffs. I observed some great punts from Will Hart in practice; however, he averaged only 38 yards on 4 punts in the game so consistency will be his challenge for the Fall. Brad Robbins will be in to challenge Hart in June. Nate Johnson was deep on punt returns along with McDoom; Kareem Walker was deep on kickoffs along with David Long. Cameron Cheeseman may be the new snapper, but Andrew Robinson also handled snaps; Garrett Moores continues as holder. I think we'll miss Peppers the most on special teams. Both Khaleke Hudson and Josh Uche will be great punt rushers.
Overall, although I'm an eternal optimist, and always hope that the team goes undefeated with Big Ten and National Championship, the event really showed why optimists need to re-examine their wishful thinking. The team has talent, but is young and inexperienced. On the bright side, they are "hungry," and will fight hard to prove themselves as they have a lot to prove. On the dark side, they'll be making a lot of mistakes; coaches will be correcting them a lot while trying to help many of them maintain a positive, confident attitude. Harbaugh will be a "miracle worker" if he grinds this squad through an undefeated season. We will find out early what type of team we have with the Dallas meeting against Florida. One factor that's hard to predict are injuries, and how that will factor in, but this team is only going to be as good as how it develops its backups to be used in rotation so backups will play a key role. It is good that we don't gave a grueling schedule early in the season so we can have a chance to grow and gain confidence. Our toughest road games will be Penn State and Wisconsin, but we'll definitely be underdogs at home to close the season against Ohio State. I must finish by saying that while I like Harbaugh and support him as the head coach; it is absolutely ridiculous that he mandates to the sports information department that rosters not be published for the Spring game. I understand the fact that he's always looking for some type of competitive edge by withholding weights of players, and perhaps is waiting until some walk-ons make the official roster, but enough is enough when it comes to secrecy. How about a little transparency? There are now 62 walk-ons trying out for 25-35 roster spots so this factors into the situation.
Spring Scrimmage 2006
Spring Scrimmage 2005
Spring Scrimmage 2004
Spring Scrimmage 2003-cancelled due to turf/weather
Spring Scrimmage 2002
Spring Scrimmage 2001
Spring Scrimmage 2000
Wolverine Devotee's Cloudy History of the Spring Game, 1925-2016