Observations on the Spring Scrimmage 2016
On April 1, Harbaugh's troops held their final Spring practice of 15 that began on February 29. There were an estimated 45,000 people who attended the "event" which included an opera singer's rendition of the national anthem, and Rappers Bailey and Rich Rocka to motivate the fans prior to the event. The 1999 Wolverines team were honored prior to the scrimmage from their 11-2 season that ended with an Orange Bowl win over Alabama. It was a pleasant evening with a temperature of around 55 degrees after a forecast of 48 degrees, and it was partly sunny after a prediction of partly cloudy. The Michigan cheerleaders, dance team, and band were all on duty in a very festive Friday evening weekend atmosphere.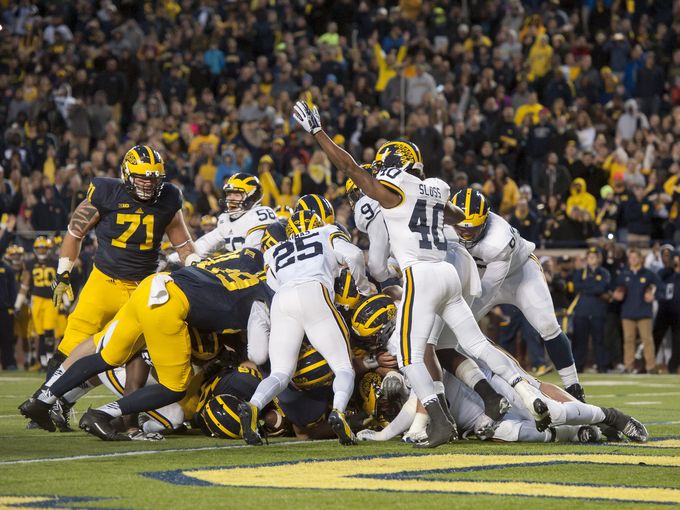 The game was broken down into 4 eight minute quarters with a halftime sandwiched in between, and the Maize White Team defeated the Blue Team, 14-13, with a game ending goal line stand at the one yard line as Fullback Henry Poggi was stopped on a two point conversion attempt. The Blue Team drove the field on the opening drive going 70 yards in 15 plays behind John O'Korn who finished 6 of 14 for 93 yards, and scored an opening red zone touchdown on a "flea-flicker" pass to Shane Morris on his right who then threw across the field hittingt Drake Johnson for a 9 yard catch in the end zone. O'Korn hit Drake Harris on a 30 yarder to set up the offense in the red zone. The White or Maize Team came back behind Wilton Speight who was 5 of 6 for 46 yards for the evening as he hit Grant Perry on a 13 yarder after completed a bomb to Perry on the play before, but it was caught out of bounds. The highlight of the drive was a nice 29 yard run by Ty Isaac. Isaac finished the game with 83 all-purpose yards, and rushed for 78 yards in 10 carries including a 30 yarder. Speight capped the drive with a nice 13 yard bootleg pass to Jake Butt for the TD in the second quarter. It was 7-7 at halftime. The Maize Team scored again late in the 3rd quarter as Speight rolled around end for a 6 yard TD. The Blue Team came back late in the 4th quarter behind O'Korn; he sparked the team with a 26 yard pass to Walk-on Jack Wangler, and brought the squad into red zone territory with a 25 yard pass to Shane Morris at the 13. Ian Bunting had 2 catches for 53 yards including a 49 yarder from Alex Malzone. Zach Gentry caught a 19 yarder from Freshman Brandon Peters. Mike McCray and Brandon Watson led all defenders with 7 tackles each. The Blue Team outgained the Maize, 250 to 186, but the Maize held more rushing yards, 104-73.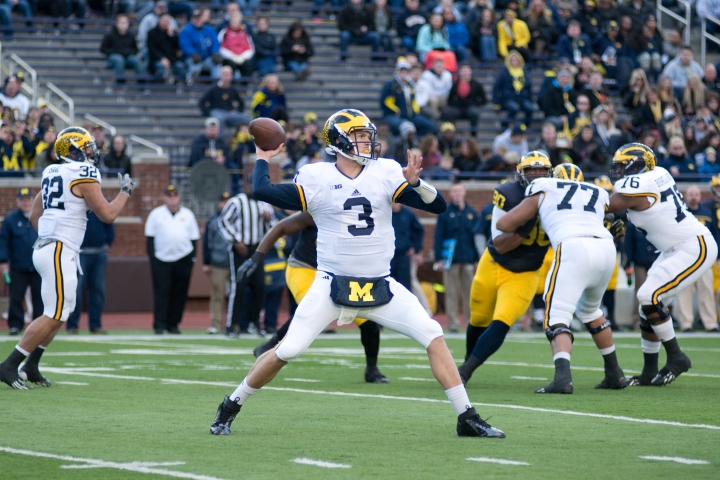 At Quarterback, Wilton Speight impressed with his confidence and accuracy plus remarkable agility for a big man; however, John O'Korn was also very impressive with his running abilities. Shane Morris has ability, but he finished the game 4 of 9 with an interception to Dymonte Thomas in the end zone. Brandon Peters looks very impressive for a true freshman. Alex Malzone has been hampered by a left wrist injury during Spring drills. All in all, the quarterback situation looks good; one has to be confident in the talent and abilities observed in the group, and Coach Harbaugh should help all of them improve for work in the Summer and Fall.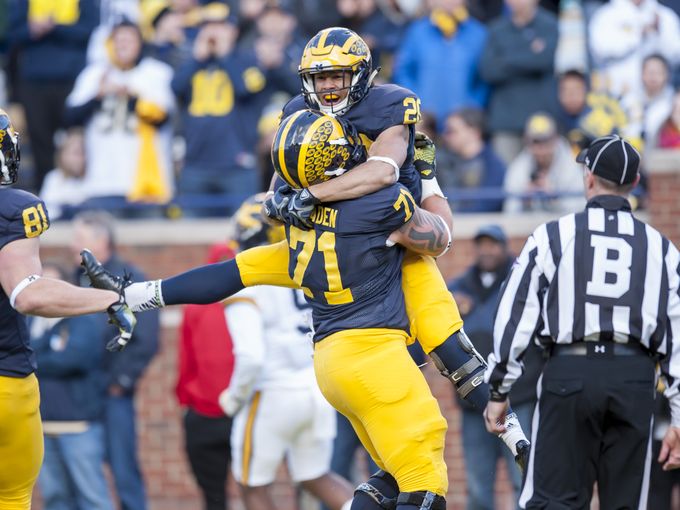 At Running Back, we all know what DeVeon Smith can do, but Ty Isaac really looks like he'll contribute a lot this Fall. Isaac is slimmer and tougher. Drake Johnson is also a strong, capable back. So, we have three guys who should take most of the snaps, and two stars to be in Kareem Walker and Kingston Davis. Walker looked solid when he played. One guy I didn't see carry the ball was Karan Higdon, perhaps he is injured. At Fullback, both Henry Poggi and Khalid Hill got most of the reps with Bobby Henderson also playing. I didn't see Wyatt Shallman play so perhaps he is still injured. We know overall we are solid at running back, but we'll still need to work on getting those tough red zone yards. Chris Evans will also help in the Fall with his quickness and pass catching abilities.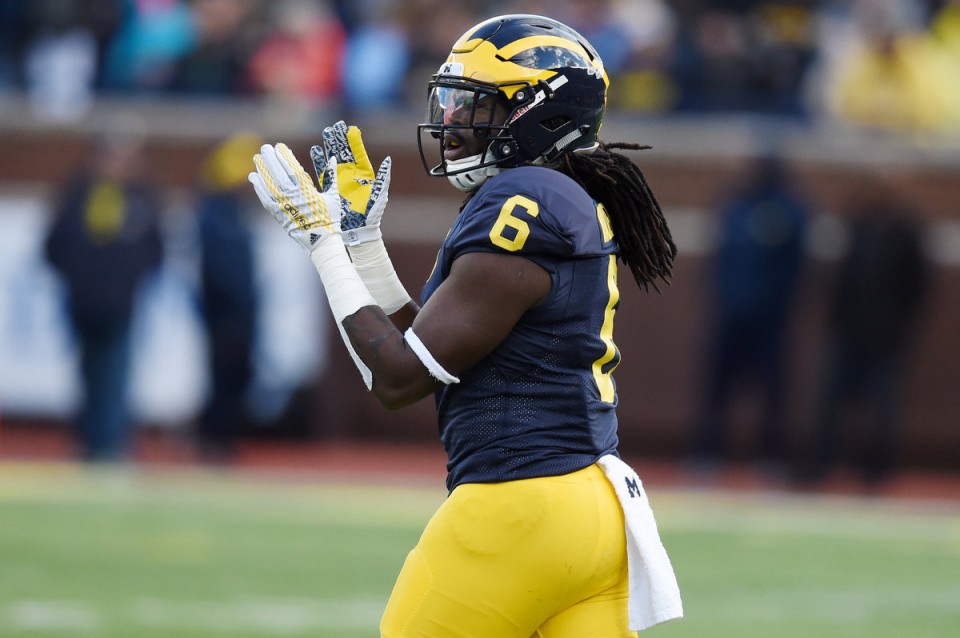 At the receiver position, we were short with the injuries to Jehu Chesson and Maurice Ways plus the lack of new recruits with Dylan Crawford, Nate Johnson, Eddie McDoom, Devin Asiasi, and Nick Eubanks. The receivers we saw today were impressive. Grant Perry, Ahmir Mitchell, and Drake Harris looked solid at wideout, and Tyrone Wheatley Jr., Ian Bunting, and Zach Gentry were great at Tight End. Sean McKeon looked in warm-ups like he'll redshirt, but he definitely has good athletic abilites. By Fall, this group should be an extremely dangerous and formidible group that will be quite difficult for our opponents to contend with; as a result of the influx of talent, our quarterbacks will also look much better. Harbaugh loves to incorporate of lot of receivers in his offense as he spreads to ball around, and by Fall he'll have enough talent to really bring his passing game into "high gear." Harbaugh and Fisch make a great team, and now they'll have to tools to raise the level of the offense.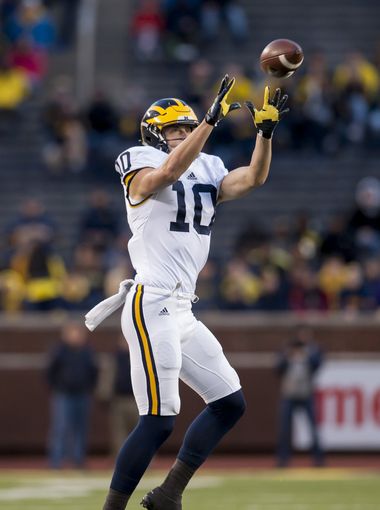 Our offensive line is still a concern! We do have several returning starters in Mason Cole, Kyle Kalis, Erik Magnuson, and Ben Braden; however, we need more competition to build a solid running game. Hopefully, Ben Bredeson, Michael Onwenu, and Stephen Spanellis will help. Coach Tim Drevno is still not convinced that the move of Mason Cole to Center is the answer as Grant Newsome has talent, but he's not sure he is ready to handle our opposition's best Rush Ends yet. During the Spring game, he used Braden and Jon Runyan Jr. at Left Tackle, Juwan Bushell-Beatty at Left Guard, Patrick Kugler at Center, Ben Pliska at Right Guard, and Nolan Ulizio at Right Tackle. David Dawson didn't play as he's still injured. If there is one area on the team that is a question mark, offensive line is that area.
Newsome-Braden-Cole-Kalis-Magnuson
Runyan-Bushell-Beatty-Kugler-Pliska-Ulizio
Bredeson-Onwenu-Spanellis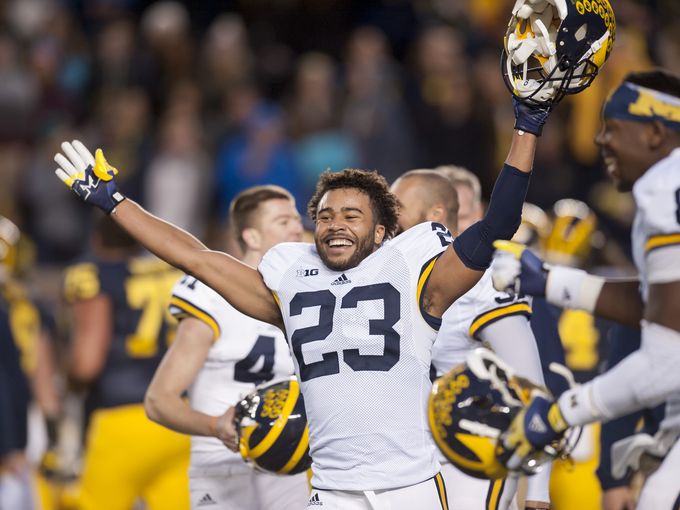 On the defensive line, most observers are well pleased with the talent and experience for this Wolverine group. We return Chris Wormley and Taco Charlton at the Anchor End position, Ryan Glasgow and Bryan Mone at the Nose Tackle, Maurice Hurst and Matt Godin at the Defensive Tackle with several candidates auditioning for the Rush Defensive End position. Most Wolverine fans know that Lawrence Marshall has the talent to be a starter, but he was flagged for two penalties in this game. Chase Winovich quite talented, but didn't impress on this day. Shelton Johnson didn't play due to injury. Carlo Kemp has raw talent, and showed he can play; however, he definitely needs more experience at the position. I didn't see Brady Pallante or Ryan Glasgow play. Garrett Miller logged a lot of playing time at Tackle. Certainly, the addition of Rashan Gary, Michael Dwumfour, and Ron Johnson in the Fall should help significantly.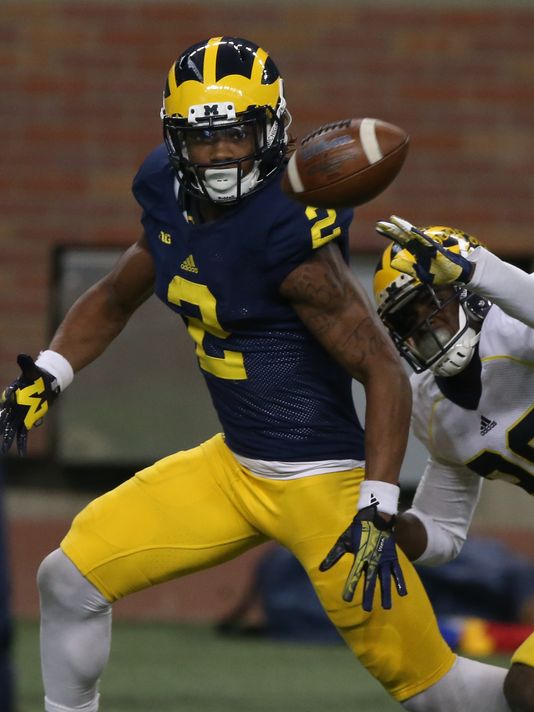 At Linebacker, one has to be impressed with Michael McCray and Devin Bush Jr. at WILL. We know that Ben Gedeon is a solid MIKE. It was a bit disappointing to see Jabrill Peppers at SAM, he was unimpressive in this game, and admitted to "rust" after the game. Walk-on Michael Wroblewski saw significant action at MIKE, and he could also see significant action in the Fall depending on how Elyse Mbem-Bosse develops at the position. I didn't hear Reuben Jones name called for tackles today at MIKE. Jared Wangler tore a meniscus, and will have surgery so it may take time for him to be a factor at WILL. I'm not sure if Dytarious Johnson will matriculate in the Fall due to transfer eligibility issues. Walk-on Alex Kaminski played a lot at WILL today. Apparently Noah Furbush is behind Peppers at SAM, but he didn't stand out in the game. Devin Gil and Joshua Uche are expected to contribute at SAM in the Fall.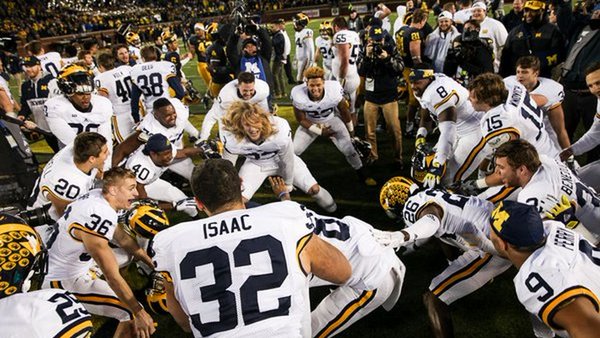 In the backfield, Brandon Watson played a lot of corner, but I didn't see much of Keith Washington. Jeremy Clark, Channing Stribling, and Jordan Lewis are the incumbents who'll log the most playing time. In the Fall, we can expect David Long and LaVert Hill to contribute as well. Delano Hill and Dymonte Thomas give us experience at the two safety positions; Josh Metellus and Khaleke Hudson will vie for playing time in the Fall. Most of the day, Tyree Kinnel, Jordan Glasgow, and A.J. Pearson took the safety reps. Kinnel looked like he can be a solid backup.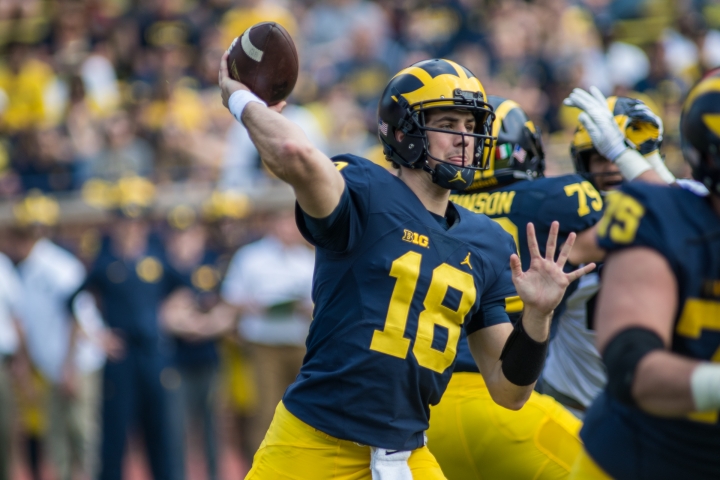 On Special Teams, one could notice a substantial difference in the leg of Kenny Allen versus Andrew David. David simply doesn't have the distance or accuracy. Hopefully, Quinn Nordin and Will Hart will give Allen some competition in the Fall. It looks like Drake Johnson will get a chance to shine on kickoffs along with Dymonte Thomas. Of course, incumbents Chesson, Darboh, Lewis, and Perry will also contribute in the return game. I'd expect Chris Evans to also contribute in the Fall.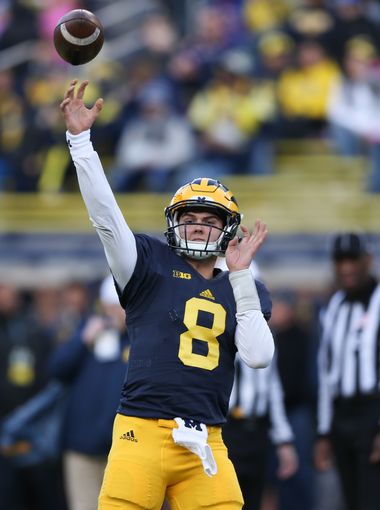 Overall, the game provided some feedback for fans as to how the team is developing. We saw flashes of promise, but faced with the realization of much work to do over the next several months as new team members transition in with much more strength and conditioning work to be done. While every Michigan fan is pleased with Harbaugh's recruiting efforts as he builds talent for the team in 2017 and 2018, there are several crucial months ahead for this year's 2016 squad. The next 4 months will include 7 on 7 Summer drills, and the leadership of the players, not the coaches, will be a big factor in whether this team can compete for a championship.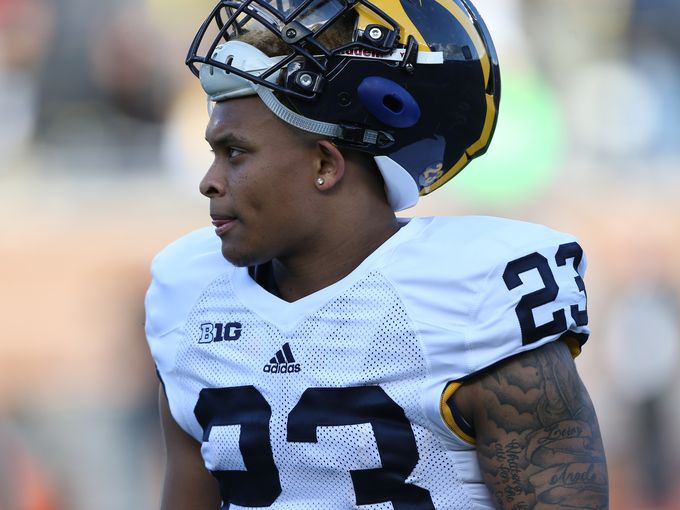 ESPN Summary Michigan Daily MLive Detroit News FREEP Every Snap Big Ten Network MaizeNBrew
Highlights Post Game Press Conference: Peppers & Wormley Peppers on Offensive Role
March 26 Practice at Ford Field 12 noon-4 p.m. (Harbaugh Interview and Highlights)
Spring Practice Day #1 Day #2 Day #3 Day #4 Baumgardner Observations March 10
Jim Harbaugh/Michigan Create Buzz (Harbaugh Remains Undefeated)
Tony Tuitoni Named New Michigan Recruiting Coordinator replacing Chris Partridge
Dr. Blitz Making His Prescence Felt (Michigan Ready to Go All the Way)
Michigan Set to Hire Brian Smith as Defensive Backs Coach Smith hiring is official
Michigan Spring Game Set for April 1 at 6:00 p.m. (First Practice on February 29)
5 Ways Jim Harbaugh is Disrupting College Football
NCAA has Much Bigger Time-Demand Worries than Harbaugh's Spring Break Trip
Harbaugh Can't Stop, but Probably Should
Michigan Hires Devin Bush Sr. as Defensive Analyst
Michigan Hires Bam Richards as Offensive Analyst
Brian Cole has left the team, transfers to Kentucky
Harbaugh's Old Teammate in 1986, Warde Manuel, to be named Michigan Athletic Director
Biff Poggi offered Offensive Analyst Position to replace T.J. Weist (Michigan Set to Hire Biff Poggi)
Partridge Promoted to Linebackers/Special Teams Coach
Ross Taylor-Douglas, Allen Gant, Derrick Green and Terrance Richardson to Transfer
Michigan may move some of Spring Practices to Bradenton, Florida
Don Brown to bring Intensity and Constant Blitzing as New Defensive Coordinator (How Boston College Built a Top 5 Defense)
Willie Henry may leave for the NFL Henry Declares for NFL Draft
Spring Scrimmage 2006
Spring Scrimmage 2005
Spring Scrimmage 2004
Spring Scrimmage 2003-cancelled due to turf/weather
Spring Scrimmage 2002
Spring Scrimmage 2001
Spring Scrimmage 2000