Michigan Football Official and Unofficial Visits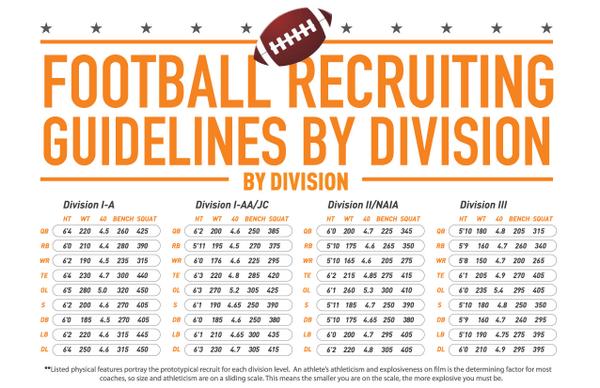 NCAA Guide for College-Bound Student-Athlete 2016-2017 (Quick Reference Sheet) NLI Quick Reference Sheet (NCAA Division I Manual)
NCAA Recruiting Overview Chart
NCAA Investing Where It Matters

Telephone Calls –September 1 – Once per week (Unlimited during contact period)
Off-Campus Contact–Last Sunday following the last Saturday in November
Official Visit –Opening day of classes
Aug. 1 - Nov. 28: Evaluation period-42 evaluation days during fall evaluation period (FCS and FBS)
NCAA Football Recruiting Calendar 2018-2019 (Recruiting Guide)
Limit of three evaluations during academic year
One evaluation during fall
Two evaluations - April 15 through May 31 (one evaluation to assess athletics ability and one evaluation to assess academic qualifications
*Not more than six off-campus contacts per prospect at any site
*FBS head coach; No off campus recruiting, off-campus coaching clinic, visit to a prospective student-athlete's
educational institution, or meeting with a prospective student-athlete's coach at an off-campus location during April 15 through May 31 evaluation period.
*Practice/competition site restrictions


This is typical of what happens at the official visits this weekend
The recruits, their hosts and parents meet for breakfast at 9:00 a.m.
- campus tour and academic meetings with Sheri Acho, academic advisor
- Schembechler Hall and Big House tour, meetings with position coaches.
- weight room/Tolbert meeting around mid-day (Strength & Conditioning Coach)
- possible event: Basketball/Hockey game/Wrestling match/Gymnastics meet/etc.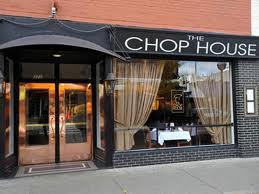 - hosts and recruits enjoy dinner at Chop House in downtown Ann Arbor or other restaurant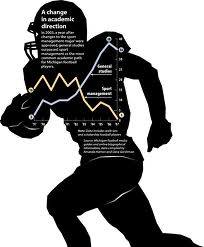 NCAA Football's Easiest to Toughest Recruiting Jobs: Michigan #1 in Big Ten and #9 Nationally
Michigan Assistant Coach Pay #8 Nationally
Top Recruiters in NCAA Football include Mattison
Michigan Football Depth Chart for 2018
Michigan Football Scholarship Summary for 2018
Scholarships Michigan Football 2018
April, 2019-Spring Football Game
March, 2019-Spring Football Practice begins
February 7, 2019--Signing Day for Class of 2019
January 9-Winter Semester begins--Early Enrollees include Cade McNamara
January 5-Jaylen Ellis announcement
December 19, 2018: Early Signing Period for Football
December 17, 2018-January 10, 2019-Dead Period
December 11-Trevor Keegan announcement
December 7-9:
December 1-Big Ten Championship
Other Possible Fall Visits: Joshua Sanguinetti, Jamal Hill, Cornelius Johnson, Trevon Raphael, Aeneas DiCosmo, Adisa Isaac, Isaiah Foskey, Logan Compton, Romeo Galasso, Aman Greenwood, Jammie Robinson, Daequan Hardy, Jesse Polansky, George Karlaftis, Parker Ball, etc.
November 17-Indiana-Kyle Ford, Danielson Ike, Amauri Pesek-Hickson, etc.
November 6-Kurt Taylor announced plans to transfer
November 5-Denver Warren decommitment
November 4-Mike Sainristil/Tim Baldwin commitments
November 3-Penn State-Chris Hinton, Myles Hinton, Mike Sainristil, Quavaris Crouch, Khafre Brown, Tommy Eichenberg, Kenny McIntosh, Kalen Deloach, Kortez Toles, Jaheem Joseph, Cole Brevard, Garrett Dellinger, Nolan Rumler, Tyrece Woods, Erick All, Karsen Barnhart, Zach Carpenter, D.J. Turner, Joey Velazquez, Kalil Branham, Kobe Myers, Josh Downs, Kalel Mullings, Rashawn Williams, Bryce Austin, Christian Veilleux, Devell Washington, Andrew Raym, Myles Slusher, Jackson Ostrowsky, Tim Baldwin, Brad Feeney, Angelo Grose, Michael Jenkins, Theo Johnson, Mitchell Melton, Jutahn McClain, Makari Paige, Nick Patterson, Andre Seldon, Deamonte Trayanum, Cornell Wheeler, Zak Zinter, Dacar Collins, Hayden Conner, Katron Evans, Tony Grimes, Ramier Lewis, Blake Nelson, Damon Payne, Rocco Spindler, Myles Rowser, Cameron Martinez, Tyler Martin, Jack Sawyer, Josh Fryar, J.C. Latham, George Rooks, Darrion Henry, etc.
October 22-James Hudson announced transfer plans
October 17-Drew Singleton announced transfer plans
October 13-Wisconsin-Trevor Keegan/Zach Harrison/Giles Jackson/Eric Gray/Jalen Perry/Bryce Benhart/Davis Beal/Jacob Dobbs/Ren Hefley/Kobe Myers/Gabe Newburg/Mazi Smith/Joey Velazquez/Tyrece Woods/Jack Stewart/Charles Thomas/Karsen Barnhart/Trente Jones/Beau Allen/Reece Atteberry/David Baker/Cornell Wheeler/Ethan West/Devell Washington/Grant Toutant/Jaheim Thomas/Brandon Taylor/Josh Priebe/Jakob James/Brandon Fields/Kalil Branham/Jay Butterfield/Peyton Borrelli/Charles Brantley/Garrett Dellinger/Ramier Lewis/Damon Payne/Clayton Burton/Nick Patterson/John Branham/Dante Moore/Eric All/Riley Keller/Deonte Craig/Darrion Henry/Yanni Karlaftis/Tag Bonnema/Kevin Suttles/Karamba Kaba/Tesha Tshabola/Clayton Burton/Jacob Dobbs/Jakob James
October 6-Maryland (Homecoming): Erick All, Tyrece Woods, Leonard Henry, Harrison Bailey, Kalil Branham, Kaba Karamba, Quian Magwood, Logan Parr, Jamari Buddin, Davion Weatherspoon, Raymond Anderson, Ramier Lewis, Cole Hussung, Mahdi Hamide
September 25-Cornell Wheeler commitment
September 22-Nebraska-Kortez Toles/Alex Bales/Gabe Newburg/Joey Velazquez/Tyrece Woods/Michael Carmody/Jalen McGaughy/Mica Gelb/Deontae Craig/Moussa Diallo/Michael Drennen/Carson Lee/Nick Patterson/Andre Seldon/Ian Stewart/Cornell Wheeler/Jamari Buddin/Donovan Edwards/Makae Cope/A.J. Kirk/Damon Payne/Myles Rowser/Devon Williams/Jacob Taylor/Kalen King
September 18-Daxton Hill commitment
September 15-SMU-Daxton Hill/Latham Ransom/Cade McNamara/Nolan Rumler/Mazi Smith/Karsen Barnhart/Zach Carpenter/Tyrece Woods/Andre Seldon/Nick Patterson/Denver Warren/Bijan Robinson/Travis Boston/Myles Rowser/Kaba Karamba/Kobe King/Raheem Anderson/Ramier Lewis/Braxton Mayes/Tyson Durant/Luke Elzinga/Jamari Buddin
September 10-Giles Jackson commitment
September 9-Mike Morris/Nick Patterson commitments
September 8-Western Michigan-Jaylen Ellis-Mike Morris-Denver Warren-Quintel Kent-Kalil Branham-John Branham-Mazi Smith-Tyrece Woods, Braiden McGregor-Dallas Fincher-Nick Patterson-Damon Payne-Devell Washington-Davion Weatherspoon-Bryce Mostella-Grant Toutant-Andre Seldon-Karamba Kaba-Kobe Myers-Peny Boone-Steve Barrett-Kyle Kennard-Jalani York-Marcellus Moore-David Carter-Josh Thompson
September 1-Notre Dame
August 25-Michigan voted Ben Bredeson, Devin Bush, Karan Higdon, Tyree Kinnel as Team Captains/Injuries to Tarik Black (Foot/Leg) and Rashan Gary (Shoulder)
August 22-Injury to Christian Turner (Arm)
August 20-Shea Patterson named starter at Quarterback-Deron Irving-Bey transfers to Central Michigan/Grant Newsome retired from football with a medical scholarship
August 13-Big Ten Network Bus Tour
August 12-Tyrece Woods commitment
August 7-Eddie McDoom leaves team to transfer to South Florida
August 4-Quintel Kent commitment
August 3-First Day of Fall Practice
August 2-Official Roster published-Tyrone Wheatley leaves team to transfer to Stony Brook
August 1-31-Dead Period
July 28-Barbeque at the Big House (80+): Isaiah Foskey/David Baker/Nolan Rumler/Quinten Johnson/Zach Carpenter/D.J. Turner/Erick All/Jack Stewart/Josh Sanguinetti/Trent Jones/Mike Morris/Denver Warren/Andre Seldon/Josh Downs/Kalel Mullings/Ian Stewart/Mark Redman/Bryce Mostella/Dallas Fincher/Devell Washington/Braiden McGregor/Elias Ricks/Lemuel Watley/James Wilborn/Greg Crippen/Tyler Martin/Tyrece Woods/Gabe Newburg/Jaheem Joseph/RaeQuan Beal/Davion Weatherspoon/Darius Jones/Riley Keller/Damon Payne/Cole Brevard/Kingsley Suamataia/Myles Rowser/Courtland Dicks/Michael Jenkins/Geirean Hatchett/Vance Miller/Mookie Cooper/Matthew Akuchie/Mike Sainristil/Quintel Kent/Kevin Pyne/Michael Carmody/Courtland Dicks/Jalen Williams/Jaylan Harris/LaMareon James/Donovan Edwards/Kobe Myers/Cornell Wheeler/Aaron Willis/Hunter Kiley/J.C. Latham/Romeo Galasso/Tirek Murphy/Tahliq Battle/Zak Zinter/Leshon Williams/Jesse Prewitt/Quian Magwood/Jaleel King/Kalil Branham/John Branham/Jonathan Wallace/Osman Savage/Traeshon Holden/Paapa Yeboah/A.J. Kirk/Devon Williams/Davis Beal/Jalen St. John/Bryce Benhart/Michael Stratham
July 24-Big Ten Kickoff Luncheon-Karan Higdon/Chase Winovich/Tyree Kinnel represented Michigan
July 23-Stephon Herron decommitment
July 15-Case Western Reserve Camp Cleveland, OH
July 3-Quinten Johnson commitment
July 2-David Ojabo and Denver Warren commitments
July 1-Eric Gray commitment
June 25-July 24-Dead Period
June 25-D.J. Turner and George Johnson commitments
June 24-Erick All, Zach Charbonnet and Mazi Smith commitments
June 21-Berkley Edwards announced transfer to Michigan from Central Michigan
June 20-22-D.J. Turner/Wandale Robinson/Zach Harrison/Mazi Smith/John Metchie/Aeneas DiCosmo/Zach Charbonnet/Trevor Keegan/Karsen Barnhart/Zach Carpenter/Trente Jones/Chris Hinton/Myles Hinton/Nolan Rumler/Charles Thomas/George Johnson/Mike Sainristil/Tre Mosely/Westley Neal/Danielson Ike/Aidan Livingston--Joey Velazquez commitment
June 18: Michigan Football/Big Man Football Camp-Tyrece Woods-Devell Washington-Ian Stewart-Dont'e Thornton-Dante Moore
June 15-17: Lewis Cine/Joey Velazquez/Rodas Johnson/Eric Gray/Demontae Crumes/Darius Jones/Erick All/Jalen McGaughy/Parker McQuarrie/Jack Miller/Bryce Mostella/Sofian Massoud/Quavaris Crouch/Denver Warren/David Ojabo/Jack Sawyer/Michael Drennen/Tyler Van Dyke
June 12-Jeff George Jr. of Illinois announced transfer to Michigan; he announced transfer from Michigan on August 23
June 10-Bowie State-MD
June 9: Michigan Football/Specialists Camp/Te'Cory Couch decommitment
June 8-10: Allen Briton/Keilan Robinson/Arik Gilbert/Tevin Griffey/Tyler Van Dyke/Zach Carpenter
June 6-8-Wagner College New York
June 5-Announcement that Kekoa Crawford and Kareem Walker will transfer
June 3-Grand Valley State University
June 2-Florida Atlantic/University of Tennessee-Martin
June 1-Mercer College Macon, Georgia
June 1-3: Harrison Bailey, Griffin Korican
May 30: Zach Carpenter commitment
May 25-27: Mahdi Hazime, Justin Rogers
May 18-20: Tim Baldwin
April 30: Karsen Barnhart commitment
April 26-28: Graduation/Paris/Normandy Trip-Brock Horne
April 20-22: Jay Amburgey, Devin Boddie, Zach Carpenter, Demeatric Crenshaw, Aman Greenwood, Bryce Kirtz, Andrew Kristofic, Braiden McGregor, Rylie Mills, Gabe Newburg, Isaiah Ratcliff, D.J. Turner, Landon Tengwall, Chris Tyree, Joey Velazquez, Kyren Williams, Max Wynn
April 16: Jack Stewart commitment
April 15: Te'Cory Couch commitment
April 13-15: Karsen Barnhart, Zach Carpenter, Te'Cory Couch, Luke Deal, Lance Dixon, Michael Drennen, John Dunmore, Anthony Enechukwu, Michael Fletcher, Kyle Hamilton, A.J. Henning, Stephen Herron, Cornelius Johnson, Sam Johnson, Marcel Lewis, Cade McNamara, Tavian Mayo, John Metchie, Rylie Mills, Adonis Otey, Nolan Rumler, Keontra Smith, Sam Snyder, Xavier Truss
April 6-8: Paris Johnson, Trente Jones, John Olmstead, Brandon Smith, Jack Stewart, Trey Wedig
March 30-April 1: Spencer Brown, Steele Chambers, Chaz Chambliss, Jacolbe Cowan, Lance Dixon, Donovan Edwards, Christian Fitzpatrick, Dontay Hunter, Adisa Isaac, Sam Johnson, George Karlaftis, Sterling Miles, Tre Mosley, Gabe Newburg, Makari Paige, Jack Sawyer, Brandon Smith, Kevin Swint, Cornell Wheeler, Dylan Wright
March 23-25: Karsen Barnhart, Kiyuanta Goodwin, Marcus Hicks, Mike Morris, Ty Murray, Wandale Robinson, Charles Turner, Joseph Wete
March 22: Spring Practice Begins
March 16-18--Junior Day: Aidan Atkinson, Jahleel Billingsley, Jase Bowen, Steele Chambers, Jacob Dean, Zach Harrison, Daequan Hardy, William Harrod, Daxton Hill, Chris Hinton, Paris Johnson, J.C. Latham, Bryce Mostella, Kobe Myers, E.J. Ndoma-Ogar, Tyler Nubin, Ruke Orhorhoro, Joey Porter, Paul Tyson, Tra Wilkins, Brayden Wood; Cade McNamara commitment
March 15-Fergus Connolly, 40, fired as Director of Sports Performance after his embarrassing DUI arrest
March 13-NCAA delays ruling on Shea Patterson Transfer Eligibility
March 9: Ron Prince hired as Senior Offensive Analyst
March 7-9: Aeneas DiCosmo, Jett Elad, Devon Fox, Sampson James, Kalel Mullins, Ty Simpson, Tre Tucker, Salim Turner-Mohammad
March 2-4: Lance Dixon, Tre Mosley, Kalel Mullins, Makari Paige, Cornell Wheeler
February 23-March 4: Winter Recess/Spring Break
February 22: Tim Drevno resigns and signs with USC/Trent Jones commitment
February 16-18: Karsen Barnhart, Spencer Brown, Kalen DeLoach, Lance Dixon, Trente Jones, Tre Mosely, Justin Rogers, Mazi Smith, Deamonte Trayanum, Kenyatta Watson
February 14: Jim McElwain hired as wide receivers coach
February 9-11: Lance Dixon, Makari Page, Kenyatta Watson
February 7: Signing Day--Otis Reese decommitment
February 4: Kevin Doyle decommitment
February 3: Contact Period Ends; February 5-8 Dead Period
February 1-3: Caden Clark, Marcel Lewis, Tariq Reid, Justin Rogers, Nolan Rumler, Mazi Smith, DeaMonte Trayanum and Paul Tyson
January 26-28: Abraham Alce, Calvin Anderson, Adam Berghorst, Mustafa Muhammad, John Emery, Henry Hudson, DeVontae Dobbs, Karsen Barnhart, Jalen Hunt, Damon Payne, Michael Fletcher, Jack Podlesny, George Caratan
January 25: Michigan Football Tryouts 4 p.m.; Dan Enos leaves to coach at Alabama
January 24: Michael Geraci Preferred Walk-on commitment
January 23: Michael Barrett commitment
January 19-21: Otis Reese, Ronnie Bell, Brian Bresee, Ryan Hayes, Grad Transfer from Utah, Casey Hughes, Avery Atkins and Ty Tyrell; Vincent Gray and Casey Hughes commitments
January 19: Ed Warriner hired for "to be determined" position
January 15: Coach Sherrone Moore introduced as new Michigan TE Coach, then to visit Jarrett Patterson; then, Moore and Partridge off to Georgia. Jim and Jay Harbaugh visited Rice Grad Transfer Offensive Tackle, Calvin Anderson
January 12-14: Vincent Gray
January 12: Coach Drevno and Matt Dudek visit Jarrett Patterson; Jim and Jay Harbaugh visit Hassan Haskins, and Greg Mattison visits Julius Welschof at Germany
January 8: Dan Enos formally announced as new Wide Receivers Assistant Coach
January 6-U.S. Army All-American Football Game at San Antonio, TX (Aidan Hutchinson, Jalen Mayfield, Cameron McGrone)
January 4, 2018-Under Armour All-American Football Game at Orlando, FL (Mustafa Muhammad, Myles Sims, JaMarr Chase, Nicholas Petit-Frere)
January 3: Michigan's Winter Semester begins with early enrollees and transfer Shea Patterson, Myles Sims, Joe Milton and Taylor Upshaw
January 1: Outback Bowl vs. South Carolina at Tampa, FL
December 20: Early Signing Date-Julius Welschof commitment
December 18-January 11, 2018: Dead Period--No Contact for Recruits Allowed
December 17: Ben VanSumeren commitment
December 15-17: Chris Olave, Aidan Hutchinson, Ben VanSumeren (In-Home by Coaches Jim and Jay Harbaugh)
December 14: Jarrett Patterson In-Home with Coach Drevno
December 13: Deontay Anderson and Van Jefferson transcripts won't transfer to Michigan
December 12: Michigan Football Bust
December 11: Shea Patterson commitment/Mustafa Muhammad In-Home
December 8-10: Shea Patterson, Jaylen Mayfield, Luke Schoonmaker, Deontay Anderson, Van Jefferson, Jalen Goss, Michael Barrett, Jarrett Patterson, Christian Turner
December 6: Myles Sims In-Home (Harbaugh)/Brian Smith to be new defensive coordinator at Rice
December 4: Luke Ford In-Home
December 2: In-Home Visit with Jarrett Patterson
November 30: In-Home Visit with Chris Olave (Hamilton) and Hassan Haskins (Jay Harbaugh)
November 29: In-Home Visits with JaMarr Chase (Harbaugh/Frey)/Tommy Tremble (Hamilton)/Gemon and German Green (Smith)
November 28: Wilton Speight, Drake Harris, Alex Malzone, Maurice Ways, JaRaymond Hall announce transfer intent; Hall renigs on transfer after talking with coaches
November 25: Ohio State 12 Noon--Talanoa Hufanga, Tyler Friday, Jayson Oweh, Nicholas Petit-Frere, Tommy Tremble, Taylor Upshaw, JaMarr Chase, Alim McNeill, Jamien Sherwood, Charles Thomas, Noah Cain, Eric Gray, Kalel Mullings, Zac Smith, Justin Rogers, Eyabi Anoma, Litchfield Ajavon, George Karlaftis, Shammond Cooper, Steele Chambers, Logan Brown, Mazi Smith, Jowon Briggs, Trevor Keegan, Marcus Washington, Isaiah Williams, Mookie Cooper, Jake Moody, Luke McCaffrey, Rashawn Williams, Cornelius Johnson, Joe Milton, Cameron McGrone, Jaylen Mayfield, Aidan Hutchinson, Darrian Dalcourt, David Bell, Joachim Bangda, Marvin Grant, Shane Lee, D.J. Turner, Michael Drennen, Roman Purcell, Kevin Doyle, Sammy Faustin, Alexander Segerfeldt, Robin Jutwreten, Fabian Weitz, Jalen Bell, Moses Douglass, Isaiah Gibson, Stephen Herron, Tyrece Woods, Shea Patterson, Sampson James, etc.
November 18: at Wisconsin 12 Noon
November 11: at Maryland 3:30 p.m.
November 4: Minnesota (Brown Jug) 7:30 p.m. Aidan Hutchinson, Jack Wray, Marvin Grant, Nolan Rumler, Dondi Price, Travis Boston
October 29: Emil Ekiyor decommitment, Hassan Haskins commitment
October 28: Rutgers (Homecoming) 12 Noon-Hassan Haskins, Chris and Myles Hinton, Jackson Hodor, Mazi Smith, Caleb Griffin
October 21: at Penn State
October 14: at Indiana 12 Noon
October 7: Michigan State--Ryland Goede, Julius Irvin, Amon Ra St. Brown, Jaren Mangrum, Christian Turner, Logan Brown, Gemon and German Green, Cameron McGrone, Damon Payne, Bryan Addison, Kyle Grady, Chris Smith, Cameron Phillips, Rashawn Williams, Torriano Richardson, Enzo Jennings, Marquan McCall, Kevin Doyle, Shockey Jacques-Louis, Adam Berghorst, Devontae Dobbs, Harry Miller, Reddy Steward, Jack Conley
September 24: Kevin Doyle commitment
September 23: at Purdue 4 p.m. George Karlaftis
September 16: Air Force 12 Noon-Marvin Grant-Dillon Spalding, Quinten Johnson, Kevin Doyle, Tyrece Woods, Boone Bonnema, Mohamed Saad, Justin Rogers, De'Andre Bulley, Alim McNeill, Marcus Fuqua
September 9: Cincinnati 12 Noon--Michael Fletcher, William Racely, Justin Rogers, Ian Stewart, Trevor Bycznski, Jalen Mayfield, Ian Brocks, Jamar Harmon, Anwar Jackson
September 2: Florida at Dallas 3:30 p.m.
Submarine-No Roster until Game Week, Wednesday, August 30
August 21: Keith Washington announces transfer
August 11: Big Ten Network
August 5: Chris Hinton commitment
August 2: Sammy Faustin commitment
July 31: 1st Day of Fall Practice--Cameron McGrone commitment
July 29: BBQ at the Big House-Gemon and German Green, Myles Sims, Harry Miller, Stephon Herron, George Karlaftis, Emil Ekiyor, Jarrion Jones, Jerrion Ealy, Cameron McGrone, Raiqwon O'Neal, Justin Rogers, J.T. Daniels, Isaiah Williams, Jalen Mayfield, Jerome Carvin, Lance Dixon, Marvin Grant, Shammond Cooper, Marcus Washington, Christian Turner, Ian Stewart, Tyrece Woods, Nolan Rumler, Quavaris Crouch, Logan Brown, Rafiti Ghiarmai, David Bell, Mazi Smith, Joseph Anderson, Trevor Keegan, Sammy Faustin, Shane Lee, Dallas Fincher, Mike and Alex Geraci, Andre Seldon, etc. Stephon Herron and Nolan Rumler commitments
July 26: Will Putnam, Spencer Lytle
July 25: Luke Schoonmaker commitment
July 24-25: Big Ten Football Media Days-Chicago, IL
July 20-22: Luke Ford, Luke McCaffrey; Harbaugh hires Tom Gable and Matt Dudek
July 7-15: Harbaugh & Wife to France on vacation; your moderator was on the plane with the Harbaughs
July 4: Corey Malone-Hatcher announcement of a medical scholarship
June 28: Unofficial announcement of Drake Johnson's eligibility for 2017 football season
June 25-26: Freshmen arrive/Charles Thomas commitment
June 24: Big Man Big House Camp: Emil Ekiyor
June 23: Elite One Day Camp/Drake Johnson approved for 6th season by NCAA
June 22-25: Noah Cain/Cameron McGrone/David Reese/Devontae Dobbs/Nolan Rumler/Charles Thomas/Rick Sandidge/Jamien Sherwood
June 17: Super Skill Position Camp/Aerial Assault Camp
June 13: Litchfield Avajon/Nicholas Petit-Frere
June 12: Quindarious Monday/Michael Tarquin
June 11: USC Satellite Camp-Chris Steele/University of Charlotte
June 10: Elite Specialists Camp/Sacred Heart-Fairfield, CT-Joshua Jobe/University of San Diego
June 9: Tennessee State Satellite Camp/Lagrange, Georgia
June 5: Florida Atlantic Satellite Camp--Stanley Garner/Randy Charlton/James Head/Khris Bogle/Joe Milton/Braylen Ingraham/Ed Montilus/William Barnes/Jordan Battle
June 4: Valdosta State Satellite Camp-Michael Barrett/University of the Incarnate Word San Antonio, TX/Old Dominion University
June 3: Sam Houston State Huntsville, TX/Bowie State University, Maryland-Joseph Wete/Eyabi Anoma/Mychale Salahuddin/DeMarco Hellams/Edward Hendrix
June 2: Mercer College Georgia-Trey Dean/Kearis Jackson/John Carroll University Cleveland, OH Satellite Camps-Tyreke Smith/Chase Kline
May 31: Sonny Odogwu
May 30: Chris and Myles Hinton/James Ohonba
May 27: Ryan Hayes commitment
May 23: Jalen Mayfield commitment
May 13-15: Tyler Shough visit
May 7: Joe Milton commitment
April 27-28-29: Rome
April 22: Team arrives in Rome
April 20: Gemon and German Green commitments
April 18: 12th Practice/Gemon and German Green/Steele Chambers/Jalen Berger/Tyler Friday
April 15, 2017: Public Spring Scrimmage-11th Practice 1 p.m./Dorian Thompson-Robinson/Brevin Jordan/Joe Milton/Jalen Mayfield/Mustapha Muhammad/DeMarcco Hellams/Otis Reese/Emil Ekiyor/Nolan Rumler/Logan Brown/Aidan Hutchinson/Aubrey Solomon/Drake Thomas/Kurt Taylor/Jacob Lacey/Isaiah Williams/Nyquan Hawkins/Ronnie Hickman/Dimitri Douglas/Marcus Washington/Jaren Mangham/Ira Henry/Xavier Goldsmith/Shammond Cooper/Bryce Childress/Khafre Brown/Alphonzo Andrews/Cameron McGrone/James Graham/Dyami Brown/Jasiah Provillon/Marquan McCall/Dorian Hardy/Ben Bresnahan/Tyrece Woods/James Hudson/Deron Irving-Bey/Matt Brown/Jordan Anthony/Tyrone Sampson/Stephon Herron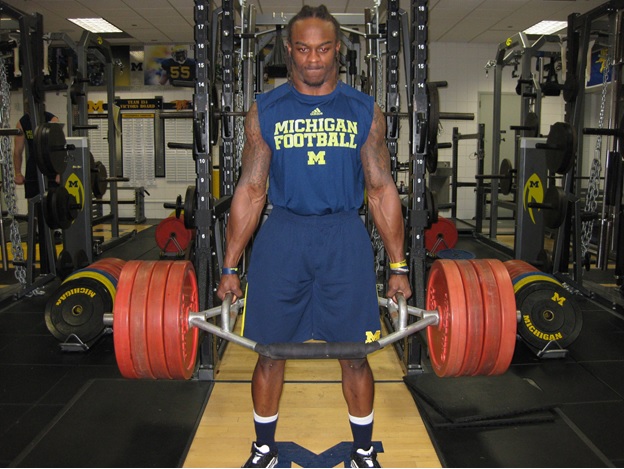 April 14: NCAA passes Comprehensive Football Recruiting Reform with Early Signing Period in December, and adds 10th Assistant Coach for January, 2018
April 13: 10th Practice
April 11: 9th Practice
April 10: Team announced Drake Johnson will not return for 2017; Grant Newsome will not be ready to return for 2017 season/Christian Turner commitment
April 8: 8th Practice/Brian Asamoah
April 7: Myles Sims commitment
April 6: 7th Practice/Christian Turner
April 4: 6th Practice/Christian Smith
April 2: 5th Practice/Dallas Gant
March 31: 4th Practice/Kamryn Babb
March 28: 3rd Practice/Chris Smith
March 26: 2nd Practice/Verdis Brown/Sammy Faustin
March 24: 1st Practice/Jowon Briggs/Tyler Friday/Zach Harrison/Kalel Mullings/Lee Payton/Jeremy Ruckert
March 17-19: Trent Gordon
March 10-12: Marvin Grant, Myles Sims, L'Christian Smith, Tyrece Woods
February 24-26: Harrison Bailey, Kevin Bradley, Maliq Carr, Robert Daniel, Gary Gayle, Corey Graham, Aiden Hutchinson, Christian Jackson, Enzo Jennings, Lee Payton, Don Price, Torriano Richardson, Jalen Robinson, Justin Rogers
February 21: Aiden Hutchinson commitment
February 17-19: Iverson Clement, Jalil Irvin, Anthony Solomon
February 13: Stephen Herron
Ranking the Michigan Assistant Coaches in the Recruiting Process: Tyrone Wheatley, Chris Partridge, Don Brown, Tim Drevno, Jay Harbaugh, Mike Zordich, Greg Mattison, Brian Smith and Pep Hamilton
February 4: Devin Asiasi transfers to UCLA
February 1, 2017: Signing Day-Signing with the Stars at Crisler Arena 12 noon; Aubrey Solomon and Nico Collins commitments (Les Miles to work on ESPN Signing Day Show) Live Stream
January 31: Oliver Martin commitment
January 27-29: Joel Honigford, Evan Latham, Oliver Martin, Hunter Reynolds, Ty Rocconi, Carter Selzer Visits
January 26: In-Home Coach visits with Nico Collins, Aubrey Solomon, James Hudson, Kurt Taylor; Samuels and Taylor reaffirm pledges
January 25: In-Home with Oliver Martin-Coaches Harbaugh, Drevno and Partridge, Coach Brown with Jay Tufele, and Jay Harbaugh with O'Maury Samuels; Coach Frey is hired for Offensive Line/Tight Ends and Run Game Coordinator, and Jay Harbaugh moves to coach Running Backs
January 24: Ifeatu Melifonwu Visit
January 24: Harbaugh to see Mekhi Becton, attends basketball game
January 23: Harbaugh In-Home with Willie Gay; Coach Frey interviews for Assistant Coach position
January 20-22, 2017: O'Maury Samuels Visit; Kai-Leon Herbert decommitment
January 19: Coach Harbaugh and Coach Brown visit Kwity Paye, Andrew Stueber and Brad Hawkins; Coach Drevno and Zordich visit Joel Honigford
January 18: Coach Harbaugh and Coach Partridge visit Drew Singleton; Jay Harbaugh visits Jeremy Ruckert
January 17: In-Home with O'Maury Samuels and Oliver Martin by Pep Hamilton; Rick Finotti left to be Head Coach at John Carroll
January 16: In-Homes with Aubrey Solomon by Coach Harbaugh, Brown and Partridge, Mekhi Becton by Coach Drevno, and C.J. Thorpe by Coach Drevno and Zordich; Tyrone Wheatley announced as Jacksonville Jaguars running backs coach
January 12: Contact Period begins; In-Home with Nico Collins
January 11: Jabrill Peppers to NFL; both Tyrone Wheatley and Tim Drevno interview for Western Michigan Head Football Coach position
January 8: Najee Harris flied home to Oakland, CA, but then departed to Birmingham, Alabama; Harbaugh announced Pep Hamilton is new QB/WR Coach and Passing Game Coordinator
January 7, 2017: U.S. Army All-American Bowl San Antonio, TX; Michigan Recruits and Pledges Playing in Game: Tarik Black, Chuck Filiaga (pledge at the game), Willie Gay, Deron Irving-Bey, Dylan McCaffrey, Oliver Martin, Donovan Peoples-Jones, Aubrey Solomon, Ambry Thomas
January 4, 2017: Classes begin for Early Enrollees: JaRaymond Hall, Jaylen Kelly-Powell, Donovan Jeter, Dylan McCaffrey, Corey Malone-Hatcher, Ben Mason, Donovan Peoples-Jones, Cesar Ruiz, Benjamin St. Juste, Ambry Thomas, J'Marick Woods
January 3: Tim Drevno signs 5 year, $5 million contract as Offensive Coordinator
January 2: Jeff Fisch accepts UCLA offer as offensive coordinator
January 1, 2017: Under Armour All-American Game at Orlando, FL; Michigan Recuits and Pledges Playing in game: Kai Leon-Herbert, Kwity Paye, Drew Singleton, Cesar Ruiz, C.J. Thorpe, Luiji Vilain; David Dawson announced his won't return next season, and transferred to Iowa State
December 31: Offense-Defense Bowl; Michigan pledges and recruits participating: James Hudson, Kurt Taylor; Don Brown gets a new 5 year, $1.4 million per year contract
December 30: Orange Bowl vs. Florida State
December 28: Scott Sypniewski announced he won't return next season
December 27: Nick Baumgartner claims Kingston Davis, Michael Dwumfour and Alex Malzone are not practicing with the team at the Orange Bowl practices
December 23: Drew Singleton commitment
December 22: Jordan Anthony commitment; Grant Perry Suspension and Tony Tuitoni announced he's leaving Michigan to take Fresno State DL Coach position
December 19: Cesar Ruiz commitment; Deron Irving-Bey commitment
December 15: Donovan Peoples-Jones commitment
December 14: Tarik Black commitment; A.J. Dillon decommitment
December 12-January 11: Dead Period--No Contact with Recruits
December 10: Jabrill Peppers, Jim Harbaugh and Chris Partridge to New York for Heisman Trophy Ceremonies
December 9-11: Najee Harris, JaRaymond Hall, James Hudson, Corey Malone-Hatcher, Deron Irving-Bey, Jaylen Kelly-Powell, Dylan McCaffrey, Donovan Peoples-Jones, Stanford Samuels, Drew Singleton, Ambry Thomas, Luiji Vilain
December 8: Coach Zordich In-Home with Elijah Hicks; Coach Brown In-Home with Jay Tufele, and Coach Harbaugh with Isaiah Wilson
December 7: Tarik Black In-Home with Coach Harbaugh, Coach Drevno In-Home with Andrew Stueber, Coach Wheatley In-Home with Kurt Taylor, Ambry Thomas commitment
December 4: Harbaugh In-Home with Najee Harris; Coach Drevno In-Home with Chuck Filiaga
December 3: Michigan Coaches to see Rutger Reitmaier; Coach Drevno In-Home with Mekhi Becton
December 2: Greg Mattison In-Home with Jay Tufele
December 1: Michigan Coaches to see Aubrey Solomon; Coach Fisch In-Home with Tarik Black and Brad Hawkins with Coach Brown, and Coach Drevno In-Home with Isaiah Wilson
November 30: Coach Fisch to see Michael Harley, Cesar Ruiz and Jordan Anthony
November 29: Coach Drevno to see Alex Leatherwood; Coach Zordich to see Darnay Holmes
November 28: Michigan Coaches see Aidan Hutchinson
November 26: Benjamin St. Juste visit to Virginia Tech, then recommits to Michigan; A.J. Dillon visits Boston College
November 19: Indiana-Dan Bolden, Tory Carter, Emil Ekiyor, Warren Ericson, Michael Furtney, Elijah Gates, Jackson Griskie, Brad Hawkins, Noah Harvey, Trey Hill, Jacob Larson, Will Mallory, Ben Mason, Jake Moody, Christopher Oates, Otis Reese, Rutger Reitmaier, Benjamin St. Juste, Zach Sheffer, Kurt Taylor, Leonard Taylor, Luiji Villain, Isaiah Wilson
November 15-Jaylen Kelly-Powell commitment
November 5: Maryland-Aaron Banks, Franklin Banks, Toryque Bateman, Mekhi Becton, Hunter Crenshaw, Finn Dirnstein, Logan Brown, Nico Collins, A.J. Dillon, Joshua Jobe, Jaylen Kelly-Powell, Donovan People-Jones, Jeremy Ruckert, Myles Sims, Tederral Slaton, Mazi Smith, Aubrey Solomon, Andrew Stueber, Reid Thompson, J'Marick Woods
October 24-Kwity Paye commitment
October 23-Donovan Jeter commitment
October 22: Illinois (Homecoming)-Martin Andrus, Anthony Bradford, Jairus Brents, Logan Brown, Emil Ekiyor, Willie Gay, Kai-Leon Herbert, Donovan Jeter, Dyontae Johnson, Phil Paea, Reggie Pearson, Robert Porscher, Mazi Smith, Jay Tufele, Jordan Ulmer, Luiji Vilain
October 21: Coaches Harbaugh, Fisch, Smith, Zordich to Cass Tech game to watch Donovan Peoples-Jones, Ambry Thomas and others vs. Martin Luther King for PSL Championship; Father Jack Harbaugh at Maizefest
October 15: Aaron Banks visit
October 14: Najee Harris visit
October 13: Austin Deculus, Alex Leatherwood visits
October 12: Dorian Thompson-Robinson visit
October 11: Chase Lasater decommitment
October 2: Emil Ekiyor commitment
October 1: Wisconsin-Jordan Anthony, Logan Brown, Baron Browning, Emil Ekiyor, Brelin Faison-Walden, Chuck Filiaga, Ryan Gersonde, JaRaymond Hall, Joel Honigford, Deron Irving-Bey, Alex Leatherwood, Corey Malone-Hatcher, Oliver Martin, Phillip Paea, Kwity Paye, Bumper Pool, Antwan Reed, Shanon Reid, Joshua Ross, Cesar Ruiz, Drew Singleton, Taron Vincent, Jedrick Wills
September 24: Penn State-Toryque Bateman, Ellis Brooks, Nico Collins, JaRaymond Hall, Joel Honigford, James Hudson, Corey Malone-Hatcher, Dwan Mathis, Philip Paea, Donovan People-Jones, Nolan Rumler, Mazi Smith, Kurt Taylor, Michael Thompson, J'Marick Woods
September 17: Colorado-Xavier Goldsmith, Joel Honigford, Jaylen Kelly-Powell, Dylan McCaffrey, Jaren Mangham, Taj Mustapha, Alex Reigelsperger
September 10: Central Florida: Kordell Agee, Brendann Brown, Kyren Cunningham, Kalon Gervin, Dillon Harris, Deandre Square, Tyrece Woods
September 9: Carter Dunaway and Antwuan Johnson decommitments
September 3: Hawaii-Tarik Black, Corey Bolds, Calvin Carroll, Carter Dunaway, JaRaymond Hall, Chris Hinton, Myles Hinton, Joel Honigford, James Hudson, Aidan Hutchinson, Deron Irving-Bey, Kyler McMichael, Antwuan Johnson, Corey Malone-Hatcher, Kevin Mensah, Phillip Paea, Drew Singleton, Jess Speight, Kurt Taylor, Davion Williams, and Taron Young
August 24--Ahmir Mitchell transfers to Rutgers
August 22--Andrew David transfer to TCU, Jalil Irvin, Aubrey Solomon and Leonard Taylor decommitments
August 8: 1st Day of Fall Practice--Team to go "Submarine"--No Youth Day in August--James Hudson commitment
August 6: BBQ at the Big House: Henry Bainivalu, Aaron Banks, Julian Barnett, Tarik Black, K.J. Britt, Logan Brown, Jackson Carman, Kolin Demens, Devontae Dobbs, Carter Dunaway, Emil Ekiyor, Malcolm Epps, Steven Franklin, Kalon Gervin, Xavier Goldsmith, M.J. Griffin, Najee Harris, Darnay Holmes, Kai-Leon Herbert, Joel Honigford, James Hudson, Devon Hunter, Will Ignont, Deron Irving-Bey, Jaylen Kelly-Powell, Jesse Luketa, Patrick Lupro, Marquan McCall, Oliver Martin, Philip Paea, Donovan People-Jones, O'Maury Samuels, Andre Seldon, Penei Sewell, Tederral Slaton, Mazi Smith, Andrew Stueber, Kurt Taylor, Ambry Thomas, Isaiah Wilson, and Tyrece Woods
August 1-2: Michigan Nike Jumpman Uniforms Announced, Gear on Sale at M-Den
July 25-26: Big Ten Meetings with Jake Butt, Amara Darboh, and Jourdan Lewis
July 22-24: Camren and Nolan McDonald, Jeremy Ruckert
July 8-10: The Opening
July 7: Michigan cancels Arkansas series for 2018 and 2019, and reinstates the rivalry with Notre Dame
July 6: Kai-Leon Herbert commitment
Harbaugh now has 38 Camps in 19 States plus Australia and American Samoa in June (Update)
June 30: American Samoa-cancelled to to Zika Virus
June 29: Joel Honigford commitment
June 26: Hawaii Camp St. Louis School/Freshman Players Report-Voluntary 7 on 7 drills begin
June 25: Los Angeles Showcase Camp Hawkins HS-Jalen Hall, Greg Johnson, Joseph Lewis; Andrew Stueber commitment
June 24: Bright Lights Big House Camp
June 24: Oceanside, CA
June 23: Antioch, CA and Sacramento, CA-Popo Aumavae, Josh Falo, Najee Harris, D.J. Johnson, Jalen McKenzie
June 22-23: Specialists Camp; Las Vegas Chaparral-Dorian Thompson-Robinson
June 20-21: Shine Time Camp Bo Bauer, Carter Dunaway
June 18: Aerial Assault Camp-Hank Bachmeier, Atatutu Daranijo, Beau Filichio, Jackson Gibbs, Sam Johnson, Dylan McCaffrey, Luke McCaffrey, Aaron McLaughlin, Spencer Rattler, Artur Sitkowski, Cam Taylor
June 18: Big Man Football Camp and Orem, UT-Owen Condon, Obinna Eze, Kai-Leon Herbert, Aidan Hutchinson, Bryan Johnson, Tederral Slaton, Aubrey Solomon; Otis Reese and Aubrey Solomon commitments
June 17-21: Toryque Bateman, Maurice Bell, Baron Browning, Tory Carter, Nico Collins, Owen Condon, Wyatt Davis, Obianna Eze, JaRaymond Hall, Mike Harley, A.J. Harris, Randall Haynie, Kai-Leon Herbert, Aidan Hutchinson, Deron Irving-Bey, Bryan Johnson, Sam Johnson, Sterling Jones, Dylan McCaffrey, Elijah Moore, Mustafa Muhammad, Nathan Proctor, Antwan Reed, Artur Sitkowski, Tederrel Slaton, Kenedy Snell, Tadas Tatarunas, Jedrick Wills
June 17: Youth Football Camp and Ridge View HS Columbia, SC and Orem, UT-Sione Heimuli-Lund, Penei Sewell, Jay Tufele
June 15: Pittsburg State Kansas/Kansas City-Trevor Kent, Anthony Payne
June 14: Addison, TX Showtyme and Oakland HS Murfreesboro, TN-Camron Johnson, Jacoby Stevens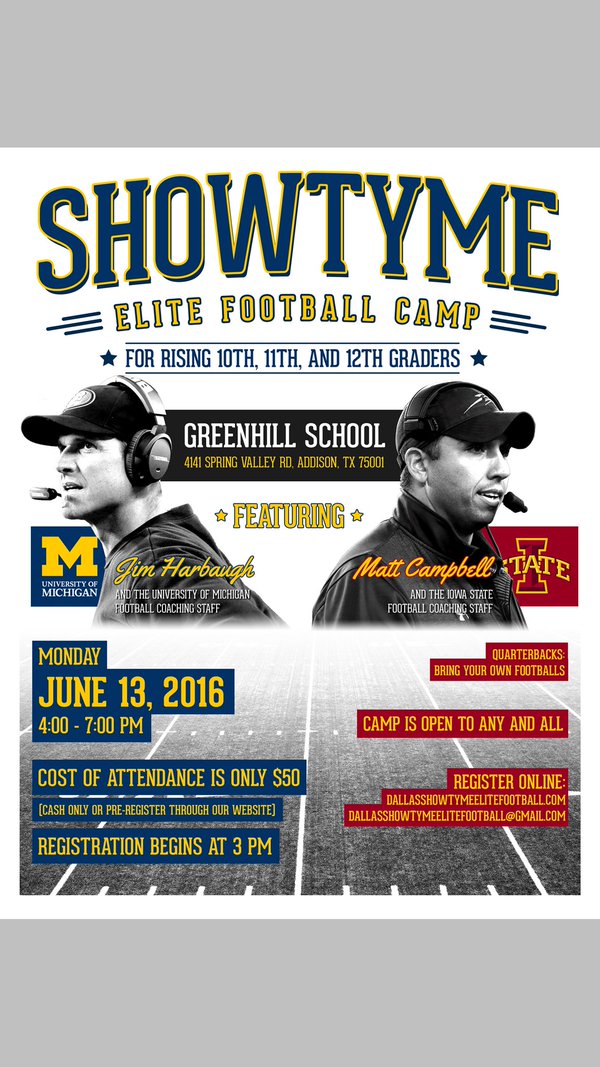 June 13: East Houston Football Showcase, TX/Addison-Jhamon Ausbon, K'Lavon Chaisson, Grant Delpit, Shabazz Dotson, Davodrick Johnson, Bumper Pool, Kenedy Snell
June 12: Empire Showcase Norco, CA (Luiji Vilain commitment)
June 11: 5th Quarter Camp Carter Dunaway, Donovan Johnson
June 10-13: Logan Christopherson, Tyler Friday, Joel Honigford, Jaylen Kelly-Powell
Michigan to host 7 Football Camps in June
June 10: Sound Mind Sound Body Detroit, MI: Johnny Adams, Isaiah Azubuike, Kamron Babb, Jaylon Banks, Zaire Barnes, Curtis Blackwell, Richard Bowens, Larry Boyd, Andre Carter, Dwayne Chapman, Logan Christopherson, Rell Coley, Naytron Culpepper, Danny Davis, Hugh Davis, Zenden Dellinger, Cedric Dort, Emil Ekiyor, Morgan Ellison, Greg Emerson, Kalon Gervin, Trenton Gillison, Aqeel Glass, Marcus Greer, Jarius Grissom, Rodney Hall, K.J. Hamler, Raveion Hargrove, Matt Harmon, Juan Harris, C.J. Hayes, Mac Hippenhammer, Ralph Holley, Ja'Quinden Jackson, Antwuan Johnson, Davion Johnson, Donovan Johnson, Sam Johnson, Cameron Jonas, Caleb Jones, Khalid Jones, Jordan Jusevitch, Jaylen Kelly-Powell, Jacob Lacey, Dez Lance, Herman McCray, Dwan Mathis, Ethan Merriweather, Isaiah Moore, Zach Morton, Derrius Mullins, Ovie Oguofo, Reggie Pearson, Donovan People-Jones, Byron Perkins, Owen Piche, Jordan Reid, Hunter Rison, Joshua Ross, Randy Russell, Amon Ra St. Brown, Tyrone Sampson, L'Christian Smith, DeAndre Square, Markese Stepp, Allen Stritzinger, Jonathan Sutherland, Leonard Taylor, Ambry Thomas, Donelle Thomas, Andrew Todd, Trevor Trout, Luiji Vilain, Jason Whittaker, Jamyest Williams, Cameron Wynn
June 9: Warren, OH Lynn Bowden, Fairfield, OH Jackson Carmen and Sound Mind Sound Body Detroit, MI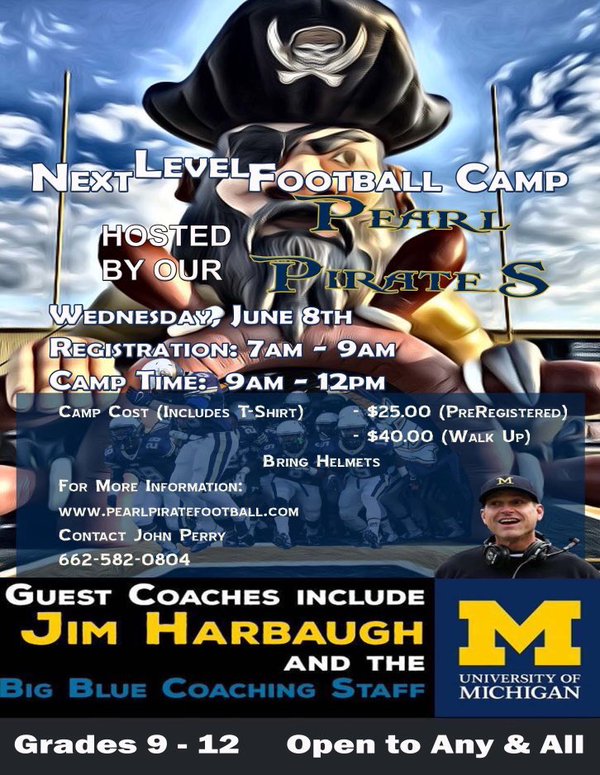 June 8: Next Level Pearl, MS Cam Akers, Willie Gay, Malik Heath, Kylin Hill, Aaron Odom and Raw Talent U Cleveland Hgts., OH Jaylen Harris
June 7: Prattville, AL Cam Taylor, South Alabama Jack West, Hun School Princeton, NJ Fred Hansard and Parasmus, NJ Corey Bolds, Cesar Ruiz, Drew Singleton, Arthur Sitowski, Allan Walters
June 6: Baltimore, MD Thomas Booker, Austin Fontaine, Evan Gregory, Isaiah Humphries, Shane Lee, Jaylen Mayden, John Morgan and Madison, AL A.J. Harris, Kendall Randolph
June 5: Old Dominion Univ. Norfolk, VA and Easton, PA Lafayette College
June 4: South Florida Camp at Tampa Amari Burney, Judge Culpepper, Richard Gouraige, Nick Petit-Frere, Shanon Reid and Chesire, CT Champions Camp Tarik Black, C.J. Holmes, Ben Mason Norco, CA and Norfolk, VA Dylan McCaffrey makes Elite 11 Finals
June 3: Melbourne, Australia ProKick Football Camp, Jacksonville, FL Football Camp Trinity Christian, Fort Lauderdale Football Camp Nova Southeastern University School Tyreke Johnson, Chase Lasater, Connor Robbins, Zach Sheffer, Derrick Smith, Ameer Speed, Shaun Wade; Corey Malone-Hatcher commitment
June 2: Atlanta Satellite Camp and Leesburg Lee County HS Breon Dixon, Jayden Haselwood, Jeremiah Hollomon, Jeremiah Hunter, Maynard Jackson, Netori Johnson, Justin Shaffer, Tre Shaw, Israel Spivey, Jelani Woods Springfield, OH Danny Davis, Antwuan Johnson, Leonard Taylor
June 1: American Samoa Juliano Falaniko and Indianapolis, IN Bishop Chatard HS Ryder Burchett, Hugh Davis, Emil Ekiyor, Donald Johnson, Shiloh Means, Dane Middlebrook, Cameron Misner, Madison Norris, Tyler Pannell, Markese Stepp, Luke Terrill, Tyrone Tracy
May 31: Naperville, IL North Central College
May 27-29: Brelin Faison-Walden, Deron Irving-Bey
May 17-19: Shelton Applewhite, Darrion Green, Dorian Hardy, James Hudson, Jaylen Kelly-Powell, Ambry Thomas, and Luiji Vilain
May 10-12: Markese Stepp
May 3-4: Nico Collins, Alex Forsyth, Deron Irving-Bey
April 28: NCAA Board of Governors reinstates Football Satellite Camps
April 22-24: Braeden Childress, Jacob Isaia, Jaylen Kelly-Powell
April 15-17: Henry Bainivalu, Aashari Crosswell, J.T. Daniels, Matt Dotson, Eli Doyle, Jalen Hall, Marcus Johnson, Taariq Johnson, Joseph Lewis, Horace McCoy, Ben Mason, Brevin White
April 12: Naytron Culpepper
April 8-10: Christian Tutt
April 8: NCAA Outlaws Football Satellite Camps
April 3: O'Maury Samuels commitment
April 2: Junior Day: JaRaymond Hall, Brett Neilon; Phillip Paea commitment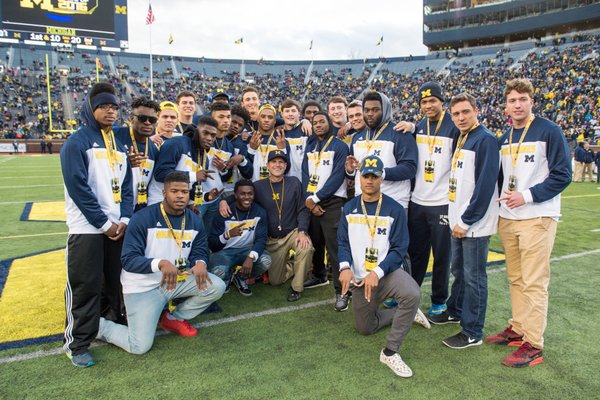 April 1: Spring Game Visitors--Jason and Justin Ademilola, Popo Aumavae, Jordan Anthony, Corey Bolds, Ellis Brooks, Jackson Carmon, Stephen Carr, Nico Collins, Meshael Custis, D'Ante Demery, Carter Dunaway, Mike Epstein, Nell Farrell, Kalon Gervin, Trenton Gillison, JaRaymond Hall, Fred Hansard, Dorian Hardy, Robert Hainsey, Xavier Henderson, Elvis Hines, Aidan Hutchinson, Antwuan Johnson, Chase Lasater, Deommodore Lenoir, Marquan McCall, Corey Malone-Hatcher, Mustafa Muhammed, Scotty Nelson, Phillip Paea, Jacub Panasiuk, Merlin "NeeNee" Robertson, Cesar Ruiz, Nolan Rumler, Bartek Rybka, O'Maury Samuels, Shayne Simon, Drew Singleton, Collin Smith, Kurt Taylor, Leonard Taylor, Major Tennison, Deontre Thomas, Malik Vann, Jeremiah Wood, etc. (Michigan Signees: Cameron Cheeseman, Dylan "Kekoa" Crawford, Nick Eubanks, Chris Evans, Devin Gill, Brad Hawkins, Ron Johnson, LaVert Hill, Khaleke Hudson, Nate Johnson, David Long, Elyse Mbem-Bosse, Eddie McDoom, Josh Metellus, Quinn Nordin, Michael Onwenu, Simeon Smith, Joshua Uche, Tru Wilson, etc. will also be at the Spring Scrimmage)
April 1: Leonard Taylor commitment
March 31: Chase Lasater commitment
March 28: Grant Calcaterra Visit; A.J. Dillon and J'Marick Woods commitments
March 26: Michigan Football Practice at Ford Field 12-4 p.m.
March 25-27: Naytron Culpepper, Wyatt Davis, A.J. Dillon, Eldine Dorvil, Otis Doss, George Douglas, Kalon Gervin, M.J. Griffin, Chase Hayden, Robert Hudson, Patrick Lupro, Jaylen Kelly-Powell, Phillip Paea, Donovan People-Jones, Devonni Reed, Jordan Reid, De'Andre Square, Jordan Ulmer, Jahz Watts, Eric Wilson, Nayquon Wright
March 24: Corey Bolds, Jordan Reid, Drew Singleton, J'Marick Woods
March 23: DeAndre Wilder
March 22: A.J. Dillon, Kalon Gervin, Sterling Jones, Eric Wilson
March 21: Antwuan Johnson and Joshua Ross commmitments
March 18-20: A.J. Abbott, Devin George, Ryan Gersonde, A.J. Harris, Derrick Hubbard, Kyron McKinnie-Harper, Zhamaine March, Taj Mustapha, LaBryan Ray, Lorenzo Robinson, Tyrone Sampson, Antjuan Simmons, Dorian Thompson-Robinson, Dwayne Thompson, C.J. Thorpe, Joshua Turner, Howard Watkins, Pete Werner
March 17: Jaelen Gill
March 11-13: Tyler Beach, Matt Dotson, Antwuan Jackson, Trey Pugh, Amir Riep, Leonard Taylor
March 8: Eno Benjamin
February 29: 1st Day of Practice at IMG Academy in Sarasota, FL
February 26-28: Kalon Gervin, JaRaymond Hall, Jaylen Kelly-Powell, Marquan McCall, Phillip Paea, Donovan People-Jones, Jordan Reid, Steven Spenner, Ambry Thomas, Tyrece Woods
February 21-23: Robert Daniel, JaRaymond Hall, Enzo Jennings, Dwan Mathis, Reggie Pearson, Antjuan Simmons, Dylan Stackhouse, Dominic Williams, Robert Zanders
February 6: Isaiah Wilson Visit
Observations on Michigan Football Recruiting in 2015
February 3, 2016: Signing with the Stars 11:00 a.m. with Ric Flair, Josh Gracin, Lou Holtz, Derek Holland, Desmond Howard, Jon Jansen, Jim Leyland, Todd McShay, Denard Robinson, Mike Shannahan, Jessica Szohr, etc. Meet Michigan's 2016 Commitments LaVert Hill (9:00 a.m.), Quinn Nordin (11:00 a.m.), Rashan Gary (1:00 p.m. on ESPNU), Connor Murphy, Boss Tagaloa and Devin Asiasi (3:00 p.m.) announcements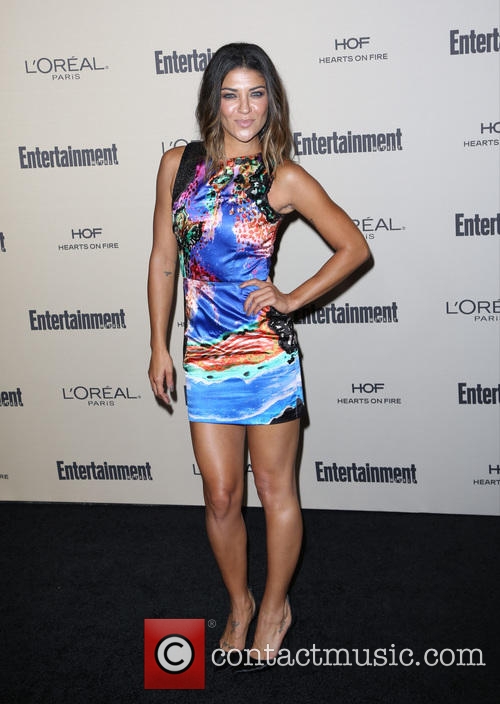 Preferred Walk-On Offers (26+) and 9 commitments: Hunter Arbit, Peter Bush, Tyler Cochran (commit), Max Daurelle, Bradley Deeg, Dane Drobocky (commit), Conner Edmonds (commit), Greg Gamble, Nash Griffin, Dan Jokisch (commit), Anthony Kay (commit) Tyler Lamica, Derek Lomax, Michael O'Malley, Cedric Mutebi, Carl Myers (commit)Brett Neilon, Michael Shuster (commit), Nathan Skene, Simeon Smith, Holden Thomas, Andrew Vastardis (commit) Cameron Whiteman and Tru Wilson (commit).
Michigan's Recruiting Class has a National Flavor
February 1: Dead Period, No Contact Allowed; Jordan Fuller Announcement
January 31: Anthony Kay, Tru Wilson commitments, Nate Johnson In-Home with Coaches Harbaugh and Partridge
January 29-31: Hunter Arbit, Isaiah Simmons Visit
January 30: Stephen Spanellis In-Home
January 29: Warde Manuel Announced as new Michigan Athletic Director
January 28: Nick Eubanks commitment
January 27: Eddie McDoom and Khaleke Hudson commitments, Rashan Gary and Jordan Fuller In-Homes with Harbaugh, Nick Eubanks visit
January 26: Tim Drevno In-Home with Victor Viramontes, Harbaugh In-Home with Chase Allen, Harbaugh offers Biff Poggi the Offensive Analyst position vacated by T.J. Weist
January 25: In-Home Visits with Jordan Elliott (Mattison), Eddie McDoom (Harbaugh) and LaVert Hill unofficial visit, Michael Dwumfour commitment
January 24: Elysee Mbem-Bosse and Joshua Uche commitments, In-Homes with Chris Evans and Jonathan Jones
January 23: East-West Shrine Game: Joe Bolden, Graham Glasgow, and Jake Rudock
January 23: Michigan Student Football Tryouts (55 Try Out) Taylor Krupp makes 2016 Michigan Football Team
January 22-24: Devin Asiasi, Joel Dublanko, Jordan Fuller, Rashan Gary, Elysee Mbem-Bosse, Eddie McDoom, Connor Murphy, Drew Singleton, Donald Stewart, Boss Tagaloa, Joshua Uche, Terrell Vassel
January 21: David Long commitment, Harbaugh to spend night at Chase Allen's House; Kiante Enis and Antwaine Richardson decommitments, In-Home Visits with Dontavious Jackson and Chris Brown
January 20: Elysee Mbem-Bosse In-Home Visit
January 19: Boss Tagaloa School Visit, Joshua Uche In Home Visit, Harbaugh to spend night at Connor Murphy's House, Erik Swenson decommitment
January 18: David Long and Isaiah Simmons In Home Visits
January 15-17: Chase Allen, Michael Dwumfour, Devin Gil, Devery Hamilton, Khaleke Hudson, Josh Metellus, Quinn Nordin, Michael Onwenu, Jake Raulerson, Stephen Spanellis
January 14: Dead Period Ends, Contact Period Begins; Harbaugh to arrive at Quinn Nordin's home at 12:01 a.m. on Friday the 15th and spend the night
January 12: Jim Harbaugh attends Obama State of the Union Address in Washington, DC
U.S. Army All-American Football Game--January 9-San Antonio, TX--Devin Asiasi, Dylan Crawford (commitment), Jordan Elliott, Jordan Fuller, David Long, Michael Onwenu, Brandon Peters
January 6: 2nd Semester begins with 7 new Michigan enrollees: Devin Bush, Kingston Davis, Carlo Kemp, Sean McKeon, Ahmir Mitchell, Brandon Peters and Kareem Walker
January 3: Semper Fidelis All-American Game Joel Dublanko, Khaleke Hudson, Tru Wilson
Under Armour All-American Game-January 2-Orlando, FL--Devin Bush, Rashan Gary
January 1: Bowl Game-Citrus Bowl vs. Florida 41-7
December 31: BCS Semi-Final Games--Orange Bowl and Cotton Bowl: Michigan State 0 vs. Alabama 38 and Clemson 37 vs. Oklahoma 17
December 27: Orlando Practice-Jonathan Jones visiting
December 20: Harbaugh names Don Brown as New Defensive Coordinator Don Brown to bring Intensity and Constant Blitzing as New Defensive Coordinator (How Boston College Built a Top 5 Defense)
How Much High School Football Is Too Much?
December 17: Kareen Walker commitment
December 16: Devin Bush commitment
December 14-January 13: Dead Period
December 13: Jeremiah Hollomon commitment; In-Home with Rashan Gary
December 12: Nate Johnson commitment
December 11-13: Jean Delance, Chris Evans, Brad Hawkins, LaVert Hill, Nate Johnson, Ron Johnson, Jonathan Jones, Eddie McDoom, Brandon Peters, Antwaine Richardson; also, Jim Harbaugh In-Home with Isaac Nauta on the 13th
December 9-10: John Baxter In-Home with Quinn Nordin; Coaches Harbaugh and Wheatley In-Home with Kingston Davis, Jedd Fisch In-Home with Nate Johnson, Jay Harbaugh In-Homes with Devin Asiasi and Connor Murphy
December 8: Jim Harbaugh, Tyrone Wheatley and Jedd Frisch to see Kareem Walker; Coach Partridge In-Home with Donald Stewart, and Donnie Corley and LaVert Hill announcements Postponed
December 7: University of Michigan Club of Greater Detroit Football Bust-Sold Out 1100 Tickets-Laurel Park Manor, Livonia-Jehu Chesson MVP
December 7: Victor Viramontes decommitment; Jordan Fuller In-Home, Jay Harbaugh In-Home with Nick Eubanks
December 4-6: John Baxter to visit Quinn Nordin; Greg Mattison visits Levi Onwuzurike and In-Home with Chris Daniels, 2nd In-Home Visit with David Long, Tim Drevno In-Home with Terrance Davis, and Mike Zordich had an In-Home with Khaleke Hudson
December 3-4 Coach Visits: Rakeem Boyd, Chris Daniels; Jay Harbaugh In-Home with Sean McKeon, Jedd Fisch & Jim Harbaugh In-Home with Dylan Crawford and David Long in California. New Linebacker Coach, Chris Partridge, dropped in on Jonathan Jones, Antwaine Richardson, and Devin Bush in Florida
December 2: D.J. Durkin announced as New Maryland Head Coach; Candidates to replace him include Scott Shafer, Jim Leavitt, Lance Anderson, Vic Fangio, Justin Wilcox, Mel Tucker, Jeremy Pruitt, Ed Donatell, Don Martindale, Dean Pees, Butch Davis, Randy Shannon, etc. Mattison will be Defensive Coordinator vs. Florida in Citrus Bowl. Pruitt to meet with Harbaugh Durkin Coaches with "Hair on Fire"
December 1: Coach Wheatley In-Home with Kingston Davis, Harbaugh visited Davis Mills
Coaching Carousel Spins Ever Faster
November 30: In Home Visits: Donnie Corley & LaVert Hill with Jim Harbaugh & Mike Zordich. Jay Harbaugh visited Isaac Nauta at IMG Academy, Jim Harbaugh to Brandon Peters, Tim Drevno visited Jean Delance, Tyrone Wheatley to Kareem Walker, D.J. Durkin & Greg Mattison visited Rashan Gary and Jordan Fuller.
November 28: Ohio State-Jayson Ademilola, Justin Ademilola, Tarik Black, Ben Bredeson, Chris Brown, Devin Bush, Keyshon Camp, Jackson Carman, Nico Collins, Donnie Corley, Max Daurelle, Deejay Davis, Kingston Davis, Terrence Davis, Matt Dotson, Carter Dunaway, Emil Ekiyor, Jordan Elliott, Chris Evans, Desmond Fairell, Tyler Friday, Deangelo Gibbs, Robert Hainsey, JaRaymond Hall, Devery Hamilton, Fred Hansard, Mecole Hardman, Brad Hawkins, Chase Hayden, Jaquan Henderson, LaVert Hill, J.J. Holloman, Derrick Hubbard, Dontavious Jackson, Ron Johnson, Jonathan Jones, Sterling Jones, Velus Jones, Joshua Kaindoh, Zack Kuntz, Elysee Mbem-Bosse, Marquan McCall, Jeffrey McCullough, Anthony McFarland, Corey Malone-Hatcher, Ahmir Mitchell, Quinn Nordin, Micah Parsons, Brandon Peters, Armani Posey, Antwan Reed, Cesar Ruiz, Nolan Rumler, Bartek Rybka, Benjamin St. Juste, Michael Shuster, Drew Singleton, Collin Smith, Simeon Smith, Markese Stepp, Allen Stritzinger, Erik Swenson, Cam Taylor, Kurt Taylor, Ambry Thomas, C.J. Turner, Victor Viramontes, Lamont Wade, Allen Walters, Austin Wilson, and Keyshawn "Pie" Young
November 7: Rutgers: Brandon Adams, Drew Beesley, Jimmy Bell, Peter Bush, Chris Daniels, Dane Drobocky, Carter Dunaway, Kingsley Enechukwu, Jordan Elliott, Dan Jokisch, Sam Kamara, Mustafa Khaleefa, John Kuchnicki, Tyler Lamica, Marquan McCall, Sean McKeon, Carl Myers, Quinn Nordin, Bryce Robinson, Josh Ross, Rolan Rumler, Simeon Smith, Jaden Sutton, Erik Swenson, Terius Wheatley, Tru Wilson
October 17: Michigan State: Alex Angelas, Korey Banks, Jacob Baldwin, Jordan Brewer, Donnie Corley, Keegan Cousou, Dylan Crawford, Zach Darwiche, Jean Delance, Conner Edmonds, Bailey Edwards, Emil Ekiyor, Chris Evans, Kalon Gervin, Brandon Gray, Rodney Hall, K.J. Hamler, Devery Hamilton, Chase Hayden, Noah Hendricks, Lavert Hill, Derrick Hubbard, Lamar Jackson, Guam Lee, David Long, Terrell Lucas, Dylan McCaffrey, Jake Marwede, Emani Mason, Isaac Nauta, Quinn Nordin, Michael Onwenu, Jeb Palka, Reggie Pearson, Brandon Peters, Chase Pine, Armani Posey, Antwan Reed, Charles Reeves, Jordan Reid, Josh Ross, Nolan Rumler, Benjamin St. Juste, Sir Patrick Scott, Antjuan Simmons, Marquis Smith, Allen Stritzinger, Eric Swenson, Kurt Taylor, Ambry Thomas, Delvin Washington, Jason Whittaker, Bryce Wolma, Tyrece Woods, and Keyshawn Young
October 16: Kurt Taylor commitment
October 10: Northwestern (Homecoming): Kailen Abrams, Quayshon Alexander, RaShawn Allen, Jordan Brewer, Devin Bush, Carter Dunaway, Trenton Guthrie, JaRaymond Hall, Brad Hawkins, LaVert Hill, Ron Johnson, Sam Johnson, Jaylen Kelly-Powell, Brandon Leach, Marquan McCall, Corey Malone-Hatcher, Dwan Mathis, Justin Mathis, Ahmir Mitchell, Quinn Nordin, Levi Onwuzurike, Ovie Oghoufo, David Reese, Josh Ross, Derek Smith, Simeon Smith, Allen Stritzinger, Erik Swenson, Kareem Walker, and Tyrece Woods
September 26: BYU: Christian Boyd, Keegan Cossou, Kingston Davis, Carter Dunaway, Chris Evans, T.J. Garrity, Rashan Gary, Mac Hippenhammer, Dytarious Johnson, Carlo Kemp, Corey Malone-Hatcher, Antwan Reed, David Reese, Kyle Sassack, Kurt Taylor, Nate Umlor, Allan Walters, Bryce Wolma
September 19: UNLV: Christian Boyd, Keyshon Camp, Kingsley Enechukwu, Derrick Hubbard, Jimmy Jaggers, Caleb Kelly, Philip Paea, Armani Posey, Micah Price, David Reese, Kyle Sassack, Antjuan Simmons, Steven Spenner, Cody White, Joshua Ross, Ambry Thomas, Jordan George-Nwogu
September 12: Oregon State: Johnathan Berghorst, Richard Bowens, Jonathan Brys, Matt Falcon, Cameron Feguer, Rodney Hall, K.J. Hamler, Alex Kressman, Jared Mayden, Davis Mills, David Reese, Josh Ross, Allen Stritzinger, Kurt Taylor, C.J. Thorpe, Nate Umlor, Victor Viramontes, etc.
CBS Sports Football Cost of College Attendance
College Athletes Cashing In with Millions in New Benefits
September 3: 1st Game at Utah
August 31: 1st Official Depth Chart
August 27: Ahmir Mitchell commitment/MHSAA Football First Games
August 24: Matt Falcon to miss Senior season with ankle injury, now offered medical scholarship as of October 18
August 22: Students only Practice at Michigan Stadium 7-10 p.m.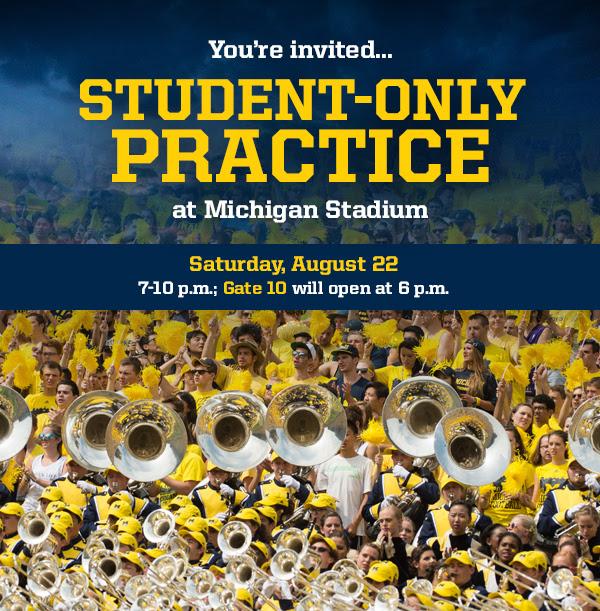 August 18: Antwaine Richardson reports torn ACL injury, to miss Senior Year Football Season
August 12: Bryan Mone breaks leg
August 10: MHSAA Football 1st Practice Day
August 10: Chris Daniels
August 7: Fall Practice begins
August 6-8: Rashad Weaver
August 6: Football Youth Fan Day 12 Noon-3:30 p.m.
August 2: Barbeque at the Big House: Jayson Ademilola, Justin Ademilola, Ben Bredeson, Donnie Corley, Terrence Davis, Devontae Dobbs, Carter Dunaway, Emil Ekiyor, Kiante Enis, Chris Evans, Matt Falcon, Kalon Gervin, JaRaymond Hall, K.J. Hamler, Brad Hawkins, Derrick Hubbard, LaVert Hill, Ron Johnson, Sam Johnson, El Julian Jordan, Jaylen Kelly-Powell, Carlo Kemp, Marquan McCall, Corey Malone-Hatcher, Dwan Mathis, Ahmir Mitchell, Michael Onwenu, Dam Payne, Donovan People-Jones, Brandon Peters, Armani Posey, David Reese, Josh Ross, Cesar Ruiz, Bartek Rybka, Sir Patrick Scott (commitment), Antjuan Simmons, Will Small, Jonathan Smith, Allen Stritzinger, Erik Swenson, Kurt Taylor, Ambry Thomas, Johncarlo Valentin, Terrell Vasel, J'Marick Woods, Tyrece Woods, etc.
July 31: Big Ten Kickoff Luncheon: Joe Bolden, Jehu Chesson and James Ross
July 18: Tony Butler, Brad Hawkins, Ron Johnson
July 16: Detroit Youth Impact Program
July 5-10: Elite 11 Finals at Beaverton, OR with Brandon Peters
July 3: Brad Hawkins commitment
June 29-30: Youngstown Satellite Camp
June 25: Ron Johnson commitment
June 24-28: Rashad Gary, Ron Johnson, Ahmir Mitchell, Cesar Ruiz, Naseir Upshur
June 24: Devery Hamilton commitment
June 23: Benjamin St. Juste commitment
June 20: Michigan Quarterback Camp
June 19-21: Jake Allen, Tarik Black, Tony Butler, Jack Coan, Jonathan Jones, Josh Mueller, Drew Singleton, Jimmy Taylor, Allen Walters, Jhonathan Williams, Brock White
June 19: Devon Gil commitment
June 17: Ben Bredeson and Josh Metellus commitments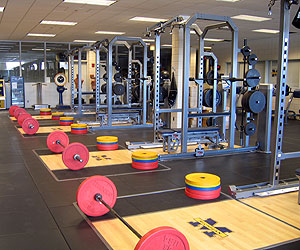 June 14-17: Michigan Football Camp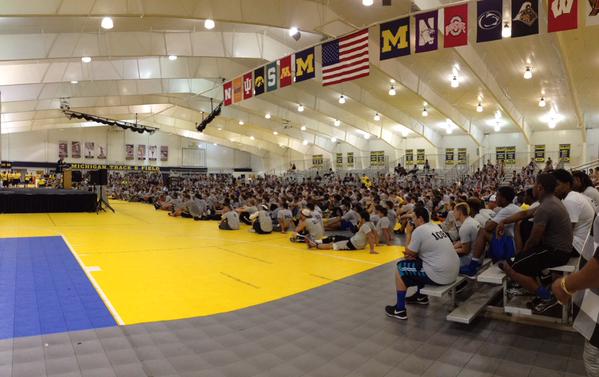 Jake Allen, Jafar Armstrong, Emil Ekiyor, Ja'Raymond Hall, K.J. Hamler, Kasim Hill, Hunter Johnson, Daniel Joseph, Corey Malone-Hatcher, Donovan People-Jones, Brandon Peters, Antjuan Simmons, Allen Stritzinger, Jaymest Williams
June 12-14: Devin Bush, Chase Claypool, Alphonso Cornish, Micah Croom, Brennon Dingle, Beau English, Tyshon Fog, Devin Gil (commitment), Nijuell Hill, Jonathan Jones, Joshua Kaindoh, Xavier Kelly, Sean McKeon (commitment), Josh Metellus (commitment), Trayvon Mullen, Jahcour Pearson, Donovan People-Jones, Patrick Rene, Morgan Scroggins, Steven Smothers, Amon-Ra St. Brown, Osiris St. Brown, Jonathan Sutherland, Naseir Upshur, Johncarlo Valentin, Binjimen Victor, Luiji Vilian, Jaymest Williams, Malek Young
Sound Mind Sound Body Camp Detroit
Korey Banks, Donnie Corley, Nate Craig-Myers, Micah Croom, Bailey Edwards, Desmond Fitzpatrick, DaQuon Green, K.J. Hamler, Ja'Raymond Hall, K.J. Hamler, Daelin Hayes, Lavert Hill, Naquan Jones, Michael Jordan, Daniel Joseph, Xavier Kelly, Jaylen Kelly-Powell, Brandon Leach, Sean McKeon, Tre McKitty, Michael Onwensu, Jahcour Pearson, Donovan People-Jones, Martell Pettway, Isaiah Pryor, David Reese, Patrick Rene, Joshua Ross, Steven Smothers, Allen Stritzinger, Jonathan Sunderland, Ambry Thomas, Naseir Upshur, Johncarlo Valentin, Binjamen Victor, Robert Washington, Malek Young, etc.
June 11: Fresno, California Satellite Camp
Caleb Kelly, Johnny Rojas, Victor Viramontes (commitment), Bryson Young
The Most Interesting Man in College Football: Jim Harbaugh
June 10: Mission Viejo, California Satellite Camp
Alex Akingbulu, A.J. Collins, Davaughn Cooper, Troy Dye, Lamar Jackson, Greg Johnson, Taariq Johnson, Jack Jones, Joseph Lewis, David Long, Tyler Lytle, Dezmond Patton, C.J. Pollard, Jaylon Redd, Nathan Tilford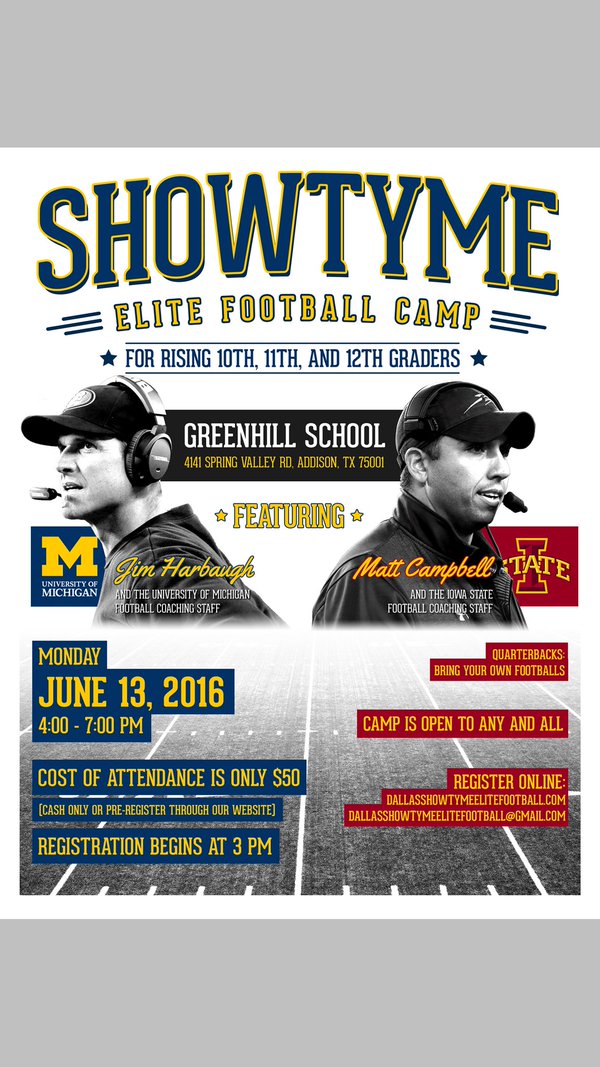 June 9: Dallas (Grand Prairie) Satellite Camp Register (250) Inside Look 5 Star Rating Good Impressions in Texas
Jack Anderson, Eno Benjamin, Tre Brown, Baron Browning, Eric Cuffee, Jean Delance, Levi Draper, Devin Duvernay, Donovan Duvernay, Anthony Hines, Kendric James, Hezekiah Jones, Jalen Mayden, Jared Mayden, Jeffrey Okudah, Roshauud Paul, Shawn Robinson, Darrell Simpson, Raleigh Texada, Casey Thompson, Rahssan Thornton, Tracin Wallace, Tylan Wallace Summer Swarm lands in Texas Video
June 8: Houston Satellite Camp
Jhamon Ausbon, Chris Brown, Toneil Carter, Isaiah Chambers, Austin Decalus, Jordan Elliott, Dontavious Jackson, Jeffrey McCullough, Lorenzo Neal, Donovan Stiner, Keith Sullivan, Marvin Wilson, Brock Wright
Harbaugh's Summer Swarm Tour has people talking
June 7: Lafayette College Easton, PA Satellite Camp (1400)
Jayson Ademilola, Justin Ademilola, Michael Dwumfour, Drew Singleton
June 6: Miami, FL (Remember the Titans at the Big House)
Tyler Dunning, Devin Gil (commitment), Dallas Jeanty, Terrell Lucas, Jordan Merrell, Josh Metellus (commitment), Kato Nelson, James Sutton, Clevan Thomas, Dominick Watt, Rashad Weaver (commitment), etc.
June 6: Tampa, FL Satellite Camp Bollingbrook, IL USF Willie Taggart Harbaugh appearance benefits Bulls
Devan Barrett, Decalon Brooks, Zachary Carter, Marwan Gilmore, Daquon Green, Tre' McKitty, Isaiah Macklin, Jayvaughn Myers, Jarez Parks, Antwaine Richardson (commitment), Alex Rodriquez, K.J. Sails, etc.
June 5: Prattville, Alabama Satellite Camp (475) Harbaugh goes shirtless Northern Agitator in Prattville Area Talent enjoys Harbaugh
Marlon Davidson, Kingston Davis, Dytarious Johnson (commitment), Bronson Steiner, J'Marick Woods, etc.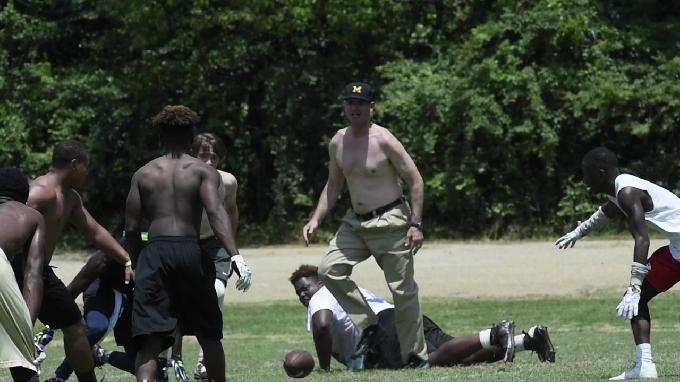 June 4: Indianapolis Satellite Camp (165) Video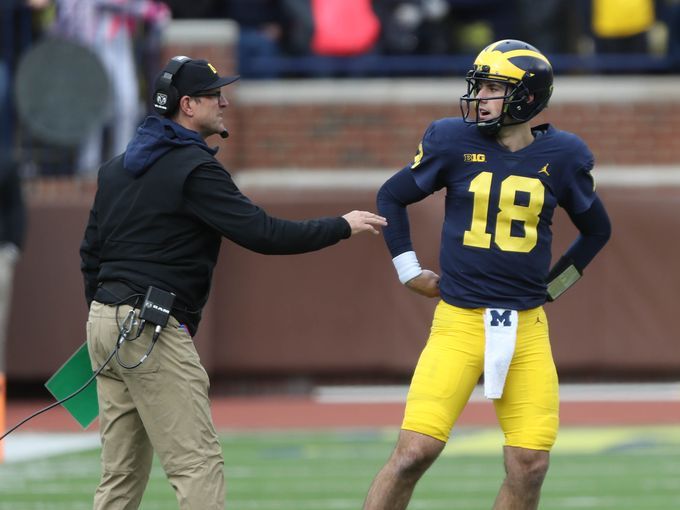 Alex Aglee, Brock Burns, Tyronne Caldwell, Jaylin Dickerson, Emil Ekiyor, Kiante Enis (commitment), Chris Evans (commitment), Kordell Looney, Brandon Peters, R.J. Potts, Drew Schoerbel, Markese Stepp, Javon Swann, etc.
June 2: Carter Dunaway, K.J. Hamler, JaRaymond Hall, Jaylen Kelly-Powell, Donovan Peoples-Jones, Josh Ross, Allen Stritzinger, Ambry Thomas
June 2: Michael Onwenu commitment
May 30-31: Ben Bredeson (commitment), Kiante Enis (commitment), Chris Evans (commitment), Matt Falcon (commitment), Khalid Kareem, Austin Mack, Corey Malone-Hatcher, Dylan McCaffrey, Brandon Peters, Auston Robertson, J.D. Spielman, Donald Stewart for Winter Carnival
May 22: Assistant Director of Football Operations Job Posting Deadline is May 29
May 13: Jim Minick, Director of Football Operations, arrested on DUI-Suspended Indefinitely; Blake Countess announced leaving Michigan (Transfer to Auburn)
May 12: Dennis Norfleet Dismissed from Team, Academic Difficulties
May 8-10: Austen Robertson, Cole Van Lanen
May 1-3: Austin Mack
April 24-26: Alex Akingbulu, Devery Hamilton (commitment), Jimmy Jaggers
Harbaugh Invites Coaches from all NCAA Division I Football Programs to Satellite Camps (SEC won't send coaches)
April 21: Winter Term Ends
April 8: Matt Falcon commitment
April 6: Kingston Davis commitment
Observations on the Michigan Spring Game 2015
April 4: Spring Game-Practice #15-Toks Akinribrade, Austin Anderson, Riley Anderson, Chris Brown, Tony Butler, Donnie Corley, Kingston Davis, Terrance Davis, Camilo Eifler, A.J. Epenesa, Matt Falcon, Zach Gentry, J.J. Givens, Jordan George-Nwogu, JaRaymond Hall, Karan Higdon, Derrick Hubbard, Dontavious Jackson, Hunter Johnson, Shelton Johnson, Khalid Kareem, Jaylen Kelly-Powell, Tyree Kinnel, Marquan McCall, Grant Newsome, Quinn Nordin, Michael Onwensu, Donovan Peoples-Jones, Grant Perry, Brandon Peters, Donovan Peoples-Jones, Isaiah Pryor, Hunter Rison, Josh Ross, Todd Sibley, Antjan Simmons, Taurus Simpson, Will Small, Allen Stritzinger, Darrius Stokes, Keith Washington, Tyrone Wheatley Jr., Taron Vincent, and Abdullah Yaseen.
300 M Letterwinners coming to Spring Game
April 4-David Reese commitment
April 3-Brandon Peters commitment
April 2-14th Practice
March 31-13th Practice
Harbaugh Cancels Women's Football Academy and Men's Football Experience
March 28-Cary Angeline, Corey Banks, Devin Bush, Emil Ekiyor, Desmond Fitzpatrick, Rashan Gary, Joshua Hammond, Brad Hawkins, Jaelin Hayes, Ron Johnson, Michael Jordan, Khalid Kareem, Josh King, Cedric Lattimore, Ahmir Mitchell, Michael Onwenu, Isaiah Pryor, Andrew Pryts, David Reese, Demetric Vance, Jaymest Williams/12th Practice
March 26-Blake O'Neill/11th Practice
March 24-10th Practice
March 21-9th Practice
March 19-8th Practice
March 17-7th Practice/Jalen Cochran/Donnie Corley/Josh Jackson/Michael Jordan/Michael Onwenu/Jake Rudock
March 14-6th Practice
March 12-Logan Byrd, Jordan Fuller, K.J. Hamler, Khalid Kareem, Caleb Kelly, Cavaughn Stewart, and David Tate visits/5th Practice
March 10-4th Practice
March 6-8-Austin Mack visit
Winter Recess: February 28-March 8
February 27 (3rd Practice)-March 1 Visitors: Matt Falcon, Desmond Fitzpatrick, Corey Malone-Hatcher, Will Small
February 26-2nd Practice
February 24-1st Spring Practice
February 20-22: Bryce Brand, Rodney Hall, Corey Malone-Hatcher, John O'Korn, Josh Ross, Taeshon Trotter, Tim Walton
February 17: Donnie Corley, Matt Falcon, Desmond Fitzpatrick, Michael Jordan, Khalid Kareem, Michael Onwenu, Donovan People-Jones, David Reese, Demetric Vance
Observations on Michigan Football Recruiting in 2014
February 4, 2015 Signing Day Note: The signing period extends to April 30
February 4: Tyrone Wheatley Jr., Shelton Johnson, Karan Hidgon, Keith Washington commitments
February 3: Grant Perry commitment
Visits January 30-February 1: Jarius Adams, Karan Higdon, Van Jefferson, Blake O'Neill, Michael Oliver, Jon Runyan Jr. and Chris Terech (M vs. Penn State Wrestling on January 30)
January 28: Chris Clark In-Home Visit
January 27: Tyrone Wheatley Jr. Visit
January 26: Iman Marshall In-Home Visit
January 25: Nolan Ulizio commitment
January 24: Reuben Jones and Zach Gentry commitments
Visits January 23-25: Iman Marshall Jan. 19, Markell Bush, Zach Gentry
Rueben Jones, Will Lockett, Jake Pickard, Matt Snyder, Nolan Ulizio, Reagan Williams, and Chris Williamson (M vs. Wisconsin Basketball on January 24 at Crisler Arena/Swimming vs. Ohio State/Wrestling vs. Wisconsin on January 23 at Cliff Keen Arena)
January 21: Ryan Davis and Damon Arnett In-Home Visits
Visits January 16-18: Damon Arnette, Chris Clark, Andrew David, Shelton Johnson, Tyree Kinnel, Roquan Smith (M vs. Northwestern Basketball on January 17 at Crisler Arena/Wrestling vs. Ohio State on January 18 at Cliff Keen Arena)
Dead Period ends January 14, Contact Period begins January 15
January 7: Classes Resume Alex Malzone and Brian Cole enroll, First Team Meeting under Coach Harbaugh
Coach Harbaugh Introduction to Team 136 and Winter Conditioning Schedule
Michigan Football Coaching Search 2014
December 30-Jim Harbaugh named New Head Football Coach
December 2-Chris Clark Decommitment
December 2-Brady Hoke and Staff Fired