The Ann Arbor-Battle Creek Football Rivalry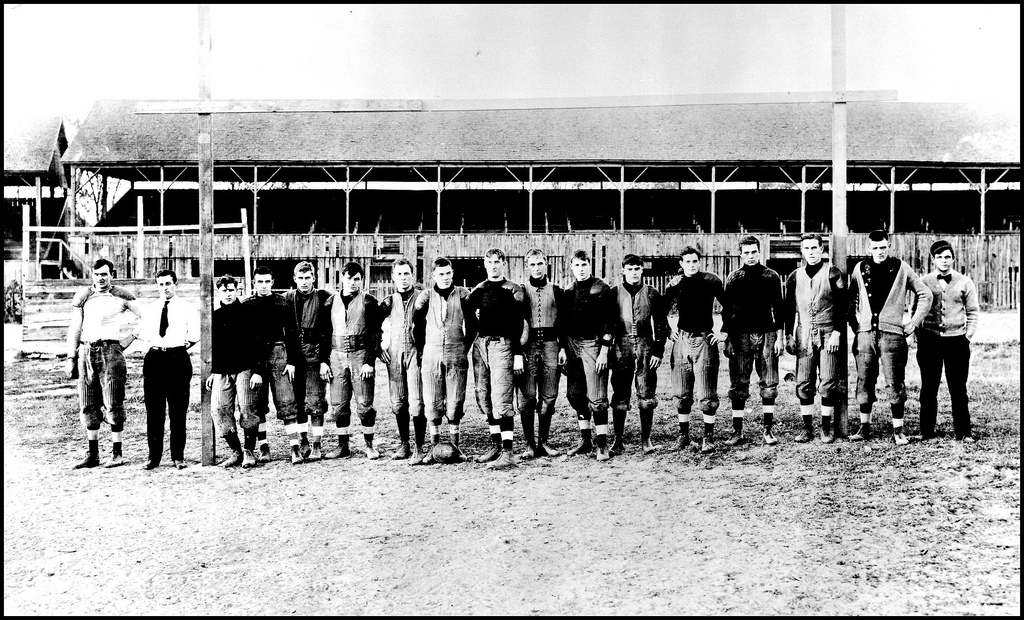 Ann Arbor High School Football State Champions in 1908 with Ernie Allmendinger and John Maulbetsch, their first All-Americans
During the 1960s, perhaps the top football rivalry in the State of Michigan was between the Ann Arbor Pioneers and the Battle Creek Central Bearcats. Both teams competed in the Six-A League, 1953-1972, which began in 1930 as the Five-A League; Kalamazoo Central was added in 1953. Ann Arbor began to play football in 1886, and even played the University of Michigan in 1891 losing 61-0. Battle Creek began football in 1893, and has the oldest rivalry in the state with Kalamazoo Central playing 111 games through 2014; incidently, the Bearcats lead the series 60-47-4. The Pioneers claimed and/or earned 15 state titles in 1896, 1897, 1898, 1899, 1908, 1909, 1923, 1940, 1941, 1943, 1952, 1955, 1962, 1984 and 1987. Through 2014, Pioneer has 714 wins, 2nd in State History while the Bearcats hold 579 victories which ranks 7th. Muskegon High School has the most wins with 798, and most titles with 17. Lansing Sexton is fourth with 633 wins, and Kalamazoo Central has 502 wins which ranks them 11th.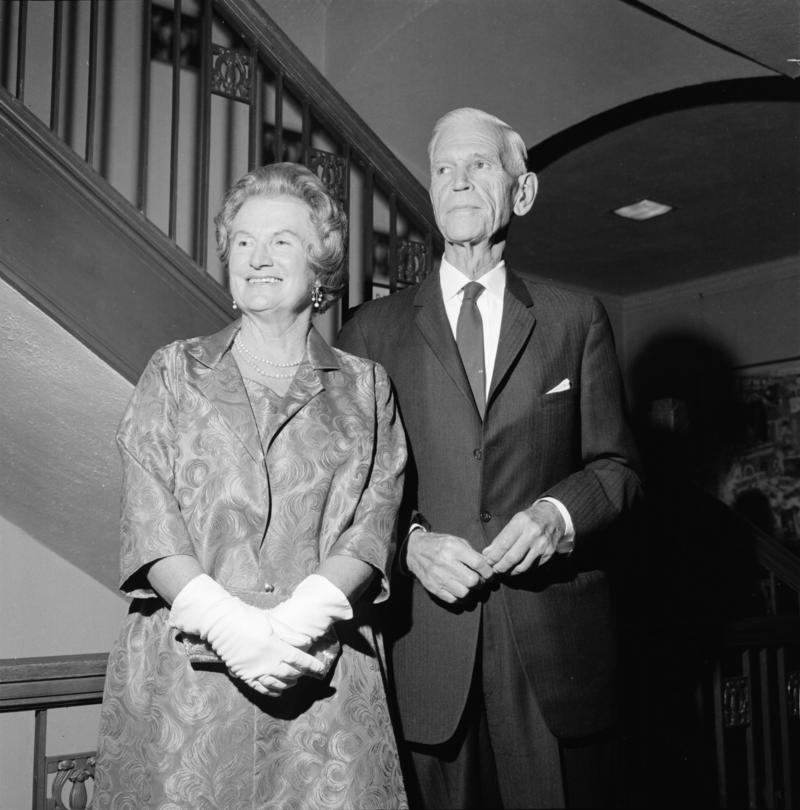 Mr. & Mrs. Lou Hollway in 1966; he also coached the Pioneers to a State Title in Golf in 1931, and was Athletic Director, 1927-1961
D.W. Springer coached five seasons, 1896-1900, with a 20-12-4 record. Albert Taft was the first paid coach at Ann Arbor High School in 1902; he had a 9-6-1 record in two seasons. After four one year coaches, Hickey, Roy Barnett, Roy Beechler, and Fred Newton, Bill Miller coached the Pioneers three seasons, 1908-1910, with a 23-3 record. William Apple coached for the next four seasons, 1911-14, with a 19-15 record. George Kennedy, Stanley Joseph, F.R. Shaffer, and 1915-1918, and Don Lawler coached, 1919-1921 with a 23-5-3 record. Lou Hollway coached Ann Arbor High School, 1920-1938, and had the football field named after him when the school moved from downtown at Huron & State Street to Stadium & Main Street in 1954. Hollway's record was 88-49-12 with a state title in 1923. Ann Arbor High School football had several great players who went on to play college and professional football; some were Ernie Allmendinger, John Maulbetsch, Otto Pomerening, Doug Nott, and Bob Westfall.

John Maulbetsch, the Human Bullet
The Five-A League was one of the two toughest athletic conference in the state in all sports along with the Saginaw Valley League. The league consisted of the Ann Arbor Pioneers, Jackson Vikings, Battle Creek Central Bearcats, Lansing Eastern Quakers, and the Lansing Sexton Big Red (formerly Lansing Central); the Kalamazoo Central Giants were added later. Lansing Central won state titles in football, 1917-1919 and 1937-1939, Lansing Eastern won titles, 1933-34, Jackson won 1930 and 1942 titles, and Sexton earned their titles in 1946 and 1961. In Basketball, Jackson won state titles in 1929, 1948, and 1955; Kalamazoo won titles in 1932, and 1949-1951 while Lansing Eastern won in 1934 and Lansing Central/Sexton won in 1935, 1945, 1959, and 1960. Ann Arbor was the only league team who didn't win a state title in basketball; they lost in overtime to Ferndale in 1966 in the Earle Higgins era, but that was remedied in 1999. From 1925-1970, the conference had 22 finalists and crowned 11 champions; since then former league teams have won 4 titles with only six finalists, 1971-2015.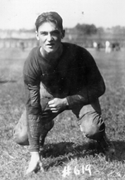 Kip Taylor
After World War II, LaVerne "Kip" Taylor left Ann Arbor High School after posting a 42-7-4 record, 1939-45, including State Championships in 1940, 1941, and 1943. Taylor left Ann Arbor to join Clarence" Biggie" Munn at Syracuse in 1946 then Michigan State, 1947-48, before becoming Head Coach at Oregon State, 1949-54; Munn played football at Minnesota, 1929-1932, and was Crisler's top assistant coach at Michigan, 1938-45. Taylor graduated from Ann Arbor High School in 1927 starring in football and basketball; he caught the first touchdown in Michigan Stadium when it opened on October 1, 1927 while playing Right End for the Wolverines. He won the Meyer Morton Award that season. After coaching for the Beavers, Taylor returned to Ann Arbor where he managed the University of Michigan Golf Course until he retired in 1972; he passed away in 2002 at the age of 94. William Ball Memorial Trophy
Donald "Dobbie" Drake, Taylor's assistant, took over the team for three seasons without much success, 1946-48, with a 6-17-1 record. Drake coached football, swimming, tennis, and wrestling at Ann Arbor High School, 1926-1949; he was head coach of swimming. Drake's son coached at Ypsilanti and Kalamazoo Central, and his grandson, Dob Drake coached at Kalamazoo Central, Loy Norrix and Hackett High Schools until 2012 to extend three generations of football coaching in Michigan, 1926-2012. Hank Fonde was hired in 1949 after competing for the Wolverines, 1945-48, at halfback; Michigan was undefeated in 1947 and National Champion. Fonde led the Pioneers to a 69-6-4 record, 1949-1958, with State Championships in 1952 and 1955. John Morrow played, 1949-51; he went on to star at Michigan, the Los Angeles Rams, and the Cleveland Browns. Don Dahonney was one of Fonde's stars who went on to earn All-American status at Michigan State. Another one of Fonde's stars was quarterback captain, Jack Lousma, who played at Michigan before becoming a famous astronaut. Fonde accepted an assistant coaching position with his former teammate, Bump Elliott, 1959-1968. Another one of Fonde's teammates at Michigan, Bob Hollway, and son of Lou Hollway, would also coach with Fonde under Elliott until he left to coach the Purple People Eaters for the Minnesota Vikings. Clarence "Jay" Stielstra was hired to replace Fonde in 1959; he was a Big Ten Long Jump Champion and track hurdler who also lettered in basketball for the Wolverines, and was too small at 150 lbs. to star in his favorite sport, football. Stielstra compiled a 51-12-1 record, 1959-1966, until leaving Ann Arbor High School to initiate football at Ann Arbor Huron High School, 1967-73. Chuck Ritter replaced Stielstra, 1967-1979, and ended his stint with a 69-42-1 record. Three of Ritter's outstanding players were Keith Bostic, Don Dufek Jr., and Bob Elliott went on to successful college and professional football careers including coaching football. Ann Arbor Football History
Battle Creek Central High School was built in 1909 just three years after W.K. Kellogg founded the Kellogg Toasted Corn Flake Company which helped the city become known as "Cereal City." The Bearcats had never won a state title although they also competed in the tough 5-A Conference since 1930. Battle Creek Central hired Escanaba native and former Michigan State basketball letterman, John B. "Jack" Finn, in 1958, the same season that Fonde left Ann Arbor High School. Fonde's teams pulverized Battle Creek throughout the 1950s holding a 9-0-1 edge as the Pioneers were undefeated in the conference thoughout the decade. Finn coached football and track while teaching higher level mathematics; he built a powerful program during his tenure, 1958-1968. His teams were "cat quick," well-disciplined and speedy. One of his "pet plays" was a wingback reverse where the entire line went for a sweep on one side of the field, and one of his fastest and quickest players took a handoff going the opposite direction. It was a backbreaker for the opposition. In addition to winning three state football championships, 1965, 1966, and 1968, his track teams also won three state titles, 1964, 1967, and 1968. It was a great era for Bearcat athletics as their wrestling team, led by Floyd Oglesby and one of Finn's assistants, Sonny Tgiros, also won a state title in 1966. Oglesby went on to become Mayor of Battle Creek. Battle Creek has also been a "cutting edge" swimming programs with former Michigan swimmer, Charles McCaffree, founding its program in 1930, and winning state titles, 1931-1935; John Vydareny, Bob Mowerson, Hal Smith, Tom Stubbs, and Paul Vogel continued to add 10 more state championships, 1936-1966, while settling for runner-up 9 times in that stretch. 1956 Grape Nuts Commercial with McCaffree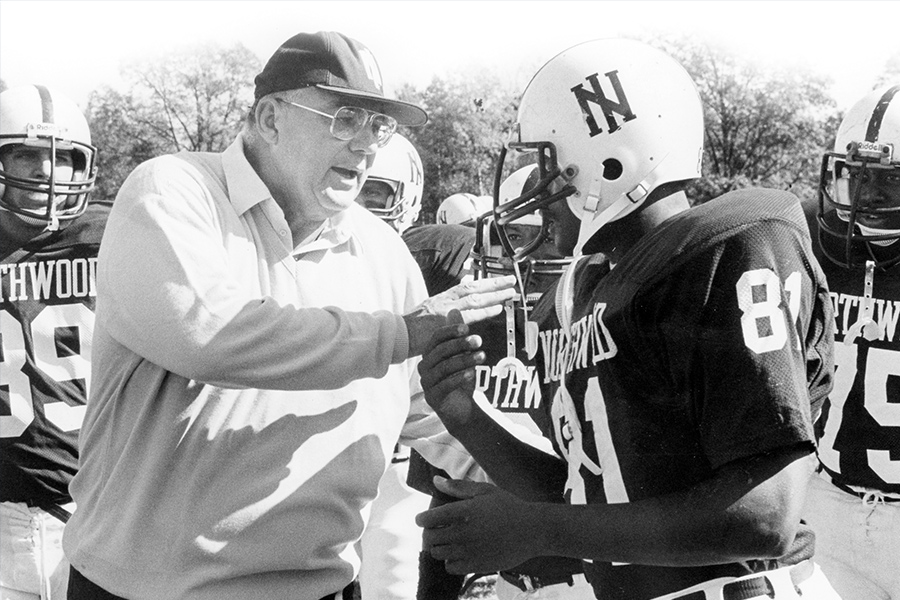 Finn is shown coaching at Northwood; he led the Battle Creek Central Bearcats to their three state titles. Finn is a great example of how one person can make a huge difference!
On October 12, 1962, the two teams were undefeated and met in Ann Arbor; the Bearcats were leading, 14-12, with 20 seconds left in the game. Chuck Menefee hit Ken Dyer for a score to win the game, 18-14. Pioneer also had a fabulous goal line stand early in the game. Pioneer shut out four opponents that season, and only allowed 27 points in 8 games. Both teams finished the season ranked #1 and #2. 1962 Ann Arbor Highlights Dyer went on to play football at Arizona State, then the Cincinnati Bengals. The year prior, Pioneer took a 14-12 win at Battle Creek, but the Bearcats decisively won the 1963 game, 34-0, to end Pioneer's dominance; it was their first win since 1949 over Ann Arbor. Finn's 1963 and 1964 squads were ranked #8 in the state, but his 1965 and 1966 teams were undefeated; in fact, the Bearcats won 26 games in a row, 1964-1967. The 1967 team was ranked #4, and Finn's final year in 1968 ended with another undefeated Bearcat unit. Battle Creek took 6 of 10 games from Ann Arbor in the decade of the 1960s.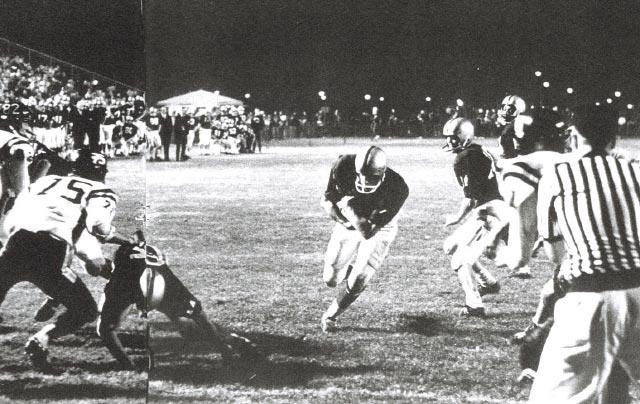 Tom Weinmann takes a handoff from Dave Beemer as the Pioneers defeat Kalamazoo Central in 1964 Weinmann went on to play at Michigan. Dave Hampton was another great player for the Class of 1965 who went on to play professional football.
For the next 18 seasons, Finn coached Northwood Institute in Midland and was also athletic director through 1989. The Six-A League briefly became the Seven-A League, 1972-1974, with the addition of Ypsilanti, but then ceased to exist after being the top football conference in the state, 1930-1974; the reason for the demise of the conference was reducing travel costs. Pioneer joined the South Central Conference, and had some success under Coach Chuck Lori with a 90-22 record from 1980-90 which included two state titles in 1984 and 1987, but since that time Ann Arbor Pioneer has been through six different head coaches (Paul Test, Tony Annese, Pat Fox, Chuck White, Jeremy Gold, and Jari Brown) and moved to the Southeastern Conference after three years as an independent. Lori had several great players including Aaron Bailey. Two more of Lori's outstanding players were Jim and John Harbaugh; they would later meet as the Head Coaches of San Francisco and Baltimore in the 2013 Super Bowl. Both attended Pioneer when their father, Jack, was coaching at Michigan, 1973-1979. Jim accepted the Head Coach position at Michigan in 2015. Another Pioneer graduate, Drake Johnson, is expected to be Harbaugh's top running back with three years of eligibility remaining, and Harbaugh is allowing the Three-Time State Hurdles Champion to run track; Brady Hoke would not permit Johnson to participate in track.
Battle Creek Central also was without a conference for a decade until joining the Southwestern Conference in 1984. The State of Michigan began its playoff format in 1978 for both football and baseball to determine team champions. Until that time, fans had to rely upon rankings by reporters like Hal Schram, the Swami, to determine who the best high school football teams were. New MHSAA sports have been added including soccer, lacrosse, bowling, and skiing; there are now has over 300,000 high school students participating in 28 sports from 1500 member schools with 1.6 million spectators enjoying these activities. Michigan ranks 7th nationally in high school sports participation, but football participation rates have declined. There are nearly 40,000 boys from almost 600 schools participating in 11-man football in the state, and nearly 1.1 million nationally from over 15,000 schools. Pioneer also holds the distinction with the first female athlete scoring a touchdown in Michigan football on September 17, 1999 with Breeann Smith barreling in from 3 yards in a 54-22 mauling of Traverse City Central; she finished the game with 6 carries for 22 yards. Timeline of Girls in Tackle Football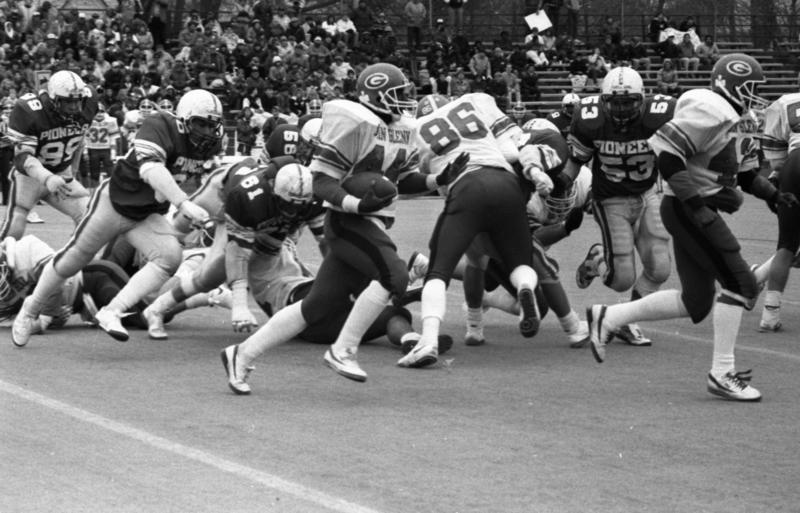 Pioneer lost to Westland John Glenn in the Regional Final November 14, 1986 13-20
While Pioneer grew to over 3,700 students in the 1960s before Huron was built in 1969; since 1985, Pioneer has had a low of 1,670 students to as many as 3,822. There are now three major high schools in the city with athletic programs: Pioneer, Huron and Skyline with total enrollment of approximately 6,000 students. Lansing Eastern had 2,364 students in 1985, and are down to 956 in 2015. Lansing Sexton had 2,125 students in 1985 are are down to 654; they are competing in Division IV football. Jackson High has lost 40% of its 1985 student count, and Kalamazoo Central has lost over 20% over the same period. Battle Creek peaked at 2,071 students in 1999, but now has only 1,115 students. Neither team has been close to a state title since the Pioneers won their last one in 1987, and the Bearcats in 1968. State of Michigan Top Football Rivalries in 2015: Marquette vs. Negaunee; Novi Catholic Central vs. Birmingham Brother Rice since 1962, and Battle Creek Central vs. Kalamazoo Central. Michigan Football Rivalries
Ann Arbor Huron vs. Pioneer Football Rivalry
Ann Arbor Pioneer High School State Championships by Sport
Ann Arbor Pioneer High School Legacy Award Winners
Ann Arbor Pioneer High School Alumni Award Winners
Ann Arbor Pioneer High School Voluneer Award Winners
Ann Arbor Pioneer High School Athletic Director History