Observations on the win over Rutgers, 35-14
Michigan created 5 red zones for 28 points; two in the second quarter by new Quarterback Brandon Peters. Rutgers gained one red zone for 7 points, but scored no points off one Wolverine turnover.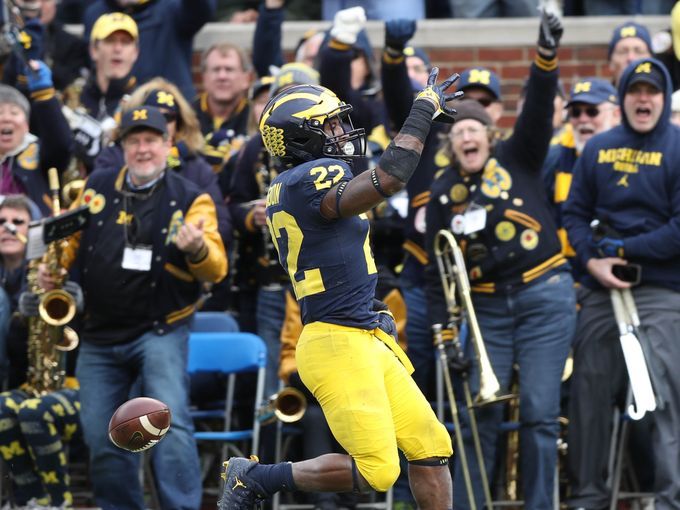 Offense rolled to 25 first downs, 334 rushing yards, with 471 net yards, and were 4 of 11 in 3rd and 4th down conversions. Our new quarterback, Brandon Peters, threw for 124 yards, and was 10 of 14 for a TD. Karan Higdon gained 158 yards on 18 carries for 2 TDs. Ty Isaac gained 109 yards on 14 carries. Kareem Walker gained 34 yards on 4 carries for his first Wolverine touchdown, but unfortunately Walker, Isaac and Michael Onwenu left the game in the 4th quarter with ankle injuries. Khalid Hill scored on a 1 yard plunge. Chris Evans ran 5 times for 29 yards, and caught the TD pass of 20 yards. Nico Collins got his first reception as a Wolverine for 12 yards moving us into a red zone. Sean McKeon had 3 catches for 31 yards, and 10 receivers caught passes. Our time of 13 minute possession advantage resulted in running 24 more offensive plays. Juwuan Harris led the Scarlett Knights with 9 tackles and an interception; K.J. Gray also had 9 tackles.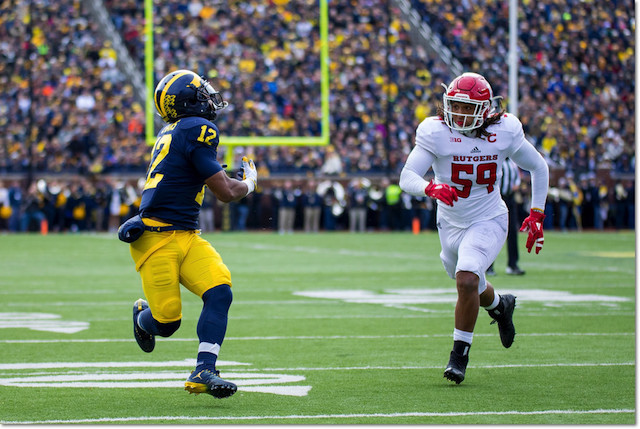 Defense held Rutgers to 9 first downs, and 195 net yards; the Scarlett Knights punted 8 times with 3 "3 and outs." Devin Bush led the defense with 11 tackles, and Maurice Hurst had 8. We sacked Giovanni Rescigno 5 times as he completed 8 of 16 for 101 yards. Unfortunately, the defense gave up 4 big plays including a 65 yards TD romp by Janarion Grant. Devin Bush had 11 tacles, 2 for loss including half a sack. Maurice Hurst had 8 tackles, 2 for loss with a sack. Aubrey Solomon got his first start at Nose Tackle.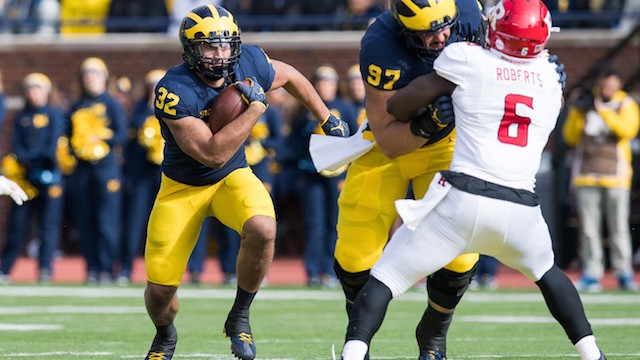 James Foug kicked off 6 times with 3 touchbacks, but we gave Grant a 27 yard return that Nick Schoenle luckily tripped him up. Quinn Nordin missed an easy field goal attempt in the red zone. Donovan Peoples-Jones fumbled a punt return, and ended up with 3 returns for 28 yards including a 17 yarder. Ambreee Thomas also had 3 returns for 59 yards including a 32 yarder, but he also fumbled on one return.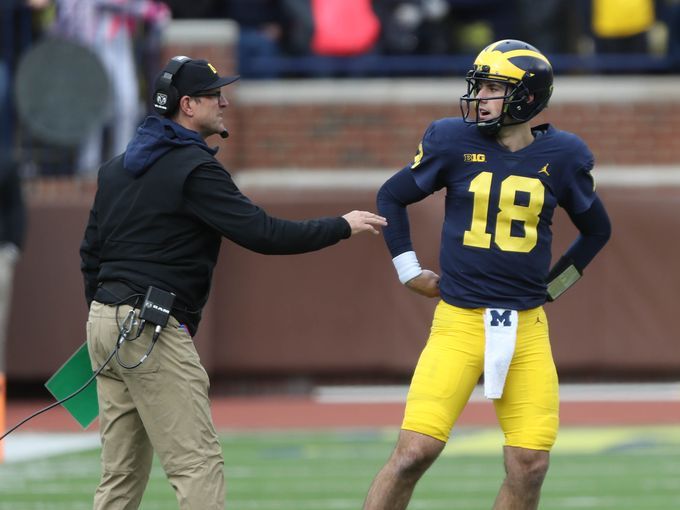 Stephen Spanellis got a lot of reps today on the offensive line including late in the game at Left Tackle while Cesar Ruiz played Left Guard, and Jon Runyan at Right Guard. Aubrey Solomon played much of the game at Nose Tackle. Kekoa Crawford did not dress today.
Bring on the Gophers! Go Blue!!!
Observations on the first half with Rutgers Box Score Player Participation Highlights Post Game Press Conference Harbaugh on October 23 Players