Observations on the win over Florida, 33-17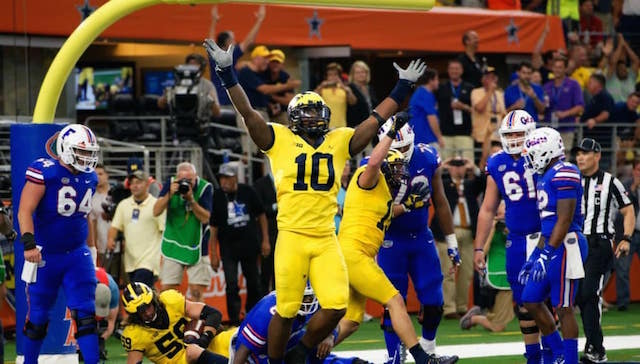 Michigan converted 4 red zones for 13 points; Florida gained no red zones against our "solid" defense. The Gators converted two Wolverine turnovers into 14 points in the first half, and the Wolverines capitalized on 3 Florida miscues for 13 second half points.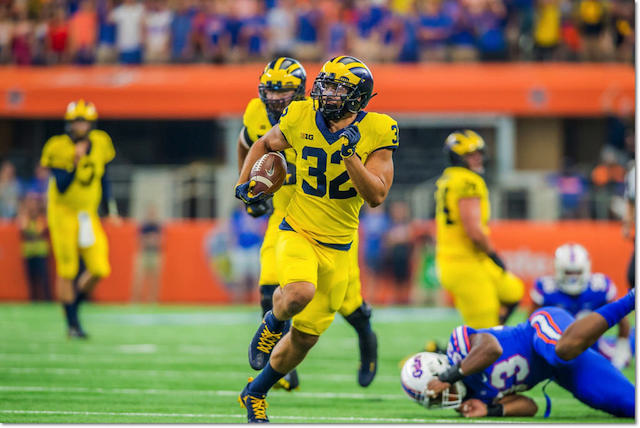 Offense gained 433 net yards, 215 on the ground with 19 first downs, and were 7 of 19 on 3rd and 4th down conversions. Ty Isaac led the offensive assault with 114 yards on 11 carries. Chris Evans carried 22 times for 78 yards, and Karan Higdon gained 28 yards on 7 carries for a TD. Wilton Speight completed 11 of 25 for 181 yards including a 46 yard TD strike to Tarik Black; however, he threw two touchdowns to Florida with 48 and 41 yard interceptions. Black has two grabs for 83 yards. Grant Perry had 4 catches for 47 yards, and Sean McKeon had 3 catches for 25 yards. Nick Eubanks grabbed two including a 48 yarder. John O' Korn was one for one for 37 yards. David Reese led the Gators with 11 tackles. Florida had 5 sacks.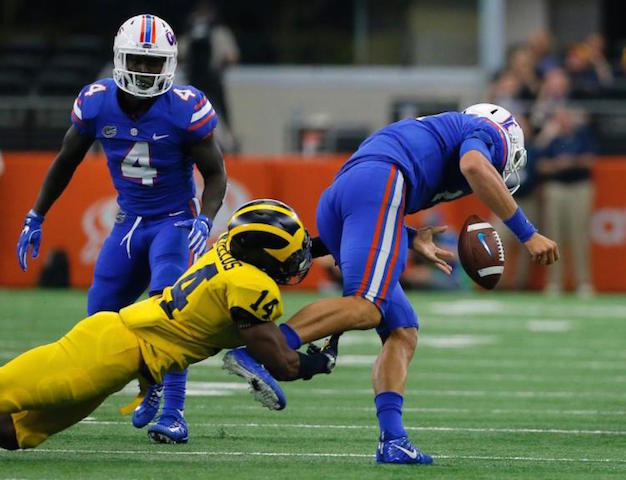 Defense was dominant! We held the Gators to 192 yards in total offense with only 11 on the ground with just 9 first downs, and only 3 of 15 in 3rd and 4th down conversions. Devin Bush had 7 tackles, 3 for loss including 2 sacks. LaVert Hill has 3 tackles, and Khaleke Hudson has 2 tackles plus a quarterback hit. Gator quarterbacks combined for 14 of 26 for 181 yards with 6 sacks. We completely dominated the game defensively after the opening drive where they got their only 3 offensive points of the day; we shut out their offense the rest of the way with no red zone opportunities.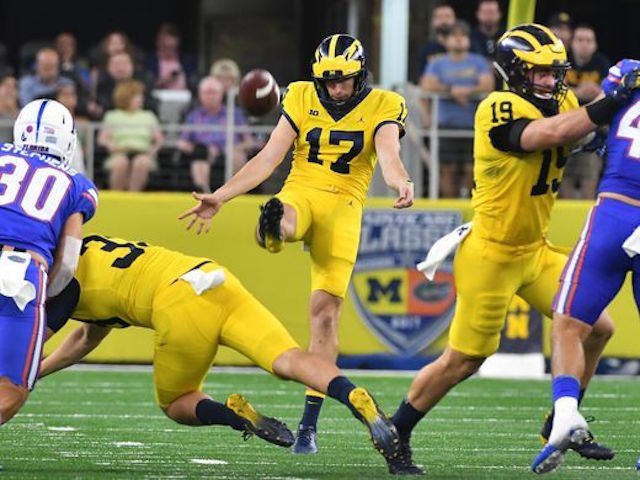 Special Teams were hot and cold. Kickoff coverage with Kickoff Ace James Foug was outstanding. Quinn Nordin hit 4 of 6 field goals including two from over 50 yards, the first Wolverine placekicker to hit two from the 50 in the same game. Will Hart's had three punts for 82 yards. Donovan Peoples-Jones had 5 returns for 40 yards, but two from inside the 10. We held a 9 minute time of possession advantage resulting in 22 more offensive plays. Josh Metellus, Chase Winovich and Ambry Thomas caused the three fumbles with Noah Furbush recovering one for a TD, and other recoveries by Lawrence Marshall and Thomas.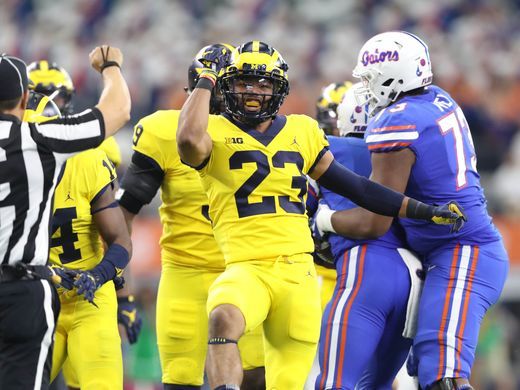 Freshman Ben Mason, Josh Ross, Aubrey Solomon, Benjamin St. Juste, Andrew Stueber, Ambry Thomas and J'Marick Woods all played along with Tarik Black, Donovan Peoples-Jones, and Redshirt Frosh Quinn Nordin, Will Hart, Cameron Cheeseman, Nick Eubanks, Carlo Kemp, Devin Gil, and David Long.
Bring on Cincinnati! Go Blue!
Observations on the first half with the Gators Player Participation Box Score Highlights Post Game Press Conference
Summer Drills began July 31-Day 1