Observations on the loss to South Carolina, 19-26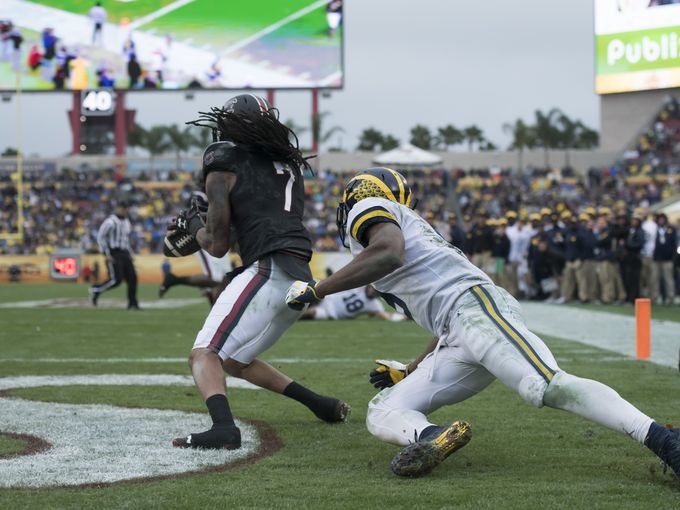 Michigan could only score 13 points in 4 red zone opportunites with turnovers in their last two trips; South Carolina scored 6 points in one red zone. The Wolverines self-destructed in the second half after taking a commanding 19-3 lead with a red zone opportunity following 3 South Carolina turnovers where they scored 6 points, and proceeded to turn the ball over 5 times themselves as the Gamecocks gained 10 points off those turnovers to take control of the game.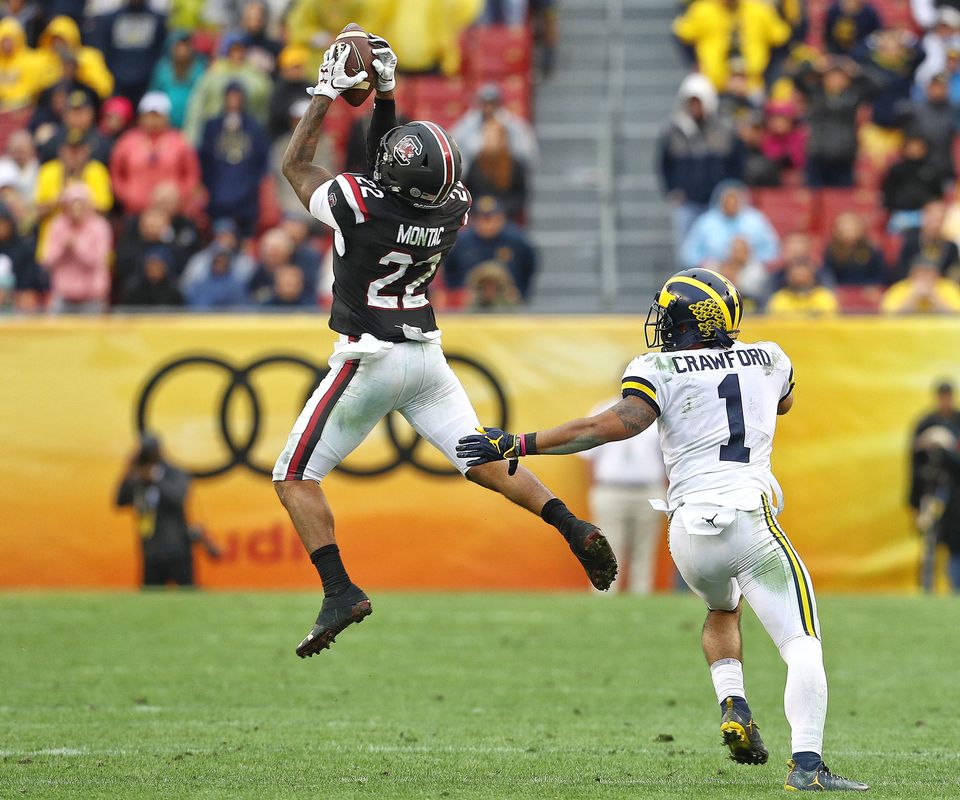 Offense was an embarrasment! Brandon Peters was 20 of 44 for 186 yards. We converted 17 first downs with only 3 by rushing, 3 of 19 in 3rd and 4th down conversions for 277 net yards including just 74 on the ground. South Carolina completely bottled up our running game as Karan Higdon had 17 carries for 65 yards, and Chris Evans ran 9 times for 24 yards. Kekoa Crawford caught 5 passes for 61 yards, and Donovan Peoples-Jones caugh 6 passes for 58 yards. Our coaches really called a bonehead play when they called for Sean McKeon to carry the ball with a 19-9 lead on a 3rd and 2; he fumbled, and the Gamecocks immediately hit a 21 yard TD pass from Jake Bentley to Bryan Edwards to narrow the score to 19-16, but more importantly, they established momentum and confidence to finish the comeback. Harbaugh admitted his mistake in the post game press conference; he said he should have called a time out when he knew he had the wrong personnel in the game for the play call. He has three good fullbacks who can carry the ball on a short yardage situation, but he left a tight end without a carry all season to execute the play call. T.J. Brunson led the Gamecocks with 13 tackles inlcuding 2 sacks. Chris Lammons had 9 tackles and 3 pass break ups. Michigan ran 20 more offensive plays than South Carolina with an 8 and a half minute time of possession advantage.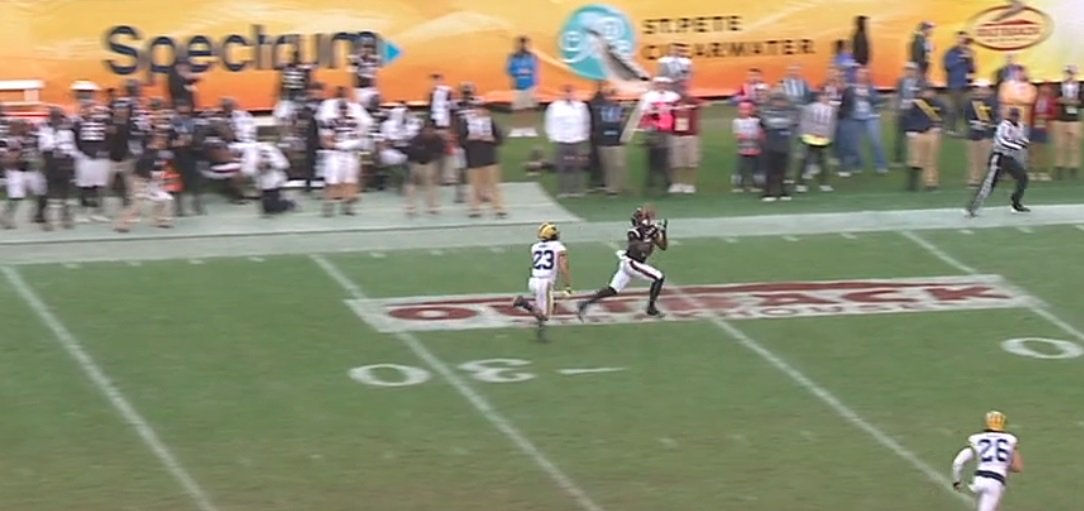 Defense was solid for most of the game; however, as they have all season long, they were lousy in the red zone as they gave up two touchdowns late in the game. They are good statistically, but can't get the job done when they have to; they continue to give up big plays late in the game. South Carolina only had 13 first downs, and were just 2 of 14 in 3rd down conversions; however, they gained 300 net yards with 239 in the air as Shi Smith caught a 53 yard TD pass as he beat Safety Tyree Kinnel to give South Carolina the lead for good with 11:33 left in the 4th quarter. Our offense could not respond with a score. Bryan Edwards had 5 catches for 88 yards and a TD, and Rico Dowdle gained 45 yards on 6 carries for a TD. As bad as the Gamecock offense was, they ended up the game outgaining us. Khaleke Hudson had 10 tackles, and Michael McCray had 9 to lead the defense. J'Marick Woods got the start at Strong Safety over Josh Metellus who came in to take another dumb unsportsmanlike penalty.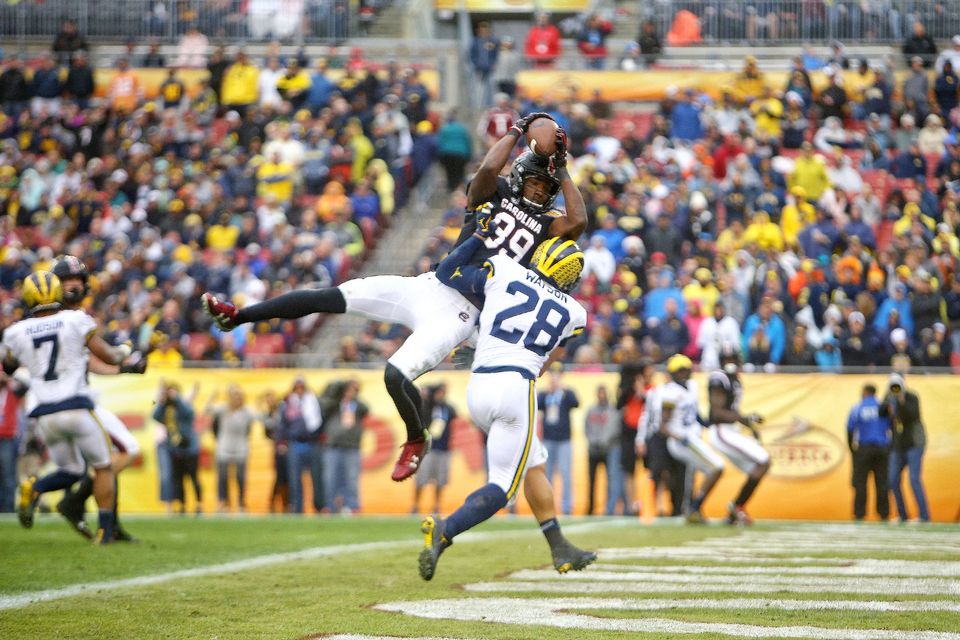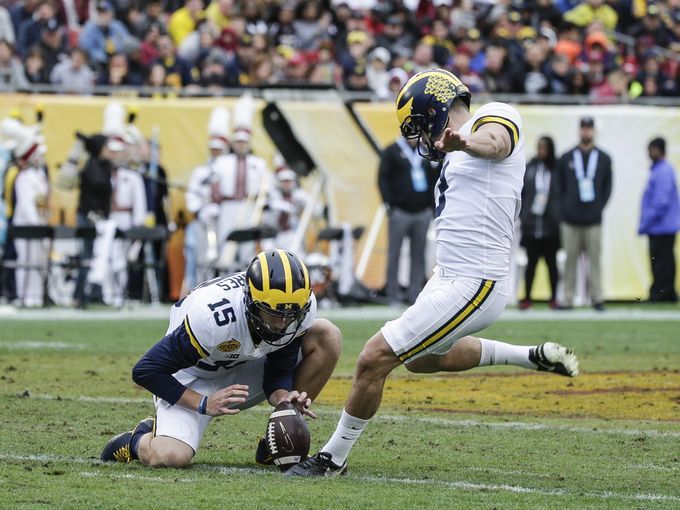 Special Teams was terrible! Yes, Quinn Nordin did hit 4 field goals, and that was good; however, Donovan Peoples-Jones fumbled a punt while taking another backwards at the 7 for a -3 yards, and we punted 7 times for a 34.9 yard average even though we switched punters due to the poor performance. Our kickoff coverage was fantastic; however, our kickoff return team was bad as Ambry Thomas returned 2 for just 34 yards.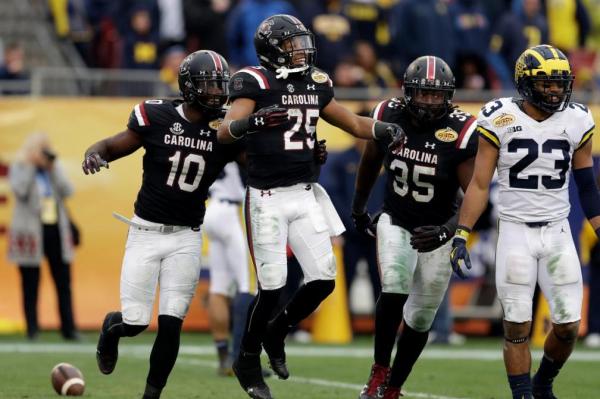 If Brandon Peters is the quarterback of the future, we are in serious trouble! Let's hope Sean Patterson is eligible for Fall after his transfer from Mississippi! We were the only Big Ten team to lose a bowl game! Jim Harbaugh has finished his 3 years tenure with exactly the same record as Brady Hoke, and in similar fashion with a loss to South Carolina in a bowl game. We are not a well-coached football team, and we do not have as much talent as the national powers; we are also not recruiting as well as the top teams in our conference. All in all, it was a disappointing day for Michigan football; we are no longer the Big Ten or National contender that we've become accustomed to by tradition. That changed in 2007 when Lloyd Carr retired, and the Rich Rodriquez, Brady Hoke, and Jim Harbaugh eras of the last decade have not resulted in the turn around we've all hoped for. If Warde Manuel offers Jim Harbaugh a lifetime contract, he'll be making a huge mistake as Harbaugh and his staff haven't been nearly as effective as we'd all hoped it would. If I were the athletic director, I'd give him two more seasons to win a Big Ten Championship; if Harbaugh could not accomplish that in 5 years, his position as Head Coach of Michigan Football would be in jeopardy. Amani Toomer on Harbaugh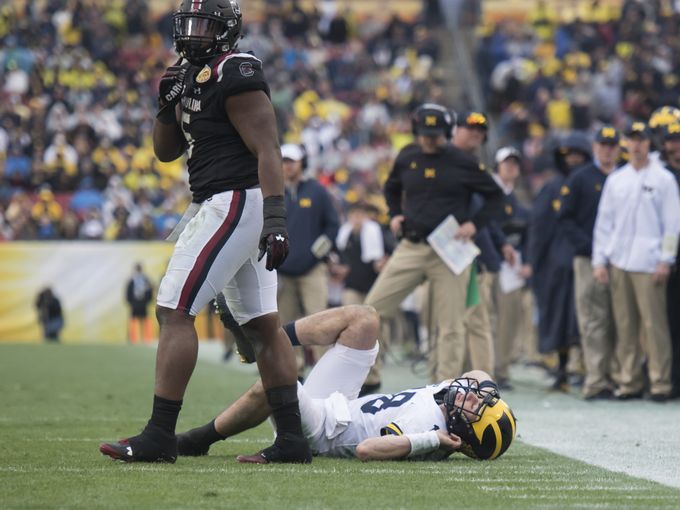 Observations on the first half with South Carolina at the Outback Bowl Box Score Post Game Press Conference Highlights Player Participation Harbaugh Outback Bowl Press Conference