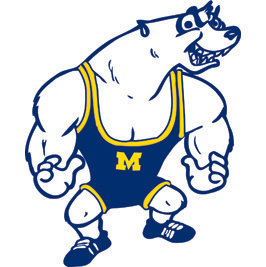 Michigan has had 6 multiple NCAA Champions: Norvard "Snip" Nalen (1953/1954), Dave Porter (1966/1968), Jarrett Hubbard (1972/1973), Mark Churella (1977/1978/1979), Ryan Bertin (2003/2005) and Kellen Russell (2011/2012).
Kellen Russell becomes Michigan's 1st 4-Time Big Ten Champion
3-Time Champions (9) include Ryan Churella, Bob Fehrs, John Fisher, Jarrett Hubbard, Fritz Kellerman, Steve Luke, Norvard "Snip" Nalan, Max Pearson, and Mike Rodriquez
2-Time Champions (22) include: Rick Bay, Jim Blaker, Sean Bormet, Bill "Corky" Courtright, Don Corriere, Harland Danner, Theron Donahue, Carl Dougovito, Gary Ernst, Dennis Fitzgerald, James Galles, Bob Hewitt, Manly Johnson, Jim Kamman, Andy Kaul, Eric Klassen, John Marchello, Don Nichols, Otto Olson, Dick O'Shaughnessy, Dave Porter, and Eric Tannenbaum.
Luke also set a new record for a Michigan wrestler with 14 wins at the Big Ten Championships; the previous record of 13 wins was held by: Ryan Churella, William Courtright, James Galles and Jarrett Hubbard.
Other Michigan Big Ten Champions (44) are: Domenic Abounader, Ralph Bahna, Jack Barden, Chad Biggert, Frank Bissell, Jim Brown, Tim Cech, Dave Curby, George Curtis, Guy Curtis, Bill Davids, Lee Dietrick, Ed George, Amos Goodlow, Larry Gotcher, Jeff Guyton, Don Haney, Lou Hudson, Bill Johanessen, Forrest Jordan, Otto Kelly, Dick Kopel, Bill Lacure, Joe McFarland, Mitch Mendrygal, Art Mosier, Larry Nelson, Harold Nichols, Tom Quinn, Ray Parker, Jesse Rawls, Sr., Airron Richardson, Russell Sauer, Jim Smith, Wayne Smith, John Speicher, Fred Stehman, Al Steinke, Chris Stowell, Earl Thomas, Tyrel Todd, Kirk Trost, Ambrose Wilbanks, Alfred Watson and Hugh Wilson
4 Time Big Ten Finalists (4): Mark Churella, Jarrett Hubbard, Joe McFarland and Kellen Russell
3 Time Big Ten Finalists (18): Jack Barden, Ryan Bertin, Sean Bormet, Jim Brown, Jeff Catrabone, Ryan Churella, Bob Fehrs, John Fisher, James Galles, Andrew Kaul, Fritz Kellerman, John Marchello, Norvard "Skip" Nalan, Max Pearson, Dave Porter, Scott Rechsteiner, Mike Rodriquez and Eric Tannenbaum
Most Outstanding Wrestler at Big Ten Tournament: Rick Bay, Bob Fehrs, Eric Klasson, Snip Nalan, Max Pearson, Dave Porter, Mike Rodriquez and Kellen Russell
NCAA Champions (14 men, 21 championships): Jack Barden, Ryan Bertin (2x), Mark Churella (3x), Bill "Corky" Courtright, Jarrett Hubbard (2x), Jim Kamman, James "Otto" Kelly, Steve Luke, Snip Nalan (2x), Don Nichols, Harold Nichols, Dave Porter (2x), Kellen Russell (2x) and Kirk Trost
4 Time All-American (5): Mark Churella, John Fisher, Jarrett Hubbard, Joe McFarland and Eric Tannebaum
3 Time All-Americans (12): Ryan Bertin, Josh Churella, Ryan Churella, Pete Cornell, Carl Dougavito, Bob Fehrs, Steve Luke, Dave Porter, Kellen Russell, Bob Spaly, Tyrel Todd and Greg Wagner
2 Time All-Americans (25): Matt Brink, Jim Brown, Joe Catrabone, William Combs, Bill Davids, Gary Ernst, Joey Gilbert, Larry Gotcher, Andy Hrovat, Bill Johannesen, Mark Johnson, Jim Kamman, Andy Kaul, Otto Kelly, Bill Lacure, Damion Logan, Norvard Nalen, Otto Olsen, Joe Pantaleo, Jesse Rawls Jr., Jesse Rawls Sr., Airron Richardson, Mike Rodriquez, Kyle Smith and Gary Wilcox
Most Outstanding Wrestler at NCAA Tournament: Mark Churella and Don Nichols (Manny Gorriaran Award: Sean Bormet and Snip Nalan)
Dr. Harold Nichols became Head Coach at Iowa State after several seasons at Arkansas State and won 492 dual meets in 32 years with 6 NCAA Championships, 11 times NCAA Team Runner-Up and 9 times in 3rd Place for a total of 26 Top 3 finishes in 32 years.
Forrest "Butch" Jordan coached wrestling (head coach) and football (assistant) at Michigan and Harvard.
Joe Scandura coached at Syracuse, 1960-64, and in 1963 the Orangemen were 4th at the NCAA Tournament, undefeated 9-0 in dual meets and won the EIWA Wrestling Championship.
Bob Fehrs became Head Coach at Nebraska 1978-1985, and the Cornhuskers were 4th at the NCAA Tournament in 1984. Fehrs began his coaching career as an assistant at Pittsburgh, Harvard; he went to Muskegon Community College and Northern Michigan as head coach.
Mark Johnson became Head Coach at Illinois 1992-2009 and won 203 dual meets in 17 years including a Big Ten Championship in 2005 and four times Big Ten runner-up; he also achieved the 1995 NWCA Division I Coach of the Year and NWCA Assistant Coach of the Year in 1986 at Iowa. Johnson was an Assistant Coach at Iowa from 1982-1990, and was Head Coach at Oregon State 1990-1992.
Other Michigan Wrestlers who moved on to become Head NCAA Wrestling Coaches include Bob Hurley (Wayne State), Mike Palmisano (Ohio Northern and Nebraska-Omaha), Snip Nalan (Drake)
Many former Wolverines became assistant wrestling coaches at the college level including: Lee Deitrick (Georgia) and Cal Jenkins (Coe), Paul "Bo" Cameron was an assistant coach at Northern Iowa under Dave McCuskey, and coached Cedar Rapids, IA for 27 seasons. Dr. Mark Pearson coached at Franklin & Marshall and Millersville University, and is now coaching at The Hill School. Mike Dergarabedian coached at Central Connecticut. Tom Quinn coached wrestling at Mott Community College. Steve Fraser was an assistant wrestling coach at Michigan and Eastern Michigan. Bill Petoskey also coached at Eastern Michigan. Jeff Catrabone has coached 8 seasons at Buffalo. Joe Pantaleo has coached at Grosse Pointe North and Liberty University as well as being an assistant coach at Michigan State. A.J. Grant was an assistant wrestling coach at North Carolina for eight seasons after coaching at Northville High School. Pat Owen was at Harvard, 2007-2012.
Several former Michigan Wrestlers have become outstanding high school wrestling coaches. Mike Rodriquez won 732 dual meets, 8 state championships (1969-1970-1971-1974-1978-1983-1988) and had 26 individual state champions at Detroit Catholic Central High School in 50 seasons after starting initially at River Rouge where he won his first state championship in 1964.
Larry Nelson coached in Vacaville, California for 32 years, and his dual meet record was 553-71 (.886); he had 2 state champions, 28 state placewinners and his 1986 and 1992 teams finished 3rd anf 4th in the state. His son, David, who was an All-American wrestler at San Francisco State earned a bronze medal in the 1988 World Cup and was a three time National Placewinner in Greco-Roman. He continued his father's legacy for the next six years coaching at Vacaville until he died of Lou Gehrig's disease.
Frank Bissell was a legend for The Hill School. Bissell won 17 National Prep Wrestling Tournament Championships in 26 years of coaching, and 44 wrestlers won 62 championship titles including 6 outstanding wrestlers. Another former Hill graduate, Dick O'Shaughnessey assisted Bissell at Hill.
Sam Amine's Warren Lincoln team won the MHSAA Dual Meet State Championship in 1994, and he was at Brighton High School for six seasons after also coaching in Plymouth and Troy.
Tim Fagan won a team state championship coaching wrestling at Lake Orion in 1990.
Don Haney won a team state championship at Wayne Memorial in 1975.
Ray Parker coached wrestling at Dearborn Fordson, Dave Dozeman at East Grand Rapids, Willard Root and Doug Eschtruth at Haslett, Gordy Weeks at Owosso, Steve Zervas at Warren Fitzgerald, Anthony Latora at Battle Creek Lakeview, Gary Jonseck at Milan, Dundee and Lemon Bay High School in Englewood, FL, David Bahr, Paul "Bo" Cameron, Doug Horning, Bill Petoskey (all four at Ann Arbor Pioneer) and Tom Davids (Ann Arbor Huron). Greg Wagner coached at Dexter High School. John Evashevski coached at St. Ignace High School.
Dave Curby, Jarrett Hubbard, Mark King (30 years, 471 wins), Wayne Miller (DeKalb), Charlie Anderson (Savannah) and Jarrett Hubbard (Thornwood) have all had very successful wrestling coaching careers in Illinois, and earned Illinois Chapter of the National Hall of Fame status. Jim Brown has coached wrestling at his alma mater at Tallmadge, Ohio along with being a graduate assistant at Oregon. Jason Rawls is coaching wrestling at Harrisburg, PA, and his father, Jesse Rawls Sr. previously coached there 30 years. Snip Nalan coached wrestling in Grand Rapids, Minnesota and is a member of the National Wrestling Hall of Fame-Minnesota Chapter. Geoff Henson coached wrestling at Falls Church, VA and refereed for many seasons. Bill Davids coached at Blaine, Minnesota and Warren Mott, MI, and Wayne Hanson won the 1970 state championship at Whitford County, Kentucky.
Art Paddy, who wrestled and played football at Michigan 1939-41, coached high school football for 34 years, 1946-1982, at Cass City, Bay City, West Bloomfield, Orchard Lake St. Mary's and Ortonville Brandon and was inducted into the Michigan High School Football Coaches Hall of Fame. His record was 202-92-9. He played high school football for Benton Harbor.
Olympic wrestlers have included: Steve Fraser (Gold), Ed George, Robert Hewitt, Andy Hrovat and Mark Johnson
Olympic Alternates have included: John Fisher (1992 and 1996), Mike Amine (1992), Sam Amine (1992), Jack Barden (1964), Mike Rodriquez (1960), Frank Bissell (1940), Earl Thomas (1936), Carl Dougovito (1932), Blair Thomas, Al Watson, and Russ Sauer (1928)
Olympic coaches have included: Steve Fraser and Cliff Keen
World Championships include: Bill Davids, Dennis Fitzgerald, Steve Fraser, Jehad Hamden, Joe McFarland (Silver), Mike Rodriquez (5th) and Joe Warren (Gold)
World Cup Championships include: John Fisher (Gold/Silver), Steve Fraser, Andy Hrovat, Mark Johnson (Bronze), Joe McFarland (Gold/Bronze), Kirk Trost (Gold/Bronze) and Joe Warren (Gold)
U.S. National Champions (6): John Fisher, Steve Fraser (3x), Mark Johnson (2x), Kirk Trost, Kellen Russell, and Joe Warren (2x)
AAU National Champions (12): Frank Bissell, Bill Combs, Bill Davids, Lee Deitrick, Steve Fraser, Ed George (2x), Robert Hewitt, Mike Rodriquez, Joe Scandura, John Speicher, Earl Thomas and Kellen Russell
Pan-American Championships include: Jack Barden (Gold), Dennis Fitzgerald (Gold), Andy Hrovat (Silver)
National Wrestling Hall of Fame: Mark Churella, Steve Fraser, Cliff Keen, Harold Nichols
National Wrestling Hall of Fame--Michigan Chapter: Rick Bay, Dave Porter, Mike Rodriquez; Illinois Chapter: Charley Anderson, Mark King, Wayne Miller; Minnesota Chapter: Jim Kamman, Snip Nalan; Pennsylvania Chapter: Frank Bissell; New Jersey Chapter: Arthur Sachsel; New York Chapter: Mike Dergarabedian
Michigan Wrestling Hall of Fame: Mark Churella, Tim Fagan, John Fisher, Steve Fraser, Cliff Keen, Joe Pantaleo, Dave Porter, Mike Rodriquez and Steve Zervas
Michigan Sports Hall of Fame: Steve Fraser and Cliff Keen
John Fisher holds the Michigan Record of Most Wins. From 1984-1988, his record was 183-21 and also most consecutive wins with 47 between 1988-1989.
Michigan Wrestler
Wins
Fisher, John
183
Olson, Otto
175
McFarland, Joe
166
Catrabone, Jeff
160
Tannenbaum, Eric
143
Bertin, Ryan
142
Trost, Kirk
139
Hrovat, Andy
134
Pantaleo, Joe
134
Richardson, Airron
134
Russell, Kellen
134
Wagner, Greg
134
Churella, Mark Sr.
132
Bormet, Sean
125
Rechsteiner, Scott
125
Churella, Josh
124
Todd, Tyrel
121
Green, Lanny
120
Gotcher, Larry
119
Churella, Ryan
117
Gilbert, Joey
117
Luke, Steve
117
Grant, A.J.
116

Yates, Dan

Kulczycki, Mike

112

110

Lacure, Bill
110
Harper, Brian
108
Lehrke, Fritz
108
Brink, Matt
106
Biondo, Anthony
105
Amine, Mike
104
Warren, Joe
104
Dowd, Foley
103
Rawls, Jesse Jr.
103
Owen, Pat
100
Zeerip, Justin
100
King, Steve
98
Logan, Damion
97
Viola, Chris
96
Rawls, James
94
Grant, Corey
91