Observations on the win over Minnesota, 33-10
Each team gained two red zones; the Wolverines converted both for 14 points while the Gophers converted both for 10 points. Michigan scored 7 points off one Minnesota turnover. Long TD runs on big plays by Karan Higdon for 77 yards, and two TDs by Chris Evans of 60 and 67 yards helped the Wolverines capture the Little Brown Jug!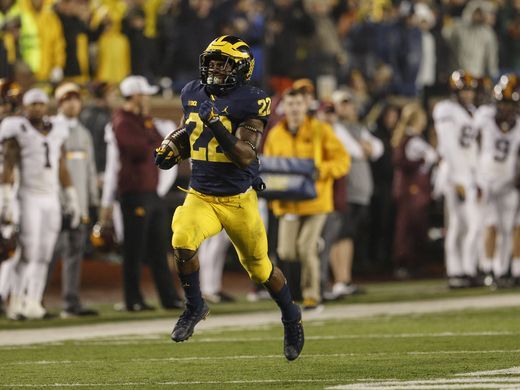 Offense was solid! Karan Higdon ran 16 times for 200 yards and 2 TDs. Chris Evans ran 13 times for 191 yards and 2 TDs. Brandon Peters hit 8 of 13 for 58 yards and a 20 yard TD to Sean McKeon; he was also sacked 3 times. We had 14 first downs, 427 total yards with 371 on the ground, and were 4 of 11 in 3rd down conversions. Ruiz started for Onwenu; he was replaced by Jon Runyan after giving up the last sack. Wheatley, Isaac and Grant Perry all didn't dress due to injuries. Kekoa Crawford returned, but Kareem Walker didn't play. We didn't look all that good in the second half with 3 "3 and outs," and only 4 first downs.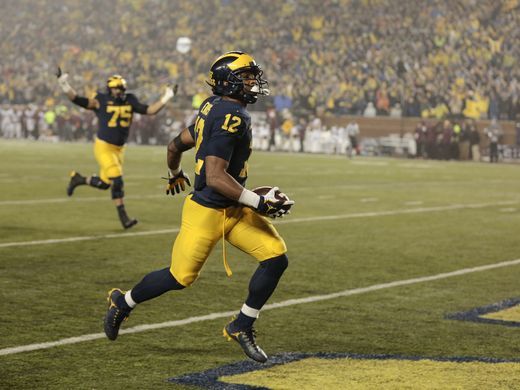 Defense held the Gophers in check with Khaleke Hudson leading the team with 13 tackles with 6.5 for loss, and forced a fumble. Hudson tied a 2001 record set by Larry Foote in tackles for loss. Devin Bush had 9 tackles, and Mike McCray had 7. Maurice Hurst got a sack plus a tipped pass. The Gophers racked up 13 first downs and 164 net yards with 90 on the ground; Demry Croft was sacked 5 times while completing 5 of 12 for 74 yards. We forced the Gophers into 8 punts and a turnover while allowing only 4 of 13 in 3rd down conversions.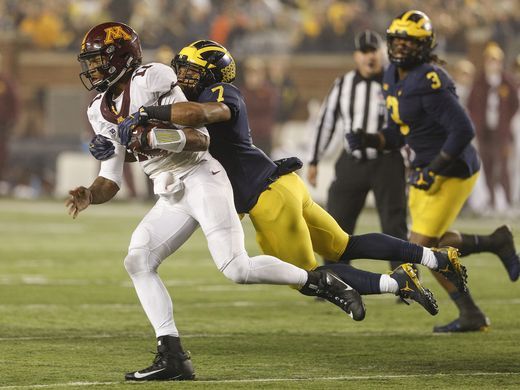 Special Teams were solid on 6 kickoffs with James Foug and great coverage giving up 64 yards in 5 returns with two tackles by Jordan Glasgow plus one each by Josh Ross and Mike Wroblewski. Khaleke Hudson nearly blocked a punt. Quinn Nordin was a disappointment missing a field goal, and an extra point while barely making his first. Donovan Peoples-Jones had 5 returns for 39 yards, but penalties by Benjamin St. Juste and Tyree Kinnel negated two other excellent returns. Brad Robbins punted 5 times for a 40.8 yard average with two inside the 20. We took 9 penalties for 85 yards, sloppy play continues to be a problem, and why we won't win a championship this season. A dumb move by Coach Harbaugh late in the 3rd quarter in going for 2 after a timeout with the score at 33-7 led later to "chippy" play in the 4th quarter and two ejections of Josh Metellus and Donnell Green after Green slapped Tyree Kinnel when Kinnel confronted him for what he considered unnecessary roughness on Michael Dwumfour; then, Metellus confronted Green on the last play of the 3rd quarter following a 3rd down running play that netted 3 yards stopping the Gophers short of a first down.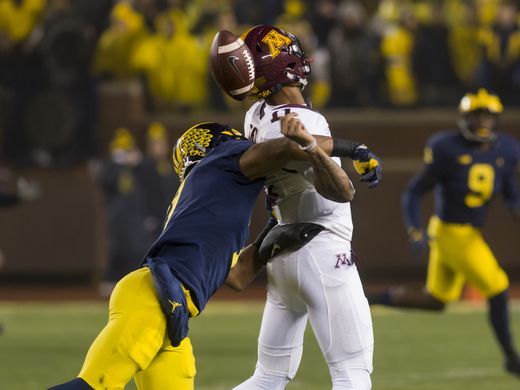 Bring on the Terrapins! Go Blue!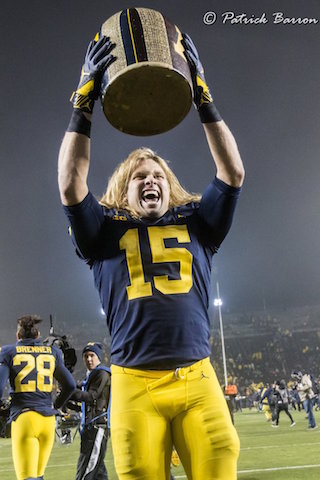 Observations on the first half with Minnesota Box Score Player Participation Post Game Press Conference Highlights Harbaugh on October 30