Observations on the loss to Florida State, 32-33
Michigan staged a valiant comeback, but gave up a kickoff that set up a final drive and cemented a Florida State win. The Wolverines had four red zones for 16 points, and the Seminoles had 3 red zones for 20 points. Michigan scored 11 points off Florida State turnovers including the blocked kick.
Offense came through late after being stymied early. Wilton Speight threw 38 times with 21 completions for 163 yards and a TD plus a two point conversion. Offense gained 16 first downs, 252 net yards and 8 of 22 in 3rd and 4th down conversions. Chris Evans put the Wolverines ahead for the first time in this game with 1:57 left with a 30 yard scamper, and finished with 8 carries for 49 yards. DeVeon Smith had 16 carries for 36 yards, but the running game was anemic with only 89 net yards in 36 carries. Michigan dominated time of possession by 8 minutes which resulted inn 13 more offensive plays. Matthew Thomas led the Seminoles with 15 tackles, 3.5 for loss; Florida State sacked Speight 4 times, and recorded 15 tackles for loss.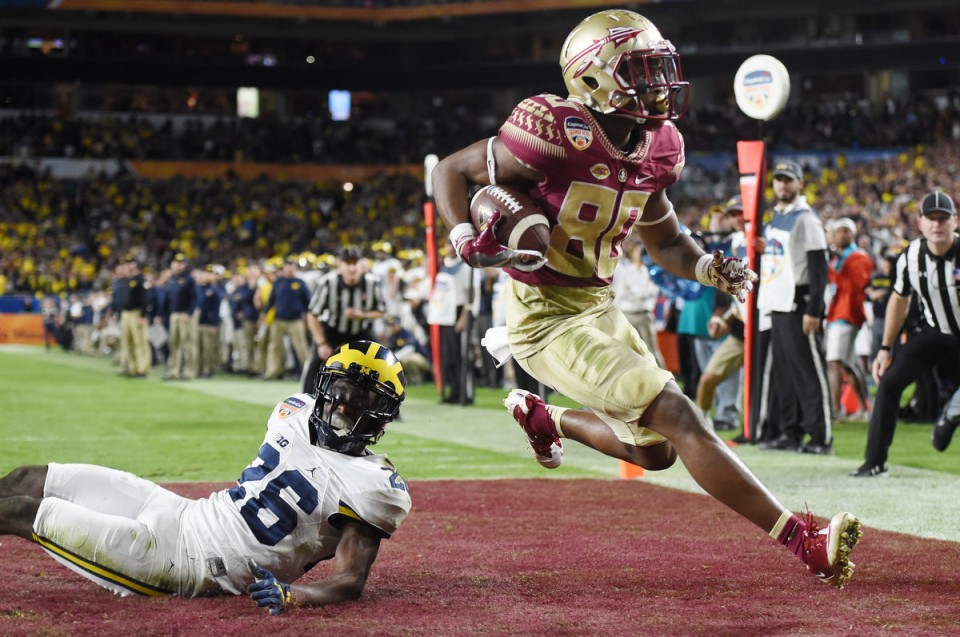 Florida State accumulated 374 net yards with 152 on the ground, 15 first downs with only 4 in the second half, and was 4 of 14 in 3rd and 4th down conversions. Dalvin Cook had 20 carries for 145 yards and a TD, and 3 catches for 62 yards. Deondre Francois was 9 of 27 for 222 yards, and found Nyqwan Murray for his second touchdown of the game with 36 seconds remaining over All-American Jourdan Lewis both times for the final margin for victory. Francois also ran 10 times for 9 yards and a TD after 2 sacks were deducted. Dymonte Thomas led the defense with 7 tackles with 2 pass break ups while Josh Metellus had 6; both Taco Charlton and Maurice Hurst recorded sacks, and Michael McCray intercepted a pass for a TD. Our defensive line accounted for 16 tackles, 5 for loss with 2 sacks, 5 quarterback hits with a tipped pass, and forced the Seminoles into 6 "3 and outs," but our defensive backs couldn't contain Murray, Cook or Francois. Florida State had the best defense on the field at the Orange Bowl.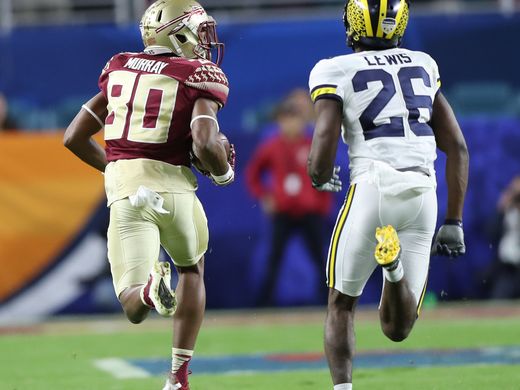 Special Teams kept us in the game with the brilliant punting, kickoffs and field goals of Kenny Allen who punted 8 times for a 47.4 yard average and hit 3 field goals. An early fumble by Murray recovered by Dymonte Thomas at the one yard line provided Michigan its first score. A blocked extra point by Chris Wormley was recovered by Josh Metellus for 2 points, but it was a runback by Keith Gavin with 1:57 left in the game of 66 yards that gave the Seminoles their final scoring chance. It was the only kickoff of the day for Allen that didn't result in a touchback.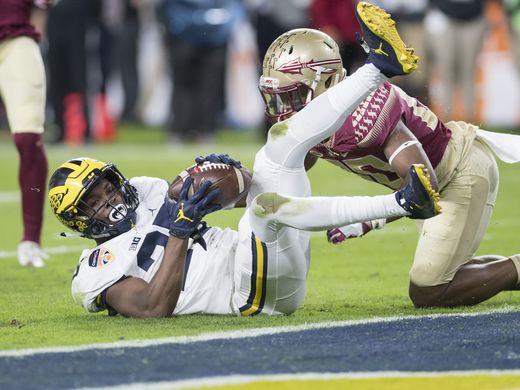 It was an exciting game to watch in the second half, and the team effort was phenomenal; however, that final kickoff hesitation should have resulted in field position inside the 10 yard line if our special teams executed; had that happened, I think our defense wouldn't have given up a 90 yard drive. Missed tackles continue to plague this team; Jordan Glasgow hit Gavin, but couldn't wrap him up. A great effort, but a lousy result. A loss is a loss whether it is by one point, overtime or whatever. This team was good, but didn't have what it took to be great. Let's close out the recruiting season strong, and point for an exciting 2017 season! Go Blue!
Observations on the first half with Florida State Box Score Post Game Press Conference Player ParticipationHighlights Peppers on the loss Lewis after the game
Jim Harbaugh on December 29 Part II
Bowl Practice Update on December 20
Game Notes for the Orange Bowl on December 17