Observations on the win over Air Force, 29-13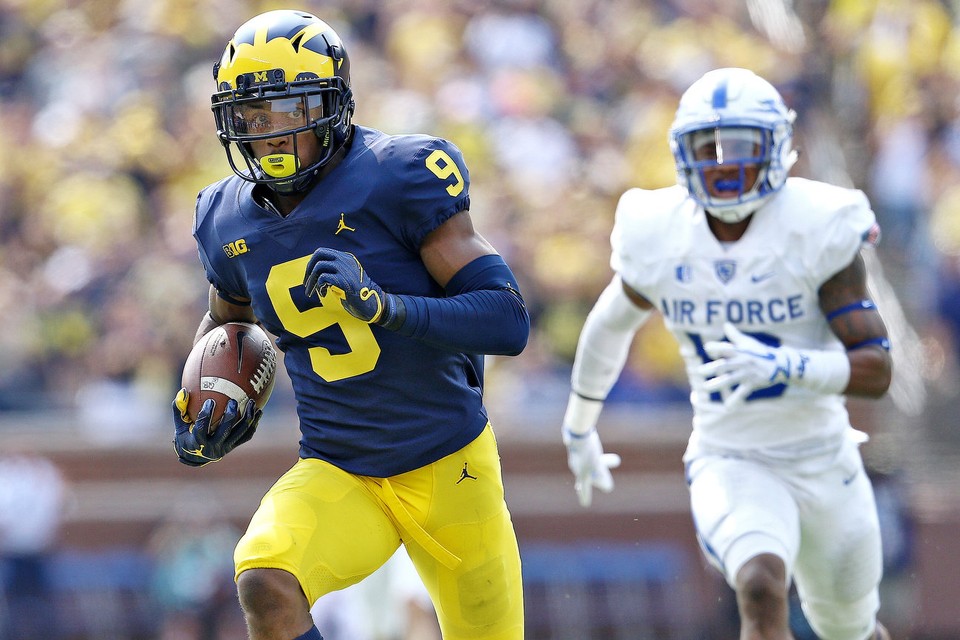 Michigan scored 12 points in 4 red zone trips; Air Force countered could only muster 3 points in two red zones plus scored another 3 points off one Wolverine turnover.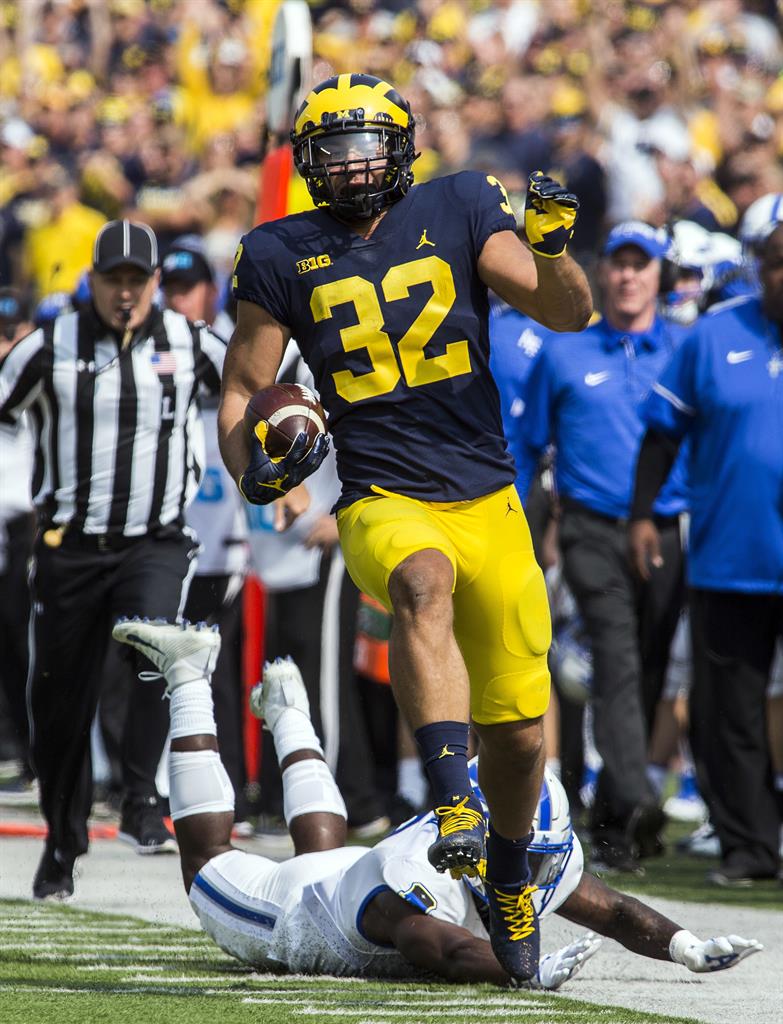 Offense continues struggle!!! They have only scored one touchdown in their last 10 red zone trips in the past two games--unimpressive. Offense gained 357 net yeards with 190 on the ground. Wilton Speight was 14 of 23 for 169 yards with a sack, and a fumble; we were 6 of 15 in 3rd and 4th down conversions. Ty Isaac carried 16 times for 89 yards until he left the game due to an abdominal injury. Karan Higdon had 12 carries for 64 yards and a late 4th quarter TD. Chris Evans had 6 carries for 30 yards, but fumbled away a good gain for a turnover. Tarik Black had 5 catches for 55 yards; he left the game in a cart for some type of injury. Donovan Peoples-Jones had two catches for 52 yards. Zach Gentry also moved the ball to the red zone after a 30 yard reception. Michigan held 7 more offensive plays although Air Force held the ball for a minute more in time of possession. In my humble opinion, part of the offensive problems especially in the red zone is play calling. Yes, execution of the play call is also contributing; however, Harbaugh, Drevno and staff must take some responsibility for the problem. In the red zone, we need more power and less finesse. Freshman Cesar Ruiz got in for the first time, and played most of the game as a third tackle to give us help on the edge for our poor tight end blocking. Tyrone Wheatley didn't play at all today at tight end.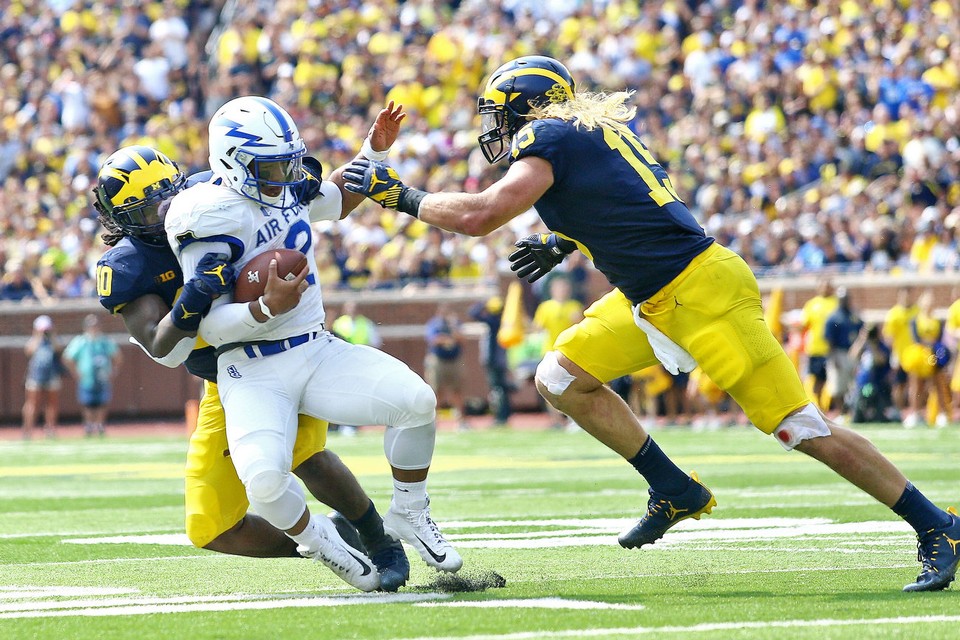 Defense really gased in the second half, but played about as well as could be expected. The Falcons gained 232 net yards in 49 rushes wtih 15 first downs, and were 4 of 15 in 3rd and 4th down conversions; they capitalized on a 64 yard pass play in the 3rd quarter when Arian Wortham hit Ronald Cleveland for their only completion in 9 attempts. We held them to three "3 and outs." Wortham had 26 carries for 60 net yards after 3 sacks for 27 yards were deducted. We forced them into 6 punts, and got a late turnover interception by Khaleke Hudson. Devin Bush and Michael McCray led the defense with 11 tackles each; Chase Winovich had an outstanding game with 9 tackles. Bush, Winovich and Rashan Gary had 3 sacks, and we threw the Falcons backwards 49 yards in tackles for loss. J'Marick Woods had to come in late for a fatigued Josh Metellus at Strong Safety.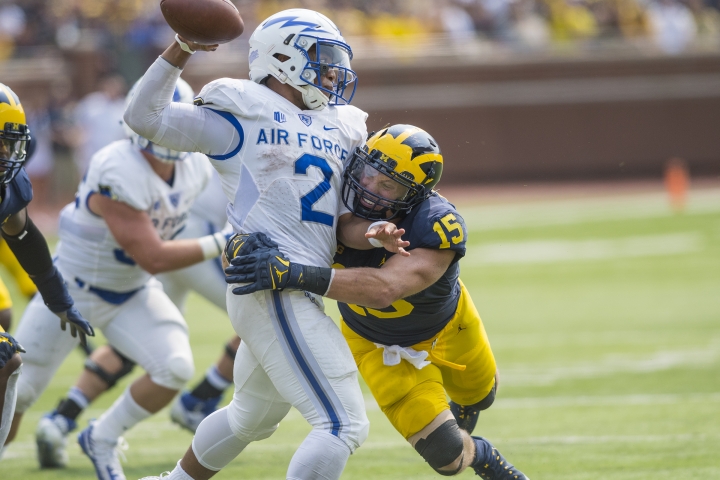 Special Teams won this game for us!!! Quinn Nordin led the Special Teams with 5 field goals, and Donovan Peoples-Jones scored a touchdown early in the 3rd quarter to begin the second half to give us a two score lead. James Foug and the kickoff coverage team were truly outstanding giving the Falcons poor field position to start every drive with Josh Ross gaining his first Wolverine tackle on kickoff coverage. Will Hart was the only blemish on the day with 3 punts for a 37 yard average including a 25 yarder late in the game when we needed a good punt; instead, we set up the Falcons on their own 40. Our kickoff return team is also well below average; three returns for 50 yards. Harbaugh needs to put new people back deep, and give them a shot. We also took a number of penalties, 7 for 72 yards, which is uncharacteristic of a Wolverine football squad.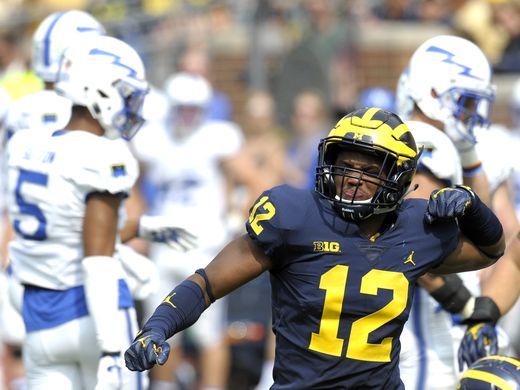 We certainly don't look like a championship team, and are way overrated with our current rank of #7. Players of the game included Donovan Peoples-Jones, Quinn Nordin, Chase Winovich, Ty Isaac, Devin Bush, and James Foug. Our conditioning was very poor, and showed up in the 4th quarter; we really "dodged a bullet" with the missed red zone field goal by Air Force to keep a two score lead. It looks like every game will be a struggle as long as the offense sputters. We have no "go to" guy! The late drop by Kekoa Crawford was an exclamation mark in that regard. On the positive side, we start the Big Ten campaign at Purdue so it is a winnable road game. Go Blue!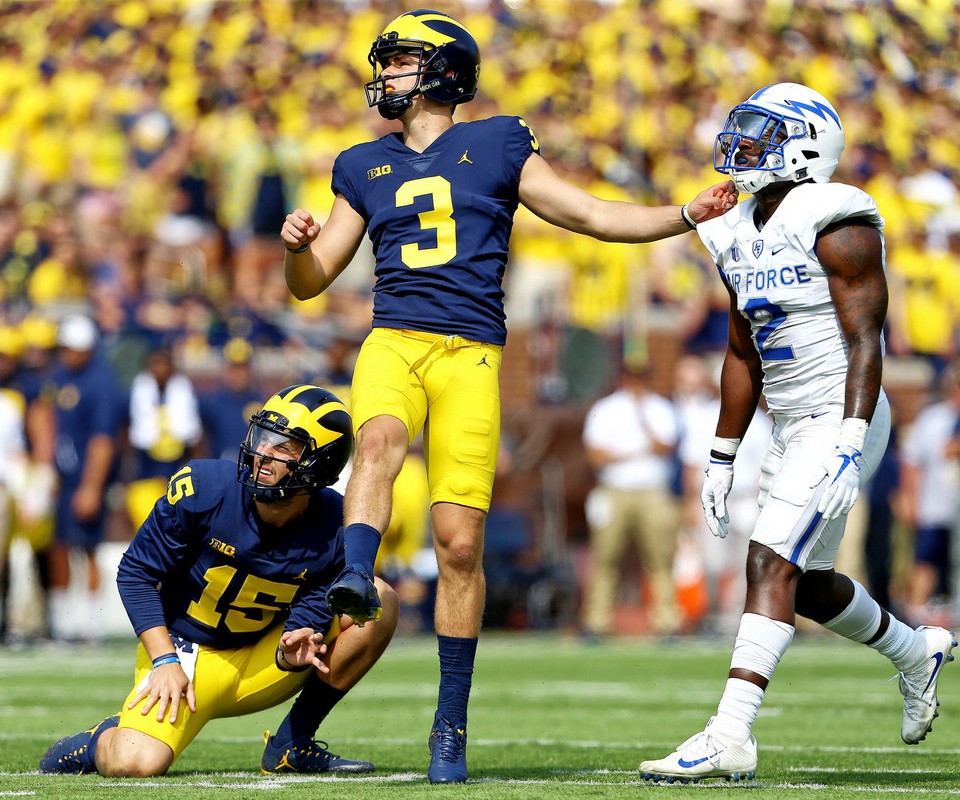 Observations on the first half with Air Force Box Score Post Game Press Conference Highlights Player Participation Harbaugh Press Conference on September 11