Observations on the win over Oregon State, 27-9!
Michigan began a schedule that includes at least 12 dual matches in the next 45 days tonight by hosting the Beavers in Ann Arbor. At the intermission, former Michigan Assistant Coach and Oregon State Head Coach, Joe Wells, was honored. He passed away on April 16, 2015 at the age of 67. Wells served as a Michigan Wrestling Assistant, 1979-1992, and was Oregon State Head Coach, 1992-2006. He was a wonderful man who was an outstanding coach, and made a big difference on the wrestling programs at both schools; he is survived by his wife, Cindia, and children, Kalli and Garrett who wrestled at Air Force.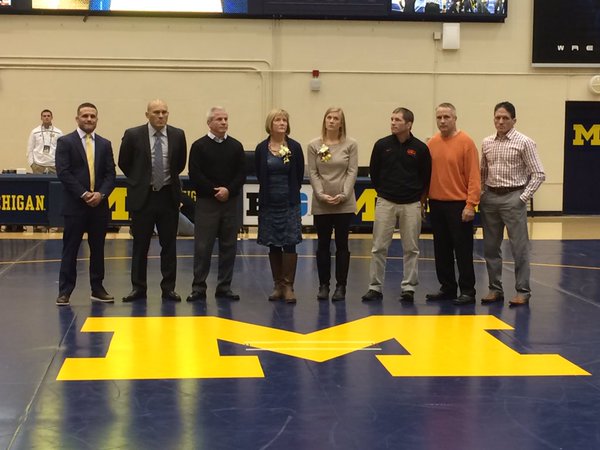 125: #19 Junior and Returning All-American Conor Youtsey faced #6 Ronnie Rios Bresser in the opening bout. It was a fast paced bout where Bresser got in a shot midway through the period; Youtsey did a nice job fighting off, and almost landed a takedown himself. Youtsey almost worked a front headlock into a takedown just before the period ended, 0-0. Youtsey escaped in 15 seconds with good hand control by Conor. Little action in the second period as they both went out with 34 second to go. In the 3rd period, Bresser escaped in 14 seconds, but was called for stalling as action continued in the period. Bresser got a questionable takedown in the last 3 seconds of the bout as he got behind Conor on a throw by, and Youtsey posted his hand on the mat. It wasn't pretty, but called control in the rule book and NCAA Official's video so Joe McFarland didn't appeal for a video review. 3-1 for Bresser! Michigan 0 Oregon State 3
133: #16 Senior and Returning All-American Rossi Bruno faced Joey Palmer. Bruno came out strong against Palmer securing a takedown in the first minute, and Palmer escaped pressing the action with his own takedown to go up 3-2 with a high crotch and nice finish. In the second period, Bruno escaped in 20 seconds, but fell behind after a half-shot where Palmer went quickly behind. That was the turning point as Palmer grabbed a 6-4 lead. In the last period, Palmer escaped and got another takedown to go ahead 9-4. Bruno did convert a late takedown, but Palmer escaped and came away with 2:10 in riding time for a 12-6 win. Michigan 0 Oregon State 6
141: Two unranked wrestlers, Sophomore George Fisher and Zac Hall weighed in for the bout against Jack Hathaway. Fisher held off a Hathaway shot as the first period closed, 0-0. Fisher chose down and escaped after 37 seconds, and Fisher held off another nice shot by Hathaway that he couldn't finish. In the third period, Hathaway escaped early and the two went out of bounds with 52 seconds to go. Hathaway had a nice double, but Fisher again held him off to end the bout, 1-1. In overtime, Fisher quickly capitalized with a double of his own, scramble, and finish for a 3-1 win. Michigan 3 Oregon State 6
149: #8 Sophomore Alec Pantaleo pursued Joey Delgado until he finished a double at the 52 second mark, then added another takedown at 2:45 after an escape to close the first period, 4-1, with 26 seconds of riding time. Alec exploded after an escape by Delgado with takedown and 4 point near fall to begin the second period as he extended his lead to 10-2. Alec escaped to start the third period, and gained another takedown to move out to a 13-2 lead. Alec continued to push the action with two more takedowns with Delgado escapes in between, but could only gain a 18-4 verdict with 2:04 in riding time. Michigan 7 Oregon State 6
157: #5 Junior and Returning All-American Brian Murphy wrestled after suffering a knee injury in the Oklahoma match, and held Abraham Rodriquez early in a Russian tie as he manuevered a takedown with a 4 point near fall. The first period ended 6-1 after a Rodriquez escape. In the second period, a determined Murphy chose down and gained a reverse; he rode tough and pinned him at 4:39 in a leg turk. Michigan 13 Oregon State 6
165: Sophomore Garrett Sutton started fast against Seth Thomas with a nice shot in the first 15 seconds, but couldn't finish; then, he pursued Thomas and capitalized on a nice double for a 2-0 lead in the first period. Thomas escaped and got a takedown to move ahead, 3-2, and Sutton tied it up, 3-3, with an escape. Thomas rode Sutton tough in the second period extending riding time advantage, but Garrett escaped to go ahead, 4-3, to end the period. Thomas escaped, gained a takedown, and rode tough to gain 2:49 riding time advantage for a 7-4 win. Michigan 13 Oregon State 9
174: #19 Redshirt Freshman Devonte Mahomes found Tyler Chay at the opposite end of the circle, and started slowly; the bout was stopped with 52 seconds to go in the first period for blood clean up. Finally, Mahomes scored a takedown and gained 35 seconds of riding time. In the second period, Chay escaped, but Mahomes took him down at the 1:00 mark of the period to go ahead, 4-1, and rode out for a 1:48 riding time advantage. Now, Mahomes was confident, and escaped to start the 3rd period. After another takedown at the 23 second mark, he cradled up Chay for a 4 point near fall to extend his lead to 11-1. He gave up an escape, and gained another takedown for a 13-2 win with over 3:00 of riding time for a 14-2 final. Michigan 17 Oregon State 9
184: Junior Big Ten Champion #10 Domenic Abounader took down Corey Griego in the first 35 seconds, and rode him out with 2:23 in ridiing time after the first period. He reversed Griego early in the second period after choosing down, and gained a 2 point near fall in his patented leg turk. Griego stalled for two periods underneath as the referee did not push him with stall calls, and Abounader was obviously frustrated as the period ended. Griego escaped late in the period with Abounader holding a 3:14 riding time edge and ahead 6-1. Griego escaped again in the 3rd period, and manuevered a takedown to close the gap to 6-4; however, Abounader quickly responded with an escape, and another takedown for a 9-4 finish with 4:03 in riding time for a 10-4 final. Michigan 20 Oregon State 9
197: 6th Year Graduate Student and Returning All-American #6 Max Huntley was pursued early by Cody Crawford, but Max responded after being pushed to the edge with a takedown and rode Crawford out for a 1:46 riding time advantage. Max chose down, and escaped in 11 seconds; then, Huntley added a takedown at the 45 second mark plus a 2 point near fall to go ahead, 7-0. By this time, Crawford had slowed down considerably, but escaped to start the third period; Max responded with another two takedowns with an escape in between and built 3:41 in riding time for a 12-2 major decision. Michigan 24 Oregon State 9
285: #4 Junior and Returning NCAA Runner-Up Adam Coon and #8 Amarveer Dhesi hooked up in the final bout. Adam fought off an early shot by Dhesi, and gained a takedown with 1:14 of riding time before Dhesi escaped to end the first period, 2-1. Adam quickly escaped, and pushed the pace with a second takedown early in the second stanza building his riding time to 2:08 and almost putting Dhesi into a back bow as the period ended. In the third, Dhesi escaped, and gained a takedown on a slip by Coon with about ten seconds to go in the bout for a 5-3 final with 1:57 in riding time to gain a 6-3 verdict. Final Score: Michigan 27 Oregon State 9
Michigan did not look like the holiday break did them much good with their conditioning. While over 80% of the Top 25 NCAA Wrestling teams competed at The Midlands or Southern Scuffle, the Wolverines decided not to compete their starters at either event. I'm not sure this was a wise decision, but "time will tell" after the Big Ten's and National's for a final assessment. Michigan heads to Columbus, OH to wrestle the Ohio State Buckeyes on Saturday, January 9 at 5:00 p.m. The Buckeyes have revamped their line-up by adding defending World Champion Kyle Snyder at 285 lbs. after taking him off an Olympic Redshirt. Snyder may or may not wrestle Adam Coon, but for sure Coon will have another tough bout with either Snyder, Thomas Haines or Nick Tavanello. Youtsey will have his "hands full" with defending NCAA Champion and #1 ranked, Nathan Tomasello. Rossi Bruno gets #8 Johnni DiJulius, Fisher or Hall will take on Redshirt Freshman #9 Micah Jordan, Pantaleo faces Senior Hunter Stieber or Cody Burcher, Murphy will engage #11 Jake Ryan, Garrett Sutton is pitted against #2 Bo Jordan, Davonte Mahomes challenges Freshman #15 Myles Martin, Abounader renews his rivalry with #11 Kenny Courts, and Huntley will grapple with Mark Martin who moved up from 174 lbs. a year ago. It promises to be a competitive and emotional Big Ten dual. The Buckeyes are 6-2 against the Wolverines since 2008; Tom Ryan took over for Russ Hellickson in 2007. Go Blue!