Observations on the overtime win over Indiana, 27-20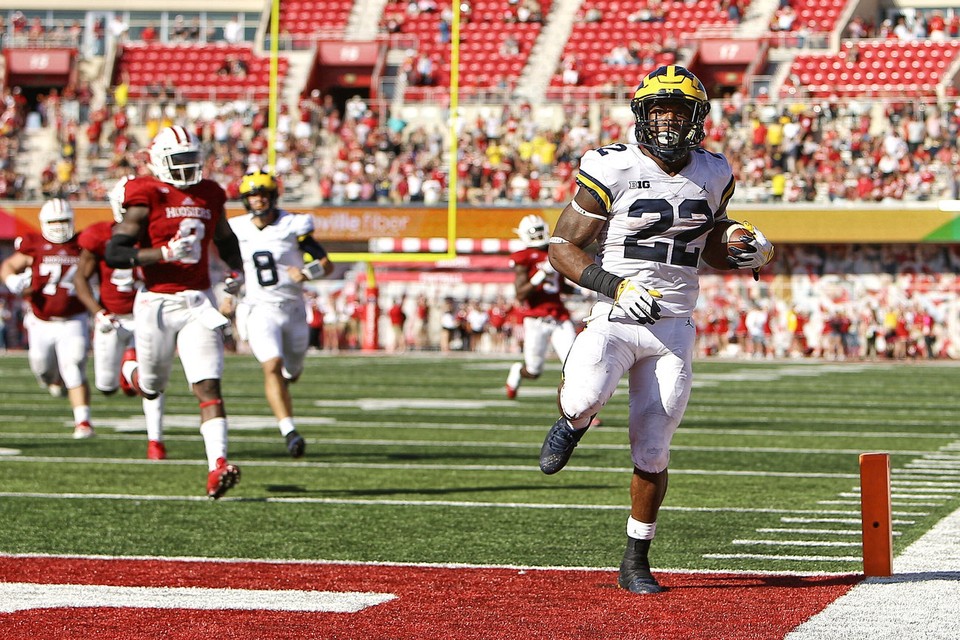 Michigan gained 3 red zones for 17 points; Indiana gained 4 red zones for 17 points. Michigan gained zero points off two Indiana turnovers.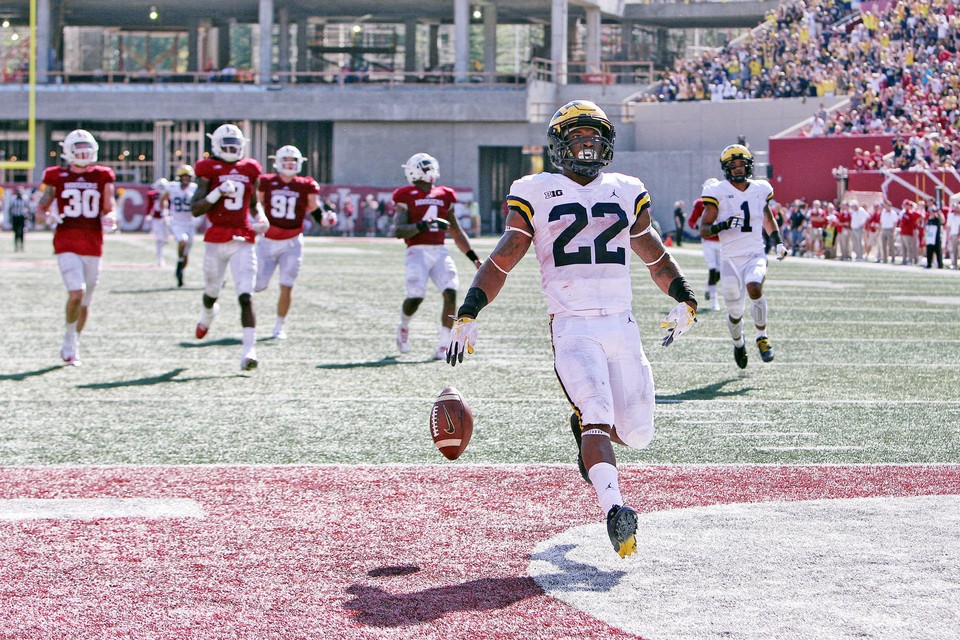 Offense gained 17 first downs, 329 yards in 64 plays with 271 on the ground. Karan Higdon ran 25 times for 200 yards and all 3 Wolverine TDs including a 59 yarder in the 4th quarter to give Michigan a 20-10 lead, and a 25 yarder on the first play in overtime. Ty Isaac ran 7 times for 38 yards. Eddie McDoom carried once for 13 yards. Kareem Walker got an 8 yard carry as well. Chris Evans had 8 touches for 5 yards. John O'Korn completed 10 of 20 passes for 58 yards; our lowest passing total since 2001; he was only 2 of 13 in 3rd down conversions. Donovan Peoples-Jones led the receivers with 4 catches for 34 yards. Offense was forced into 9 punts, and 5 "3 and outs." Chase Dutra had 13 tackles for Indiana.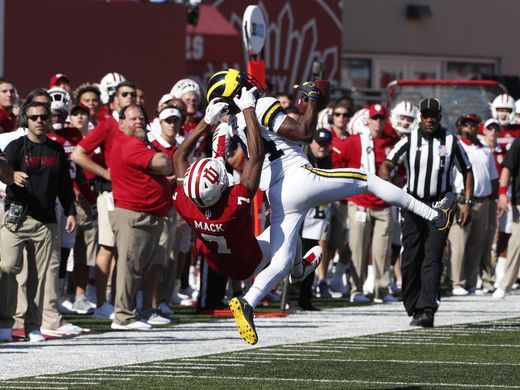 Defense held Indiana to 14 first downs, 278 total yards in 72 plays with 80 on the ground, and 5 of 18 in 3rd and 4th down conversions. Peyton Ramsey is 8 of 16 for 70 yards, and Richard Lagow threw once for 20 yards. Luke Timian had 7 catches for 95 yards. Devin Bush had 8 tackles, and Rashan Gary had 7 to lead the defensive effort, but it was a pressure by Chase Winovich that led to the interception by Tyree Kinnel to end the game on a 4th down play at the 3 yard line. Kinnell, Josh Metellus, and Winovich had 6 tackles each. Peyton Ramsey hit 20 of 41 for 178 yards, a TD with 2 interceptions. Overall, one would have to be pleased with the coverage by LaVert Hill, Brandon Watson, and David Long on the Hoosier receiving corps. Morgan Ellison ran 14 times for 68 tyards for the Hoosiers. We dominated time of possession by 10 minutes, but Indiana ran 8 more offensive plays.
Special Teams were led by Quinn Nordin with 2 field goals, and a blocked field goal by Mo Hurst that LaVert Hill ran it back to to 27 yard line to set one a score. Indiana's Griffin Oakes matched Nordin's effort with two field goals of his own including one with 2 seconds to go to send the game into overtime. James Foug continued to lead the kickoff coverage with 5 kickoffs, 2 touchbacks, and none came out past the 16. Indiana rallied late on a 53 yard punt return by J-Shun Harris that set up a red zone opportunity that put them within a field goal. Our punt coverage team sorely missed Nate Schoenle today.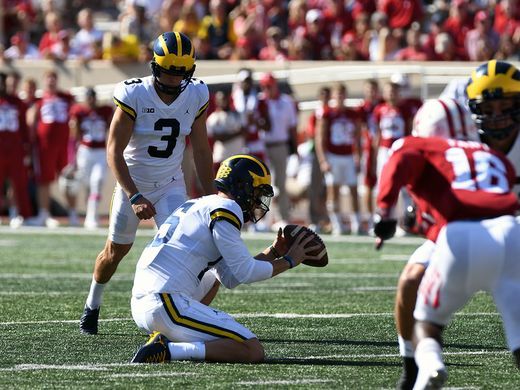 Michigan overcame a sloppy performance highlighted by 16 penalties, a new Michigan record, for 141 yards, and almost losing an onside kick late in the game.
If any other Michigan fans believe we are a contender, they are seeing something way different from my view of this year's team. Sorry, I can't bask in the glory of this win for long. We will be able to beat Rutgers, but beyond that, our offense simply isn't good enough to make us a competitive team; every game will be a struggle. Our coaches don't have this team prepared to play, and they don't adjust well during the game. The only good thing I can say for Harbaugh and his staff today is that the time out prior to the last play of the game was a solid strategy. We will lose to Penn State and Wisconsin on the road, and Ohio State at home; we could also lose to Minnesota and/or Maryland as well if we do not improve offensively. We are now 5-1, and there is a good chance we can defeat Rutgers, Maryland and perhaps Minnesota, but Penn State, Wisconsin and Ohio State will easily handle the 2017 Wolverines. We have little leadership from the players, sloppy plays, poor coaching preparation, play-calling, and game adjustments. This team is not a Top 25 team. It is fun to watch the defense at times, but they are a sieve in the red zone; the overtime stop was their first red zone stop this season. We also have little depth, and don't seem to be developing players like most of us thought this coaching staff would do. Don't get me wrong, there are positives like the improved play of Karan Higdon, but also a lot of negatives that cannot be overlooked. Most Michigan fans are frustrated by the team's play, and most of us don't see improvement game by game as the season has progressed. I don't think I've every seen a Michigan game where we had 11 penalties by halftime or 16 violations by the end of the game. We gave up a 2 score lead in the 4th quarter, and allowed a 53 yard punt return to set up one score; then, we let a team we stopped throughout the game drive to field goal range in the last minute of the game with no timeouts to send a sure win into an overtime gamble. This is a well-coached team??? We do not look like "the leaders and best" this year despite this overtime win. Go Blue!
Observations on the first half with Indiana, 13-3 Box Score Player Participation Highlights Post Game Press Conference