Observations on the win over Illinois, 25-14!
Michigan celebrated Alumni Night at Cliff Keen Arena with several former Wolverine wrestlers recognized.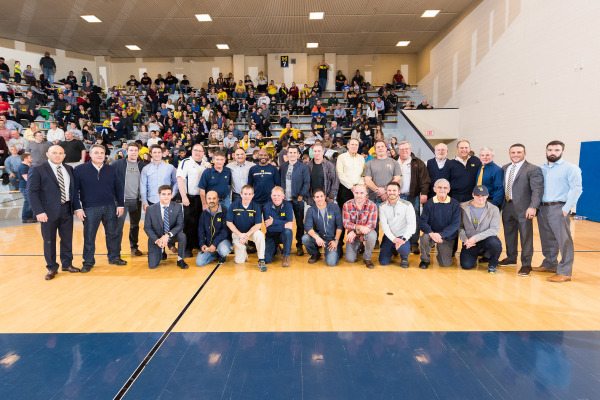 125: #19 Junior and Returning All-American Conor Youtsey pounded Francis Edelen to start the match. After an early shot by Edelen, Youtsey spun behind for an opening takedown in the first 30 seconds; he then brought Edelen to the mat with a big trip. After an escape, Youtey took him down again, and worked the bar and arm to no avail. Edelen escaped, and Youtsey quickly spun behind again to take a 6-2 advantage. After another escape, Youtsey finished the first period with a throwdown, and worked the bar and arm again with a 2:09 riding time advantage. In the second stanza, Youtsey escaped in 2 seconds, and quickly took down Edelen again to take a 11-3 lead. After another escape and takedown, Youtsey closed the period with 3:10 in riding time advantage, but couldn't convert any back points with the bar and arm. In the third period, Youtsey went for the "tech" with 4 more takedowns to close out a 25-10 win at 6:28 with 3:41 in riding time. Michigan 5 Illinois 0
133: #15 Senior and Returning All-American Rossi Bruno drew tough #2 Zane Richards who just came off a win over Corey Clark of Iowa a week ago. Richards gained advantage with double underhooks that kept Bruno on the defense early; Richards also got off a nice shot, but couldn't convert. Then, a scramble late in the period that opportunities for both wrestlers to convert takedowns with 20 seconds to go. In the second period, Richards chose down and escaped; he then converted a shot on Bruno's right leg as he moved up to gain control over his hips to take a 3-0 lead as the period ended with 56 seconds of riding time. In the third period, Bruno escaped to narrow the score to 3-1, but couldn't get any offense as Richards stood firm as he dared Bruno to shoot. Bruno's headgear came off three times during this bout. The riding time of 1:13 made the final score, 4-1. Michigan 5 Illinois 3
141: Sophomore George Fisher tangled with Brock Ervin next. Ervin has a weird back as it is raised up in the middle as he was in his low takedown stance; the five-time Kentucky state champion also used double-underhooks on Fisher to put him on the defense. Ervin shot, but couldn't finish; the two got into a nice scramble, but the period ended scoreless. Fisher escaped after two cautions, but Ervin responded with a takedown and rode tough to go up 2-1 as the period ended with 1:20 in riding time. In the third period, Ervin escaped; then, Fisher pushed the action, but couldn't penetrate Ervin's defense as the bout ended similarly to the previous Bruno-Richards, 4-1, with 1:10 riding time advantage for Ervin. Michigan 5 Illinois 6
149: #8 Sophomore Alec Pantaleo challenged Kyle Langenderfer in a re-match of the 3rd place bout from the Big Ten Championships that went to Langenderfer in overtime, 9-7. Pantaleo pushed the action early with Langenderfer spinning out twice from leg attacks; then, Pantaleo nailed him close to the one minute mark with a takedown. Langenderfer escaped after Pantaleo was warned for stalling; then, Alec exploded with a "super" double, and took him down again while finishing the period with a head and arm ride, 4-1, for 29 seconds of riding time. In the second period, Langenderfer escaped to narrow the gap to 4-2 with little action in the period. In the final period, Alec escaped to go ahead, 5-2; now, Langenderfer tried to push the action. He did get in a couple shots, but nothing close to finishing although there was a nice scramble with 36 seconds to go. Pantaleo wins 5-2. Michigan 8 Illinois 6
157: #5 Junior and Returning All-American Brian Murphy squared off against defending NCAA Champion Isaiah Martinez next. The two pursued each other with Murphy called for stalling with 1:45 to go; then, Martinez got a takedown, and tilted Brian into a quick 4 point near fall with a two on one plus good hips. Martinez executed the same move again to take a commanding 10-0 lead. Murphy escaped, but Martinez built 1:21 in riding time to end the period. In the second period, Brian spun and almost put Martinez on his back, but he held him off and just let up an escape for a 10-2 advantage. Then, quickly, Martinez finished nice shot and another tilt to go ahead, 16-2. Finally, after trying a bar arm, Murphy escaped, but Martinez finished to bout with another takedown for an 18-3 "tech" at 4:44 with 2:31 in riding time. Michigan 8 Illinois 11 at the Intermission break.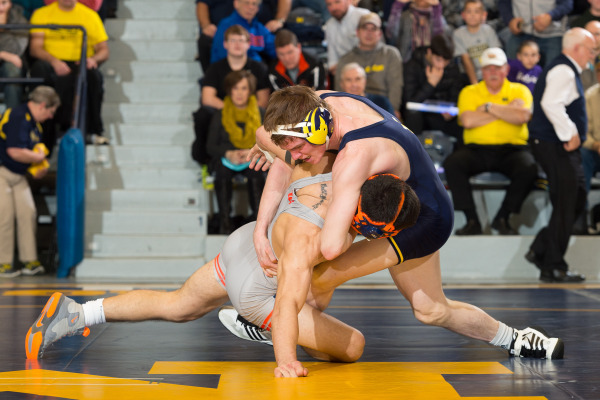 165: Sophomore Garrett Sutton challenged #6 Stephen Rodriques next. Rodriques took down Sutton in the first 30 seconds. After a caution to Garrett, and an escape, Rodriques gained another takedown to go ahead, 4-1, with 1:15 in riding time to end the period after a few blood clean up stoppages. Rodriques escaped in the second period, and gained another takedown with about 30 seconds to go to extend his riding time advantage to 1:28. In the 3rd period, an escape on the alternate start narrowed the score to 7-2. Rodriques gained another takedown at the 45 second mark, and then decided to go for the superior decision by letting Garrett go, 9-3. A stalemate was called with 38 seconds to go, but Garrett held off Rodriques and almost converted a takedown of his own. Final: Rodriques 10 with 1:44 in riding time Sutton 3. Michigan 8 Illinois 14
174: #19 Redshirt Freshman Devonte Mahomes avoided a bout with #1 Zac Brunson due to injury; instead, he took on Emery Parker. I spoke with Illini Head Coach Jim Heffernan prior to the match; he said, "WE'VE GOT TO GET HIM BACK." Mahomes confidently pursued Parker, and converted a nice double at the 1:20 mark. After two cautions to Mahomes, Parker escaped, but Mahomes converted another takedown to go ahead 4-1 with 19 seconds of riding time to close the first period. Mahomes escaped in 10 seconds to extend his lead to 5-1, and then converted another takedown with 35 seconds to go on a single with a big return finish. The period ended with 47 seconds in riding time advantage for Mahomes. In the 3rd stanza, an escape to Parker and another takedown by Mahomes after 45 seconds extended the lead to 9-2; then, the coaches encouraged Devonte to go for the superior. He let Parker go, 9-3, and then pursued him with a final takedown; he rode him out with 1:39 in riding time for a resounding 12-3 win. Michigan 12 Illinois 14
184: Junior Big Ten Champion #10 Domenic Abounader tangled with former 197 pounder Jeff Koepke next; Koepke is ranked #16. Domenic fought off an early shot by Koepke, and converted a takedown while riding his usual toughness to gain 1:13 in riding time advantage. Domenic extended his riding time advantage to 1:38 in the second period, but there wasn't much action after a Koepke escape, 2-1. Dom extended his lead in the 3rd period with an escape, and a nice right leg single finish to gain a 5-1 advantage. Dom gained another takedown with 30 seconds to go after a Koepke escape for an 8-2 win with 2:13 in riding time. Michigan 15 Illinois 14
197: 6th Year Graduate Student and Returning All-American #6 Max Huntley found Andre Lee facing him at the opposing end of the circle. Max gained a takedown at the 1:22 mark as Lee put up a good struggle early. After a Lee escape, Max bearhugged Lee and held him down for a BIG PIN at 2:39 for the highlight of the evening. Michigan 21 Illinois 14
285: #4 Junior and Returning NCAA Runner-Up Adam Coon and Brooks Black came to the mat the final bout. Adam told me at last year's Big Ten Championships that the two have wrestled since they were 8 years old in events. Adam pushed Black from one end of the mat to the other as he drew a stall call at the 1:40 mark, and got a stall point with 34 seconds to go. Adam was out quick to start the second period, and then converted a takedown cradling up Black for a 2 point near fall to go up 6-1. Adam almost got another cradle, but Black scrambled out. Adam bullied Black in the 3rd period as he drew another stall call, got another two takedowns with 1:36 riding time for a 11-2 verdict. Final Score: Michigan 25 Illinois 14
Michigan will return to action next weekend at Cliff Keen Arena with an intrastate rivalry dual with Central Michigan on Friday, January 22 at 7 p.m., and host Indiana on Sunday, January 24 at 2 p.m.; there, will be a lot of good individual matchups in both events with Heffernan-Pantaleo, Smith-Murphy, Mahomes-Jackson, and Mahomes-Ottinger as some of the best. Go Blue!