Observations on the loss to #4 Ohio State, 15-25
One of the disappointing things about this match is that some of the best wrestlers on both sides didn't compete. It doesn't really matter whether it is injury, illness or because of coaching strategy, but it is disappointing to the fans who come to the matches to watch the best competition. It shortchanges the sport when an anticipated bout doesn't materialize. There were 1,830 fans in a "sell-out" at Keen Arena for the 2:00 p.m. start.
My wife and I sat with former 1992 NCAA Champion, Charlie Jones, who wrestled at Purdue, and went to high school in Sandusky, OH so he was rooting for the Buckeyes. Jones holds the distinction of being the "oldest" man to win an NCAA Wrestling Championship at the age of 27. I refereed several of Jones' bouts, and it was a joy to share thoughts on wrestling with him. Jones coached at Eastern Michigan with Willie Gadson when they won their only MAC Championship in 1996; Jones then became Head Coach at EMU.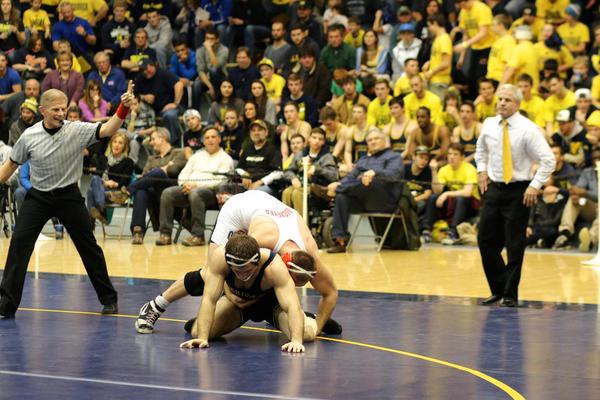 125 lbs. Conor Youtsey vs. #7 Nathan Tomasello: Youtsey defended the first shot by Tomasello on his right side, solid counter. Tomasello converted his second shot to Youtsey's left side for a takedown. Youtsey almost reversed him and got back points, but Tomasello clung to a leg to prevent it. As a result, Tomasello let Youtsey go, 2-1, and shot again to finish another textbook shot. After a stall call on top to Tomasello for just riding, Youtsey escaped for a 4-2 end to the first period with 1:06 in riding time. The second period narrowed to 4-3 after a Youtsey escape and a caution to Tomasello for false start, but Tomasello took Youtsey down twice more and gave away two more escapes for an 8-5 end to the second period. After Tomasello escaped to begin the 3rd period, he pressed Youtsey for the major after Youtsey shot for the first time in the bout; Tomasello countered for an 11-6 lead. Another Tomasello counter from a second Youtsey shot made it 13-7 following another escape. A well-conditioned Tomasello scored a final takedown to win 16-7 with a riding time point. Youtsey is not having a good season; he gives up too many points, and does not go full out. He needs to get more offensive if he is to place at the Big Ten's in 2015; he was 7th in 2014.
133 lbs. The anticipated matchup between #6 Rossi Bruno and #8 Johnni DiJulius didn't materialize; instead, Senior Zebulon Hilyard from Hudson HS wrestled in Bruno's place. Unfortunately, DiJulius immediately took down Hilyard on a fireman's carry to his back and almost got the pin. Hilyard ended up behind 9-2 after the first period, and DiJulius finished a technical fall at 4:44 of the second period, 17-2, to give the Buckeyes a 9-0 advantage. It was a nice job by Hilyard to bridge twice while on his back close to a pin in both periods, most people don't understand how hard it is to keep from getting pinned while so close to being in jeopardy.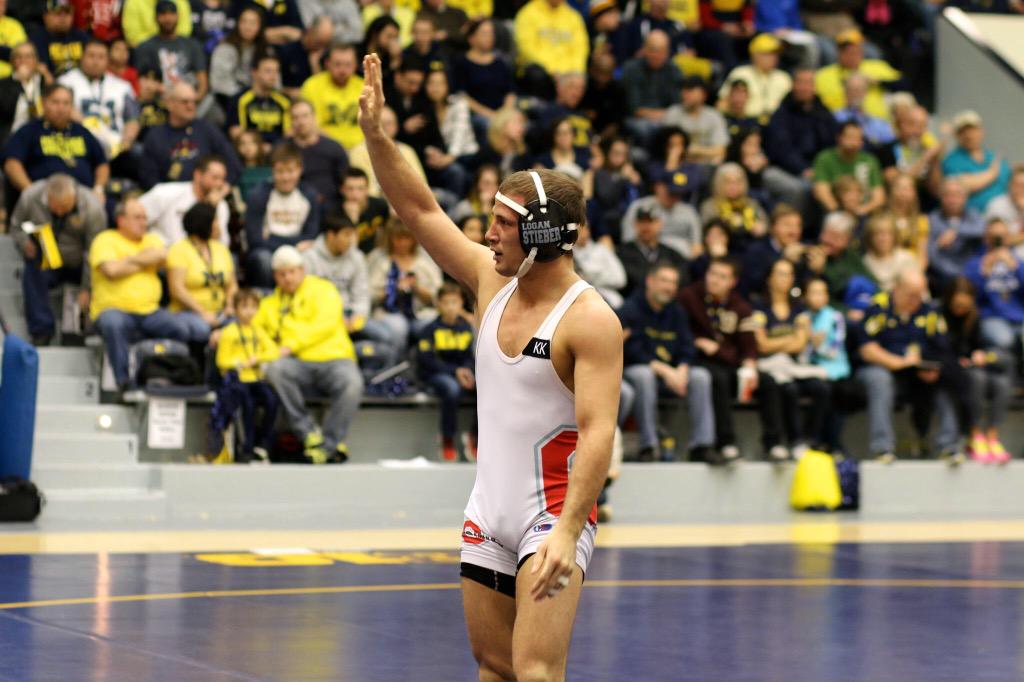 141 lbs. George Fisher vs. #1 Logan Stieber: Again, it is unfortunate that #6 Stephen Dutton has been unable to wrestle, but although Fisher is really coming on, he was outmatched by 3x NCAA Champion Stieber who may very well be a starter on the Team USA Olympic Squad in 2016 at Rio de Janeiro. Stieber took Fisher down, and did what he does best, and that is precision technique in riding to convert a wing and a half-nelson into a double arm bar for the pin at 1:31. 15-0 Bucks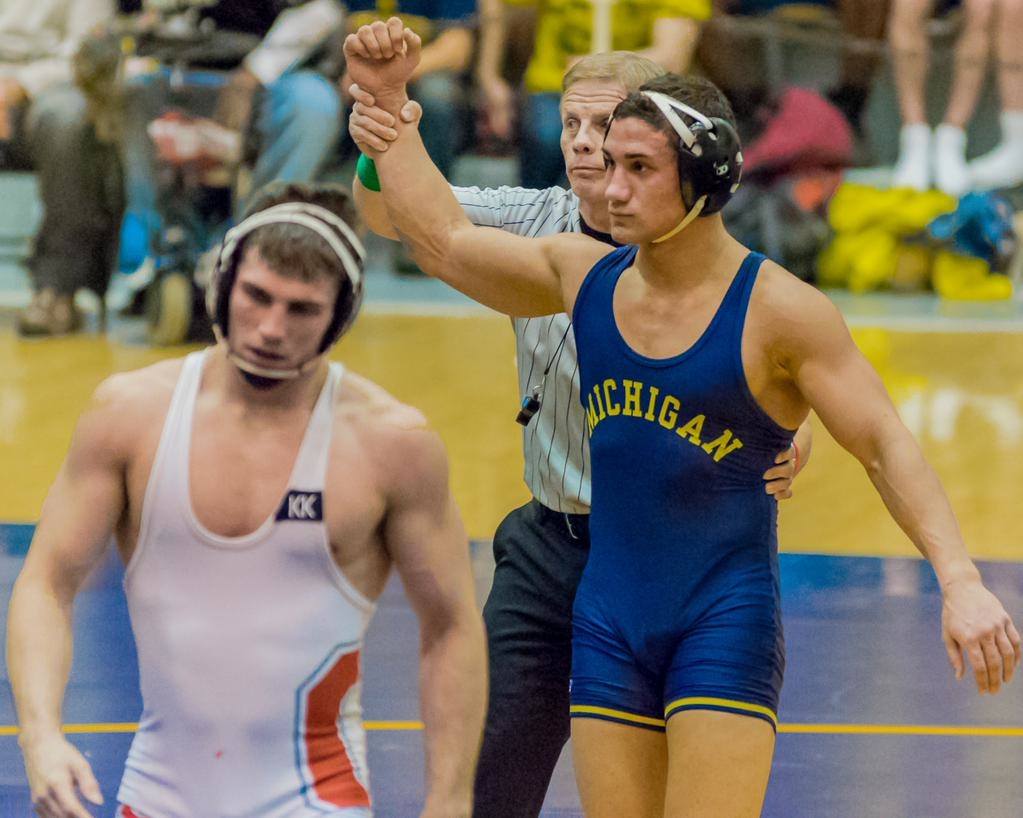 149 lbs. # 10 Alec Pantaleo vs. #8 Logan Stieber didn't happen as the Bucks sent backup Randy Languis to the mat instead. Pantaleo had a nice "shuck by, " but didn't score off it; then, he hit an awesome double to score a takedown. After an escape by Languis, Pantaleo hit another double to take a 4-1 lead to end the first period. After Languis escaped to begin the second period, he was also warned for stalling as Pantaleo continued to carry the action to him without response. Later in the period, after chasing him most of the period, Pantaleo hit yet another solid double to end the period up 6-2 with 1:05 in riding time. In the last period, Pantaleo chose neutral in an effort to go for the major, but didn't push the action hard enough, and was only able to gain one more stall call for a 7-2 end with point in riding time for an 8-2 final. My observation is that Pantaleo has all the physical skills, but must push himself more; ultimately, it will improve his conditioning. He is fabulous on his feet, hard to score on with great natural balance plus quick, solid shots; however, he's got to get tougher on top, and not give away points. Alec Pantaleo has a bright future, 2015-2018, at Michigan with a genuine shot at being a 4 Time All-American. 15-3
157 lbs. #17 Brian Murphy vs. #5 Josh Demas: This bout was a re-match of an earlier one that Demas eaked out on a technical violation, 2-1, at the EMU Open. The first period started slowly with Murphy pressing the action most of the opening stanza; as a result, Demas was called for a stall warning late in the period. Murphy bumped Demas coming back in from an out of bounds whistle. In the second period, Murphy escaped to take a 1-0 lead, and then took a long shot that he couldn't convert. Murphy then had a nice finish on a single to the left leg to go up 3-0 to end the second period with 12 seconds riding time. In the third period, Demas narrowed the lead to 3-1 with an escape. After a long shot by Murphy that didn't convert, Demas came back with a nice DuckUnder and almost scored. Murphy then converted another single to go up 5-1, and at the buzzer to end the bout Demas almost reversed; however, he earned a point for a 5-2 finish. The scoring was protested, but it was a nice win by Murphy; he looked great today although he isn't having a great season. Murphy is hard to takedown because he is so long and flexible, but he needs some strength; perhaps in 2016 he may consider a redshirt so he can gain needed strength and move up to 174 lbs., a weight that he may ultimately be best suited for with his height and body type. He is a tough 157 pounder though and hopefully this win will help him to peak in March when he'll need to be his best. 15-6
10 minute Intermission--No Entertainment other than the University of Michigan Band playing
165 lbs. #7 Taylor Massa vs. #6 Bo Jordan: Jordan beat Massa earlier this season, 4-1, so this is a re-match. Massa pursued Jordan most of the first period, and had a great shot on a single that Jordan really defended well. Jordan is very long and strong; he is great on defense on his feet, and tough on top. The first period was scoreless, but Jordan completely dominated the second period. Jordan methodically worked on Massa the whole two minutes although the referee stopped the bout once for stalemate. The second period completely fatigued Massa, and he was a bit dazed to finish the bout. Jordan escaped in the 3rd period; actually, I'm surprised he chose down as I thought he'd just continue to build up 4 minutes of riding time. A stalemate was called with 34 seconds left in the bout, Massa then shot a single, but again Jordan defended to win 2-0 with riding time. 18-6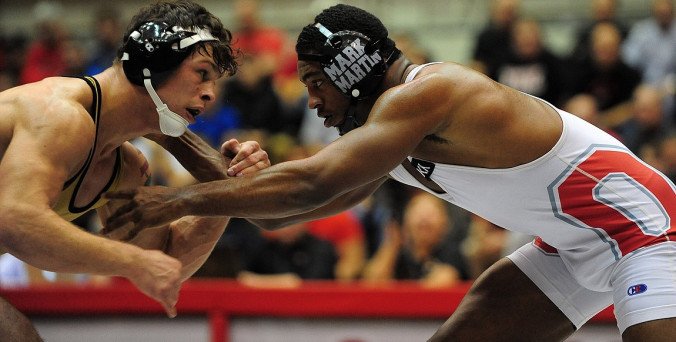 174 lbs. Jeff Holm vs. #11 Mark Martin: Former Olivet grappler, Jeff Holm, started his bout in great fashion converting a front headlock into a single and finish to take a 2-0 lead, and after an escape by Martin, Holm led 2-1 after the first stanza. After that it was all Martin as he put Holm on his back twice, and led 7-2 after the second period. Martin gained an escape and takedown in the their period to get the major, 11-2, with a point in riding time. It was a good effort by Holm as he was not intimidated by Martin's ranking, and came right at him. 22-6
184 lbs. #10 Domenic Abounader vs. #12 Kenny Courts: In a preview of a possible Big Ten Finals matchup, these two rivals who have split their previous bouts were scoreless in the first period until Abounader shot on Courts near the Buckeye side of the mat. Abounader lost his balance while Courts countered into a double of his own to turn the tables on the Abounader shot for a takedown on the edge. Abounader escaped seven seconds later to end the first period. In the second period, Abounader knotted the score, 2-2, with another escape; then, Dom shot again, but couldn't finish. Courts was called for a stalling warning, and then Abounader continued to press the action; he finally scored an a nice single to go ahead, 4-2, and built 33 seconds of riding time to end to second period. In the 3rd period, I was sure that Court would choose neutral, but he chose down, and it proved to be a bad mistake. Abounader is Michigan's best rider, and he punished Courts for the entire last period with Courts penalized a point for stalling plus a riding time point netted a 6-2 verdict over Courts. If Dom can get better on his feet, he could be a Big Ten Champion and All-American this season; he is really, really tough on top, and came to Ann Arbor with those skills he learned at St. Edward. 22-9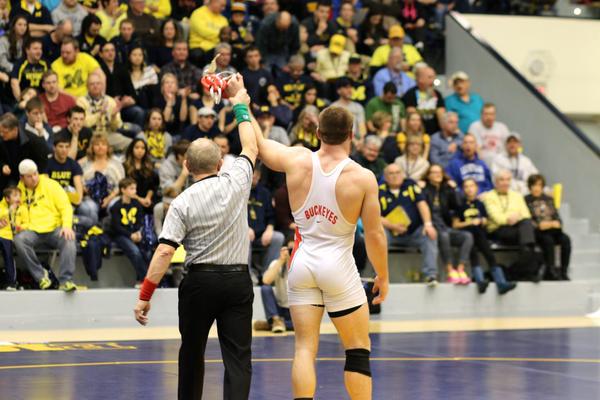 197 lbs. #9 Max Huntley vs. #5 Kyle Snyder: This was another re-match from the MSU Open in November when Snyder beat Huntley, 10-5. Snyder is very thick, also hard to score on; he is quick and athletic for a "big boy." Snyder capitalized on that quickness with a nice double finish after a single shot on Huntley to go ahead, 2-0. After Huntley escaped, Max shot in on Snyder, but couldn't finish after a stalemate for a 2-1 end to the first period. Snyder escaped to start the second period to build a 3-1 lead going into the final period. After a Huntley escape to narrow the score, 3-2, Huntley continued to pursue Snyder, and finally got in on a single, but Snyder countered with a leg attack to a final takedown to seal the win, 5-2. 25-9
285 lbs. #7 Adam Coon vs. Ray Gordon: Again, it was disappointing to see that Nick Tavanello didn't appear, but it was fun to end the match with a pin at 1:22 as the much larger Coon finally figured out a way to lasso Gordon near the edge of the mat and bring him down for a sweet bedtime story. 25-15
The Big Ten's are in Columbus, OH this season, and the Buckeyes have a great shot at both a Big Ten and NCAA Team Championship. Coaches Ryan and Roselli have really built the #4 Buckeyes into a real contender, but they'll need to get Martin, Courts, Stieber and Tavanello in better health and better condition if they want to be team champions in March. Michigan has a shot to finish as high as 5th in the Big Ten this season, but a poor performance in March could also see them falter to 8th or 9th. They really need to get better on top as a team. Abounader is their only starter who can punish guys on top. Hopefully, they'll continue to improve as they march towards March. It'll be the Badgers coming to Keen Arena this Friday followed by Penn State the following Friday. It will be nice to see some improvement in the next two weeks.