Observations on the loss to Penn State, 13-42
Michigan gained 13 points off two red zone trips in the first half, but couldn't mount any offense in the second half. Penn State gained 6 red zones, 4 in the second half for 28 points. Penn State scored 7 points off one Wolverine turnover; Michigan scored 6 points off one Nittany Lion turnover. Michigan came back in the 2nd quarter to make it a 14-13 game, but the drive in the last minute just before the half to make it 21-13 really re-established momentum that catapulted the Nittany Lions to a lopsided victory.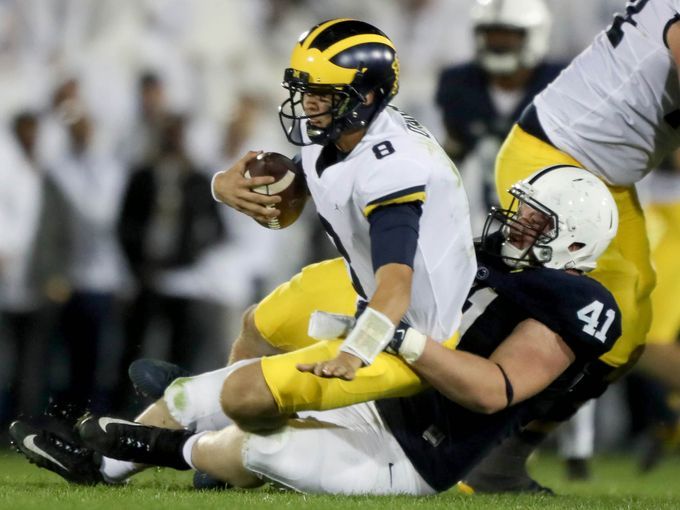 Offense gained 16 first downs, 269 net yards with 103 on the ground; we were 8 of 20 in 3rd and 4th down conversions. John O'Korn was 16 of 28 for 166 yards. Karan Higdon had 15 carries for 45 yards and a TD. Ty Isaac had 6 carries for 36 yards for the other TD. Donovan Peoples-Jones caught 3 passes for 43 yards. Eddie McDoom caught 3 passes for 29 yards. Grant Perry had 3 catches for 46 yards. We had 9 more offensive plays with nearly 6 minutes time of possession advantage. Jason Cabinda led a confident, agressive Nittany Lion defense with 13 tackles including a sack and a forced fumble; Penn State mauled O'Korn for 7 sacks and 4 quarterback hits while creating a turnover, and forcing 6 punts.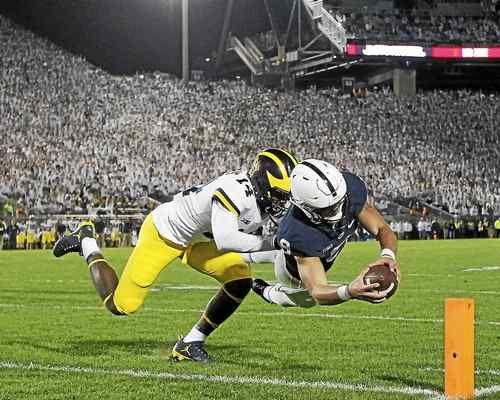 The Penn State offense took our defense out the the "woodshed." Penn State gained 25 first downs, 506 net yards with 224 on the ground; they were 4 of 8 in 3rd and 4th down conversions. Trace McSorley was 17 of 26 for 282 yards, and ran 11 times for 76 yards and 3 TDs; he was sacked once, and threw an interception to David Long. Saquon Barkley had 15 carries for 108 yards for 2 TDs including a 69 yard scamper on the 3rd play of the game for quick TD; he also caught 3 passes for 53 yards and another 42 yard TD. DeSean Hamilton led the Nittany Lion receivers with 6 catches for 115 yards. Khaleke Hudson, Tyree Kinnel and LaVert Hill had 7 tackles each, but it was such a poor job by the defense that it is difficult to praise anyone. We only forced Penn State into two punts and a turnover; otherwise, they moved the ball on us all night with only two "3 and outs." We were not prepared for Barkley in "wildcat," and we were not prepared for McSorley running the ball; our safeties could not cover the Penn State receivers in man coverage. It was disappointing to see our defense so unprepared, and that is on Don Brown and the coaching staff: Mattison, Partridge, Zordich and Smith. True Freshman Kwity Paye came in for injured Chase Winovich, and got 3 tackles including a sack.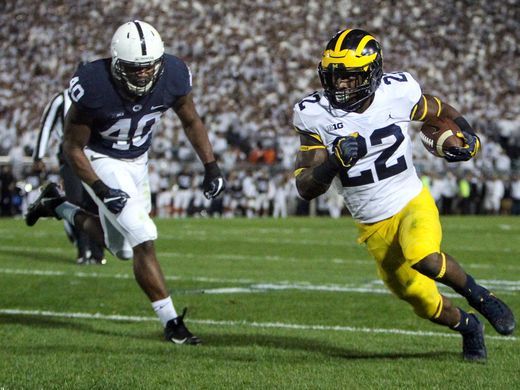 Special teams was a non-factor in this game, but the Nordin miss after the first TD was a definite momentum stopper.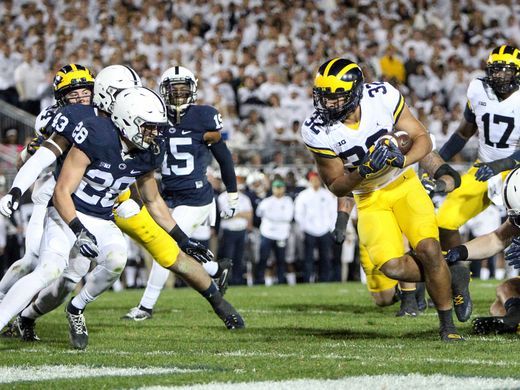 We should be able to rebound and beat Rutgers, Minnesota and Maryland to get to 8-2; however, this year's squad won't be able to compete with Wisconsin or Ohio State, and that will end the season 8-4, 5th in the conference, with a bowl bid to possibly the Outback against an SEC team like Auburn, LSU, Mississippi State, Kentucky, South Carolina or Texas A&M. We are not as good as we hoped we'd be this season, and certainly not where we thought we'd be after 3 years of leaderhip under Jim Harbaugh and Staff. We simply aren't developing our players as well as other NCAA Division I teams are, and that is why we aren't contending for championships and playoffs. The teams at the top are doing a better job of developing their recruits and players, preparing and adjusting to their opponents, and recruiting high quality talent to replace voids left by graduating players.