Observations on the loss to Iowa, 13-14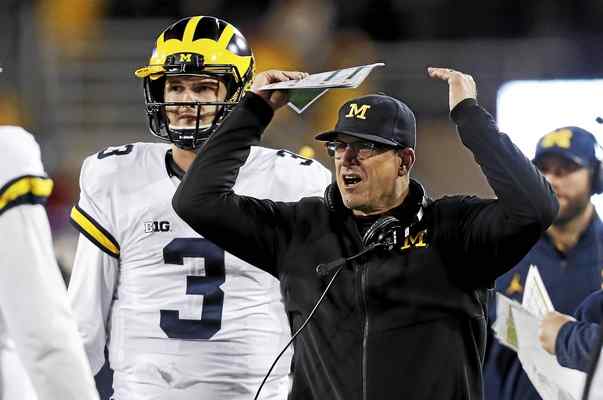 Michigan gained two red zones in the first half for 10 points, but none in the second half; Iowa gained 3 red zones, two in the second half for 9 points. The Hawkeyes scored 3 points off two Wolverine turnovers, and Michigan couldn't even gain a first down off the one Iowa turnover. Each team forced the other into four "3 and outs."
Offense was putrid! Michigan had only 201 net yards with 98 on the ground, and 14 first downs, and only 5 of 15 on 3rd down conversions. Wilton Speight hit 11 of 26 for 103 yards and only 24 yards in the second half. The Hawkeyes sacked Speight twice, forced a fumble, and had two quarterback hits on him as well; Speight injured his non-throwing shoulder later in the game, and wasn't as effective down the stretch. Chris Evans ran 8 times for 52 yards. DeVeon Smith ran 12 times for 28 yards, and was tackled in the end zone for a safety. Ty Isaac scored the lone Wolverine TD with a 7 yard run. Jake Butt had 4 receptions for 39 yards. Jehu Chesson had 2 receptions for 30 yards, but was outgrabbed for a ball thrown in his hands at the 25 by Manny Rugamba. Desmond King was all over Amara Darboh making him a non-factor, and Speight missed him twice on bombs although he was wide open; Darboh only had one catch for 5 yards. Iowa did a nice job on taking the Peppers factor out of the game for Michigan's offense, and made our offense one dimensional. Jaleel Johnson played a "monster" game for Iowa with 9 tackles, two for loss including a safety and a sack. Freshman Manny Rugamaba had 3 pass break ups and an interception plus 4 tackles for the Hawkeyes including two on the final "drive." Iowa had 8 tackles for loss, 2 turnovers, and forced us into 6 punts; they allowed only two red zones, none in the second half, and that is why they won. Their defense suffocated our offense.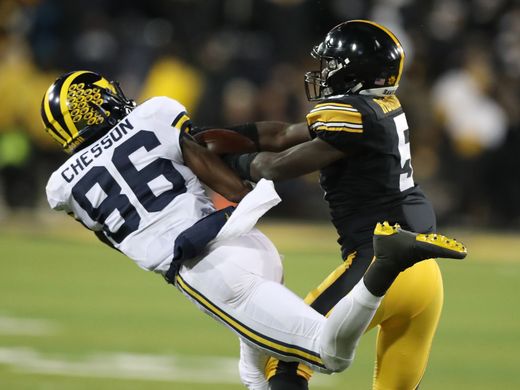 Defense couldn't hold the Hawkeyes when they had to; Iowa gained 230 net yards, 164 on the ground, 17 first downs with 10 in the second half and 13 on the ground, and was 6 of 19 in 3rd and 4th down conversions. Iowa dominated time of possession by over 5 minutes and it resulted in 7 more offensive plays. C.J. Beathard was 8 of 19 for 65 yards, but hit Akrum Wadley for a TD. Wadley had 23 rushes for 115 yards plus 5 catches for 52 yards, and LeShun Daniels had 14 rushes for 54 yards. The Hawkeyes executed their game plan to perfection, and deserved to win. Michigan defenders did a poor job tackling, and defending the edge all night long as this is where Iowa continued to attack. Dymonte Thomas led the Wolverine defense with 10 tackles, Ben Gedeon had 9, and Michael McCray had 7. Michigan had 3 sacks from Charlton, Winovich, and Wormley, but only got two quarterback hits on Beathard. Channing Stribling intercepted a Hawkeye pass with 1:49 left in the game at the 16, but the offense couldn't gain one first down so Iowa got the ball back for their final drive with 1:23 left.
Kenny Allen made both field goal attempts including a 51 yarder, but only averaged 40.7 yards on 6 punts although two were inside the 20. Ron Coluzzi punted 6 times for a 47 yard average with 3 punts downed inside the 10 to help Iowa maintain better field position throughout the game. Each team had 5 possessions in the first half, but Iowa's average start was at their own 30 while Michigan's average was from their 21 with two inside their own 10 yards line. In the second half, Iowa started two drives in Michigan's territory including the game winning drive; the Hawkeye average was at their own 34 while Michigan's average was at their 27 with one inside the 10. Iowa only had one of eleven drives begin inside their 20, and that waw at their 15. The turnover to start the second half on the kickoff return by Khalid Hill resulted in Iowa taking a 11-10 lead. Keith Duncan made both field goal attempts including the game winner with 2 ticks on the clock. It was learned after the game that Michigan only had 10 men on the field for the final play of the game; this was after they had called a time-out in an effort to "ice" Duncan.
Penalties also hurt Michigan as they took 5 penalties for 48 yards including a 15 yard facemask penalty by Michael McCray that set up Iowa's final drive at the Michigan 36 following Allen's 41 yard punt at the Michigan 18. Special teams execution went to Iowa as they won all three major phases of the game: Offense, Defense, and Special Teams. We were outplayed and outcoached.
Well, the team's road performance stunk, and they deserved to lose. The 10 game win streak is over. They can still win the conference championship if they win their final 3 games against Indiana, Ohio State, and the Big Ten Championship. Harbaugh and staff really did a poor job coaching in this game, and Kirk Ferentz and staff really outcoached them in both game preparation and adjustment during the game.