Observations on the loss to Oklahoma, 12-23!
#3 Michigan was outwrestled by a prepared and motivated Oklahoma Sooner team on Sunday, 12-23. The match was not close, but a 10 point swing with a knee injury to returning All-American, Brian Murphy, was a huge factor in the outcome.
125: #6 Junior and Returning All-American Conor Youtsey came out aggressively, but couldn't score a takedown on Sophomore Ryan Milhoff from Georgia; he did earn a stall call on the Sooner. The first period ended scoreless despite a few chances for Youtsey that he couldn't finish. Youtsey deferred choice, Milhoff chose down and quickly escaped with little action to end the second period. In the third period, Youtsey escaped to tie the score at 1-1, but Milhoff grabbed a quick takedown on a go behind. After an escape by Youtsey, he chased a determined, poised Milhoff, but couldn't earn a takedown or get a stall call in a 3-2 verdict. Oklahoma 3 Michigan 0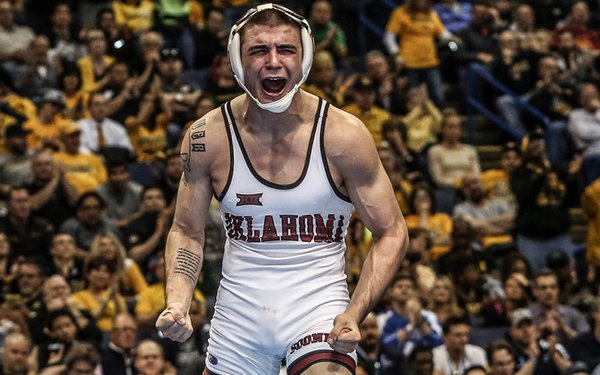 133: #6 Senior and Returning All-American Rossi Bruno got in a shot early against defending NCAA Champion Cody Brewer, and that was the highlight of the bout for the Wolverines. Brewer took down Bruno, and rode him for 2:01 and turned him on a 4 point near fall to take a 6-0 lead after the first period. Brewer used the "Turk" and crossface cradle, but couldn't lasso Bruno over. Brewer continued to ride Bruno throughout the second and third periods while allowing two escapes so he could quickly convert takedown points, and got another 4 pointer to end the bout at 6:57 with a technical fall, 18-2. Oklahoma 8 Michigan 0
141: Two unranked wrestlers, Sophomore George Fisher and Redshirt Freshman Noah Teaney from Kansas City, provided a close bout with Fisher converting a nice double to take a 2-0 lead early. After an escape by Teaney, Fisher scored another takedown to close the first period with a 4-1 lead. Teaney got a reversal to end the first period, 4-3, but Fisher accumulated 48 seconds of riding time. In the second period, Fisher rode tough, and extended his riding time advantage to 2:48, but 4 stalemates and two cautions on Fisher highlighted the period. In the 3rd period, Fisher chose neutral, and Teaney responded with a takedown to go ahead, 5-4. Fisher got a reversal with 57 seconds left in the bout to go ahead, 6-5, and Teaney couldn't escape despite a stalemate with 36 seconds to go. Fisher won 7-5 with riding time. Oklahoma 8 Michigan 3
149: A very entertaining bout with #11 Sophomore Alec Pantaleo tangling with #20 Davion Jeffries of Broken Arrow, Oklahoma. Both wrestlers are extremely quick and explosive, and Pantaleo was pancaked by Jeffries early, but Jeffries couldn't convert it into points. Pantaleo looks much thicker this season in the upper body. Alec then muscled his way behind Jeffries for a takedown, but couldn't hold him down for long so the first period ended 2-1. Jeffries tied the score 2-2 quickly in the second period, and neither wrestler could gain any advantage although both pressed the action throughout the period. Pantaleo drew a stall call on Jeffries late in the period. In the 3rd period, Alec escaped to go ahead 3-2 so Jeffries became the aggressor. There was another pancake by Jeffries that almost resulted in points; then, in a "cat quick" move, Jeffries pounced on top of Pantaleo in a prototype Oklahoma "go behind" move to go ahead, 4-3. Jeffries rode Pantaleo out, but it wasn't easy as Alec almost exploded out twice between whistles. Big win for Jeffries, 4-3! Okahoma 11 Michigan 3
157: #3 Junior and Returning All-American Brian Murphy was wrestling for the first time after being held out with an injury; his foe was Sophomore Big Twelve Champion Shayne Tucker. Murphy came out quick and aggressive with a takedown at the 24 second mark. After an escape by Tucker, Murphy gained another takedown to go ahead, 4-1, to end the first period. Murphy chose down to start the second period; after a caution to Tucker, Tucker was riding Murphy and while scrambling to escape he twisted his right knee. After the trainer looked and evaluated it, and Murphy tried to put weight on it, it was obvious he couldn't continue after the 1:30 of injury time so the bout was defaulted. Oklahoma 17 Michigan 3
Intermission: There was an entertaining tug of war with some boys on the mat. We were sitting with John Marchello, Two-Time Big Ten Champion in 1956 and 1957 along with Kirk Trost, former Michigan Wrestling Coach, 1987-2011, NCAA (1986) and 1987 World Cup Champion. We also chatted with former Olivet Coach, Jare Klein.
165: Now, the match quickly became desperation for Michigan. Sophomore Garrett Sutton faced Junior NCAA Qualifier Chad Glass. Sutton had a chance early, but couldn't finish; then, an explosive double leg and a re-shot got him the lead, 2-0. Sutton could only gain 34 seconds of riding time before Glass escaped to end the first period. In the second period, Glass rode out Sutton to reverse the riding time advantage to 1:26, and the effective riding had an effect on the rest of the bout. In the 3rd period, Glass escaped to tie it up, 2-2, but with riding time advantage all Sutton could do was chase him the rest of the bout. The referee never called a stall so the bout ended 3-2 for Glass on riding time. Oklahoma 20 Michigan 3
174: Michigan was faced with winning the final four bouts, and getting some significant bonus points if they were to have a chance. #19 Redshirt Freshman Devonte Mahomes challenged #14 Junior Matt Reed of Wichita. The two African-American wrestlers gave the fans their moneysworth as they both came out highly energetic in the duel. Reed scored an early takedown, and picked up Mahomes with a convincing drop on the return to the mat. Then, after an escape, Reed threw Mahomes on a big 6 point move with a takedown and back points. Joe McFarland appealed to the referee when action stopped after a reversal by Mahomes, and won the back points appeal; the score was 8-4, and changed to 6-4 for Reed. After a Reed escape, both wrestlers continued to push the action, and both were very physical. The first period ended 8-4 with 9 seconds of riding time for Reed. I can't remember where the extra point came from, but great action to start this bout. In the second period, Mahomes narrowed to bout to 9-6, after a Reed escape and a nice double leg takedown as Reed started to show signs of tiring. Another escape made it 10-6 to end the second period. In the third period, Reed rode Mahomes tough, and gained a 4 point near fall to go ahead, 14-6. A late escape ended the bout, 14-7, for Reed. Oklahoma 23 Michigan 3
184: Junior Big Ten Champion Domenic Abounader faced Redshirt Freshman Joel Dixon from Edmond, Oklahoma. Domenic started fast with a left leg single and finish for a 2-0 lead. After an escape, Abounader got his second takedown on a go behind and accumulated 1:36 in riding time pressuring Dixon with that "tight" half Nelson. Dom reversed Dixon in the second period and pushed his riding time to 3:22 as Dixon really got beat up in the period. It was hard to believe that Dixon chose down for the 3rd period after getting 3:22 of Dom on top, but that is what he did. Dom couldn't turn him so the bout ended with a 7-1 verdict and 5:22 of riding time. Oklahoma 23 Michigan 6
197: 6th Year Graduate Student and Returning All-American #5 Max Huntley faced off against Redshirt Junior Brad Johnson from Lockport, Illinois. Max started quickly with a takedown in 35 seconds, and got his second takedown at the 1:00 mark with an escape sandwiched in between for a 4-1 lead. Max gave up another escape, and only rode Johnson for 26 seconds while clearly superior on his feet. In the second period, Max escaped, but Johnson got a takedown to close the score to 5-4. After 3 stalemate calls, Huntley escaped to move the score to 6-4. In the third period, Johnson closed the score to 6-5 with an escape, but Max took him down again. After another Johnson escape to move the score to 8-6, Max fought off Johnson with another stalemate called at the 38 second mark. Oklahoma 23 Michigan 9
285: #3 Junior and Returning NCAA Runner-Up Adam Coon and Redshirt Junior Ross Larson from Ankney, Iowa who was the #15 seed at the 2015 NCAA Wrestling Championships. Adam started aggressively, and got a takedown at the 1:20 mark; Larson escaped and Coon got in on a leg near the buzzer, but couldn't finish. In the second period, Adam escaped in 5 seconds, but couldn't secure another takedown. In the final stanza, Adam rode Larson out, and added 3:14 minutes of riding time for a 4-1 verdict. Oklahoma 23 Michigan 12
All in all, it was a dismal performance for the Wolverines! Oklahoma was consistently tough on top, and that is a team attribute we lack. All the good wrestling teams are tough on top at every weight, we lack that and it hurts us as a team. Others who I spoke with after the match were disappointed in how we looked from a conditioning standpoint; of course, it is early in the season, but Oklahoma was definitely in better shape from a conditioning point of view. Hopefully, we can use this to improve! Go Blue! Michigan Daily