Observations on the loss to Michigan State, 10-14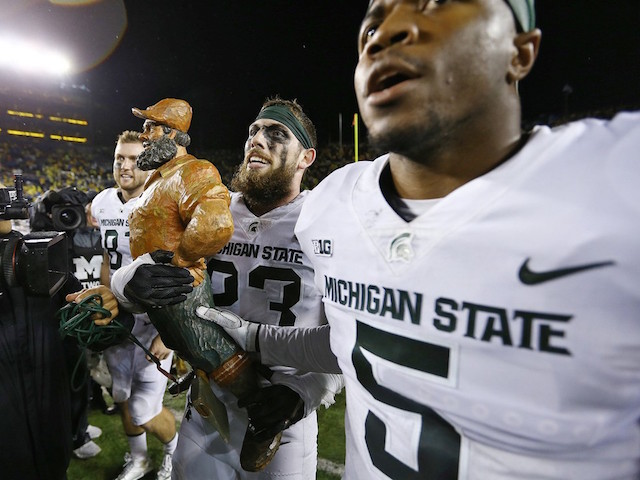 Michigan State came to Ann Arbor confident, poised and well-prepared; the Spartans executed a masterful game plan by Mark Dantonio and Staff and beat Michigan from start to finish. Each team had two red zones; the Spartans converted both of their opportunities for 14 points while Michigan converted their opportunities into only 10 points. The Spartans scored 7 points off 5 Wolverine turnovers. So much for "improvement week."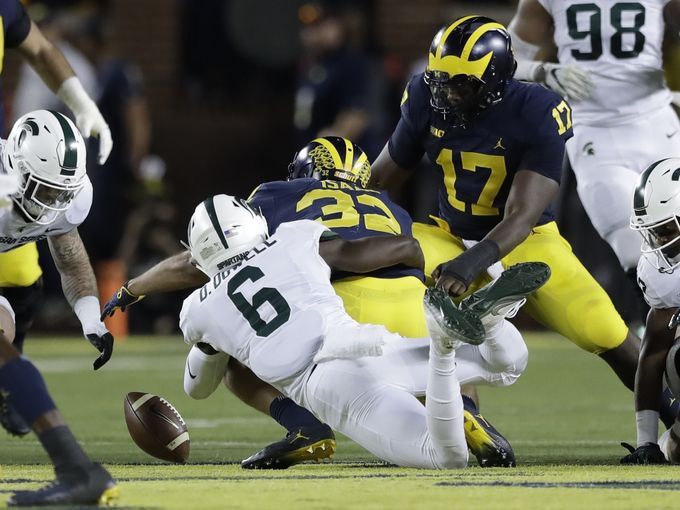 Offense looked worse than the 2008 season when we went 3-9 while using 4 quarterbacks in Rich Rodriquez' first year. We had 17 first downs, 300 net yards with 102 on the ground and were 5 of 17 in 3rd and 4th down conversions in 72 offensive plays. John O'Korn was 16 of 35 for 198 yards with 3 interceptions; he scrambled and ran 8 times for 24 yards, but lost 33 yards on 4 sacks for a net of -8 yards. Grant Perry had 5 receptions for 61 yards; Sean McKeon had 4 catches for 59 yards. Karan Higdon ran 12 times for 65 yards; Chris Evans ran 12 times for 27 yards. McKeon and Ty Isaac fumbled away two more turnovers. Offense continues to search for its identity as there is no "go to" guy in the red zone. Joe Bachie and Khari Willis led the Spartan defense with 10 tackles each, Andrew Dowell and Kenny Willekes had 9 tackles each as Michigan State recorded 4 sacks, 3 interceptions and 2 fumbles in wrecking the Wolverine offense by forcing them into 7 punts and 5 turnovers while holding them to 10 points in two red zone trips. Bachie forced the Isaac fumble and Justin Layne forced the McKeon fumble; David Dowell had two interceptions while Bachie got the other, Willekes had 2 sacks, and both Bachie and Gerald Owens contributed with one sack each.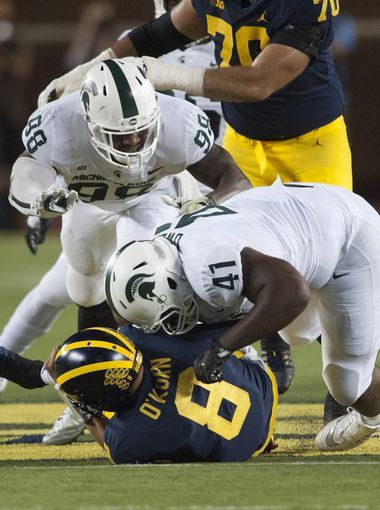 Michigan State had 13 first downs, 252 net yards with 158 on the ground, and was 2 of 15 in 3rd and 4th down conversions with ZERO turnovers!!! The Spartans had only 5 negative plays for 8 yards. Brian Lewerke was 11 of 22 for 94 yards and a 16 yard TD to Madre London; London also led the Spartan ground game with 61 yards on 10 carries including a 50 yarder, and he caught 2 passes for 19 yards. Lewerke added the other red zone TD with a 14 yard scamper, and had 61 yards in 15 carries. Darrell Stewart had 3 receptions for 42 yards including a 30 yarder. Center and Co-Captain Brian Allen led an aggressive offensive line who pushed the vaulted Michigan defense back in the first half to create the two touchdowns needed to create a two score lead, and their defense held on to that the last three quarters of the game. It was another "win ugly" for MSU. Devin Bush and Maurice Hurst led the defense with 8 tackles each. The Wolverine defense forced the Spartans into 7 "3 and outs" and 11 punts, but no turnovers.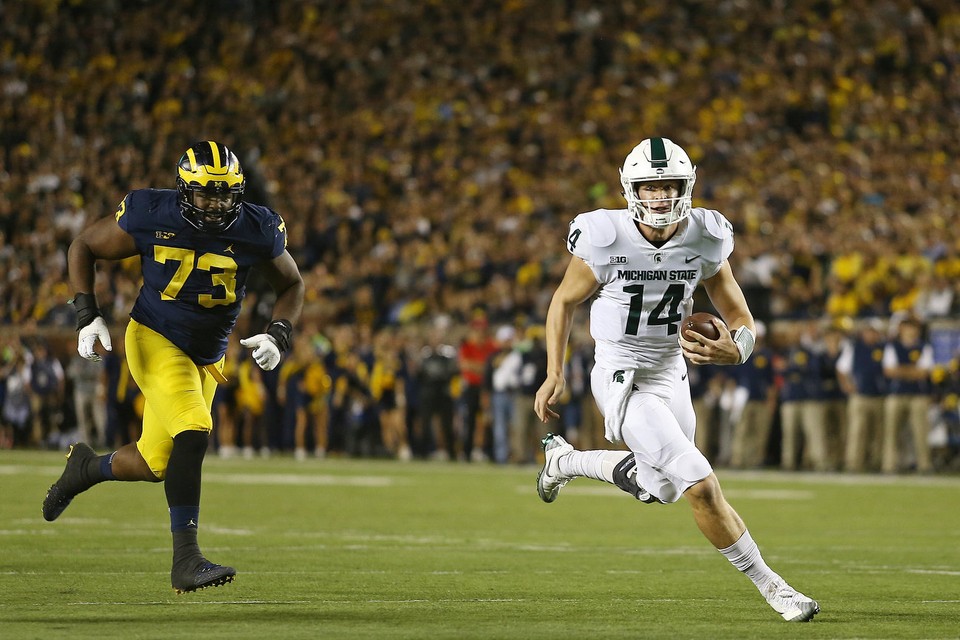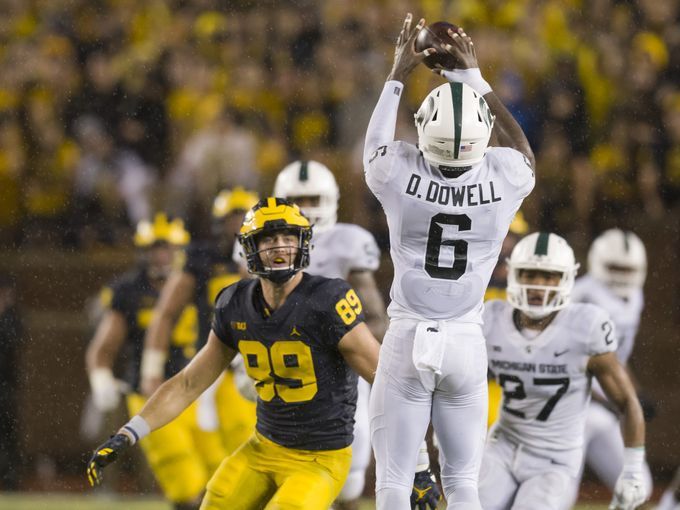 Special Teams were outstanding for Michigan State as they kept the Spartans in good field position most of the game. Jake Hartbarger punted 11 times with 3 downed inside the 20; Brad Robbins punted 7 times with 2 downed inside the 20. The Spartans showed better depth than we did, and overcame 11 penalties for 81 yards. There was almost a turnover on a punt return, but Laress Nelson recovered the fumble.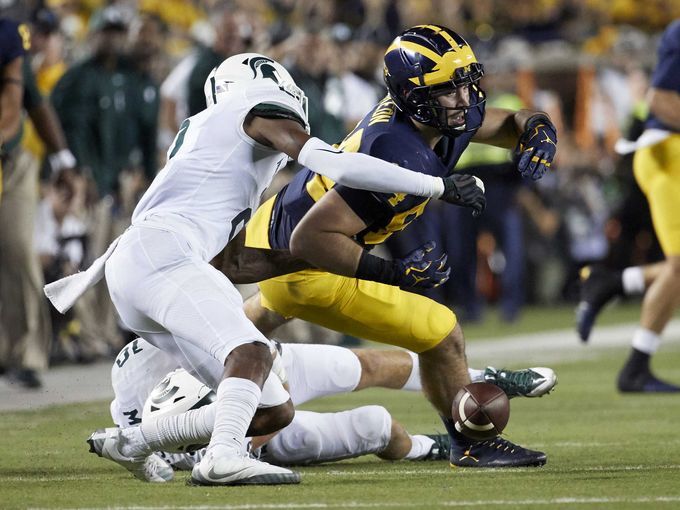 This team was not prepared for this game, mentally or physically. We were outcoached by a better coaching staff that gets far more out of their talent than our coaches are getting from our talent, most of whom they've developed over the past three seasons. We are certain to lose at Penn State and Wisconsin on the road, and losses to Ohio State and perhaps others will give us a 4 or 5 loss season with this overrated group. This loss was disappointing, but it is obvious we are not a contender for any Big Ten Championship so in my opinion we need to look at giving the future quarterbacks the experience they need to be successful in 2018. They certainly couldn't have done much worse than O'Korn did tonight, and none of the quarterbacks will have much of a chance with our pathetic play calling. On our next to last drive, what was the most ridiculous was the draw play call on 3rd and 4; the Spartans were well prepared for that one. Hats off to a great Michigan State squad who believed in themselves, and executed a terrific game plan in their first road game! They also did it without two of their best players who were unable to play due to injury: L.J. Scott and David Beedle.