NCAA Wrestling Championships Preview 2016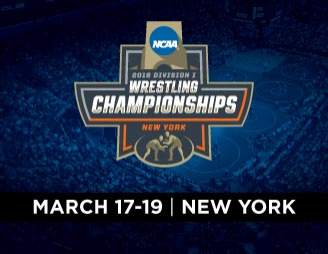 The 2016 season begins with high hopes for several teams and wrestlers. The first day of wrestling practice began on Saturday, October 10 and it will culminate on Saturday, March 17 at Madison Square Garden in New York after a grueling 5 months of hard work and tough competition. There are only 79 colleges or universities with Division I Wrestling Programs in 9 Conferences, but there is significant talent and coaching driving the sports to be extremely competitive. Here is a look at each weight along with an analysis of the team title "horse race."
125 lbs.
Ohio State's Nathan Tomasello is the returning champion, but that doesn't impress Nico Megaludis of Penn State who finished runner-up in 2013, placed 3rd in 2014, and redshirted in 2015 to boost his chances for a title in 2016. Both Nahshon Garrett of Cornell and Jordan Conaway of Penn State will move to 133 lbs. This leaves Zeke Moisey of West Virginia, Conor Youtsey of Michigan, Joey Dance of Virginia Tech, Thomas Gilman of Iowa, Dylan Peters of Northern Iowa, Eddie Klimara of Oklahoma State, and Darian Cruz of Lehigh as returning placewinners at this weight. Tim Lambert of Nebraska heads a list of Big Ten competitors that will give notice along with Ethan Lizak of Minnesota to Tomasello, Megaludis, Gilman, and Youtsey. The EIWA has David Terao of American, Paul Petrov of Bucknell, and Freshman Dalton Macri of Cornell to challenge Cruz. In the MAC, Brent Fleetwood of Central Michigan and Brandon Jeske of Old Dominion will challenge Peters. In the Big 12, Freshman Nathan Boston should surprise. Out West, Ronnie Bresser of Oregon State, Evan Silver of Stanford, and Josh Martinez of Air Force will be tough to beat. Nick Herrmann of Virginia hopes to give Dance some battles. Those are 21 guys to keep an eye on!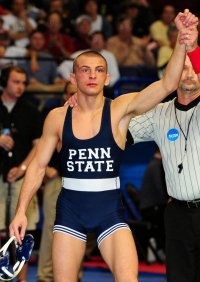 Nico Megaludis of Penn State
Returning Placewinners
Place
Returning Placewinner
Team
1st
Tomasello, Nathan
Ohio State

2nd

2nd

Moisey, Zeke

Megaludis, Nico

West Virginia

Penn State

4th

4th

Gilman, Thomas

Dance, Joey

Iowa

Virginia Tech

6th

6th

Youtsey, Conor

Peters, Dylan

Michigan

Northern Iowa

7th

7th

Klimara, Eddie

Cruz, Darian

Oklahoma State

Lehigh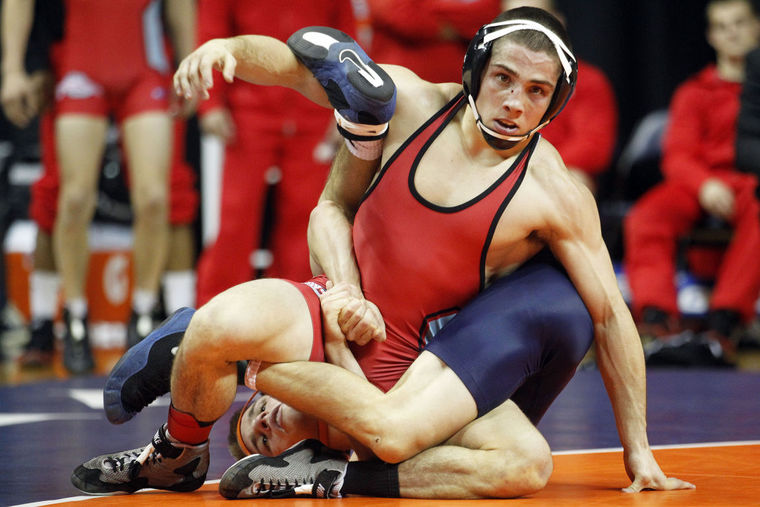 Nathan Tomasello, returning NCAA Champion 125 lbs. for the Buckeyes
133 lbs.
At 133 lbs. Cody Brewer looks to repeat; the Four-Time Missouri State Champion from Kansas City is now a Senior, and he'll be looking for his fourth All-American award although he overachieved in 2015 coming in as the #13 seed. Brewer beat Cory Clark of Iowa, 11-8, in the 2015 Finals. Returing placewinners include Nahshon Garrett of Cornell, Mason Beckman of Lehigh, Brad Taylor of Wisconsin, Rossi Bruno of Michigan, Jordan Conaway of Penn State, and Earl Hall of Iowa State. In the Big Ten, BIG THINGS are expected from Johnni DiJulius of Ohio State, Zane Richards of Illinois, Eric Montoya of Nebraska, and Danny Sabatello of Purdue. A possible new face to watch in the Big 10 is Redshirt Freshman Anthony Giraldo of Rutgers if he can beat out Junior Scott DelVecchio. In the EIWA, Kevin Devoy of Drexel and Caleb Richardson of Penn will challenge Garrett and Beckman. Zach Synon of Missouri returns as MAC Champion; he'll be challenged by Cory Keener of Central Michigan and Mack McGuire of Kent State. The Big 12 has Gary Wayne Harding of Oklahoma State has to fight off teammate Kaid Brock if he is to challenge Hall. In the ACC, expect Kevin Norstrem of Virginia Tech, George DiCamillo of Virginia, and Joey Ward of North Carolina to be very competitive. The best of the EWL is Rob Deutsch of Rider. Those are 22 guys who want to meet up the Brewer at the NCAA Finals.
Returning Placewinners
Place
Returning Placewinner
Team
1st
Brewer, Cody
Oklahoma
2nd
Clark, Cory
Iowa

5th

Garrett, Nahshon

Cornell

6th
Beckman, Mason
Lehigh
7th
Taylor, Brad
Wisconsin

8th

8th

8th

Bruno, Rossi

Hall, Earl

Conaway, Jordan

Michigan

Iowa State

Penn State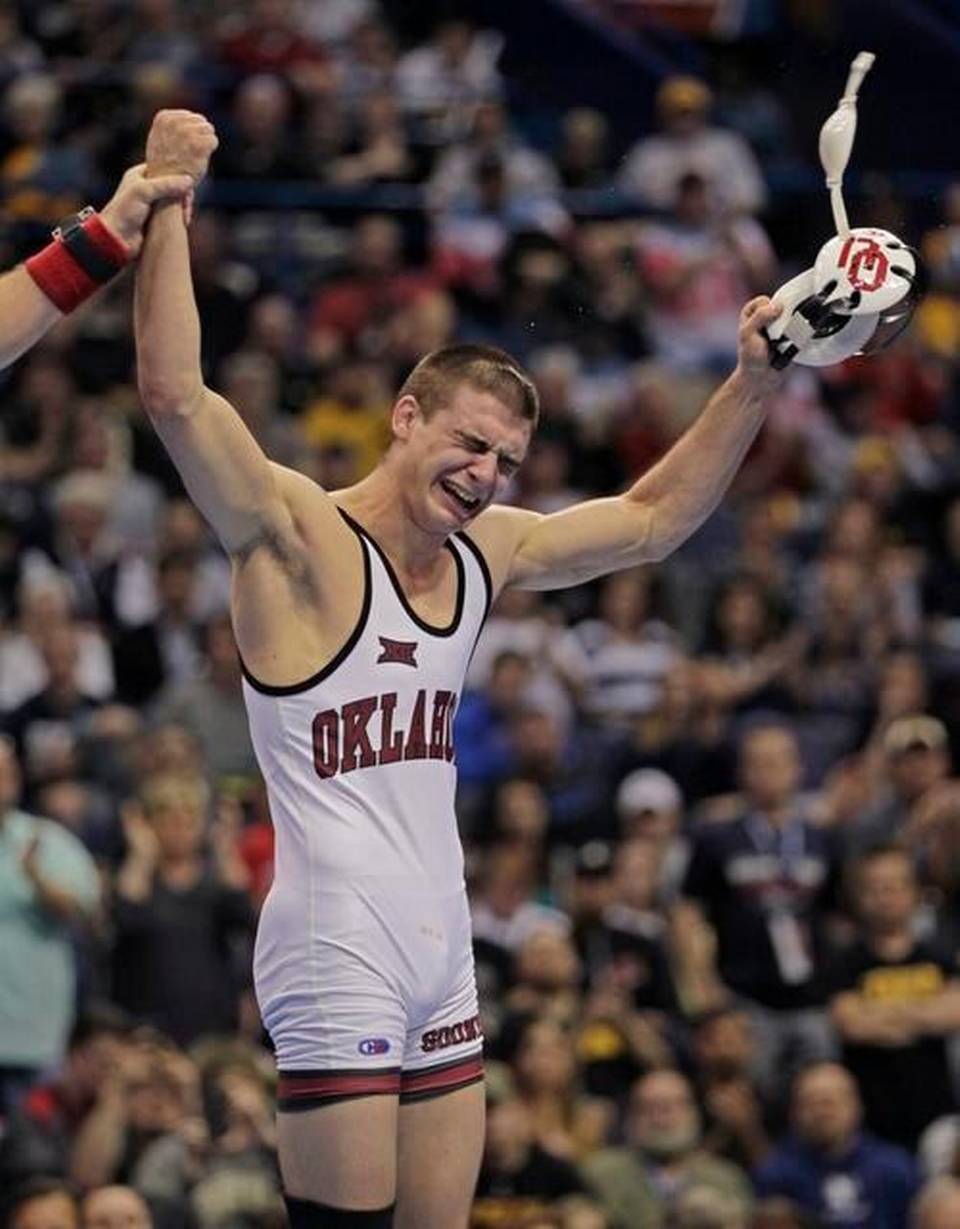 Cody Brewer, returning NCAA Champion 133 lbs.
141 lbs.
At 141 lbs., it is the most mysterious puzzle to figure with no clear candidate looking as if they'll claim the throne. Evan Henderson of North Carolina placed twice; both Kevin Jack of North Carolina State and Chris Mecate of Old Dominion were impressive at the 2015 Championships. Lavion Mayes of Missouri, Dean Heil of Oklahoma State, Anthony Ashnault of Rutgers, Dan Neff of Lock Haven, and Richard Durso of Franklin & Marshall are all returning placewinners as well. Heil will have to fight off a challenge from Freshmen Lincoln Olson and Boo Lewallen in the Cowpoke wrestling room. Michigan has four wrestlers, Reshirt Freshmen Zac Hall, Malik Amine, and Zehlin Storr plus Redshirt Sophomore George Fisher, all competing to be their starter; whoever emerges should be a national contender. In addition, the tough Big Ten competition returns Jimmy Guilbon of Penn State, Anthony Abidin of Nebraska, and Jameson Oster of Northwestern. New faces, Freshman or Redshirt Freshman, who'll be ready to compete immediately in the Big Ten include Tommy Thorn of Minnesota, Ke-Shawn Hayes of Ohio State, Michael Kemerer of Iowa, Brock Ervin of Illinois, Alfred Bannister of Maryland, and Nate Limmex of Purdue. The EIWA has Randy Cruz of Lehigh, Mark Grey of Cornell, and Todd Preston of Harvard won't take a back seat to Durso. In the MAC, Zach Horan of Central Michigan will challenge Mecate and Mayes. Virginia Tech has a pair of solid guys, Freshman Solomon Chishko and Junior Dennis Gustafson, will compete for starter, and seek the ACC Crown against Henderson and Jack. Out West, Joey McKenna of Stanford and George Martinez of Boise State are impressive. Those are 24+ of the candidates for the 141 lbs. Title.

Evan Henderson of North Carolina
Returning Placewinners
Place

Returning Placewinner
Team

4th

4th

Heil, Dean

Henderson, Evan

Oklahoma State

North Carolina

5th

5th

Jack, Kevin

Guilbon, Jimmy

No. Carolina State

Penn State

6th
Mecate, Chris
Old Dominion
7th
Mayes, Lavion
Missouri

8th

8th

8th

Ashnault, Anthony

Durso, Richard

Neff, Dan

Rutgers

Franklin&Marshall

Lock Haven
149 lbs.
At 149 lbs. 2014 NCAA Champion, Jason Tsirtsis of Northwestern, returns along with 2014 placewinner at 141 lbs. Zain Retherford of Penn State, and #6 seed from the 2014 NCAA Championships, Jake Sueflohn of Nebraska; both Retherford and Sueflohn redshirted in 2015 in hopes to snatch a title inn 2016. Brandon Sorenson of Iowa leads the list of other Big Ten candidates along with Alec Pantaleo of Michigan, Kyle Langenderfer of Illinois, Hunter Stieber of Ohio State, and Ken Theobold of Rutgers. Minnesota fans are looking forward to watching how Freshman Fredy Stoker climbs the charts. The EIWA features C.J. Cobb of Penn and Freshman Laike Gardner of Lehigh. The MAC has Alex Richardson of Old Dominion, Colin Heffernan of Central Michigan, Tywan Claxton of Ohio, Michael DePalma of Kent State, and Duke transfer Grant Leeth of Missouri; however, Northern Iowa may have a surprise with Freshman Max Thomsen. The Big 12 has Anthony Collica of Oklahoma State and Gabe Moreno of Iowa State. The ACC features Sal Mastriani of Virginia Tech and Mikey Racciato of Pittsburgh. The best of the EWL is B.J. Clagon of Rider. Out West, Michigan State transfer Chris Padgilao, now wrestling for Arizona State, and Arizona State Freshman Nikko Villareal round out a competitive group of 24 candidates for podium honors.

Penn State's Zain Retherford is on top much of the time
Returning Placewinners
Place
Returning Placewinner
Team
3rd
Tsirtsis, Jason
Northwestern
4th
Sorenson, Brandon
Iowa

5th

5th

Clagon, B.J.

Retherford, Zain

Rider

Penn State

7th

Richardson, Alex

Old Dominion
157 lbs.
It will be pretty difficult to prevent Isaiah Martinez of Illinois from repeating unless he has an injury; IMAR is the first Freshman to become an undefeated NCAA Wrestling Champion since Cael Sanderson of Iowa State in 1999. The difference is that IMAR was a True Freshman, and Sanderson was a Redshirt Freshman. The two competitors who have the best shot are Ian Miller of Kent State and Nick Brascetta of Virginia Tech. The Big Ten has a couple "rough and tumble hombres" in Brian Murphy of Michigan and Doug Welch of Purdue. New faces that should impress in the Big Ten are Micah Jordan of Ohio State, Jason Nolf of Penn State, Tyler Berger of Nebraska, and Bryce Brill of Northwestern. The EIWA has Mitch Minotti of Lehigh, Russell Parsons of Army, Markus Scheidel of Columbia, and Dylan Palacio of Cornell. The MAC has Joey Lavallee of Missouri, Spartak Chino of Ohio, and Luke Smith of Central Michigan. The Big 12 has Chance Marstettler, Ryan Blees, and Joe Smith wrestling off at Oklahoma State plus Dylan Cottrell of West Virginia. Edinboro's Austin Matthews, Cody Pack of South Dakota State, and North Carolina State's Thomas Gantt are other worthy podium candidates. The EWL has Chad Walsh of Rider. Those are 21 contenders that could give Martinez some problems in repeating.
Returning Placewinners
| | | |
| --- | --- | --- |
| Place | Returning Placewinner | Team |
| 1st | Martinez, Isaiah | Illinois |
| 4th | Brascetta, Nick | Virginia Tech |
| 5th | Miller, Ian | Kent State |
| 7th | Murphy, Brian | Michigan |
| 8th | Minotti, Mitch | Lehigh |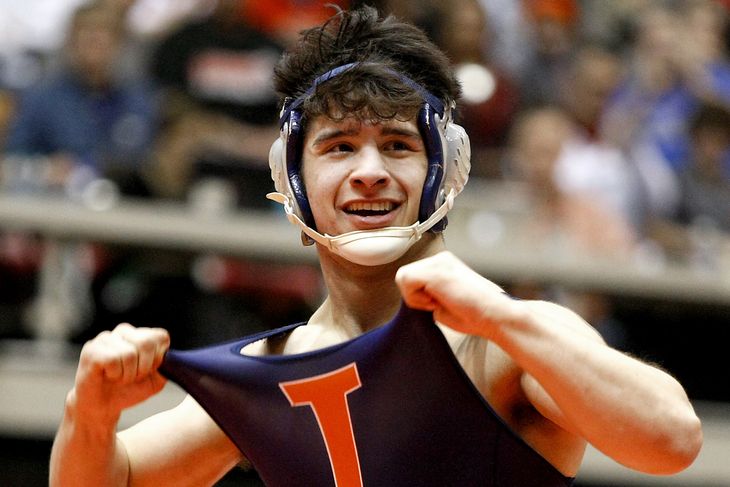 Isaiah Martinez, 2015 NCAA Champion
165 lbs.
At 165 lbs., Alex Dieringer of Oklahoma State is the clear favorite to win his 3rd title. His chief challengers will be Isaac Jordan of Wisconsin, Ethan Ramos of North Carolina, Cooper Moore of Northern Iowa, and Jim Wilson of Stanford. Both Bo Jordan of Ohio State and Bryan Realbuto of Cornell have moved to 174 lbs., in part to avoid Dieringer. Michigan has three tough competitors, Garrett Sutton, Logan Massa, and Myles Amine wrestling off to represent the Wolverines in 2016. The Big Ten is easily the strongest at this weight featuring tough Steve Rodriques of Illinois, Garret Hammond of Penn State, Chad Welch of Purdue, Nick Wanzeck of Minnesota, Anthony Perrotti of Rutgers, and Austin Wilson of Nebraska; however, watch out for Redshirt Freshman Johnny Sebastian. In the MAC, Missouri is very excited about Redshirt Freshman Daniel Lewis. The EIWA boasts Dylan Palacio of Cornell, Conner Brennan of Rider, and Lehigh has both Ryan Preisch and Dylan Milonas competing for their spot. Iowa State has Tanner Weatherman. There are 18 to watch at 165!
Returning Placewinners
Place
Returning Placewinner
Team
1st
Dieringer, Alex
Oklahoma State
6th
Ramos, Ethan
North Carolina
7th
Jordan, Isaac
Wisconsin

8th

8th

Wilson, Jim

Perrotti, Anthony

Stanford

Rutgers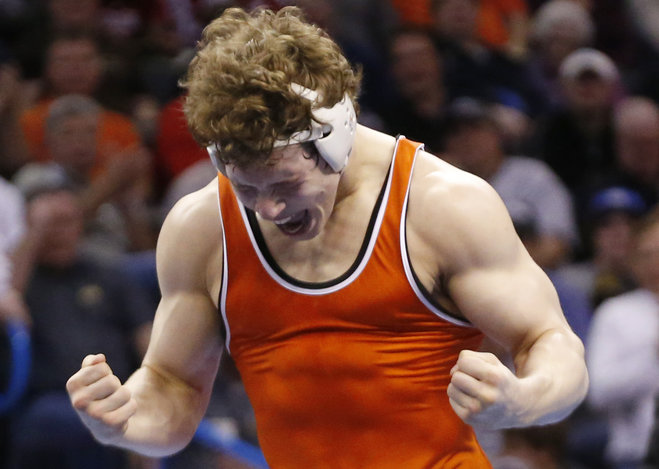 Alex Dieringer goes for his 3rd NCAA Championship

174 lbs.
At 174 lbs., this is a "wide open" weight with no clear favorite, but five returning placewinners: Bo Jordan of Ohio State, Brian Realbuto of Cornell (who moves up from 157 lbs.), Kyle Crutchmer of Oklahoma State, Zach Epperly of Virginia Tech, and Kurtis Julson of North Dakota State. Epperly meets Crutchmer at the NWCA All-Star Classic. Michigan will feature two strong candidates in Devonte Mahomes and Taylor Massa; Mahomes beat Julson last season prior to his ACL tear. The Big Ten also has strong contenders in Zac Brunson of Illinois, Alex Meyer of Iowa, Mark Martin of Ohio State, Nate Jackson of Indiana, and Ricky Robertson of Wisconsin who competed at 184 lbs. last season. Penn State and Northwestern bring in Bo Nickal and Johnny Sebastian after redshirting both last season. From the EIWA, Navy has Matt Miller, Casey Kent of Penn, and Lehigh's Elliott Riddick moves back down from 197 lbs. The MAC Conference features Blaise Butler of Missouri who transferred from Virginia, Cody Walters of Ohio, and Mike Ottinger of Central Michigan. Out West, Arizona State has Freshman Anthony Valencia, and Stanford has Keaton Subjeck. The Big 12 has Leland Weatherspoon; Pete Renda of North Carolina State and John Staudemayer of North Carolina should be the best in the ACC. These are my top 24 contenders at this time.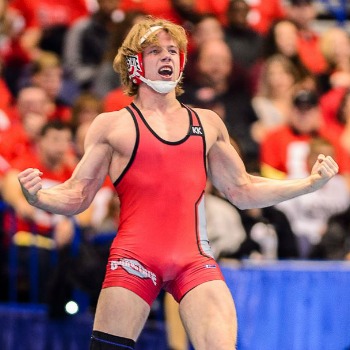 Bo Jordan of Ohio State
Returning Placewinners
Place
Actual Placewinner
Team

2nd

3rd

6th

Realbuto, Brian

Jordan, Bo

Crutchmer, Kyle

Cornell

Ohio State

Oklahoma State

7th
Epperly, Zach
Virginia Tech
8th
Julson, Kurtis
No. Dakota State
184 lbs.
At 184 lbs., Michigan's Gabe Dean, wrestling for Cornell, is the returning champion opting not to take an Olympic redshirt for 2016. There are 10 returning placewinners at this weight. Nate Brown of Lehigh, Jack Dechow of Old Dominion, and Vic Avery of Edinboro will be Dean's chief competition to repeat; however, Blake Stauffer of Arizona State, Domenic Abounader of Michigan, Sammy Brooks of Iowa, Kenny Courts of Ohio State, Tim Dudley of Nebraska, Willie Miklus of Missouri, Lorenzo Thomas of Pennsylvania, and Hayden Zillmer of North Dakota State are other challengers for the top spot. Watch out for newcomer Xavier Montalvo of Illinois, and the guy he replaced in the Illini lineup, Nikko Reyes, who transferred to Northern Colorado; others to keep an eye on are Matt McCutcheon of Penn State, Alex Utley of North Carolina, either Zach Zatasky or Austin Gable of Virginia Tech, and Nolan Boyd of Oklahoma State. Another newcomer who could surprise is Redshirt Freshman Ryan Christensen of Wisconsin. Those are my 19 to watch at 184 lbs.

Junior Gabe Dean, a Lowell, Michigan Native will try to repeat in 2016
Returning Placewinners
Place
Returning Placewinner
Team

1st

2nd

Dean, Gabe

Brown, Nate

Cornell

Lehigh

3rd
Avery, Victor
Edinboro

4th

4th

Stauffer, Blake

Dechow, Jack

Arizona State

Old Dominion

5th
Courts, Kenny
Ohio State

6th

6th

Zillmer, Hayden

Thomas, Lorenzo

No. Dakota State

Pennsylvania

7th
Miklus, Willie
Missouri
8th
Dudley, Tim
Nebraska
197 lbs.
At 197 lbs. World Champion Kyle Snyder of Ohio State and Kevin Beazley of Old Dominion are taking Olympic Redshirts. Morgan McIntosh of Penn State is so hard to score on as he is built so compact and low. J'Den Cox of Missouri won the title in 2014, but placed 5th last year. Conner Hartmann of Duke, Nathan Burak of Iowa, and Max Huntley of Michigan are other returning placewinners; Huntley is the best takedown wrestler of the group. The NWCA Classic features Hartmann against Huntley; this is Duke's first time with a wrestler in the Classic, and Duke has never had a NCAA Wrestling Champion. Brett Pfarr of Minnesota is moving up from 184. Abe Ayala of Princeton, Aaron Studebaker of Nebraska, Phil Wellington of Ohio, Anthony Abro of Eastern Michigan, Cody Crawford of Oregon State, Zach Nye of Virginia, Jake Haught of Virginia Tech, Nick Bonnacorsi of Pittsburgh, Andrew Campolattano of Rutgers, and Scott Boykin of Tennessee-Chattanooga are all contenders to place at nationals. New faces to watch are Lance Benick of Arizona State, Myles Martin of Ohio State, and Andrew Marsden of Oklahoma State. Those are my top 18 at 197 lbs.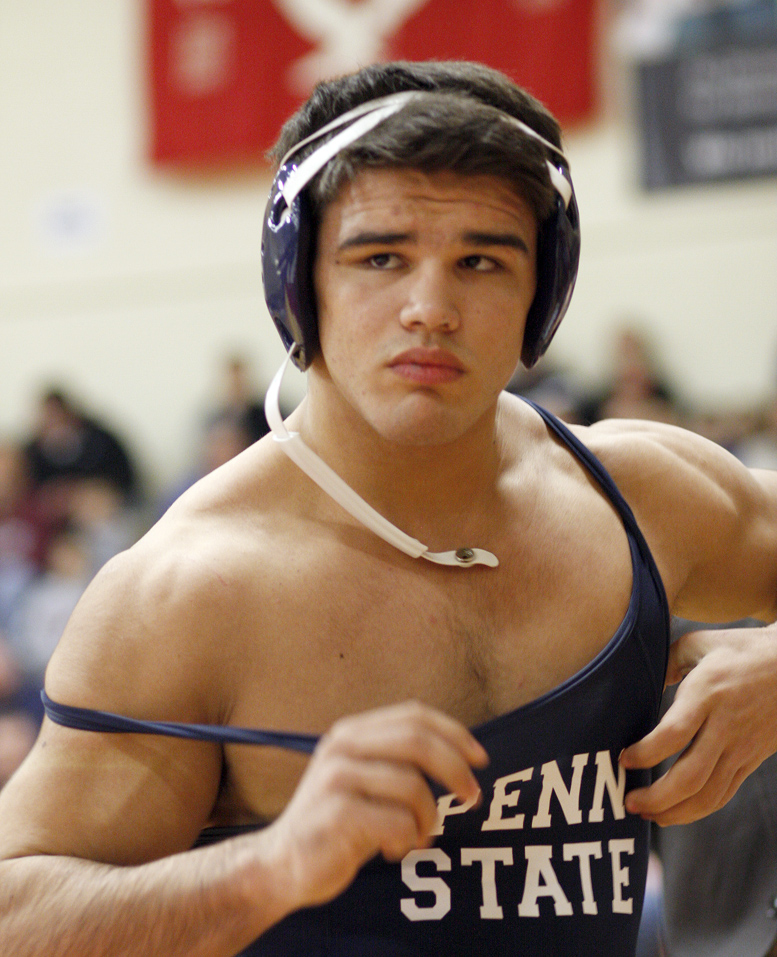 Morgan McIntosh will try to strap on a NCAA Championship in 2016
Returning Placewinners
| | | |
| --- | --- | --- |
| Place | Returning Placewinner | Team |
| 3rd | McIntosh, Morgan | Penn State |
| 5th | Cox, J'Den | Missouri |
| 6th | Hartmann, Conner | Duke |
| 7th | Burak, Nathan | Iowa |
| 8th | Huntley, Max | Michigan |
285 lbs.
Five All-Americans return at this weight. Last year's two finalists return in Senior Nick Gwiazdowski of North Carolina State who'll be going for his 3rd title in a row, and Junior Adam Coon of Michigan. Conor Medbery of Wisconsin has decided to take an Olympic redshirt year. Junior Ty Walz of Virginia Tech will meet Coon in the NWCA All-Star Classic on November 1 in Atlanta, GA; they have wrestled several times in freestyle with mixed results. Oklahoma State returns Junior Austin Mardsen who was seeded #4 at last year's event, and placed 8th in 2014. Minnesota has Sophomore Michael Kroells. Iowa lost Bobby Telford, but redshirted Freshman Sam Stoll. Penn State also redshirted Freshman Nick Nevills. Illinois returns Brooks Black. The Big Ten will again have the premier wrestlers in this weight with at least 5-7 wrestlers who could be on the podium. Northern Iowa returns Blaize Cabell. In the West, Oregon State has a good one in Amarveer Dhesi. Stanford has Sophomore Nathan Butler. Others who could be ranked and seeded are Nick Tavanello of Ohio State, Billy Smith of Rutgers, Collin Jensen of Nebraska, Joe Stolfi of Bucknell, Riley Shaw of Cleveland State, Dawson Peck of Maryland, Ryan Solomon of Pittsburgh, and Denzel Dejournette of Appalachian St. Those are my top 19 guys for 2016!
Returning Placewinners
Place
Returning Placewinner
Team
1st
Gwiazdowski, Nick
No. Carolina State
2nd
Coon, Adam
Michigan
7th
Walz, Ty
Virginia Tech

8th

8th

Kroells, Michael

Marsden, Austin

Minnesota

Oklahoma State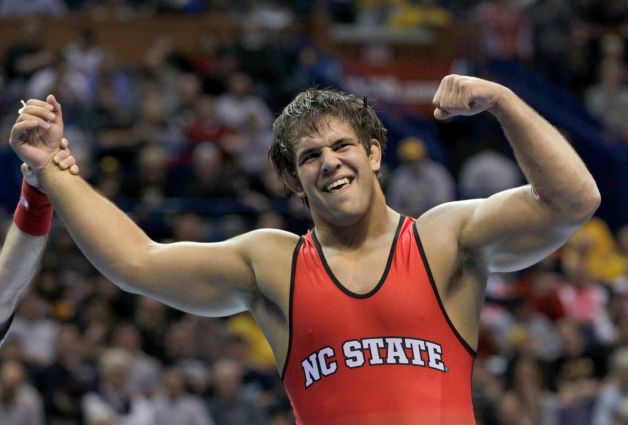 Nick Gwiazdowski
Team
Michigan returns 5 All-Americans, and has a legitimate shot of placing all 10 wrestlers at the Championships just as Minnesota did in 2001 with Coon being their best individual wrestler for a title; this is easily their best team since the 1973 Wolverines who were NCAA Runners-Up. Arizona State won the 1988 NCAA Championship with 7 All-Americans, and no Champions. Virginia Tech also has a solid line-up of 10 with Dance, Brascetta, Epperly, and Walz having opportunities to make the finals. Penn State has Morgan McIntosh, Nico Megaludis and Zain Retherford with shots to make the finals; Conaway, Guilbon, Nolf, McCutcheon, and Nevills having opportunities to make the podium earning team points for the Nittany Lions. Oklahoma State has a sure Champ in Dieringer, and possible finalists with Kyle Crutchmer and Austin Marsden. Ohio State could put Nathan Tomasello and Bo Jordan in the finals with Johnni DiJulius, Micah Jordan, Kenny Courts, and a few others with All-Americann shots. If Cornell's Gabe Dean, Nahshon Garrett, and Brian Realbuto earn births in the finals, and they get a boost from Frosh Dalton Macri and Joey Galasso, they could also challenge for the Top 5.
| | | | | | | | |
| --- | --- | --- | --- | --- | --- | --- | --- |
| Weight/Team | Michigan | Penn State | Ohio State | Oklahoma State | Virginia Tech | Cornell | Lehigh |
| 125 lbs. | Youtsey | Megaludis | Tomasello | Klimara | Dance | Macri | D.Cruz |
| 133 lbs. | Bruno | Conaway | DiJuliius | Brock/Harding | Norstrem | Garrett | Beckman |
| 141 lbs. | Fisher/Hall | Guilbon | M.Jordan | Heil/Olson/Lewallen | Gustafson/Chishko | Grey | R.Cruz |
| 149 lbs. | Pantaleo | Retherford | H.Stieber/Davis | Collica | Mastriani | Simaz/Galasso | Kutler/Gardner |
| 157 lbs. | Murphy | Nolf | Ryan | Marsteller/Blees/Smith | Brascetta | Dowdy/Chavez/D.Palacio | Minotti |
| 165 lbs. | L.Massa/Sutton | Hammond/Rasheed | B.Jordan | Dieringer | McFadden | Pickett | Milonas/Preisch |
| 174 lbs. | Mahomes/T.Massa | Nickal | M.Martin | Crutchmer | Epperly | Realbuto | Riddick |
| 184 lbs. | Abounader | McCutcheon | Courts/Rozema | Boyd/Rogers | Zavatsky/Gabel | Dean | Brown |
| 197 lbs. | Huntley | McIntosh | M.Martin | Marsden | Haught | Taylor/Congenie/Anderson/Scott | Bolich |
| 285 lbs. | Coon | Nevills | Tavanello/Haines | Marsden | Walz | Aiken-Phillips/Sweaney | Vollaro/Wessell |
Michigan, Virginia Tech, Penn State, Oklahoma State, Ohio State, and Cornell should all be in the hunt for the team title depending on improvement and injuries during the season. All are capable teams with multiple placewinners expected. Iowa, Illinois, Lehigh, Missouri, Nebraska, North Carolina, and North Carolina State are expected to be in the next group of teams competing for team recognition in their conferences as well as nationally, but don't have enough depth to compete for the team title this season. Iowa State, Oklahoma, Northern Iowa, Minnesota, Wisconsin, Edinboro, West Virginia, Old Dominion, Pittsburgh, Northwestern, Oregon State, Purdue, Arizona State, Central Michigan, Rutgers, and Rider all have some great wrestlers who can impact the 2016 season in dual meets, conference and the NCAA Finals. Michigan, Penn State and Ohio State should be the Top 3 teams in the Big Ten, but Nebraska, Illinois, Iowa, Minnesota, and Wisconsin will all have solid squads; Purdue and Rutgers are teams ascending in the conference. The EIWA should be another "dogfight" between Cornell and Lehigh with Penn having strong dual meet squad. Missouri, Old Dominion, Northern Iowa, and Central Michigan will vie for the MAC Team Title. Virginia Tech should be the class of the ACC, but both North Carolina and rival North Carolina State will have strong squads. Oklahoma State will sail through the Big 12, but Iowa State and West Virginia are teams on the rise. Stanford will challenge Oregon State for the PAC-12 Team Championship. Edinboro will dominate a lackluster EWL with Rider having a "scrappy" dual meet team. Now you've got the scoop on 210+ wrestlers who should be at Madison Square Garden out of 330 qualifiers who'll be competing with some insight into the team dynamics. Over the next 5 months, there will be ups and downs for all the individuals and teams competing for recognition. Best of luck to all the wrestlers and their coaches in NCAA's Greatest Sport!!!
2016 Predicted NCAA Team Standings
Michigan
Virginia Tech
Penn State
Oklahoma State
Cornell
Ohio State
Nebraska
Lehigh
Illinois
Iowa
North Carolina St.
North Carolina
Iowa State
Oklahoma
Northern Iowa
Wisconsin
Minnesota
Edinboro
West Virginia
Pittsburgh
Old Dominion
Northwestern
Oregon State
Purdue
Arizona State
Central Michigan
Rutgers
Rider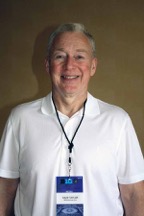 By Dave Taylor, Big Ten and Michigan Wrestling Historian
Other Previews: AWN Intermat W.I.N. Flowrestling
2015 NCAA Wrestling Championship Brackets
2015 NCAA Championships Summary
2015 Big Ten Wrestling Summary