Michigan Wrestling at the 2016 Big Ten Wrestling Championships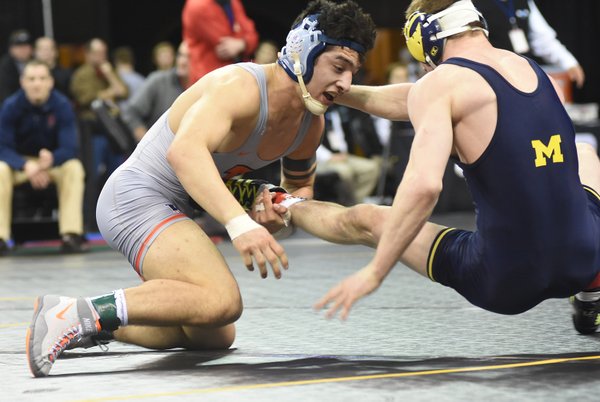 Brian Murphy had the defending NCAA Champ, Isaiah Martinez, on the ropes with a 4-3 lead late in the 3rd period, but Martinez earned a late takedown for a 5-4 win
Session IV: Freshman Elijah Oliver of Indiana handles Senior Conor Youtsey for 5th place at 125. Tomasello beats Megaludis for the title. Cory Clark beats Zach Richards in OT for the 133 title. Anthony Ashnault big over Jimmy Guilbon, 9-0. Zain Retherford over Brandon Sorenson, 4-0. Alex Pantaleo with a big, 8-4, win over Jason Tsirtsis. Martinez prevails over Nolf in an interesting overtime bout. Murphy earns 3rd place with a tiebreaker win over Cooper of Iowa at 157. Michigan is back in 7th place after the Martinez win for Illinois. Isaac beats Cousin Bo again! Ohio State is now only 1 point behind Iowa with Snyder and Burak looming in the finals. Bo Nickal won a major decision over Zach Brunson of Illinois, 18-9 at 174. Abounader crushes Gravina, 11-0, for 3rd place at 184. Brooks gets the best of Dudley, 6-4. That pretty much clinched 2nd place for Iowa. Huntley placed 5th with a pin over Hrymack of Rutgers at 5:52. McIntosh bests Burak, 3-2, at 197. Coon loses to Snyder, 7-4. Michigan ends up in 6th place with 89.5 points. Coon 2nd, Pantaleo, Murphy and Abounader 3rd, Huntley 5th and Youtsey 6th are automatic qualifiers. Bruno 10th and Fisher 8th will be hoping for Wild Cards to the NCAA's. Overall, Michigan wrestled well as a team, probably better than expected by most observers. Youtsey placed 6th which was better than his pre-seed of 7th. Bruno was in the toughest weight, that is why they had 9 automatic qualifiers. He was seeded 8th, but lost to the #9 and #10 seeds so he didn't do as well as expected. Fisher was unseeded, but wrestled to 8th place, and defeated the #4 seed Oster. Pantaleo beat the Two-Time Big Ten Champ, Tsirtsis, twice, and finished 3rd after being seeded 5th. He really exceeded expectations. Murphy was seeded 6th, and wrestled to 3rd so he did as well as he beat the #3, #4 and #5 seeds, Lewis, Cooper and along the way and almost upset Martinez. Abounader didn't wrestle as well as expected, but while he is tough on top, his offense hasn't been great lately. He's got to work on improving on his feet. Still, Abounader will be ranked in the Top 6 at the NCAA's. Huntley was teched by Studebaker who he beat twice at last year's event so that wasn't good, but he still is solid by finishing 5th and will probably be seeded in the Top 12 at NCAA's. Huntley was seeded 4th and finished 5th. Coon will also be seeded in the Top 6 at NCAA's. It wasn't as much Michigan not wrestling well, but Rutgers having a great tournament. Ashnault, Giraldo, Gravina and Hrymack all placed above their pre-seeds, and they could have even done better had Perotti not been injured. Hats off to Donny Pritzlaff, former Michigan assistant! He really sparked their team to great things this season, Top 10 in rankings and Top 5 at the Big Ten's. If we'd have wrestled Logan Massa this season rather than redshirting him, we'd have beat Rutgers and possibly Nebraska as he'd have finished in the Top 3 at 165. If we'd not suffered injury issues at 174 with both Davonte Mahomes and Taylor Massa going down, we'd have finished in the Top 2 or 3 competitive with both Iowa and Ohio State, and ahead of Nebraska. The line-up in 2017 should be awesome: Austin Assad at 125, Steven Micic at 133, lots of competition at 141 with George Fisher, Zach Hall, Sal Profaci, Ben Lamantia, Malik Amine, etc., Pantaleo at 149, Murphy at 157, Logan Massa at 165, Taylor Massa, Myles Amine or Davonte Mahomes at 174, Abounader at 184, Jackson Striggow, Tyler Wildmo or Andrew Davison at 197, and Coon at 285. We'll have a shot for Big Ten and NCAA Championships with the potential of champions and placewinners at every weight. Go Blue!
Session III: The Sunday Session has begun with two "old friends" meeting with Conor Youtsey and Tim Lambert, both Michiganders wrestling for Michigan and Nebraska. A scoreless first period. How about a rule in NCAA Wrestling where a scoreless first period results in stall warnings on both wrestlers? Youtsey finally escapes, but Lambert gets a takedown, 2-1. Lambert with 1:40 in riding time. Lambert reverses to start the 3rd period, and is up, 4-1, with 2:03+ riding time. A near fall expands the lead to 6-1 with 2:44 in riding time. Lambert finishes on top, 7-1; he'll go for 3rd vs. Thomas Gilman of Iowa and Youtsey for 5th vs. Elijah Oliver of Indiana at 125. Ryan Taylor of Wisconsin will meet Jordan Conaway of Penn State for 3rd, and Anthony Giraldo of Rutgers vs. Eric Montoya of Nebraska for 5th at 133. Ohio State's Micah Jordan meets Tommy Thorn of Minnesota for 3rd; they were expected to meet in the finals seeding #1 and #2 at 141. Javier Gasca of MSU gets Danny Sabatello of Purdue for 5th at 141. George Fisher will go for 7th for Michigan at 141. Pantaleo is up next vs. Dippery of Rutgers. Alec starts with a big takedown, 2-0. If Alec wins, he may get a rematch with Tsirtsis for 3rd. Alec rides him for 1:40 as we start the 2nd period. Dippery tough on top rides Alex out in the 2nd, 2-1. Alec with another takedown, 4-1, and that is the way it end. Pantaleo vs. Tsirtsis III, and Dippery gets Jake Sueflohn of Nebraska for 5th at 149. Brian Murphy is up next vs. Jake Ryan of Ohio State; scoreless first period. Murphy out in 13 seconds, 1-0. 3rd has begun, and Murphy gets a PIN at 5:25. Murphy will meet Edwin Cooper of Iowa for 3rd, and Ryan gets Richie Lewis of Rutgers for 5th at 157. Stephen Rodriques of Illinois will meet Wilson of Nebraska for 3rd at 165, and Chad Welch of Purdue may receive a medica forfeit from Anthony Perotti of Rutgers for 5th at 165. Nate Jackson of Indiana upset Alex Meyer of Iowa at 174; he'll go for 3rd vs. Myles Martin of Ohio State while Meyer will meet Micah Barnes of Nebraska for 5th. Domenic Abounader faces Jeff Koepke of Illinois also at 184. Dom gets the takedown at the 2:10 mark of the 1st period, 2-0, and gets a turn to make it 4-0. Dom is out to start the 2nd, 5-0, with 58 seconds of riding time. Koepke just made a fatal mistake, he chose down to start the 3rd period on Dom Abounader. After being punished for his decision, Koepke did earn a reversal, but Dom escaped, 6-2, and finished with a takedown, 8-2, plus 2:42 in riding time, 9-2. Dom will face Nick Gravina of Rutgers for 3rd, Matt McCutcheon of Penn State faces Koepke for 5th. Max Huntley is warming up to face Brett Pfarr of Minnesota at 197; Abounader faced Pfarr in last year's Big Ten Final at 184. Pfarr gets a TD late in the first period, 1-2 after Max escaped. Pfarr rode Max the entire period so he now has 2:15 in riding time. Pfarr got out in 11 seconds, 1-3. Pfarr opens up a commanding lead with a takedown and near fall while Max escapes, 2-7. The final is 8-3 Pfarr over Huntley. Max goes for 5th vs. Hayden Hrmak of Rutgers, Pfarr faces Studebaker of Nebraska for 3rd. At 285, Billy Smith of Rutgers faces Michael Kroells for 3rd, Collin Jensen of Nebraska gets Brooks Black of Illinois for 5th. Overall, Michigan had a pretty good session, and has now moved into 6th place .5 ahead of Illinois. That is where I predicted they would finish. 7th place bouts have started! Fisher gives up a takedown to Anthony Abidin of Nebraska, 0-2. A tilt makes it 0-4. Abidin has 2:48 in riding time as 1st period end. Abidin out in 13 seconds, 0-5. A takedown and 4 pointer make it, 0-11. Abidin gets the pin at 4:56. While Penn State has a huge 20.5 point lead, only one point separates Iowa, Nebraska and Ohio State from 2nd, 3rd and 4th places. Bruno is getting read for Dom Malone again for 9th place, and possible wild card. Malone on the board first, but Rossi escapes, 2-1. Malone with a 2nd takedown, 4-1, and he takes 1:02 in riding time to the 2nd period. Rossi stops the bleeding with an escape, 4-2, but 1:20 in riding time for Malone. We go to the 3rd still 4-2. Both these guys are seniors, and both want to go out with a trip to the NCAA's. Malone with a tilt, 6-2; he now has 2:15 in riding time. Rossi escapes, 6-3. Malone wins 7-3. Bruno could still earn a wild card, but this loss makes his candidacy tougher as he'd be the 10th wrestler sent by the Big Ten of 33 qualifiers; the Big Ten has 9 automatic qualifiers at 133 lbs., but there are only 5 "wild cards" available at that weight with 7 other qualifiers: EIWA, MAC, EWL, ACC, Big 12, Southern, and PAC-12.
Session II: In the evening session, Michigan is now in 6th place behind Penn State, Nebraska, Iowa, Ohio State, and Rutgers. The Nittany Lions cling to a .5 lead over Nebraska, 82 to 81.5. Youtsey eliminated Thornton of Purdue, 12-2, but Bruno was eliminated by Giraldo of Rutgers, 3-2, at 125 and 133. Bruno's chances of making the NCAA's rest on the Wild Card vote. George Fisher defeated Jameson Oster of Northwestern so he'll finish in the Top 8 at 141. Amine and Calderon were eliminated at 157 and 165. If Logan Massa wasn't on redshirt, he'd be in the semi-finals tonight at 165. Huntley defeated Peissig of Wisconsin so he advances to the next round of consolations. Youtsey defeated Jimenez of Wisconsin, 5-1, so he'll be in the hunt for as high as 3rd, but no lower than 6th. Finals at 125 will be Tomasello of Ohio State vs. Megaludis of Penn State, just for the record, I picked Megaludis on my Intermat Pickem Contest. Cory Clark of Iowa will meet Zach Richards of Illinois in the 133 Finals; I've got Richards in that one. Jimmy Guilbon of Penn State will meet Anthony Ashnault of Rutgers in the 141 Final; I had Micah Jordan so that is a loser on my picks. Tough first period for Pantaleo as Retherford pins him at 2:46 after he built a 6-0 lead. Murphy loses a tough bout to defending NCAA Champ, Isaiah Martinez, 5-4. After the losses by Fisher, Pantaleo and Murphy, Michigan is now in 7th place with 58 points behind Illinois. It'll be Retherford vs. Sorenson of Iowa in the 149 Final, and Jason Nolf of Penn State vs. Isaiah Martinez of Illinois at 157; I picked Nolf and Retherford. Isaac Jordan is a finalist for Wisconsin, and he is just waiting for his cousin, Bo, of Ohio State to complete the matchup at 165; I picked Isaac Jordan. Bo Nickal of Penn State is in the finals at 174 against Zach Brunson of Illinois; I picked Nickal. Dudley beats Abounader, 4-1, at 184; I picked Dom so another loser in my Pickem bracket. Nebraska now moves ahead of Iowa for 2nd place on the strength of the Dudley win at 184. Sam Brooks of Iowa will meet Dudley for the title. Iowa slips back into 2nd by .5 point after the Brooks win. Morgan McIntosh will meet Nathan Burak of Iowa for the 197 title; I picked McIntosh. Huntley techs Stein of Purdue, 17-0; he could get up to 3rd, but no lower than 6th. Coon won over Kroells in triple overtime, 3-2, so he's the only Wolverine to earn a birth in the Finals. Both Coon and Kroells are Aeronautical Engineering majors. Michigan ends the session with 70 points in 7th place. Rossi Bruno won his 9th place semi-final bout in an effort for the wild card, 15-7, over Shepherd of Indiana, and will face Dom Malone again after pinning him to start the tournament. Penn State is in 1st with a 27 point lead, Iowa is 2nd by 6 points, Ohio State is 3rd by 1.5 points, Nebraska is 4th by 8 points, Rutgers 5th by 12 points, and Illinois is 6th by 8.5 points over Michigan. Penn State has 6 of their 10 wrestlers in the finals, Iowa has 4 in the finals, Illinois and Ohio state earned 3 finals births each, Nebraska, Rutgers, Wisconsin, and Michigan, have one each. Northwestern is out of the cellar by .5 point over Maryland with 8 points. Brackets Updated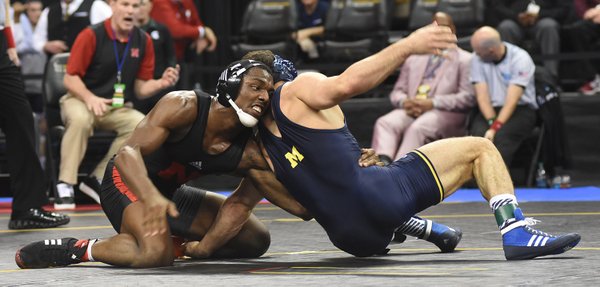 T.J. Dudley bests Dom Abounader in the Semis, 4-1, at 184
Session I: So far at the Big Ten Wrestling Championships, Michigan is tied for 7th with Wisconsin after the first round. Unfortunately, both Youtsey and Bruno lost their quarterfinal bouts so this give the Wolverines 5 in consolations with 5 in the quarters (Pantaleo, Murphy, Abounader, Huntley and Coon). Youtsey lost to #2 Thomas Gilman of Iowa, 14-4, and Bruno lost to #1 Zach Richards of Illinois, 10-3. Bruno started the day by avenging his dual meet loss to Malone of Northwestern with a pin at 6:36, and Youtsey earned a major decision, 9-1, over White of Northwestern. Coon won a major decision, 14-4, over Garret Goldman of Indiana at 285. Both Abounader and Huntley had byes to the quarterfinal round. Fisher was pinned by #3 Ashnault of Rutgers at 141, Jordan Amine was teched, 16-0, by Welch of Purdue at 165, and Aaron Calderon lost to Micah Barnes of Nebraska, 10-3, at 174. Pantaleo and Tsirtsis of Northwestern had a scoreless first period, and both with escapes for a 1-1 deadlock in the 3rd period. Pantaleo gets a takedown late in the 3rd period to defeat the Two-Time Big Ten Champion. GO BLUE! Murphy and Lewis of Rutgers are on in overtime in a 1-1 bout; Murphy escapes and rides out Lewis to win 2-1 avenging the dual meet loss. #1 Micah Jordan of Ohio State and #8 Jimmy Guilbon of Penn State are in overtime; Guilbon wins, 3-2, in tiebreaker--HUGE UPSET. #7 Danny Sabatello of Purdue upset #2 Tommie Thorn of Minnesota, 11-6, at 141. Nebraska is on top in the team scores thus far, and Michigan has plummeted to 10th place. Actually, Michigan State is ahead of Michigan, 10-9. That win by Pantaleo moves Michigan back into a 7th place tie with Wisconsin. Isaiah Martinez wins a wild one over Tyler Berger of Nebraska, 14-11. Penn State now moves into 1st place in the team standings after Retherford and Nolf wins. That win by Murphy moved the Wolverines into 4th place with 23 points. As we start 184, Michigan is down to 8th place. Abounader wins over #8 Christensen of Wisconsin, 9-1, with 3:40 riding time. Huntley has #5 Studebaker of Nebraska at 197; he gained a takedown, but Studebaker comes back with two escapes, 2-2, and now takes the lead, 4-2, over Huntley with a takedown. He gets 2 back to go ahead, 6-2. Studebaker has 47 seconds of riding time as we move to the 3rd period. Studebaker pours it on with a 17-2 tech over #4 Huntley. Michigan is in 6th place with 32 points. Coon pins Horwath of Wisconsin at 285 in 38 seconds. Michigan now in 4th place with 41 points with 4 semi-finalists: Pantaleo, Murphy, Abounader, and Coon with 6 in consolations. #6 Collin Jenson with a big upset over #3 Sam Stoll of Iowa, 14-5. Pantaleo gets #1 Retherford tonight at 149, Murphy has #2 Isaiah Martinez of Illinois at 157. Abounader has #4 T.J. Dudley of Nebraska at 184. Coon has Michael Kroells of Minnesota at 285. Penn State has a 6 point lead over Iowa, and an 11 point over Nebraska. Aaron Calderon won his consolation with Hoselton of Purdue, 11-4. Michigan ended the session after the first round of consolations in 5th place tied with Illinois, 2 points behind Ohio State. Minnesota is tied for 8th place, when was the last time that happened? J Robinson has never finished a season lower than 7th, and that happened in 1991; his teams also finished 6th in his first and second seasons, 1987 and 1988, plus 1996. You'd have to go way back to 1985 when the Gophers finished 8th under Wally Johnson, and 1968 when Johnson's Gophers finished 9th. The only other time Minnesota finished that low was in 1955, Johnson's 3rd season. 9th is the lowest a Gopher team has ever finished at the Big Ten Wrestling Championships. Poor Northwestern only scored one point the entire session, and is in 14th place.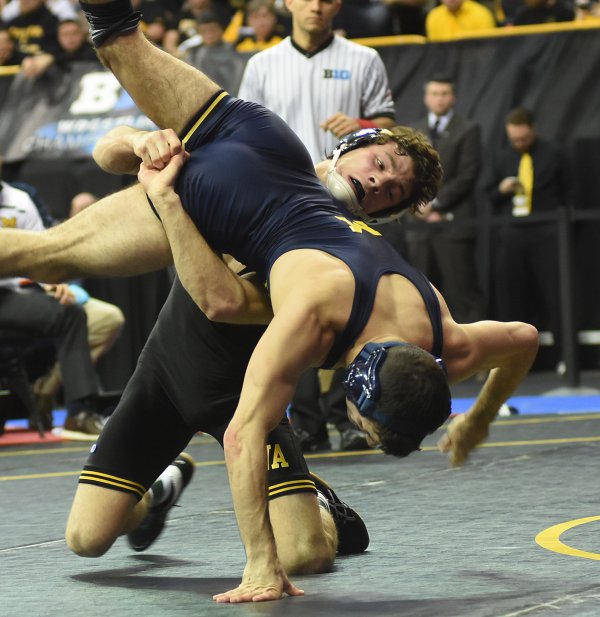 Thomas Gilman of Iowa upends Conor Youtsey, 14-4, at 125
Preview: At 125, #7 Youtsey will have to wrestle #2 Thomas Gilman of Iowa in the quarters if he wins his opener with Northwestern. At 133, #8 Rossi Bruno will have to wrestle #1 Zane Richards after his opener with another Wildcat, Dom Malone, who beat him in the dual. At 141, George Fisher has #3 Anthony Ashnault of Rutgers in the opening round. At 149, #5 Alec Pantaleo has to beat Tyson Dippery of Rutgers before meeting #4 Jason Tsirtsis, 2014 NCAA Champ and Twice Big Ten Champ, in the quarters. At 157, #6 Brian Murphy gets Indiana's Jake Danishek before getting a rematch with #3 Richie Lewis of Rutgers in the quarters. At 184, #1 Dom Abounader's path to the finals will rest on him defeating #4 T.J. Dudley of Nebraska in the Semis; he'll probably get Sam Brooks of Iowa or Matt McCutcheon of Penn State in the finals in his effort to repeat. At 197, #4 Max Huntley will get #5 Aaron Studebaker in the quarters, and is in the same bracket with #1 Morgan McIntosh of Penn State for the semis. At 285, Coon's path to the finals is through Garret Goldman of Indiana, Nick Nevills of Penn State, and the winner of the Billy Smith-Michael Kroells bout; if he makes it through, he should get World Champion Kyle Snyder of Ohio State in the finals. Neither Aaron Calderon or Jordan Amine are expected to win a bout so if either or both pull upsets, that would exceed expectations. It should be a great tournament to watch! Pre-Seeds were announced on March 1, Brackets appeared on Friday, March 4 late in the afternoon.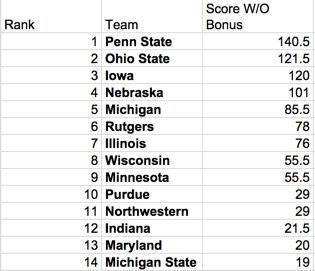 Black and Gold Preview Blogger Predictions AWN Open Mat Preview